Posterior localization of ApVas1 positions the preformed germ plasm in the sexual oviparous pea aphid Acyrthosiphon pisum
Received: 16 January 2014
Accepted: 23 April 2014
Published: 9 May 2014
Abstract
Background
Germline specification in some animals is driven by the maternally inherited germ plasm during early embryogenesis (inheritance mode), whereas in others it is induced by signals from neighboring cells in mid or late development (induction mode). In the Metazoa, the induction mode appears as a more prevalent and ancestral condition; the inheritance mode is therefore derived. However, regarding germline specification in organisms with asexual and sexual reproduction it has not been clear whether both strategies are used, one for each reproductive phase, or if just one strategy is used for both phases. Previously we have demonstrated that specification of germ cells in the asexual viviparous pea aphid depends on a preformed germ plasm. In this study, we extended this work to investigate how germ cells were specified in the sexual oviparous embryos, aiming to understand whether or not developmental plasticity of germline specification exists in the pea aphid.
Results
We employed Apvas1, a Drosophila vasa ortholog in the pea aphid, as a germline marker to examine whether germ plasm is preformed during oviparous development, as has already been seen in the viviparous embryos. During oogenesis, Apvas1 mRNA and ApVas1 protein were both evenly distributed. After fertilization, uniform expression of Apvas1 remained in the egg but posterior localization of ApVas1 occurred from the fifth nuclear cycle onward. Posterior co-localization of Apvas1/ApVas1 was first identified in the syncytial blastoderm undergoing cellularization, and later we could detect specific expression of Apvas1/ApVas1 in the morphologically identifiable germ cells of mature embryos. This suggests that Apvas1/ApVas1-positive cells are primordial germ cells and posterior localization of ApVas1 prior to cellularization positions the preformed germ plasm.
Conclusions
We conclude that both asexual and sexual pea aphids rely on the preformed germ plasm to specify germ cells and that developmental plasticity of germline specification, unlike axis patterning, occurs in neither of the two aphid reproductive phases. Consequently, the maternal inheritance mode implicated by a preformed germ plasm in the oviparous pea aphid becomes a non-canonical case in the Hemimetabola, where so far the zygotic induction mode prevails in most other studied insects.
Keywords
AphidAsymmetric localizationDevelopmental plasticityGerm cellsGermline specificationVasa
Background
Studying model organisms can expand our knowledge in developmental biology and enrich our understanding of developmental diversity. One issue, developmental plasticity, has long been a difficult subject to access in animal models displaying little phenotypic plasticity. However, the pea aphid Acyrthosiphon pisum, a hemimetabolous hemipteran insect with abundant adaptive capacity in response to specific environmental cues, has proven an excellent model for study, and the recently published genome has made research on this species more accessible [1, 2]. With a sequenced genome, scientists can start exploring - at molecular and systematic levels - how and why a genome can direct the alteration of phenotypic and reproductive traits by stimuli from outside. For example, environmental stresses such as high population density or predation trigger unwinged aphid females to produce winged offspring for dispersal [3, 4], and aphid females also sense changing photoperiods to alter reproductive modes [5–7]. However, how the environmental signals are received by the genome and where the sequences required for polyphenic switches are located in the genome remain largely unknown.
Embryogenesis in aphid life cycles can be categorized as two types: asexual viviparous (bringing forth living young without fertilization) and sexual oviparous (producing fertilized eggs). In the remaining paragraphs of this article we abbreviate 'asexual viviparous' and 'sexual oviparous' to 'viviparous' and 'oviparous' , respectively. Recent studies suggest that there are two developmental programs underlying early development of the viviparous and oviparous embryos in the pea aphid. For example, the expressions of axis patterning genes (hunchback, orthodenticle, caudal, nanos) and the terminal gene torso-like display distinctly different patterns during early development in viviparous compared to oviparous embryos [8–11]. Comparison of transcriptomes of synchronized embryos in asexual and sexual phases shows that more than 30 genes are differentially transcribed, further supporting the existence of divergent programs of development underlying these two reproductive cycles [12]. It appears that the change of developmental programs occurs during the transition period from asexual to sexual phases - our previous work indicates that the germline-specific identity of Api-piwi6 and Api-ago3a, both of which encode components of the Piwi-interacting RNA (piRNA) pathway, is lost from viviparity to oviparity [13]. Accordingly, we would like to know whether embryonic development is globally changed in distinct reproductive phases or whether some developmental mechanisms remain conserved.
Previously we identified posterior localization of Vasa (Vas) and Nanos (Nos), two of the most conserved germline markers in animals, in the syncytial blastoderm of the asexual aphid [14]. After cellularization, signals of Vas and Nos detected using cross-reacting antibodies were specifically recruited into the primordial germ cells (PGCs), suggesting that germline specification in the asexual aphid relies on a germ plasm preformed within the egg prior to cellularization [14]. However, we have not found any published descriptions of the assembly of maternal germ plasm in oocytes or early embryos in the sexual phase. To date, early segregation of germ cells in oviparous embryos has been reported in just two species: the black willow aphid Melanoxanthus spp. [15] and the spring grain aphid Toxoptera graminum[16]. In the black willow aphid, newly segregated 'primitive germ cells' were identified in the posterior region of the invaginating blastoderm. In the spring grain aphid, germline segregation was observed slightly later during gastrulation and segregated germ cells were located aside the posterior abdomen of the elongating germ band (embryo proper). In both aphid species, the presence of germ (polar) granules - an ultrastructural feature of the preformed germ plasm - was not described. Taken together, this suggests that germline specification in oviparous aphids is not germ-plasm dependent and, if this is the case, aphids may adopt two programs to specify germ cells in asexual and sexual phases.
In some existing animal models such as Drosophila melanogaster (fly), Caenorhabditis elegans (nematode), Danio rerio (zebrafish), and Xenopus laevis (frog), it is clear that specification of germ cells is driven by the maternal germ plasm assembled within the developing oocytes (reviewed in [17, 18]). Removal of maternal germ plasm leads to the loss of PGCs or sterility in adults [19–21]. In Mus musculus (mouse), however, germline specification occurs much later during gastrulation and there is no maternally inherited germ plasm. Instead, specification of germ cells is triggered via induction of signals (the 'induction mode'): Bmp4, Bmp8b, and Bmp2, members of the bone morphogenetic protein family, are secreted from the extra-embryonic ectoderm to induce certain cells in the neighboring proximal epiblast - the primary ectoderm - to form the precursors of PGCs [22–24]. After PGC precursors migrate to the posterior primitive streak, germline fate is further specified through the function of Blimp1, a key transcription factor known to repress the somatic program in the PGCs [25]. Although cytoplasmic inheritance of maternal germ plasm, the 'inheritance mode', is prevalent in most current animal models, the induction mode actually appears more common, and is likely ancestral, when other published data about germline development in emerging and non-model animals are collated (reviewed in [26]).
Among insect species, the inheritance mode for germline specification is mostly confined to Holometabola such as flies, mosquitoes, and wasps [27, 28], all of which undergo complete metamorphosis. The lack of evidence to support the existence of maternal germ plasm in some holometabolous species like Bombyx mori (silkworm) [29, 30], Apis mellifera (honeybee) [31, 32], and Tribolium castaneum (beetle) [33, 34], however, indicates that the inheritance mode is not a universal mechanism in Holometabola. By contrast, evidence from classical histological studies argues that insects adopting the induction mode are the majority in Hemimetabola, which in contrast to Holometabola undergo incomplete metamorphosis and are less derived. Ubiquitous expression of conserved germline genes such as vas, piwi, and nos in oocytes and early embryos of Hemimetabola further supports the above conclusion [35–37]. A recent report concerning the abolishment of PGC formation via knockdown of the mesodermal marker twist in the cricket Gryllus bimaculatus - a model for the basally branching insects - suggests the presence of signal induction for germline specification in hemimetabolous insects [35], though the actual signaling molecules are not yet identified.
Current data show that germline specification in Hemiptera is diverse. As described above, we have identified a presumptive germ plasm assembled in the posterior syncytial blastoderm of the viviparous pea aphid - a hallmark of the inheritance mode [14]. In the milkweed bug Oncopeltus fasciatus (Hemiptera: Lygaeidae), however, asymmetric localization of germline genes is not detected in oocytes and early embryos, and the segregation of PGCs is not identified until the late blastoderm stage. Moreover, knockdown of the conserved germline markers vas and tudor does not affect the formation of PGCs. All of this evidence implies the absence of a maternal germ plasm and the existence of an inductive mechanism in Oncopeltus[36]. Similar conclusions have also been described in germline development in other hemipteran species such as the assassin bug Rhodnius prolixus (Hemiptera: Reduviidae) [38] and several species of scale insects [39, 40]. Accordingly, the germ plasm-dependent mechanism found in the viviparous pea aphid so far appears to be a non-canonical case in the Hemiptera in contrast to most other hemipterans. Recent studies show that the oviparous embryos adopt conserved mechanisms to pattern early embryogenesis while the viviparous embryos use a distinct and less conserved mechanism. Given the gross morphological similarities in oviparous aphid development with other hemipterans [38–41], it would be interesting to know if germline specification is also similar.
In order to explore how germ cells are specified during oviparous development in the pea aphid, we employed whole-mount in situ hybridization of Apvas1 (previously known as Apvas[42], a Drosophila vas ortholog in the pea aphid), which we successfully used previously to label germline cell fate in viviparous embryos [42]. However, asymmetric localization of Apvas1 mRNA, unlike that of the Vas signals, was not identified in the viviparous pea aphid. In order not to miss detecting Vas protein restricted to the potential germ plasm, we produced an antibody against ApVas1 for immunostaining. Through comparing germline specification in the viviparous and oviparous embryos, we aimed to identify similarities and differences between the development of germ cells in both of the reproductive cycles. Most importantly, this would reveal whether aphids adopt one or two versions of mechanisms for specifying germ cells in their life.
Methods
Pea aphid culture
The pea aphid strain ApL, formerly known as Sap05Ms2, was collected in Hokkaido, Japan and reared on broad beans (Vicia faba) in growth chambers under a long-day photoperiod (16 h light/8 h dark) at 20°C [43]. Induction of the sexual phase was carried out under a short-day photoperiod (8 h light/16 h dark) at 15°C. Details of induction were described in Ishikawa et al. [44, 45]. Fertilized eggs for embryonic assays were maintained under short-day photoperiod at 15°C for 42 days. Embryonic staging for oviparous and viviparous embryogeneses followed Miura et al. [46].
Production and purification of antibody against ApVas1
In order to avoid the conserved motifs of the DEAD (Glu-Asp-Ala-Glu)-box protein family, highly divergent sequences in the N-terminus of ApVas1 were selected and synthesized to induce the ApVas1 antibody (Additional file 1: Figure S1A). This ApVas1 antigen contains 451 amino acids (aa) in the N-terminal region (aa 4-454). A translation template of Apvas1 was cloned using a forward primer (5'-GATCAGATCTGGGTGGTTGGGATGATGAATCTGG-3', encoding GGWDDESG) and a reverse primer (5'-AATTGAATTCCTATTCTCTCTCTGGTTGTTCACGATCAC-3', encoding GDREQPERE). Products of the polymerase chain reaction (PCR) were then subcloned into the pET32a(+) vector (Novagen, San Diego, CA, USA) to produce a His-tagged fusion protein in Escherichia coli C41(DE3) cells. Affinity purified His-tagged ApVas1 protein in homogenized polyacrylamide gel slices was used to immunize rabbits. For antibody purification, antisera were passed through a column packed with the cyanogen bromide (CNBr)-activated Sepharose 4B (GE Healthcare, Uppsala, Sweden) coupled with a polypeptide containing 186 aa in the N-terminus of ApVas1 (aa 4-189) (Additional file 1: Figure S1B). After non-specific bindings were washed off, the ApVas1 antibody was eluted with 0.1 M Glycine at pH 2.5 and immediately neutralized to pH 7.0 using 1 M Tris pH 8.0. The neutralized ApVas1 antibody was dialyzed against 1× phosphate buffered saline (PBS) and then stored at -80°C in 50% glycerol.
Fixation and dissection of oviparous eggs
Aphid eggs were dechorionated in a 1:1 solution of methanol and heptane for 1 min with vigorous shaking. The heptane-methanol solution was removed without disturbing the dechorionated eggs after they had sunk to the bottom of the 1.5 mL Eppendorf tube. Eggs were then sequentially washed with mixture of methanol and 4% paraformaldehyde using ratios of 3:1, 1:1, and 1:3. After that, they were fixed in 4% paraformaldehyde for 20 min with mild shaking on a rotator. Fixed embryos collected before the end of 2 dAEL (days after egg laying) could be directly stained with riboprobe or antibody. From 3 dAEL onward, however, the serosal membrane that would turn black during staining had to be removed using a tungsten needle before staining. For embryos collected by the end of 4 dAEL we did not separate them from the yolk, but we remove yolk for those collected from 5 dAEL to increase the accessibility of riboprobe or antibody to the embryos.
In situ hybridization, immunostaining, and imaging
Whole-mount in situ hybridization (WISH) on oviparous embryos was performed according to the protocol previously applied to the viviparous ovarioles [47]. Before application of the riboprobe, further fixation of dechorionated eggs or dissected embryos using 4% paraformaldehyde for 4 h at 25°C was required. In order to increase the probe specificity, we synthesized a Digoxigenin (DIG)-labeled antisense riboprobe complementary to the 149 nucleotides located in the 5' untranslated region (UTR) of Apvas1, assuming that cross-hybridization would not occur to Apvas2-4 mRNAs. In situ hybridization showed that the expression pattern detected using the 149-bp Apvas1 antisense riboprobe differed from the expressions of Apvas2-4 (Additional file 2: Figure S2). This indicates that the 149-bp probe is Apvas1-specific and we have used it for all detections of Apvas1 expression in this study. Sequences of the forward and reverse primers for amplifying the 5' UTR of Apvas1 are 5'- TTTGGCGGTGATGATGGAGAAG-3' and 5'-AATCGAGTCTAGGTGGCAACG-3', respectively. WISH was carried out at 66°C for 36 h.
Immunostaining followed the protocol of Chang et al.[14], where viviparous ovarioles were stained using cross-reacting antibodies against Vas and Nos. For oviparous embryos, an additional fixation using 4% paraformaldehyde for 30 min at 25°C was required before application of the primary antibody. Antibodies and their dilution ratios were: (1) primary antibodies: ApVas1 antibody (1:20), ApVas2-4 antibodies (1:20), mouse anti-actin antibody (1:500) (Sigma, St Louis, MO, USA); and (2) secondary antibodies: anti-rabbit IgG conjugated with Cy5 (Invitrogen, Paisley, UK), Alexa Fluor 488 goat anti-mouse (Invitrogen), biotinylated goat anti-rabbit IgG (Vector labs, Burlingame, CA, USA) (all diluted 1:500). Nuclear staining of embryos older than 2 dAEL used 4',6-diamidino-2-phenylindole (DAPI) (2 μg/mL) (Sigma) at 37°C for 2 h, but those collected within 48 hours after egg laying (hAEL) were stained using propidium iodide (PI) (10 μg/mL) (Invitrogen) at 37°C for 2 h to avoid interference by autofluorescence from the yolk. F-actin staining on oviparous ovarioles was performed with Rhodamine Phalloidin (1:40) (Invitrogen); however, this was carried out using the anti-actin antibody (Sigma) in embryos prefixed with solutions containing methanol.
Bright-field images were photographed using a BX51 microscope (Olympus, Melville, NY, USA) connected with a DP50 CCD camera (Olympus); fluorescence images were taken by the laser-scanning microscope Zeiss LSM510 META (Carl Zeiss, Jena, Germany).
Western blot
About 50 ng of each ApVas fusion protein was loaded for protein electrophoresis (Figure
1
A). Unfertilized eggs after oviposition were collected from females without mating; fertilized eggs were collected in parallel within 16 hAEL. Protein extracted from 10 unfertilized/fertilized eggs was dissolved in 100 μL of 2× sample buffer (57.7 mM Tris, 10% Glycine, 2% SDS, 10% glycerol, 12.5 mM EDTA, 0.02% bromophenol blue 0.02%, 1% beta-mercaptoethanol) and 6 μL of extracts was loaded onto each lane (Figure
1
A). Primary antibody: anti-ApVas1 antibody (1:1,000); secondary antibody: goat peroxidase-labeled antibody against rabbit IgG (1:2,000) (Kirkegaard and Perry Laboratories (KPL), Gaithersburg, MD, USA). Signals were developed using the VisGlow™ Chemiluminescent Substrate, Horseradish Peroxidase (HRP) system (Visual Protein, Taipei, Taiwan).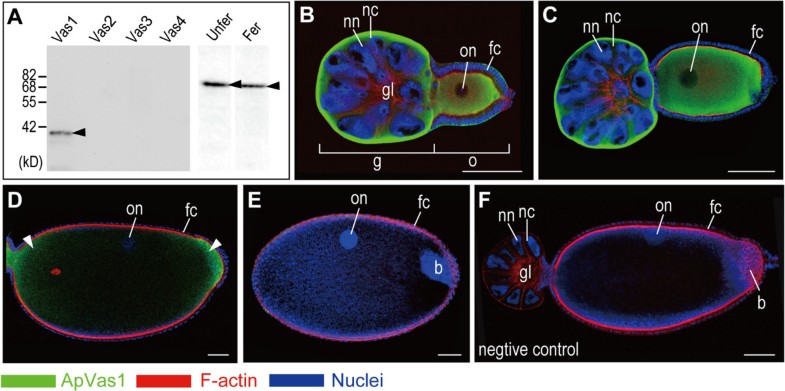 Conclusions
Identification of the preformed germ plasm in both oviparous and viviparous embryos of the pea aphid suggests that developmental plasticity of the germline-specification mode does not occur in the alternate reproductive cycles in the aphids. This differs from the distinct developmental programs known to regulate axis patterning in the asexual and sexual phases. The preformed germ plasm in the pea aphid so far is the first maternal germ plasm identified among hemimetabolous insects using molecular approaches, and thus provides an opportunity for studying how a germ plasm is assembled in the Hemimetabola. It has been clear that a homolog of oskar (osk), a molecular anchor known to localize Vas protein in the germ plasm of Drosophila, does not exist in the pea aphid genome [1]. Finding molecular anchors for ApVas1 localization in the germ plasm will thus enable us to understand how an 'osk-independent' molecular networking for germ plasm assembly functions in less derived insects.
Abbreviations
Aa:

amino acids
ab:

abdomen
b:

bacteria
cl:

cephalic lobe
CNBr:

cyanogen bromide
dAEL:

day after egg laying
DAPI:

4',6-diamidino-2-phenylindole
DIC:

differential interference contrast
DIG:

digoxigenin
ey:

eyes
fc:

follicle cells
Fer:

fertilized eggs
g:

germaria
gb:

germ band
gl:

germarial lumen
h:

head
hAEL:

hour after egg laying
HRP:

Horseradish Peroxidase
kD:

kilodalton
nc:

nurse cells
nn:

nurse-cell nuclei
Nos:

Nanos
o:

oocyte
on:

oocyte nuclei
osk:

oskar
PBS:

phosphate buffered saline
PCR:

polymerase chain reaction
PGCs:

primordial germ cells
PI:

propidium iodide
piRNA:

Piwi-interacting RNA
th:

thorax
Unfer:

unfertilized eggs
UTR:

untranslated region
Vas:

Vasa
WISH:

whole-mount in situ hybridization
y:

yolk.
Declarations
Acknowledgements
We thank Hitoshi Miyakawa for technical support on confocal microscopy; Asano Ishikawa and Kota Ogawa for technical support on induction of sexual phase of pea aphids; Hsiao-Ling Lu, Yi-min Hsiao, and Chen-yo Chung for critical reading of the manuscript. This work was supported by the National Science Council (NSC98-2917-I-002-142 for GWL; 101-2313-B-002-059-MY3 and 101-2321-B-002-090-MY2 for GWL and CC), BAPHIQ of the Agricultural Council (101.10.2.1-B3(4)), and National Taiwan University (NTU-CESRP 101R4602D3).
Authors' Affiliations
(1)
Laboratory for Genetics and Development, Department of Entomology/Institute of Biotechnology, College of Bioresources and Agriculture, National Taiwan University, Taipei, Taiwan
(2)
EMBL-European Bioinformatics Institute, Wellcome Trust Genome Campus, Hinxton, Cambridge, UK
(3)
Laboratory of Ecological Genetics, Graduate School of Environmental Science, Hokkaido University, Sapporo, Japan
(4)
Research Center for Developmental Biology and Regenerative Medicine, National Taiwan University, Taipei, Taiwan
(5)
Genome and Systems Biology Degree Program, National Taiwan University, Taipei, Taiwan
Copyright
© Lin et al.; licensee BioMed Central Ltd. 2014
This article is published under license to BioMed Central Ltd. This is an Open Access article distributed under the terms of the Creative Commons Attribution License (http://creativecommons.org/licenses/by/2.0), which permits unrestricted use, distribution, and reproduction in any medium, provided the original work is properly credited. The Creative Commons Public Domain Dedication waiver (http://creativecommons.org/publicdomain/zero/1.0/) applies to the data made available in this article, unless otherwise stated.