Evolution of embryonic development in nematodes
Received: 22 July 2011
Accepted: 20 September 2011
Published: 20 September 2011
Abstract
Background
Nematodes can be subdivided into basal Enoplea (clades 1 and 2) and more derived Chromadorea (clades 3 to 12). Embryogenesis of Caenorhabditis elegans (clade 9) has been analyzed in most detail. Their establishment of polarity and asymmetric cleavage requires the differential localization of PAR proteins. Earlier studies on selected other nematodes revealed that embryonic development of nematodes is more diverse than the essentially invariant development of C. elegans and the classic study object Ascaris had suggested. To obtain a more detailed picture of variations and evolutionary trends we compared embryonic cell lineages and pattern formation in embryos of all 12 nematode clades.
Methods
The study was conducted using 4-D microscopy and 3-D modeling of developing embryos.
Results
We found dramatic differences compared to C. elegans in Enoplea but also considerable variations among Chromadorea. We discovered 'Polarity Organizing Centers' (POCs) that orient cleavage spindles along the anterior-posterior axis in distinct cells over consecutive cell generations. The resulting lineally arranged blastomeres represent a starting point for the establishment of bilateral symmetry within individual lineages. We can discern six different early cleavage types and suggest that these variations are due to modifications in the activity of the POCs in conjunction with changes in the distribution of PAR proteins. In addition, our studies indicate that lineage complexity advanced considerably during evolution, that is we observe trends towards an increase of somatic founder cells, from monoclonal to polyclonal lineages and from a variable (position-dependent) to an invariable (lineage-dependent) way of cell fate specification. In contrast to the early phase of embryogenesis, the second half ('morphogenesis') appears similar in all studied nematodes. Comparison of early cleavage between the basal nematode Tobrilus stefanskii and the tardigrade Hypsibius dujardini revealed surprising similarities indicating that the presence of POCs is not restricted to nematode embryos.
Conclusions
The pattern of cleavage, spatial arrangement and differentiation of cells diverged dramatically during the history of the phylum Nematoda without corresponding changes in the phenotype. While in all studied representatives the same distinctive developmental steps need to be taken, cell behavior leading to these is not conserved.
Keywords
nematodeembryogenesiscell lineagepolaritysymmetry formationcell specificationevolution Tobrilus Prionchulus C. elegans
Background
Over many decades various suggestions have been made concerning phylogenetic relationships among nematodes. With the availability of an increasing number of gene sequences the phylogeny of this phylum was put on a more objective basis and resulted in major revisions of previous classifications [
1
–
4
]. In this work we refer to the phylogeny of Holterman
et al.
[
5
], dividing the phylum Nematoda into 12 different clades (Figure
1a
). We followed the proposal of De Ley and Blaxter [
2
] based on molecular and morphological criteria and subdivide nematodes into the two classes Enoplea (clades 1 and 2) and Chromadorea (clades 3 to 12). The former consists of two subclasses Enoplia (clade 1) and Dorylaimia (clade 2). Molecular and morphological data indicate that clade 1 comprises representatives closest to the common ancestor of nematodes while Chromadorea include phylogenetically more derived species [
2
,
5
,
6
].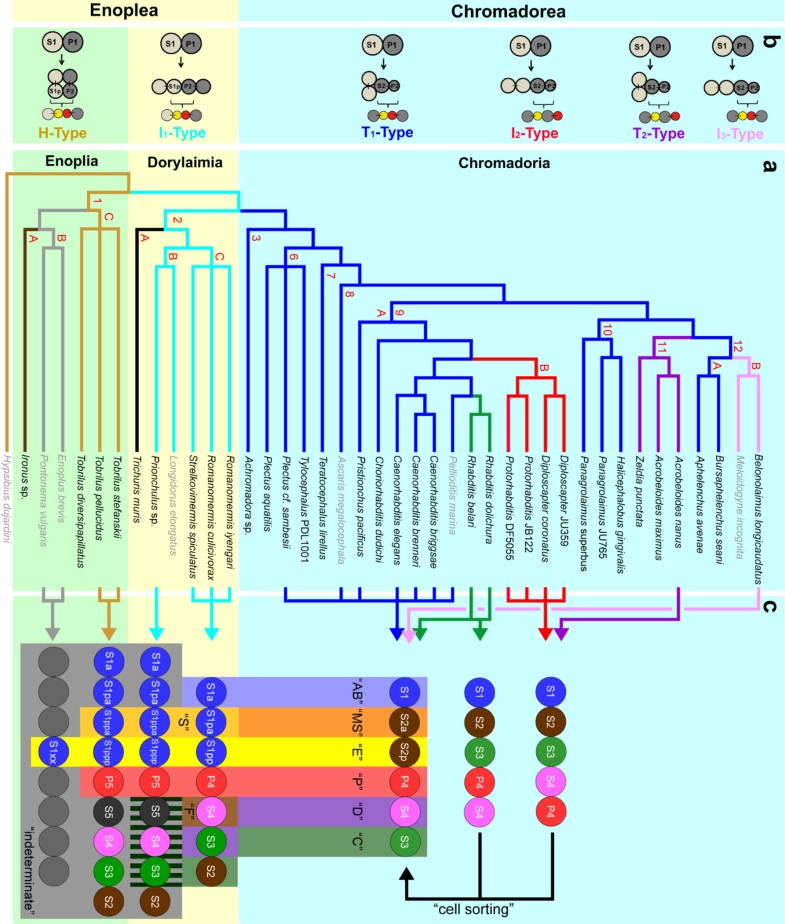 Our current picture of embryonic development in nematodes is essentially shaped by the striking similarity between the classic model system Ascaris megalocephala (Clade 8; Figure 1a; [7, 8]) and Caenorhabditis elegans (clade 9; [9]; http://www.wormbook.org). Work on C. elegans and its closer relatives has provided an initial insight into the recent evolution of embryonic and postembryonic development in clades 8 to 10 and discloses wide homologies in features, phenotypes and cell lineages [4, 10–19]. Nevertheless, our understanding of the evolution of embryogenesis in the nematode phylum is still fragmentary. Species studied so far were usually chosen because of easy accessibility and amenable breeding conditions, and therefore represent a biased minority of the taxon. But generalizations from developmental characters of model organisms have to be taken with caution, because these organisms are often highly derived [20].
Embryonic studies revealed distinct developmental characters of nematode species and higher taxa that can be related to their phylogenetic position [14, 21–26]. But not only inter-species but also intra-species variations have been uncovered, for example plasticity in pattern formation in Acrobeloides nanus[21] and Diploscapter coronatus[27] or postembryonic mouth dimorphism in Pristionchus pacificus (clade 9; [28, 29]). A high regulative potential was demonstrated by the hierarchy of somatic cell fate transformations after cell ablation in the early embryo of A. nanus (clade 11; [30]). Even more dramatic peculiarities are found in Enoplea. Asymmetric cleavages and distinct cell lineages are initially missing in clade 1B (Enoplus brevis, Pontonema vulgaris) and only a gut lineage is present [22, 31]. Development of Tobrilus diversipapillatus (clade 1C) is characterized by a prominent coeloblastula [32], a developmental character thought to be absent in nematodes. Compared to C. elegans, Romanomermis culicivorax (clade 2C) displays major differences in the establishment of embryonic polarity, pattern formation, programming of somatic founders and cell lineage complexity [33, 34]. Hence, embryonic development of nematodes is much more diverse than the essentially invariant development of C. elegans and its closer relatives indicates.
Although in the Enoplea, development is usually much slower than in C. elegans, and their embryos are less transparent, we performed an extended analysis of development in selected species of this poorly studied basal group. Additionally we studied development in more detail in those clades of Chromadorea where only limited embryonic data have been available so far (Figure 1a). With these results, we now can address to what extent (i) nematodes follow a common general developmental program to generate the body plan typical for this phylum and (ii) developmental differences can be related to phylogenetic position (that is whether specific points can be defined where during evolution certain characters first appeared). The question which type of early cleavage was followed by the last common ancestor of nematodes has been controversially discussed in the past [35, 36]. Therefore, we explored the notion that a nematode species with invariant polyclonal lineages generated by a fixed set of founder cells, such as C. elegans may have evolved from an ancestor such as Enoplus with just a single monoclonal lineage and a predominantly variable early embryogenesis.
Methods
Strains and culture
The strains Acrobeloides maximus (DF5048), Acrobeloides nanus (ES501), Caenorhabditis brenneri (SB280), Caenorhabditis briggsae (AF16), Caenorhabditis elegans (N2), Choriorhabditis dudichi (SB122), Diploscapter sp. (JU359), Diploscapter coronatus (PDL0010), Halicephalobus gingivalis (JB128), Panagrolaimus sp. (JU765), Panagrolaimus superbus (DF5050), Plectus aquatilis (PDL0018), Plectus cf. sambesii (ES601), Pristionchulus pacificus (PS312), Protorhabditis sp. (DF5055), Protorhabditis sp. (JB122), Rhabditis belari (ES103), Rhabditis dolichura (ES101), Teratocephalus lirellus (JB049), Tylocephalus sp. (PDL1001), Zeldia punctata (PDL0003) are cultured at 23°C on minimal agar plates essentially as described in [26]. Gravid animals of Achromadora sp., Aphelenchus avenae, Bursaphelenchus seani, Ironus sp., Prionchulus sp., Tobrilus diversipapillatus, Tobrilus pellucidus and Tobrilus stefanskii are isolated from soil samples of various origins essentially as described in [21]. Romanomermis culicivorax, Romanomermis iyengari and Strelkovimermis spiculatus were kindly provided by Dr. Edward Platzer, University of California, Riverside, CA, USA. Trichuris muris was kindly provided by Dr. Heinz Mehlhorn, Heinrich-Heine University, Düsseldorf, Germany. Belonolaimus longicaudatus was analyzed in the laboratory of Dr. Ole Becker, University of California, Riverside, CA, USA. Some gravid Enoplus brevis were kindly provided by Dr. V. Malakhov, Moscow State University, Russia, others were isolated from salt marsh soil supplied by Dr. W. Armonies, AWI List, Germany. Additional strains were obtained from Paul de Ley and Jim Baldwin, University of California, Riverside, CA, USA; Marie-Anne Felix, University Jacques Monod, Paris, France; Wouter Houthoofd and Wim Bert, University of Ghent, Belgium; Walter Sudhaus, Freie Universität Berlin, Germany; and Ralf Sommer, Max-Planck-Institute for Developmental Biology, Tübingen, Germany.
Cell nomenclature and cell fate assignments
Projection of the C. elegans standard cell nomenclature [9, 37] onto other nematodes implies the presence of similar cell differentiation patterns, which is not necessarily true. Therefore, we apply neutral lineage names (S1-S4/S5, somatic founder cells; P1-P4/P5, germline). We use the standard nomenclature (AB, MS, C, D) to indicate cell fates that correspond to those in C. elegans as described in [34]. In this species but not necessarily in other nematodes S1 = AB, S2 = EMS, S3 = C, S4 = D.
Although we traced cell divisions only up to a few hundred cells, we could assert the degree of variation from the pattern found in C. elegans (fixed lineages with unambiguous fate assignments). As we did not observe prominent rearrangements of cell clones after gastrulation we were able to assign fate categories ('AB'-like, 'S'-like, and so on; Figure 1c) to each of the founder cells based on position, structure and behavior of their descendants [34]. These cell fate categories imply similarities to C. elegans in terms of cell types derived from this lineage (for example 'AB', generates at least the majority of neurons; 'S' contributes to the pharynx) but may differ in detail. 'E' stands exclusively for gut fate in all studied species.
Microscopy
With the exception of Enoplus (see below) 1-cell and 2-cell stage embryos collected from culture plates or cut out of gravid adults were mounted on slides carrying a thin 3% agarose layer as a mechanical cushion. The cover slip was sealed with melted petroleum jelly. Embryonic development was studied with DIC optics using a 100 × objective. Stacks of optical sections were digitally recorded at 30 to 60 second intervals and at 23°C with a 4-D microscope (Zeiss, Axioscope 2 mot). 3-D tracing of cell behavior and generation of cell lineages were software-supported (Simi Biocell; Unterschleißheim, Germany) essentially as described in [34]. Due to a sticky surface Enoplus 1-cell stages adhered reliably to an untreated microscope slide. This was immersed into a petri dish filled with brackish water (ratio sea water to tap water, 2:1) and then covered with aluminum foil. Development was recorded on time lapse video tape with a 20 × water immersion objective. Evaporated water was replaced daily. If not stated otherwise the development of at least three embryos per species has been analyzed.
Discussion
In this paper representatives of all 12 nematode clades (according to the phylogeny by [5]) have been compared with respect to their early embryogenesis. Our data document that the very similar and reproducible development found in the reference systems Ascaris and C. elegans (see introduction) exemplifies only one of many ways to generate a nematode worm from a 1-cell embryo. They indicate that the cleavage and differentiation program of blastomeres diverged dramatically during evolution. This is particularly obvious in Enoplia (clade 1) and Dorylaimia (clade 2). In each of these taxa developmental peculiarities and variations appear to be higher than in all Chromadorea (clades 3 to 12) combined. Because of distinct developmental features (Figures 1b, 2 to 5) it appears reasonable to break down clades 1, 2, 9 and 12 into subgroups (Figure 1a).
We believe that major developmental characters found in Enoplea but absent in Chromadorea (clades 3 to 12; Figures 1, 2) are plesiomorphic. These include the 'canonical' gastrulation in the genus Tobrilus with its large blastocoel (Figure 3; [32]) found in many other animal phyla including Nematomorpha (our unpublished results), the nearest phylogenetic neighbors of nematodes, and the similarity of early cleavage patterns between Tobrilus (Figure 2b) and the tardigrade Hybsibius (Figure 2r) which according to the Ecdysozoa hypothesis [49] belongs to a neighboring phylum. Thus, our findings support the positioning of Enoplea close to the base of the phylogenetic tree of nematodes postulated on grounds of molecular sequence data [2, 5, 6]. This implies that the route of lineage evolution went from an S1 to an S2 origin of the gut (Figure 1c; [22, 40]), which required considerable modifications in cleavage pattern and fate assignment [34]. Furthermore, comparison of embryogenesis between nematodes, nematomorphs and tardigrades suggests that certain features (for example the absence of initial asymmetric cleavages) were shared by their last common ancestor.
Conclusions
Nematodes are suitable objects to study evolution of development because species from all branches of the phylogenetic tree can be analyzed, embryos develop outside the mothers and most of them are transparent enough to perform cellular analysis in vivo. Our findings that early embryogenesis varies considerably among species indicates that constraints are high on the preservation of crucial developmental steps but not on cellular behavior leading to these. We argue that the direction of evolution went from indeterminate early cleavage without initial polarity to invariant development with establishment of polarity before division of the zygote. The observed action of a primary POC gives a clue how polarity in certain nematodes and other related taxa like tardigrades can be established in a way that differs from C. elegans, that is independent of the sperm entry point.
Abbreviations
CAB:

centrosome attracting bodies
POC:

polarity organizing center
PR:

reversal of cleavage polarity in the germline
RFM:

region of first midbody
RSM:

region of second midbody.
Declarations
Acknowledgements
We are indebted to various colleagues for sharing strains (listed in materials and methods) and to Vladimir Malakhov for introduction into enoplid development and Oleksandr Holovachov for identification of P. cf. sambesii. We thank Bob Goldstein for Figure 2r, July Ahringer for Figure 2q and Jay Burr for thoughtful comments on the manuscript. JS was supported by a grant of the Deutsche Forschungsgemeinschaft (Schi 214/16-1).
Authors' Affiliations
(1)
University of Cologne, Biocenter, Köln, Germany
Copyright
© Schulze and Schierenberg; licensee BioMed Central Ltd. 2011
This article is published under license to BioMed Central Ltd. This is an Open Access article distributed under the terms of the Creative Commons Attribution License (http://creativecommons.org/licenses/by/2.0), which permits unrestricted use, distribution, and reproduction in any medium, provided the original work is properly cited.