Development and staging of the water flea Daphnia magna (Straus, 1820; Cladocera, Daphniidae) based on morphological landmarks
Received: 5 December 2013
Accepted: 31 January 2014
Published: 18 March 2014
Abstract
Background
Crustaceans of the genus Daphnia are one of the oldest model organisms in ecotoxicology, ecology and evolutionary biology. The publication of the Daphnia pulex genome has facilitated the development of genetic tools to answer long-standing questions in these research fields (Science 331: 555-561, 2011). A particular focus is laid on understanding the genetic basis of the striking ability of daphnids to change their phenotype in response to environmental stressors. Furthermore, Daphnia have recently been developed into crustacean model organisms for EvoDevo research, contributing to the ongoing attempt to resolve arthropod phylogeny. These problems require the comparative analyses of gene expression and functional data, which in turn require a standardized developmental staging system for Daphnia.
Results
Here we provide a detailed staging system of the embryonic development of Daphnia magna based on morphological landmarks. The staging system does not rely on developmental hours and is therefore suitable for functional and ecological experiments, which often cause developmental delays in affected embryos and thus shifts in time reference points. We provide a detailed description of each stage and include schematic drawings of all stages showing relevant morphological landmarks in order to facilitate the application of this staging scheme.
Conclusion
We present here a staging system for Daphnia magna, which is based on morphological landmarks. The staging system can be adopted for other daphnids with minor variations since the sequence of development is highly conserved during early stages and only minor heterochronic shifts occur in late embryonic stages.
Keywords
Daphnia magna Embryonic developmentStaging systemMorphogenesisCladoceransWater flea
Background
Within the large group of mainly freshwater dwelling branchiopod crustaceans, Daphnia magna belongs to the cladocerans, which are commonly known as 'water fleas'. Daphnia is one of the oldest model organisms in ecotoxicology, ecology and evolutionary biology. The small crustacean is known for its high phenotypic adaptability reviewed by Stollewerk in [1]. The publication of the Daphnia pulex genome now paves the way for investigating this impressive feature on the genetic level [2]. Genetic tools, such as transgenesis and RNA interference, have become available allowing for functional analysis of eco-responsive genes, for example, see [3–6].
Furthermore, the easy cultivation and accessibility of the direct developing eggs make D. magna an attractive organism for evolutionary developmental studies, for example, see [7, 8]. Molecular genetic studies of crustacean development are fragmentary and thus there is a large data gap that needs to be filled to understand the evolution of developmental processes in arthropods. Recent comparative studies on neurogenesis in D. magna have revealed considerable changes in the interactions and functions of the genes involved compared to insects [9, 10]. An expansion of these studies to additional developmental processes and crustacean species is required to understand the phylogenetic relationships of insects and crustaceans and the position of Cladocera within the branchiopods.
In order to perform detailed comparative and functional studies, a staging system is therefore required. There is no staging system available for Daphna magna, however, several descriptions of embryonic stages have been published for various other Daphnia species, for example in references [5, 11–15]. In most cases though, the staging is incomplete and lacks consistent morphological landmarks. Furthermore, all published staging schemes are based on the time of development after the eggs have been deposited into the brood pouch.
However, the analysis of functional and comparative data cannot rely on a staging system that is built on hours of development because treatment with chemical inhibitors, RNA interference as well as environmental stressors can lead to developmental delays. Considering the dynamic expression of developmental genes during embryogenesis, it is obvious that the informative value of functional data sets is limited if expression profiling data or in situ expression patterns are collected from different reference stages.
The staging system presented here for Daphnia magna is therefore based on morphological landmarks, which are captured by fluorescence and SEM (scanning electron microscopy). It covers the development of subitaneous eggs from the release into the brood pouch until hatching and the subsequent first instar molt.
Daphnia magna belongs to the Anomopoda within the Cladocera, whose embryos typically exhibit direct development as reviewed by Olesen in [16]. Anomopod crustaceans have a short body. The head is usually covered by a head shield and bears a uniramous first antenna (usually only one segment), a biramous second antenna (with the exopodite showing three to four segments, the endopodite three segments) with long swimming setae, a mandible, a first maxilla with few setae and a rudimentary or lacking second maxilla [17]. In Daphnia species, the thorax bears five pairs of leaf-like limbs showing great variability in shape and function and is followed posteriorly by a limbless abdomen and a telson bearing paired claws on its tip. Posterior to the head the body is covered by the carapace, which exhibits a terminal spine. During the growth season Daphnia reproduce asexually. The female produces parthenogenetic (apomictic/subitaneous) eggs, which are incubated in a brood pouch located dorsally underneath the carapace. The limbless abdomen can be flexed and thereby opens and closes the brood pouch. Embryos undergo direct development and hatch as not fully extended individuals (called 'neonata', see [18]). After being released from the mother's brood pouch they immediately molt and look like miniaturized adults.
Methods
Daphnia magna culture and egg collection
D. magna (clone I1Inb1 - kindly provided by Dieter Ebert, Basel) were kept in groups of 15 to 20 individuals in any kind of glass jars (400 ml or more) filled with artificial Daphnia medium [19] at room temperature. They were fed with the green alga Scenedesmus obliquus (one stock was kindly provided by Dieter Ebert, Basel; one stock was bought from EPSAG, Göttingen) at least twice per week. The stocks of green algae were kept at room temperature in a semi-continuous culture using a 3 l Erlenmeyer flask under constant aeration and light. Algae were collected twice per week and fresh autoclaved medium was added (medium recipe after Dieter Ebert, Web guide to Daphnia parasites. http://evolution.unibas.ch/ebert/lab/algae.htm, Additional file 1).
D. magna females release their eggs into a dorsal brood pouch, which is the space between the carapace and the dorsal side of the trunk. In order to collect the eggs, females were transferred to a petri dish in a small drop of medium. While fixing them by pinning the carapace facing the petri dish down with a blunt needle, the eggs were gently removed from underneath the carapace with a second blunt needle.
Fixation of embryos
For Hoechst 33258 (Sigma; 1 μg/ml) and SYBR® Green (Life Technologies; 1:100) nuclear staining the embryos were fixed in a 4% paraformaldehyde solution in phosphate-buffered saline (PBS) (107 mM NaOH, 136 mM NaH2PO4.H2O, 0.45 mM CaCl2, 67 mM glucose - pH 7.3) for 30 minutes. For Sytox® Green (Invitrogen; 1:1,000) nuclear staining the embryos were boiled for ten minutes in Daphnia medium and postfixed with 4% formaldehyde in PBS for 30 minutes.
For scanning electron microscopy embryos were fixed in Bouin's fluid (75% saturated aqueous picrid acid solution, 20% saturated formaldehyde, 5% glacial acetic acid) for one hour. The embryos can be dechorionated and devitellinized manually using fine dissecting needles before or after fixation.
Fluorescent nuclear stainings
Embryos were stained either with Hoechst 33258, SYBR® Green or Sytox® Green for one hour. They were washed three times for ten minutes in PBS and transferred to 70% glycerol in PBS.
Congo-red staining
For Congo-red staining, the embryos were transferred to distilled water and the dissolved Congo-red added (1.5 mg/ml distilled water, for details see [20]). After 24 hours at room temperature, the staining process was stopped by several washes with distilled water. The embryos were subsequently transferred to 70% glycerol in PBS.
Scanning electron microscopy
For scanning electron microscopy (SEM) the embryos were dehydrated in a graded ethanol series and dried with hexamethyldisilazane (HMDS, Roth) with one intermediate step of 1:1 ethanol 100% and HMDS. After vaporization of the HDMS the specimens were mounted and sputtered with gold using an Agar Auto Sputter Coater. A SEM FEI Inspect F was used to take the images.
Data analysis
A Leica DM IL FLUO with Leica DFC420C camera was used for documentation. Confocal laser-scanning data stacks were obtained using a Leica SP5 microscope or a Leica SP2 microscope, respectively. The confocal image stacks were analyzed with the 3D-reconstruction software IMARIS (Bitplane AG, Switzerland); volume renderings were created when needed.
Discussion
Comparative aspects of D. magna development and the staging system
Here we present for the first time a staging system for
Daphnia magna
based on morphological landmarks (Figure
13
). The staging can most likely be applied to apomictic and resting eggs since it was shown in
D. pulex
that the sequence and morphology of development are the same for both types of eggs except that development is arrested in the latter in the first phase of gastrulation and resumed after a diapause [
27
]. Furthermore, sexual dimorphism can only be observed in late developmental stages (stage 11) and does not affected the landmarks used for staging so that the staging system can be applied to both sexes.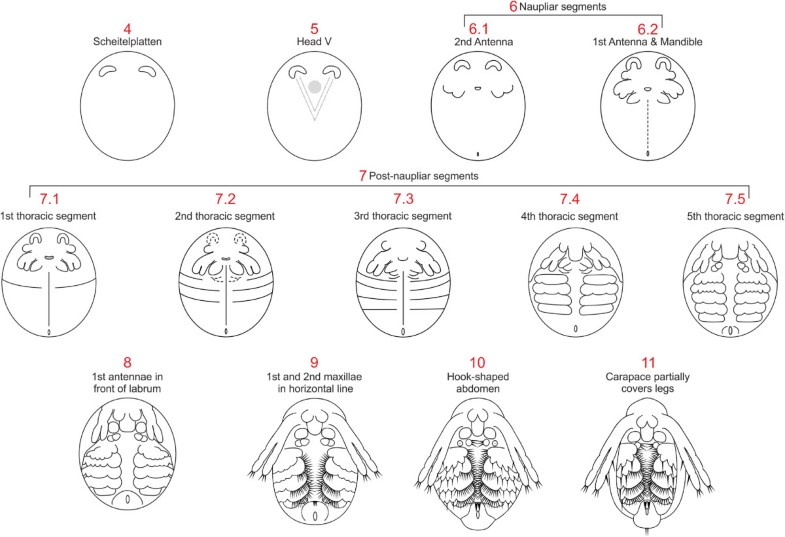 Until now, there was no staging system available for Daphnia magna, the species that is most frequently used for ecological and recently also for developmental research. Though it should be mentioned here that a few perfunctory descriptions of developmental stages in D. pulex, D. magna and an additional cladoceran, Dunhevedia crassa, have been published - some recently - which are based on hours of development [5, 11, 14, 15]; however, these cannot be used as staging systems due to large gaps and lack of morphological landmarks.
Kotov and Boikova [13] present a staging system for D. hyalina and D. galeata, which is again based on hours of development after the eggs have been deposited into the brood pouch. The authors mainly present schematic drawings but give detailed descriptions of the stages based on the analysis of SEMs. Comparison of these descriptions to the D. magna staging system reveals a high correspondence in the sequence of major morphological events (Figure 13). Kotov and Boikova [13] did not include the early stages of development (0 to 10 hours in D. hyalina and D. galeata) into their staging system. The staging starts with the formation of the naupliar segments followed by the generation of the postnaupliar segments, which corresponds to the morphological landmarks of stage 6 and 7, respectively, in D. magna. However, the formation of the fifth (and last) thoracic segment seems to be delayed compared to D. magna. D. hyalina and D. galeata embryos are elongated when the fifth thoracic segment forms, while D. magna embryos have still a roundish appearance and only elongate after formation of the last thoracic segment. Additional landmarks such as the medial movement, fusion and protrusion of the first antennae, the lateral movement of the second maxillae, the formation of the caudal spine and sensory setae all appear in the same sequence in all three Daphnia species. The only other slightly heterochronic event is the ventral flexure of the abdomen which in D. magna occurs in stage 10 ('hook-shaped abdomen'), while it occurs later relative to other morphological landmarks (for example, fusion of the bases of the first antennae, lateral bend of the caudal spine) in D. hyalina and D. galeata. Furthermore, we found that the length of the second antennae, which is used frequently in the Kotov and Boikova [13] staging system, is not a reliable landmark in D. magna since it varies greatly in relation to other morphological landmarks.
Although until now, there was no staging system available for the early stages of Daphnia development, several publications from the late nineteenth to the early twentieth century give very detailed descriptions of the cleavage divisions, blastoderm formation and gastrulation in various cladoceran species based on light microscopic sections [21–24, 27–30]. Comparison of early stages between several cladoceran species (D. magna, D. pulex, D. longispina, Moina rectirostris, Holopedium gibberum and Polyphemus pediculus) revealed that early development is highly conserved in cladocerans and species-specific differences must occur in later development. Our data confirm that the sequence of events in early D. magna development is conserved, including the unequal divisions of the blastoderm cells, the formation of the 'Scheitelplatten', the formation and position of the gastrulation zone and the immigration of presumptive germ line cells, thus supporting previous results.
Furthermore, Fritsch and Richter [31] have compared the development of two branchiopod representatives, Leptestheriada halacensis (Spinicaudata) and Cyclestheria hislopi (Cyclestherida), which belong to taxa closely related to Cladocera. It seems that the sequence of appearance of morphological landmarks, such as the relative time of trunk segment formation, appendage differentiation and eye formation shows heterochronic changes when compared between these two species but also compared to D. magna. However, the morphological landmarks used by us and by Fritsch and Richter [31] are not sufficiently overlapping for a detailed comparison.
Formation of the brain and the visual system
The 'Scheitelplatten' are one of the most prominent morphological landmarks of early development in Cladocera. They allow for an early determination of the anterior-posterior and dorso-ventral axes and mark the anterior-most position of the forming germ band. The development of the 'Scheitelplatten' has been analyzed in great detail in Polyphemus pediculus[24]. The anlage arises from eight blastoderm cells, which appear in the 32-cell stage embryo. The eight cells become separated into a bilateral pair of four cells, which undergo multiple divisions. Kühnemund suggests that the 'Scheitelplatten' together with a few surrounding ectodermal cells form the brain, including the optic ganglion and the eye. In line with these data, we show here that Dam atonal, whose expression is highly conserved in the developing visual system throughout the animal kingdom, is expressed in subsets of 'Scheitelplatten' and surrounding ectodermal cells. Furthermore, the expression pattern of Dam snail suggests that the area of the Head-V together with the 'Scheitelplatten' and associated ectodermal cells forms the brain and the mandibular neuromere. This is in contrast to Kühnemund's [24] assumption that only the 'Scheitelplatten' and the surrounding cells develop into the brain.
Are neonates part of the embryonic development? - The switch from embryonic to post-embryonic phase
Most branchiopod crustaceans show an anamorphic (indirect) mode of development, which means that development is not completed in the embryo but the so called (ortho-) nauplius larvae hatch with only three anterior-most appendages (antenna 1, antenna 2 and mandible) and a partial set of segments. Over the course of successive larval stages, additional segments and their corresponding appendages are added [16]. This anamorphic and gradual development is assumed to be plesiomorphic for branchiopods [16, 32]. However, cladocerans exhibit a different developmental strategy. They undergo epimorphic (direct) development and juveniles emerge at the end of embryonic development, which show approximately the adult morphology [33, 34].
For both developmental strategies, the hatching from the egg membranes demarcates the switch from embryonic to post-embryonic development, either as a free living juvenile (direct development) or as free living larva (indirect development), for example [33, 34].
Arthropods commonly have two egg membranes: the outer chorion and the inner vitelline membrane [35]. The chorion is also described as 'first egg membrane' in crustaceans [13], which can be shed long before hatching from the vitelline membrane. The vitelline membrane is therefore also called 'hatching membrane' [13]. D. hyalina, D. galeata [13], D. pulex [15] and D. magna embryos, for example, shed the chorion before mid-embryogenesis. In the literature, a third embryonic layer is frequently mentioned. However, this is actually the embryonic cuticle, which is formed by the hypodermal cells of the embryo itself and not involved in the process of hatching [36]. In D. magna, the first molt occurs shortly after hatching, while in the case of D. hyalina, D. galeata and D. pulex moulting and hatching seem to occur around the same time.
One peculiarity of Daphniidae and other cladoceran groups is the occurrence of 'neonate' embryos. According to Kotov [18], 'neonata' represents the terminal phase of embryogenesis; however, at this stage the embryo has already hatched and is not surrounded by egg membranes anymore. Neonate embryos are covered with a thin cuticle and not fully expanded. They are almost immobile and remain within the mother's brood pouch with their carapace spine bent ventrally (see hatchling in Figure 12a and compare with next instar in Figure 12b). Immediately after the mother releases the neonate embryos, they undergo another molt and start their post-embryonic development [18]. Although the term is widely accepted in the branchiopod research field, it causes conceptual problems as it deviates from the generally accepted view that the time point of hatching from the egg membranes demarcates the separation between embryonic and post-embryonic development. For the sake of consistency and to avoid adding to the confusion, we suggest keeping the term 'neonate' for the first post-embryonic stage after hatching. However, we would like to stress that we do not agree with the concept of including neonates into embryonic development.
Conclusion
We present here a staging system for Daphnia magna which is based on morphological landmarks. The staging system can be adopted for other daphnids with minor variations since the sequence of development is highly conserved during early stages and only minor heterochronic shifts occur in late embryonic stages.
Abbreviations
a1:

first antenna
a2:

second antenna
ab:

abdomen
ca:

carapace
cec:

compound eye capsule
casp:

carapace spine
do:

dorsal organ
g:

gut
gi:

gill
gl:

germ line
lb:

labrum
md:

mandible
ml:

midline
mx1:

first maxilla
mx2:

second maxilla
mxa:

maxillary appendage
ne:

neuroectoderm
pro:

proctodeum
SEM:

scanning electron microscopy
sp:

'Scheitelplatte'
sto:

stomodeum
t:

thoracic segment
thp:

thoracopod
vne:

ventral neuroectoderm.
Declarations
Acknowledgements
Individuals of D. magna and algae were kindly provided by Dieter Ebert, Basel. We thank Franziska Meusel and Renate Mbacke (Berlin) for assistance in culturing the animals. Furthermore we thank the two anonymous reviewers for helpful comments on the manuscript. This study was partially funded by the Deutsche Forschungsgemeinschaft (MI 1389/1-1; UN 271/1-1) and the Einstein Stiftung Berlin (CW A-2012_114).
Authors' Affiliations
(1)
Institut für Biologie III, Neurogenetik, Albert-Ludwigs-Universität Freiburg, Freiburg, Germany
(2)
School of Biological and Chemical Sciences, Queen Mary University London, London, UK
(3)
Vergleichende Zoologie, Humboldt-Universität zu Berlin, Berlin, Germany
Copyright
© Mittmann et al.; licensee BioMed Central Ltd. 2014
This article is published under license to BioMed Central Ltd. This is an Open Access article distributed under the terms of the Creative Commons Attribution License (http://creativecommons.org/licenses/by/2.0), which permits unrestricted use, distribution, and reproduction in any medium, provided the original work is properly credited. The Creative Commons Public Domain Dedication waiver (http://creativecommons.org/publicdomain/zero/1.0/) applies to the data made available in this article, unless otherwise stated.