What can vertebrates tell us about segmentation?
Received: 29 April 2014
Accepted: 11 June 2014
Published: 1 July 2014
Abstract
Segmentation is a feature of the body plans of a number of diverse animal groupings, including the annelids, arthropods and chordates. However, it has been unclear whether or not these different manifestations of segmentation are independently derived or have a common origin. Central to this issue is whether or not there are common developmental mechanisms that establish segmentation and the evolutionary origins of these processes. A fruitful way to address this issue is to consider how segmentation in vertebrates is directed. During vertebrate development three different segmental systems are established: the somites, the rhombomeres and the pharyngeal arches. In each an iteration of parts along the long axis is established. However, it is clear that the formation of the somites, rhombomeres or pharyngeal arches have little in common, and as such there is no single segmentation process. These different segmental systems also have distinct evolutionary histories, thus highlighting the fact that segmentation can and does evolve independently at multiple points. We conclude that the term segmentation indicates nothing more than a morphological description and that it implies no mechanistic similarity. Thus it is probable that segmentation has arisen repeatedly during animal evolution.
Keywords
SegmentationMetamerismSomitesRhombomeresPharyngeal archesVertebratesEvolution
Introduction
Within the bilateria there are a number of clades, such as the arthropods, annelids and the chordates, which display the serial repetition of parts along the long body axis. These animals have been classified as being segmented [
1
]. There has, however, long been contention as to whether or not these instances of segmentation are homologous. A major problem that pervades this issue is how segmentation can be defined. A recent article by Hannibal and Patel, in this journal, makes the point that if we cannot understand exactly what is meant by segmentation and which structures are genuinely segmented then we have no hope of understanding how segmentation evolved and of clarifying the relationships between different types of segmentation [
2
]. These authors further suggest that any discussions of segmentation be clarified to explain exactly what is being studied and it is through this route that one might arrive at a better understanding of what segmentation is.To begin to understand segmentation in its different manifestations and to consider whether or not these are homologous processes across animal taxa we need to comprehend the segmentation process; that is, how segments arise and are allocated during development. With regard to this point, a study of diverse segmented structures in vertebrates is particularly useful. There are three clear distinct instances of segmentation being used as a developmental strategy in vertebrates and this affords one the opportunity to effectively and readily compare and contrast these processes (Figure
1
). Moreover, we have a wealth of information about how these segmental systems are established. The first, and arguably the most well-known, is the formation of the somites from the paraxial mesoderm. The second is the subdivision of the hindbrain to generate rhombomeres. The last, and least discussed, is the formation of the pharyngeal arches, which are evident as serial bulges on the lateral surface of the embryonic head.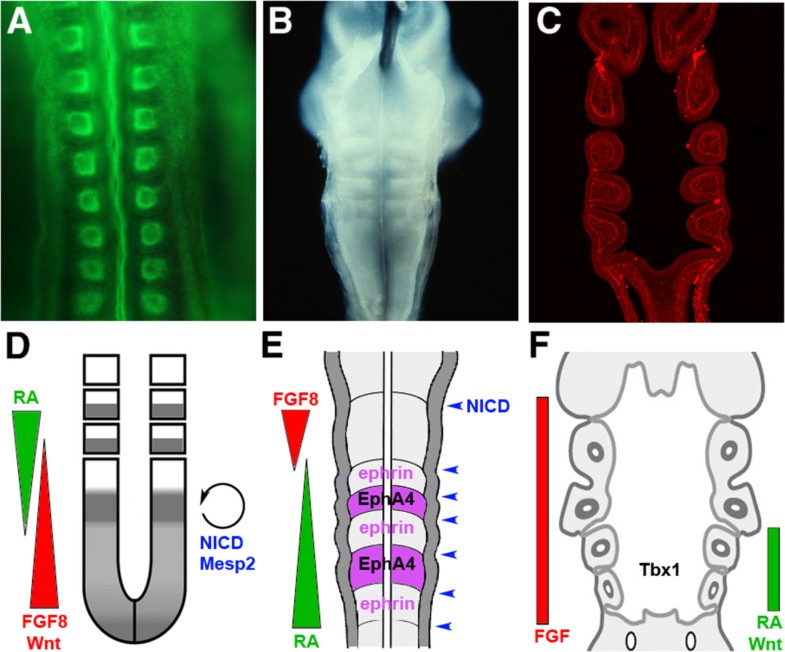 Review
In this review, we consider how these segmentation processes are controlled and whether or not they have any relationship with each other. We also probe the evolutionary history of each of these segmental systems to gain insights into how they emerged during evolution and again we have a relatively solid knowledge of their origins. Additionally, we make no terminological distinction between 'segmented' and 'metameric' structures. All of the structures we discuss in vertebrates can be readily described as both segmented and metameric, and we make the argument that the only useful definition of such terms is morphological. Finally, we consider how the lessons we have learned from our consideration of segmentation in vertebrates feed into more general discussions of segmentation within the bilateria.
Conclusions
Hannibal and Patel make the excellent point that there is no merit in talking about segmentation without being explicit about what is being discussed. Thus with regards to segmentation in vertebrates, it is unhelpful to talk generally of segmentation and to lump together the processes of somitogenesis, rhombomere formation and pharyngeal arch development; these are chalk and cheese comparisons. It is more correct and useful to discuss how somites form, how rhombomeres emerge and how pharyngeal arches are generated. It is likewise uninformative and potentially confounding to talk of individual taxa as 'segmented' or 'unsegmented', or even 'pseudosegmented'; it is much more sensible to talk about segmented structures or body regions individually.
Furthermore, as Hannibal and Patel note, it is incredibly difficult to arrive at a precise definition of segmentation and we would argue that this is because there is no single process of segmentation. Consequently, all definitions of segmentation are superficial; that is, repetition of structures along the main body axis - there is nothing deeper to be indicated. An analogous situation is that of wings - what is a wing? It is a structure that allows an animal to fly. Wings are a feature of flies, birds and bats but the definition of a wing has to be superficial because it describes non-homologous structures. Thus, many of the problems that arise with the concept of segmentation, and that we have discussed here, ultimately reflect a problem of terminology. The names that we apply to biological processes do not necessarily indicate anything beyond being useful appellations. Of course this is the problem of homoplasy and the only route to resolving this is to map any given biological process to the phylogeny.
Declarations
Acknowledgements
We would like to thank Peter Hardy and Victoria Shone for contributing images to Figure 1, and Malcolm Logan for his comments on the manuscript.
Authors' Affiliations
(1)
MRC Centre for Developmental Neurobiology, King's College London, London, UK
Copyright
© Graham et al.; licensee BioMed Central Ltd. 2014
This article is published under license to BioMed Central Ltd. This is an Open Access article distributed under the terms of the Creative Commons Attribution License (http://creativecommons.org/licenses/by/4.0), which permits unrestricted use, distribution, and reproduction in any medium, provided the original work is properly credited. The Creative Commons Public Domain Dedication waiver (http://creativecommons.org/publicdomain/zero/1.0/) applies to the data made available in this article, unless otherwise stated.