Molecular conservation of metazoan gut formation: evidence from expression of endomesoderm genes in Capitella teleta (Annelida)
Received: 22 June 2014
Accepted: 17 September 2014
Published: 29 October 2014
Abstract
Background
Metazoan digestive systems develop from derivatives of ectoderm, endoderm and mesoderm, and vary in the relative contribution of each germ layer across taxa and between gut regions. In a small number of well-studied model systems, gene regulatory networks specify endoderm and mesoderm of the gut within a bipotential germ layer precursor, the endomesoderm. Few studies have examined expression of endomesoderm genes outside of those models, and thus, it is unknown whether molecular specification of gut formation is broadly conserved. In this study, we utilize a sequenced genome and comprehensive fate map to correlate the expression patterns of six transcription factors with embryonic germ layers and gut subregions during early development in Capitella teleta.
Results
The genome of C. teleta contains the five core genes of the sea urchin endomesoderm specification network. Here, we extend a previous study and characterize expression patterns of three network orthologs and three additional genes by in situ hybridization during cleavage and gastrulation stages and during formation of distinct gut subregions. In cleavage stage embryos, Ct-otx, Ct-blimp1, Ct-bra and Ct-nkx2.1a are expressed in all four macromeres, the endoderm precursors. Ct-otx, Ct-blimp1, and Ct-nkx2.1a are also expressed in presumptive endoderm of gastrulae and later during midgut development. Additional gut-specific expression patterns include Ct-otx, Ct-bra, Ct-foxAB and Ct-gsc in oral ectoderm; Ct-otx, Ct-blimp1, Ct-bra and Ct-nkx2.1a in the foregut; and both Ct- bra and Ct-nkx2.1a in the hindgut.
Conclusions
Identification of core sea urchin endomesoderm genes in C. teleta indicates they are present in all three bilaterian superclades. Expression of Ct-otx, Ct-blimp1 and Ct-bra, combined with previously published Ct-foxA and Ct-gataB1 patterns, provide the most comprehensive comparison of these five orthologs from a single species within Spiralia. Each ortholog is likely involved in endoderm specification and midgut development, and several may be essential for establishment of the oral ectoderm, foregut and hindgut, including specification of ectodermal and mesodermal contributions. When the five core genes are compared across the Metazoa, their conserved expression patterns suggest that 'gut gene' networks evolved to specify distinct digestive system subregions, regardless of species-specific differences in gut architecture or germ layer contributions within each subregion.
Keywords
endodermdigestive systemgut developmentkernelhybridizationspiralian
Background
In both protostome and deuterostome clades, sources of endoderm (stomach, intestine, glands) and mesoderm (connective tissue, coelom, somatic gonad, nephridia and most muscle) are commonly derived from a bipotential precursor cell or population of cells, called endomesoderm[1–5]. Networks of transcription factors and cell-signaling molecules have been shown to specify territories of endomesoderm during embryonic development in several model organisms[4, 6–11]. Gene networks that specify endomesoderm are thought to have been in place very early in metazoan evolution[10, 12–14] and appear to contain some network interactions that are highly conserved, as well as some that are evolutionarily labile[15, 16]. Across the Metazoa, orthologs of regulatory genes that specify endomesoderm have different developmental roles during axial patterning and gastrulation[5], cell signaling[17, 18] and germ layer specification[7, 19, 20]. Therefore, variation in the deployment of ancient metazoan network genes may have an important influence on patterning different cell types, organ systems, and ultimately, the morphological diversity of animals[15, 16, 21–24]. Despite the evolutionary implications of this, relatively few studies have examined the expression of endomesodermal network genes in taxa that are distantly related to the standard developmental model systems[4, 12, 16].
Capitella teleta, formerly known as Capitella sp. I[25] is a marine, polychaete annelid worm and one of several protostome spiralian taxa that develop through a highly conserved, stereotypic program of spiral cleavage[2, 26, 27]. C. teleta is proving to be a valuable research organism for investigating fundamental properties of cellular and morphological development[28–32] and patterns of gene expression from embryogenesis through organ system formation in metatrochophore larvae and juvenile worms[33–40]. Additionally, a sequenced genome[41] and comprehensive embryonic fate map[27, 32] have become useful resources for identifying candidate genes and accurately interpreting their expression patterns. Among the spiralian taxa, derivatives of endomesoderm contribute to both endoderm and mesoderm associated with digestive organ systems[2, 26, 42, 43]; however, studies on this diverse group of animals are underrepresented in the context of how or when endomesoderm is genetically specified.
The genetic specification of endoderm and mesoderm in sea urchins[8, 24, 44] represents arguably the most comprehensively described metazoan gene regulatory network (GRN). Within that network, there is a hierarchy of multigene subcircuits that interact to regulate distinct processes during embryogenesis[10]. Upstream of all other subcircuits there is a putative 'kernel' of the network that is considered to be the 'most impervious to change', unlike more flexible subcircuits within the same GRN[10, 16]. In both sea urchins and sea stars, the endomesoderm 'kernel' contains an identical set of core transcription factor genes that regulate the specification of non-skeletogenic mesoderm and most of the gut endoderm within the archenteron during embryonic and larval development[15]. These core transcription factors include Otx, Blimp1/Krox, Brachyury, Foxa, and Gatae[8, 10, 16, 44].
Although the architecture of a GRN cannot be deduced directly from any temporal or spatial patterns of gene expression[44], some patterns should provide a reasonable entry point for detecting evidence that a putative network may be in place. In C. teleta, we have previously characterized the expression patterns for orthologs of two core transcription factors, foxA and GATA, which include three genes in the GATA456 subclass[37]. Those patterns were shown to be consistent with possible roles in specifying embryonic domains of oral ectoderm, endoderm and mesoderm during the process of gut formation. In this study, we investigate the remaining three core transcription factor genes, orthodenticle (Otx), Blimp1 and brachyury (Bra), along with Nkx2.1, goosecoid (Gsc), and FoxAB as additional candidates involved in gut formation. Orthologs of an Nkx2.1 gene are expressed in the foregut, midgut and hindgut regions of chordates[45–47], the foreguts of a sea urchin, fly, nematode and a mollusk[48–50], and the posterior ectoderm of an acoel[51]. A goosecoid gene is expressed in mesendoderm of a cephalochordate[52], the foreguts of a sea urchin, fly, priapulid, mollusk and polychaete[53–57], and oral ectoderm of an acoel[51]. And FoxAB, although found in several invertebrate genomes[58–60], yet without gut-related expression, is consistently assigned to a clade containing FoxA factors, which are known to regulate gut formation across the Metazoa. For all six genes, we present orthology analyses and characterize their expression patterns during development in embryos and larvae of C. teleta. With the exception of Nkx2.1, there is only one member of each of the transcription factor types in the genome of C. teleta, and each one has orthologous gene class members in other metazoan taxa. All six genes have expression patterns associated with development of the digestive organ system. We discuss the identity, expression patterns and potential for interaction of each gene in the context of organ-system development and as components of a putative gene regulatory network in C. teleta and other animals.
Results
Gene orthology analyses
Six candidate transcription factor genes were identified and isolated to examine their patterns of expression and possible roles during development in the marine polychaete annelid, Capitella teleta Blake, Grassle & Eckelbarger, 2009. Single copy gene orthologs of orthodenticle (Otx), Blimp1, brachyury (Bra), FoxAB and goosecoid (Gsc), and two orthologous genes of Nkx2.1, were identified in the genome of C. teleta[41] (http://genome.jgi.doe.gov). Bayesian (PP, posterior probability) and maximum likelihood (BS, bootstrap) analyses support specific assignments for each of the genes to a distinct clade of orthologs from deuterostomes, ecdysozoans and spiralians. Ct-otx was assigned to a clade of PRD class Otx transcription factors [see Additional file2: Figure S1] (PP = 1.0; BS = 99%). Ct-blimp1 was assigned to a clade of PRDM1/Blimp1 factors [see Additional file3: Figure S2] (PP = 1.0; BS = 85%). Ct-bra was assigned to a clade containing other Brachyury/T factors [see Additional file4: Figure S3] (PP = 1.0; BS = 99%). The orthology of Ct-foxAB was previously analyzed[66]. Ct-nkx2.1a forms a group with Ct-nkx2.1b in the Nkx2.1 clade, distinct from a clade of Nkx2.2 homeodomain factors [Additional file5: Figure S4] (pp = 0.96). Ct-gsc was assigned to a clade of PRD class Gsc transcription factors [see Additional file6: Figure S5] (PP = 1.0; BS = 64%).
Brief summary of gut development in Capitella teleta
In
C. teleta
, the developmental life history pattern is indirect and lecithotrophic, whereby adult female worms brood relatively large yolky eggs that develop through a series of embryonic and larval stages (Figure
1
). Early embryogenesis exhibits a conserved program of unequal, quartet spiral cleavage[
27
,
32
]. The cleavage program is associated with a stereotypic fate map, and the developmental origins of most tissues are known[
27
,
32
]. The endoderm is derived from four macromeres (3A, 3B, 3C, and 4D) on the vegetal side of the 28- to 33-cell embryo. The macromeres become internalized during gastrulation by epiboly, and their descendants will form the midgut of the alimentary canal. The blastopore completely closes at the end of gastrulation, and a stomodeum forms soon after to establish the definitive mouth. Ectodermal precursors from the 2nd and 3rd quartet micromeres contribute to formation of the mouth, foregut and hindgut, with 2a and 2c descendants contributing to the rectum, 3c and 3d contributing to hindgut musculature, and 4d descendants that form the anus[
27
]. During foregut development, extensive morphogenesis occurs in the muscular pharynx and the esophagus, which connects the pharynx to the intestine[
31
,
37
]. From anterior to posterior, the gut tube is highly regionalized and is composed of a mouth, foregut (buccal cavity, pharynx, and esophagus), midgut (intestine), hindgut (rectum) and anus[
27
,
31
,
37
]. Organogenesis of the gut occurs over a period of several days during larval development, and the process is not complete until nonfeeding metatrochophore larvae emerge from the brood tube at stage 9[
27
,
30
,
37
]. Feeding commences within 24 hours following settlement and metamorphosis to a juvenile worm.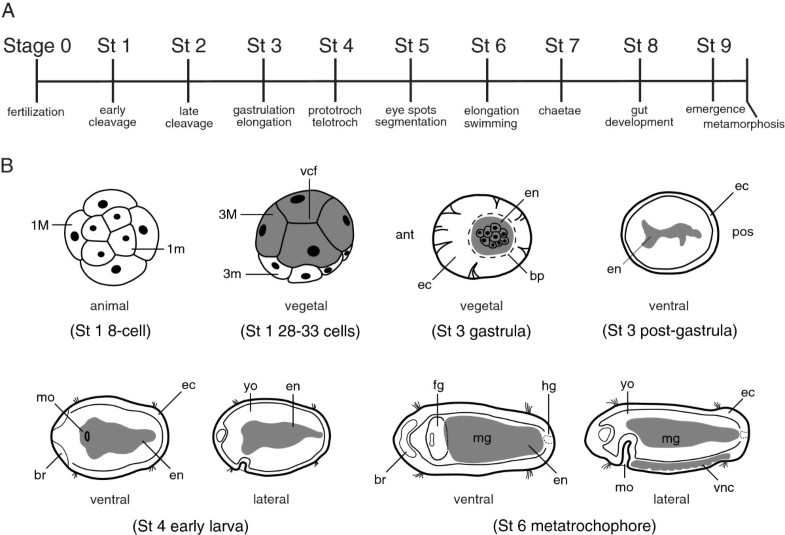 Whole-mount in situ expression patterns
Conclusions
Within Spiralia, data from Capitella teleta provide the most comprehensive catalogue of comparable expression patterns for transcriptional regulators of the sea urchin endomesoderm 'kernel'. Those patterns indicate that five core orthologs of the endomesoderm GRN are involved in regulating endoderm specification and midgut development in C. teleta. All five orthologs are also expressed in patterns consistent with roles in foregut development, and a subset of these and other genes are most likely involved with mouth (Ct-otx, Ct-bra, Ct-foxA, Ct-foxAB and Ct-gsc) and hindgut (Ct-bra, Ct-foxA, Ct-nkx2.1a and Ct-nkx2.1b) development in C. teleta. And by extending the comparison to a broad diversity of animals, we recognize that several of these transcription factors exhibit highly similar patterns of expression in specific gut subregions, both within and outside of the Bilateria (Figure 5). Collectively, those patterns, along with detailed expression patterns presented in this study, indicate there is strong evidence for molecular conservation during metazoan gut formation. Thus, it is likely that networks of 'gut genes' were established to regulate development within distinct subregions of animal digestive systems prior to the radiation of Bilateria, with subsequent loss of expression and/or alternate patterns of expression evolving within lineages of Cnidaria, Ecdysozoa, Lophotrochozoa and Deuterostomia. Davidson and Erwin[10] predicted that once comparative network data are available from other animals, 'there will be found conserved network kernels similar in complexity and character' to what is characterized in the endomesoderm GRN that is common to a sea urchin and starfish. Although our study of gene expression in C. teleta is not a direct indicator of gene function or gene interaction, it is an important resource for comparisons of molecular development within Metazoa, and it provides a tractable and testable target for future functional studies. The next steps for inferring regulatory interactions and establishing the first basic 'wiring diagrams' of a network in Spiralia will require quantitative comparisons of the timing and amount of gene expression, and perturbation experiments that interrupt gene function. With the combination of genomic data, gene expression, and a comprehensive cell lineage and fate map of early development, C. teleta is emerging as an important research animal for studies on developmental gene regulation.
Abbreviations
BS:

bootstrap
GRN:

gene regulatory network
PP:

posterior probability.
Declarations
Acknowledgements
We thank the following people for cloning and initial expression screening of C. teleta genes: Katrin Thamm (Ct-otx, Ct-nkx2.1a), Kariena Dill (Ct-bra), Olivia Veatch (Ct-nkx2.1a), Andreas Hejnol (Ct-gsc), and Danielle de Jong for Ct-nkx2.1b expression screening. We are grateful to the staff and facilities management of Kewalo Marine Laboratory at the University of Hawaii at Manoa, and the Smithsonian Marine Station at Fort Pierce, Florida. MJB is grateful to Andreas Hejnol for many thoughtful discussions of gut-related gene expression in Metazoa. The National Science Foundation supported this work (ECS as a co-PI for NSF EF05-31558, and as PI for NSF IOB05-44869). This publication is Smithsonian Marine Station contribution no. 964.
Authors' Affiliations
(1)
Naos Island Laboratory, Smithsonian Tropical Research Institute, Apartado, Panamá, República de Panamá
(2)
Kewalo Marine Laboratory, PBRC/University of Hawaii, Honolulu, USA
(3)
Whitney Laboratory for Marine Bioscience, University of Florida, Augustine, USA
Copyright
© Boyle et al.; licensee BioMed Central Ltd. 2014
This article is published under license to BioMed Central Ltd. This is an Open Access article distributed under the terms of the Creative Commons Attribution License (http://creativecommons.org/licenses/by/4.0), which permits unrestricted use, distribution, and reproduction in any medium, provided the original work is properly credited. The Creative Commons Public Domain Dedication waiver (http://creativecommons.org/publicdomain/zero/1.0/) applies to the data made available in this article, unless otherwise stated.