Multiple recent co-options of Optix associated with novel traits in adaptive butterfly wing radiations
Received: 28 September 2013
Accepted: 27 November 2013
Published: 5 February 2014
Abstract
Background
While the ecological factors that drive phenotypic radiations are often well understood, less is known about the generative mechanisms that cause the emergence and subsequent diversification of novel features. Heliconius butterflies display an extraordinary diversity of wing patterns due in part to mimicry and sexual selection. Identifying the genetic drivers of this crucible of evolution is now within reach, as it was recently shown that cis-regulatory variation of the optix transcription factor explains red pattern differences in the adaptive radiations of the Heliconius melpomene and Heliconius erato species groups.
Results
Here, we compare the developmental expression of the Optix protein across a large phylogenetic sample of butterflies and infer that its color patterning role originated at the base of the neotropical passion-vine butterfly clade (Lepidoptera, Nymphalidae, Tribe: Heliconiini), shortly predating multiple Optix-driven wing pattern radiations in the speciose Heliconius and Eueides genera. We also characterize novel Optix and Doublesex expression in the male-specific pheromone wing scales of the basal heliconiines Dryas and Agraulis, thus illustrating that within the Heliconinii lineage, Optix has been evolutionarily redeployed in multiple contexts in association with diverse wing features.
Conclusions
Our findings reveal that the repeated co-option of Optix into various aspects of wing scale specification was associated with multiple evolutionary novelties over a relatively short evolutionary time scale. In particular, the recruitment of Optix expression in colored scale cell precursors was a necessary condition to the explosive diversification of passion-vine butterfly wing patterns. The novel deployment of a gene followed by spatial modulation of its expression in a given cell type could be a common mode of developmental innovation for triggering phenotypic radiations.
Keywords
Heliconius
Adaptive radiation
Evolutionary novelty
Pattern evolution
Co-option
Sexual dimorphism
Background
Adaptive or phenotypic radiations are defined by 'the evolution of phenotypic diversity within a rapidly multiplying lineage'[1, 2] and form crucibles of natural variation for the study of distinctness, as illustrated by Darwin's work on Galapagos finches[3]. Ecological arguments involving external (biotic or abiotic) factors are traditionally invoked to explain why phenotypic disparity is maintained over time[2], but they fail to explain the variation-generating mechanisms that allow these rapid bouts of evolution to occur. Recently, a handful of studies focusing on the intrinsic causes of adaptive radiations showed that diversification could follow relatively simple developmental innovations[4–9]. What principles underlie the emergence of new features, and how do these features further diversify[10, 11]? A meaningful answer to this question may come from comparisons between many organisms, and adaptive radiations assist us in this task by providing a replicated and diverse template of phenotypic variation[12]. Heliconius butterflies are perhaps one of the best studied examples of a phenotypic radiation[13–15]. The genus comprises 40 species distributed across the Neotropics and is characterized by a variegated mosaic of wing patterns that vary both among and within species[13, 16]. Wing patterns commonly function in nature as aposematic traits (that is, as signals displayed to warn potential predators of danger), and butterflies such as Heliconius erato and Heliconius melpomene are a well-known example of this phenomenon[17]. Both species signal their unpalatability by displaying similar wing patterns that are indistinguishable from each other, are endemic to a restricted geographical range, and almost always include red coloration[18]. This Müllerian (that is, reciprocal) mimicry provides a strong adaptive advantage and predators learn to avoid all co-mimics[19]. In fact, most Heliconius species display extensive geographic variation in discrete wing patterns; more than 300 Heliconius regional morphs are recognized by their distinct wing pattern phenotypes and are each locally involved in complex mimicry rings with other co-mimetic butterflies[16, 19, 20].
Many ecological factors explain the diversity of Heliconius butterflies[21] such as their co-evolution with host plants of the Passiflora genus[22, 23] and their participation in dynamic co-mimetic communities[19, 24]. However, these extrinsic factors remain mute regarding the mechanisms that generate wing pattern variation in the first place. Mapping experiments taking advantage of intraspecific variability in the genus have begun to shed light on this question, and have revealed a monogenic (Mendelian) genetic architecture for discrete allelic variation in red patterns[25–27]. In particular, it was found that cis-regulatory evolution of the optix transcription factor is responsible for the presence/absence of red wing patterns in convergent forms of the H. erato and H. melpomene species, as well as in the divergent Heliconius cydno and Heliconius pachinus morphs[28, 29]. Genetic variation at the optix locus explains a large fraction of the diversity of wing patterns in the genus, and was also found to contribute to the convergent evolution of mimetic forms by introgression of optix alleles in related lineages, resulting in a scattered phylogenetic distributions of adaptive patterns[15, 18, 30–32]. Thus, optix incarnates an emblematic example of 'hotspot of evolution' where the same gene has repeatedly caused phenotypic variation[28, 33]. Interestingly, some of the variable red patterns controlled by optix are not only involved in predation avoidance, but are also drivers of reproductive isolation by assortative mating[34–36], suggesting that optix allelic variation may directly influence speciation rates.
Despite their ecological significance, little is known about the evolutionary origins of optix-positive red color patterns. Drawing conclusions from morphological analyses alone has been challenging because the wing pattern architecture of Heliconius is divergent relative to the nymphalid ground plan[27, 37, 38] - the system of wing pattern homologies that is otherwise broadly conserved across the family Nymphalidae[39, 40]. Here, we generated a polyclonal antibody directed against the Optix protein and compared its immunoreactivity in the developing wings of Heliconius and other butterflies. We found that the role of Optix in color patterning is relatively recent, making it a synapomorphy of neotropical passion-vine butterflies (tribe: Heliconiini), and that Optix was also associated to the development of novel, sexually dimorphic scale structures in basal heliconiines. In the light of previous work, we conclude that co-option of the Optix transcription factor into the color pattern formation process was a key pre-requisite for the diversification of red wing patterns. The co-option of Optix is thus consistent with a two-step innovation/diversification model, where the evolution of a novel character followed by its spatial modulation generated a wide array of distinct wing patterns.
Discussion
The evolutionary origin of red wing patterns in Heliconius is unclear, as these elements seem divergent from the common pattern scheme shared by other butterflies[37]. Here, we clarify this issue by (a) arguing that Optix-positive patterns are a relatively recent novelty that seemingly appeared by co-option of Optix expression in color scale cell precursors, and (b) disentangling different genetic modes of pattern diversification that followed the original co-option event.
Optix color patterns are an evolutionary novelty of passion-vine butterflies
The co-option of a gene into a new context constitutes an unambiguous example of evolutionary novelty at the molecular level[
60
]. In particular, the re-deployment of developmental genes has been proposed to underlie the origin of novel traits such as butterfly wing patterns[
10
,
61
]. We observed Optix in the precursors of three types of scales: ancestral spear-shaped wing coupling scales[
29
]; specialized, male-specific, gold and black scales that are proposed to protect pheromone-spreading structures in basal Heliconiini[
50
]; and finally, the colored scales associated with pink (
Dryas iulia
) or red (
Heliconius spp
.) pigmentation across Heliconiini. We propose that each of these three Optix-associated scale phenotypes forms a distinct evolutionary character due to the divergent scale morphologies they underlie. Importantly, the recruitment of Optix expression into colored scale cell precursors of the 'proximal complex' is a synapomorphy of neotropical passion-vine butterflies (Heliconiini) and was detected in the basal genus
Dryas
, thus marking an innovation event associated with the Heliconiini radiation (Figure
6
). In
H. erato
and
H. melpomene
,
optix
expression may activate the
cinnabar
and
ebony
pigment synthesis genes, as their transcripts show a strong spatial correlation with Optix-positive red pigmentation[
54
,
55
,
59
,
62
]. It will be interesting to further confirm the regulatory targets of Optix and to determine how many steps were necessary to achieve its color patterning role. As we were unable to validate the hypothesis of an eye-to-wing co-option event re-wiring an ancient pigmentation module[
57
], the mechanism underlying the recruitment of Optix into a color determination module remains to be elucidated.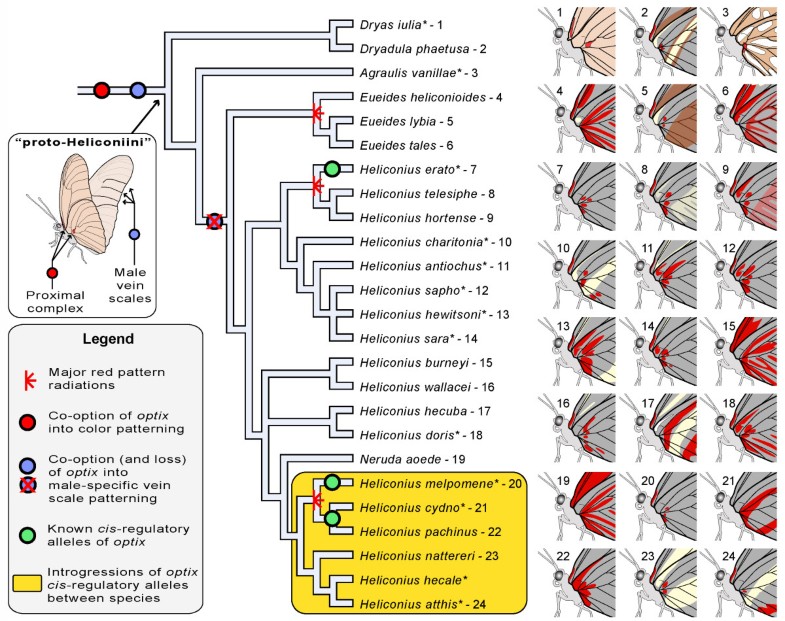 In parallel with its recently evolved color patterning role, Optix also acquired a novel role in the specification of male-specific striated scale structures on the forewing veins of Agraulis butterflies as well as in the basal genus Dryas, suggesting a co-option event prior to the Heliconiini radiation (Figure 6). This implies that Optix has been repeatedly recruited in the specification of derived scale identities, highlighting a possible propensity of the optix gene to be recruited during the evolution of specialized scale types.
Four modes of red pattern diversification in Heliconius
Optix expression implies that all the red patterns assessed in the
Heliconius
genus are variations of a conserved core process linking Optix expression in scale cell precursors to a narrow range of scale phenotypes (Figure
6
). Under the conceptual framework of developmental homology[
63
] Optix scale cell precursor expression provides a character-defining mechanism (that is, the presence of red scales) that pinpoints an evolutionary novelty, whereas modulation of Optix spatial localization underlies the 'character states' of this trait and is a secondary effect of diversification. We summarize here our knowledge of the different modes of evolution of red patterns with a focus on
optix
regulation:
In summary, 1) cis-regulatory evolution of optix and epistatic interactions with upstream trans-regulatory factors affect the localization and shape of red patterns; 2) introgressions of optix variants maximize the phylogenetic distribution of pre-existing patterns, sometimes resulting in novel, hybrid patterns due to epistatic effects; and 3) unidentified modifier genes can modulate the color output of Optix-positive scale cell precursors. Similar principles may apply to Optix-independent patterns.
Conclusions
Multiple lines of evidence suggest that the regulatory evolution of the optix locus drives morphological radiations in the wings of H. melpomene and H. erato[15, 18, 30, 45]. Regulatory evolution of this locus may also have a direct influence on species richness itself due to assortative mating between butterflies displaying identical red wing patterns[35, 36]. In the light of the present data, we infer that the evolution of Optix color patterning roles sparked the diversification of red wing patterns within the Heliconiini tribe, notably among the spectacular mimetic radiations observed in the genera Heliconius and Eueides. Multiple recruitments of Optix expression into the differentiation of derived wing scales - the red color scale cells, as well as the male-specific vein structures of basal heliconiines - provide compelling examples of developmental innovation, and the genetic co-option event associated to coloration was followed by a rapid radiation in wing patterns. By opening paths to unexplored valleys of the morphospace, gene co-option events may be a general mechanism explaining sudden bursts of phenotypic change.
Declarations
Acknowledgements
We are grateful to Angela Kaczmarczyk for helping with recombinant protein purification, Carmen Robinett for sharing the anti-Doublesex antibody, and Theresa Freiburger for butterfly husbandry at UT Austin. Thomas Schilling provided continuous support for this research and we also thank the members of his laboratory for technical assistance and fruitful discussions. This work was supported by the National Science Foundation grant IOS-1052541 to RDR.
Authors' Affiliations
(1)
Department of Ecology and Evolutionary Biology, Cornell University, Ithaca, USA
(2)
Department of Ecology and Evolutionary Biology, University of California, Irvine, USA
(3)
Department of Molecular and Cell Biology, University of California, Berkeley, USA
(4)
Department of Integrative Biology, University of Texas, Austin, USA
Copyright
© Martin et al.; licensee BioMed Central Ltd. 2014
This article is published under license to BioMed Central Ltd. This is an Open Access article distributed under the terms of the Creative Commons Attribution License (http://creativecommons.org/licenses/by/2.0), which permits unrestricted use, distribution, and reproduction in any medium, provided the original work is properly credited. The Creative Commons Public Domain Dedication waiver (http://creativecommons.org/publicdomain/zero/1.0/) applies to the data made available in this article, unless otherwise stated.