Mesodermal gene expression during the embryonic and larval development of the articulate brachiopod Terebratalia transversa
Received: 22 November 2014
Accepted: 19 March 2015
Published: 11 April 2015
Abstract
Background
Brachiopods undergo radial cleavage, which is distinct from the stereotyped development of closely related spiralian taxa. The mesoderm has been inferred to derive from the archenteron walls following gastrulation, and the primary mesoderm derivative in the larva is a complex musculature. To investigate the specification and differentiation of the mesoderm in the articulate brachiopod Terebratalia transversa, we have identified orthologs of genes involved in mesoderm development in other taxa and investigated their spatial and temporal expression during the embryonic and larval development of T. transversa.
Results
Orthologs of 17 developmental regulatory genes with roles in the development of the mesoderm in other bilaterian animals were found to be expressed in the developing mesoderm of T. transversa. Five genes, Tt.twist, Tt.GATA456, Tt.dachshund, Tt.mPrx, and Tt.NK1, were found to have expression throughout the archenteron wall at the radial gastrula stage, shortly after the initiation of gastrulation. Three additional genes, Tt.Pax1/9, Tt.MyoD, and Tt.Six1/2, showed expression at this stage in only a portion of the archenteron wall. Tt.eya, Tt.FoxC, Tt.FoxF, Tt.Mox, Tt.paraxis, Tt.Limpet, and Tt.Mef2 all showed initial mesodermal expression during later gastrula or early larval stages. At the late larval stage, Tt.dachshund, Tt.Limpet, and Tt.Mef2 showed expression in nearly all mesoderm cells, while all other genes were localized to specific regions of the mesoderm. Tt.FoxD and Tt.noggin both showed expression in the ventral mesoderm at the larval stages, with gastrula expression patterns in the archenteron roof and blastopore lip, respectively.
Conclusions
Expression analyses support conserved roles for developmental regulators in the specification and differentiation of the mesoderm during the development of T. transversa. Expression of multiple mesodermal factors in the archenteron wall during gastrulation supports previous morphological observations that this region gives rise to larval mesoderm. Localized expression domains during gastrulation and larval development evidence early regionalization of the mesoderm and provide a basis for hypotheses regarding the molecular regulation underlying the complex system of musculature observed in the larva.
Keywords
Brachiopod Terebratalia transversa MesodermSpiraliaEctomesoderm
Background
The mesoderm is frequently considered the 'third germ layer' in metazoans. As its name suggests, the mesoderm is a 'middle' layer, located between the ectoderm and endoderm. The mesoderm gives rise to tissues including muscle, parenchyma, cartilage, hemolymph, and somatic gonads, as well as forms the lining of coelomic cavities [1]. The mesoderm is considered to be a unique feature of bilaterian animals, and it is hypothesized that it evolved from the endoderm [2]. The homology of the mesoderm among bilaterians is supported by the deployment of a conserved set of transcription factors in the specification and differentiation of the mesoderm in the classical model systems of the mouse, Drosophila, and Caenorhabditis elegans, where the molecular basis for mesoderm development has been investigated in the greatest detail [3-6]. Orthologs of the transcription factors Eya [7-9], MyoD [10-12], and Mef2 [13-15] have all been shown to have important roles in mesoderm development and myogenesis in each of these taxa. However, the specific gene regulatory network architecture underlying mesoderm development differs in each of these species, reflecting the significant differences between them in modes of gastrulation, which forms the endomesoderm, and the character and organization of mesodermal derivatives [6,16].
Although mesoderm formation has been studied in detail in these and other model systems, comparatively little is known about mesoderm specification and differentiation in members of the large protostome clade Spiralia [17,18]. This clade is defined as including all descendents from the last common ancestor of animals with quartet spiral cleavage (that is, mollusks, annelids, nemerteans, and platyhelminths) and is likely more inclusive than, or a senior synonym of, the clade termed Lophotrochozoa [19,20]. In spiral cleavage, stereotyped cell divisions result in an invariant developmental program, with tissues and organs in the larva traceable to individual, homologous, blastomeres in the early embryo [21,22]. Almost all taxa that display spiral cleavage form visceral mesoderm from a homologous blastomere in the early cleavage stages termed micromere 4d or the mesentoblast [23]. In addition to this mesendodermal component of the mesoderm, many spiral cleaving embryos also develop mesoderm from ectodermal sources [24,25].
While the internal evolutionary relationships of the Spiralia remain a subject of investigation, nearly all recent phylogenies resolve brachiopods (a.k.a. lamp shells) as having evolved from within the clade for which spiral cleavage was plesiomorphic [20,26-29]. This suggests that brachiopods most likely evolved from an ancestor with spiral cleavage; however, extant brachiopods show no trace of this stereotyped cleavage program [30-33].
Brachiopods develop through a form of radial cleavage, and endomesoderm is formed through invagination of cells at the vegetal pole during gastrulation [
34
]. Morphological analyses have shown that during early gastrulation, the embryo remains radially symmetrical (Figure
1
A,E) and invaginating tissue forming the archenteron extends towards the animal pole [
34
]. The archenteron consists of two domains, the presumptive endoderm (located on the 'roof') and mesoderm located in a ring at the boundary of the ectoderm and endoderm (Figure
1
A,E) [
33
-
35
]. As gastrulation proceeds, the gastrula becomes asymmetric as the animal and vegetal poles shift positions relative to one another, establishing the anterior-posterior and dorsal-ventral axes (Figure
1
B,F). After the blastopore elongates along the ventral side of the embryo, the dorsal surface of the archenteron expands asymmetrically at the boundary of the roof and walls, extending a curtain of cells down towards the ventral side of the embryo [
34
]. This process generates the mesoderm as a distinct tissue layer, surrounding the endoderm (Figure
1
C,G). As the blastopore closes from posterior to anterior, the endoderm seals dorsally to form a sac open to the environment through the remnant of the blastopore anteriorly on the ventral surface of the embryo and closed in a blind ending posteriorly. In the late larval stage, the mesoderm is present in all three main regions of the larva, termed the apical, mantle, and pedicle lobes (Figure
1
D,H). Mesodermal differentiation is first indicated by expression of the actin-binding gene
Tt.tropomyosin
, which is expressed in the anterior and lateral regions of the archenteron wall in the asymmetric gastrula and early larval stages (Figure
1
I,J). In the late larval stage,
Tt.tropomyosin
is expressed in the mesoderm of the mantle lobe, including the chaetal sacs (black arrowheads in Figure
1
K), and in the lateral mesoderm of the pedicle lobe (black arrows in Figure
1
K). In the final competent larval form, the predominant mesodermal derivative is a complex system of musculature, which includes prominent longitudinal muscles in the pedicle lobe and two pairs of chaetal sacs in the mantle lobe (Figure
1
L,M) [
36
,
37
].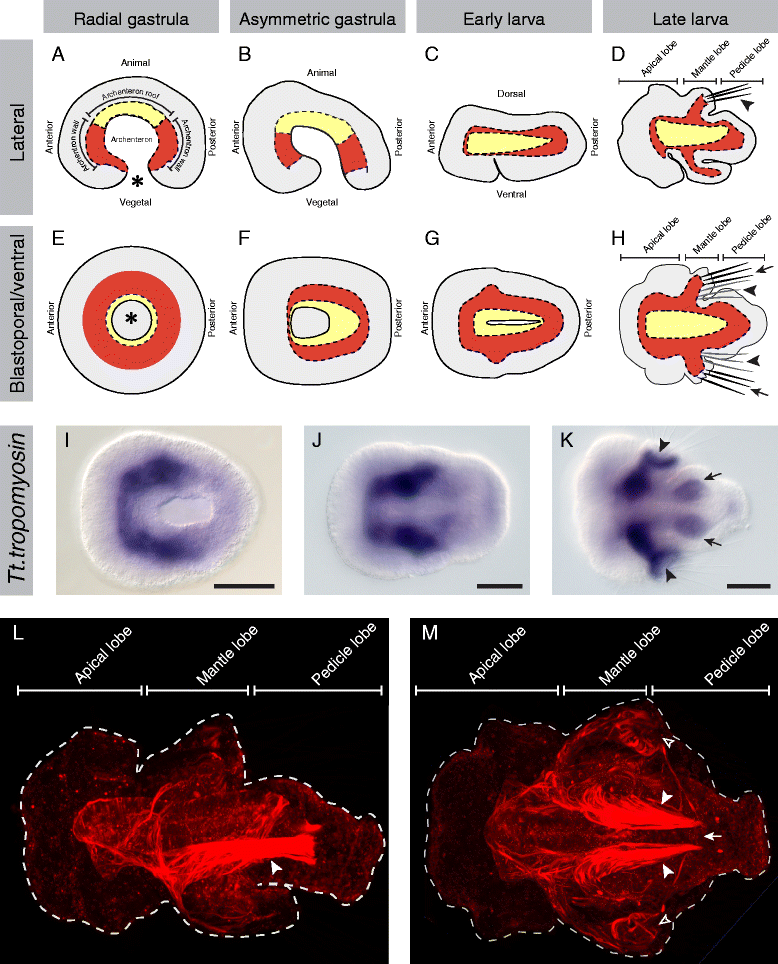 The available data from Terebratalia suggests that all mesodermal derivatives in the larva are of an endomesodermal origin, derived from cells invaginated at the vegetal blastopore during the radial gastrula stage [34,35,38]. A second source of mesoderm, the ectomesoderm, is present in many other taxa in the clade Spiralia [21,22,39], including in phoronids [40], which are closely related to [20,41-48], or derived from [49-52], brachiopods. To date, no evidence has been presented for an ectodermal source of mesoderm in brachiopods, although detailed lineage analysis of blastomere fates has not been conducted for any member of the group.
In this study, we have analyzed mesoderm development in the articulate brachiopod Terebratalia transversa by cloning and examining the spatiotemporal patterns of genes orthologous to ones that have been shown to have roles in mesoderm specification and differentiation in a variety of bilaterian taxa (Additional file 1). These included orthologs of the transcription factor genes FoxC, FoxD, FoxF, GATA4/5/6, MEF2, Mox, mesoPrx, MyoD, NK1, paraxis, Pax1/9, Six1/2, and twist, the nuclear protein genes dachshund, eyes absent, and Limpet, and the BMP inhibitor noggin. Expression data on these genes provides insight into the molecular basis of mesoderm formation and differentiation in brachiopods and enhances our understanding of potential conservation of mesoderm patterning mechanisms across bilaterian taxa.
Methods
Gene cloning and orthology assignment
Genes of interest were chosen based on literature searches for developmental regulators expressed in the mesoderm of diverse bilaterian taxa. Putative homologs of these genes were identified from a T. transversa transcriptome using TBLASTN search, followed by reciprocal BLASTX searches against NCBI GenBank. Oligonucleotide primers were designed from recovered contigs for RT-PCR or RACE amplification of genes of interest. PCR amplification was performed on a cDNA library synthesized from mixed-stage embryonic RNA with the Advantage RT-for-PCR Kit (Clontech Laboratories, Inc., Mountain View, CA, USA). RACE amplification was performed on cDNA libraries synthesized from mixed-stage embryonic RNA with the SMARTer RACE Kit (Clontech Laboratories, Inc., Mountain View, CA, USA). Amplified fragments were cloned into pGEM-T vector (Promega, Madison, WI, USA) and verified by Sanger sequencing. Sequences for cloned genes are available in GenBank (accession numbers in Additional file 2). Gene orthology was determined by phylogenetic reconstruction. FASTA-formatted files were generated with the inferred amino acid sequences for cloned genes and representative homologs from other metazoan taxa. Sequence alignment was performed with MUSCLE [53], and resultant alignments were trimmed and corrected by eye to remove non-conserved regions and correct obvious errors. The best-fit likelihood model for each alignment was determined using ProtTest [54]. Phylogenetic reconstruction was performed with MrBayes 3.2 with 4 independent runs of 4 chains and 10,000,000 generations each [55].
Fertilization and fixation
Adult T. transversa (Sowerby 1846) were collected by dredging in San Juan Channel, between San Juan Island and Shaw Island, WA, USA, between October and January in 2008, 2010, and 2012, and were maintained in flow-through seawater aquaria at Friday Harbor Laboratories. In vitro fertilization was performed by manual dissection and maceration of gonads. Prior to fertilization, oocytes were maintained in clean seawater until germinal vesicle breakdown and shedding of follicle cells were observed (between 4 and 8 h after stripping of gonads). Sperm were activated with seawater buffered to pH 9.8 with Tris. Following fertilization, embryos were reared in 1-L glass beakers with daily water changes. Embryos were fixed with 4% paraformaldehyde in filtered seawater for 1 h, washed four times in phosphate-buffered saline with 0.1% Tween-20, rinsed with distilled water, and subsequently dehydrated and stored in 100% methanol until in situ hybridization.
In situ hybridization
In situ hybridization of transcripts for cloned genes was performed using protocols established for chromogenic detection in the cnidarian Nematostella vectensis [56]. A detailed protocol is presented in Additional file 3. Hybridization was performed at 62°C for 48 h with DIG-UTP-labeled probes at a concentration of 1 ng/μL. Detection of hybridized probes was performed by staining with NBT and BCIP, after labeling with alkaline phosphatase-conjugated anti-DIG antibody. At least 20 embryos were processed per stage for each gene, and development of staining was checked by a stereomicroscope prior to completion of the in situ protocol and mounting for imaging. In all cases, staining was highly consistent within stages. Embryos were cleared and mounted in 80% glycerol, and imaging was performed on a Zeiss AxioSkop microscope equipped with Plan-Apochromat 20×/08 N.A. objective and differential interference contrast optics (Carl Zeiss, Jena, Germany). Images were acquired with a Zeiss AxioCam HRc digital camera and Zeiss AxioVision v4.8 software (Carl Zeiss, Jena, Germany).
Results
Phylogenetic analysis and orthology assignment
Full-length or partial cDNA sequences were isolated from T. transversa for putative homologs of the transcription factor genes Forkhead C (FoxC), Forkhead D (FoxD), Forkhead F (FoxF), GATA4/5/6, MEF2, Mox, mesoPrx (mPrx), MyoD, NK1, paraxis, Pax1/9, Six1/2, and twist, the nuclear protein genes dachshund, eyes absent, and Limpet, and the BMP inhibitor gene noggin. Orthology assignments were verified by Bayesian analysis of phylogenetics using inferred amino acid sequences of the cloned transcripts and representative sequences from other metazoan taxa (Additional files 4, 5, 6, 7, 8, 9, 10, and 11). T. transversa genes are subsequently referred to as Tt.dachshund, Tt.eya, Tt.FoxC, Tt.FoxD, Tt.FoxF, Tt.GATA4/5/6, Tt.Limpet, Tt.MEF2, Tt.Mox, Tt.mPrx, Tt.MyoD, Tt.NK1, Tt.noggin, Tt.paraxis, Tt.Pax1/9, Tt.Six1/2, and Tt.twist.
Whole-mount in situ expression patterns
Mesodermal expression was observed for all 17 genes listed above, and representative photomicrographs of the radial gastrula, asymmetric gastrula, early larval, and late larval stages are presented (Figures
2
,
3
,
4
,
5
,
6
,
7
,
8
, and
9
). Photomicrographs and descriptions of gene expression patterns are organized in order of the earliest developmental stage when mesodermal expression was detected for each gene. Two other genes with conserved mesodermal expression in other bilaterian taxa,
NK3
/
bagpipe
and
NK4
/
tinman
, were investigated but were not found to have mesodermal expression in the embryonic stages evaluated here (data not shown).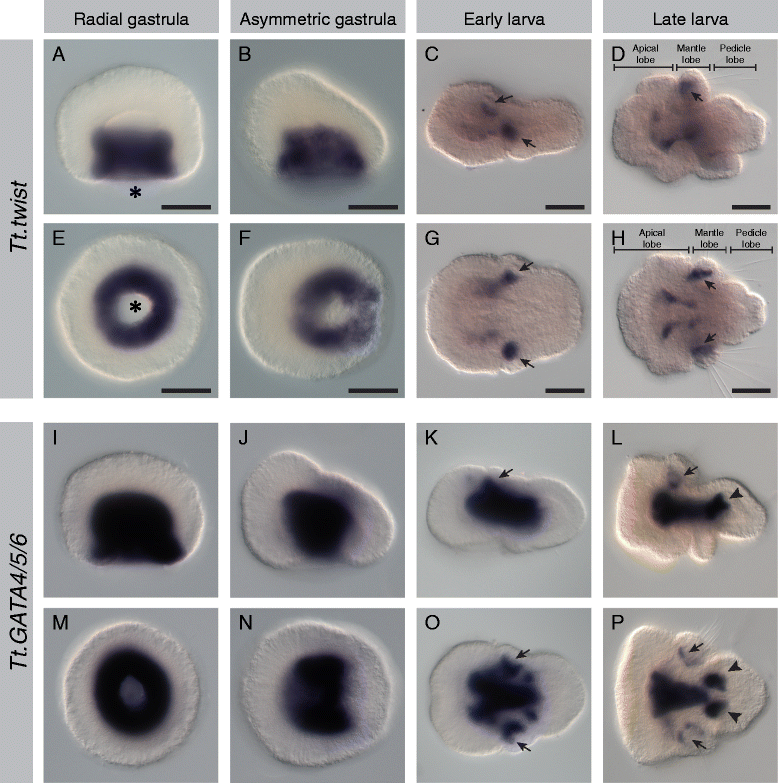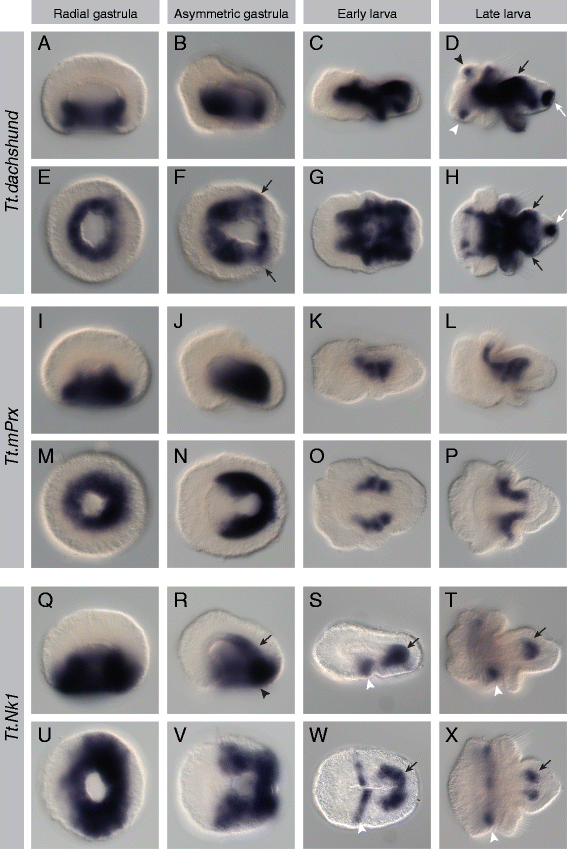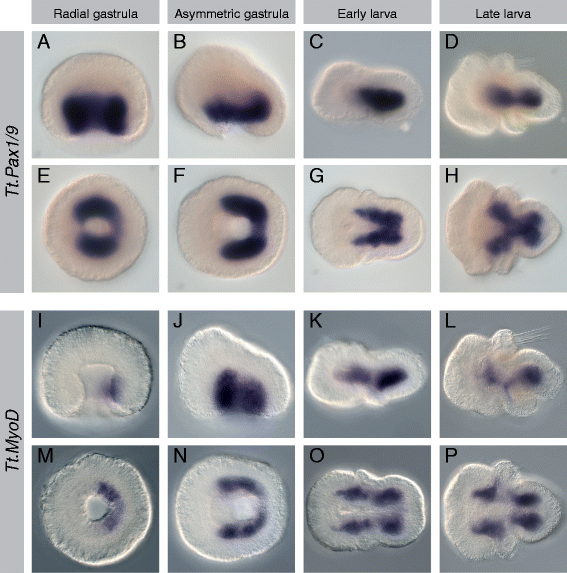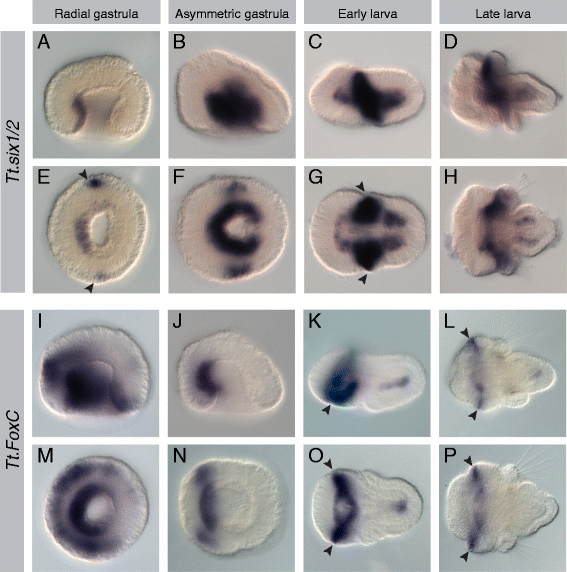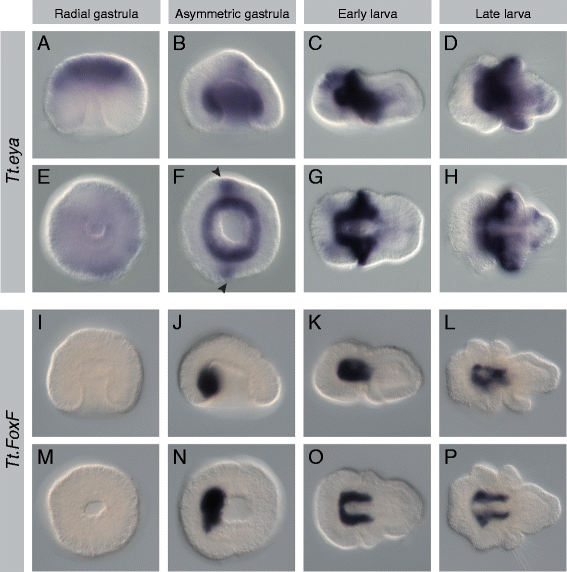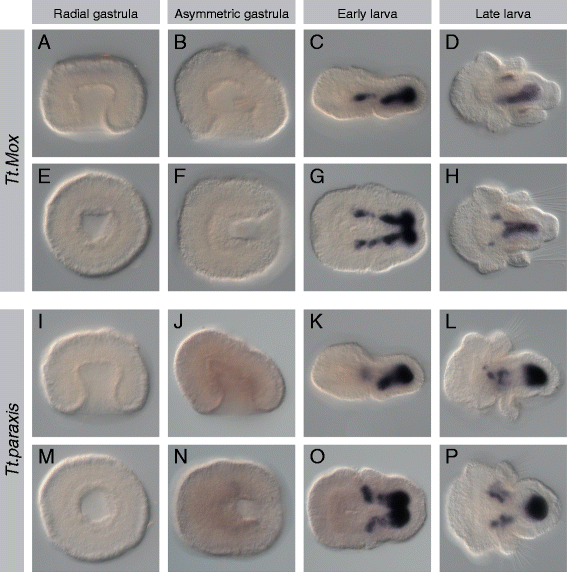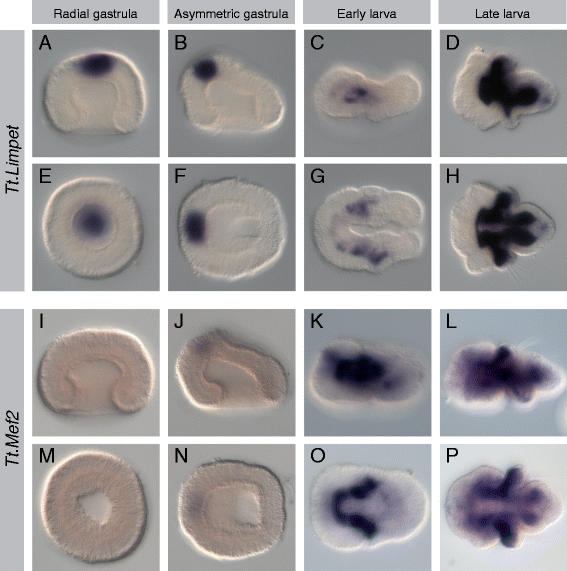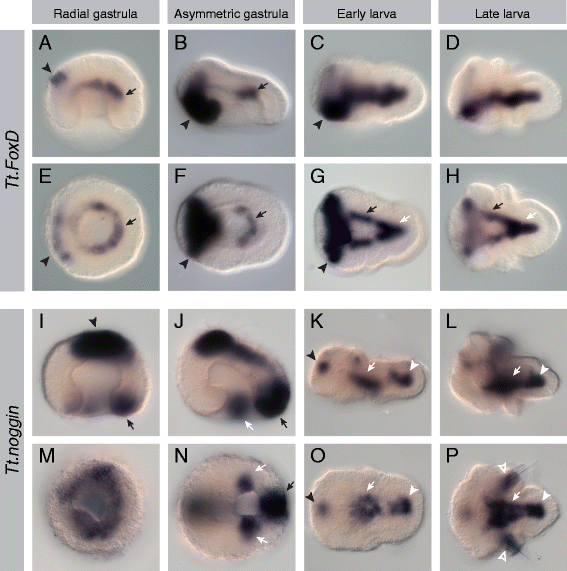 Discussion
In the present study, we have detected mesodermal expression for 17 developmental regulator genes during the embryonic and larval stages of development in the articulate brachiopod T. transversa. Each of these genes shows a unique pattern of expression with regard to both their spatial and temporal deployment, suggesting the dynamic mechanisms underlying the development of the complex larval musculature.
Conclusions
The expression patterns observed suggest that several transcription factors, including Tt.twist, Tt.GATA456, Tt.dachshund, Tt.NK1, and Tt.mPrx, likely all play roles in specification of the mesoderm as a whole, given their expression throughout the archenteron wall during the radial gastrula stage. At the same time, localized expression of Tt.Pax1/9, Tt.MyoD, and Tt.Six1/2 in specific regions of the archenteron wall suggests that the mesoderm is being regionalized even during the early phases of its specification. This regionalization is further reflected as larval development progresses and the expression of most genes is restricted to a subset of the larval mesoderm. The diversity of expression patterns for mesodermal genes during the development of T. transversa likely forms the basis for the complex musculature observed in the larva. While the majority of gene expression patterns are consistent with an endomesodermal source of mesoderm, dynamic expression of Tt.noggin at the blastopore suggests a previously unrecognized contribution of the ectomesoderm. Expression patterns of many genes, including Tt.twist, Tt.MyoD, and Tt.Mef2, are consistent with conserved roles in mesoderm differentiation and specification. Widespread mesodermal expression of Tt.dachshund and Tt.Six1/2 may be an evolutionary novelty within brachiopods associated with their secondarily derived mode of radial cleavage.
Abbreviations
BCIP:

5-bromo-4-chloro-3-indolyl phosphate
BLAST:

Basic Local Alignment Search Tool
BLASTX:

translated nucleotide BLAST against protein database
cDNA:

complementary DNA
DIG:

digoxigenin
DIG-UTP:

digoxigenin-conjugated uracil triphosphate
NBT:

nitro blue tetrazolium chloride
NCBI:

National Center for Biotechnology Information
PCR:

polymerase chain reaction
RACE:

rapid amplification of cDNA ends
RT-PCR:

reverse translation polymerase chain reaction
TBLASTN:

protein BLAST against translated nucleotide database
Declarations
Acknowledgements
This work was supported in part by a grant from NASA to MQM and by funding from the Sars International Centre for Marine Molecular Biology to AH. The authors wish to thank Dennis Willows, David Duggins, the crew of the R/V Centennial, and the staff of Friday Harbor Laboratories, University of Washington, for the assistance in collection of adult T. transversa specimens for this study. We thank Scott Santaga, José M. (Chema) Martín-Durán, and Bruno Vellutini for the assistance with rearing and collecting of embryos and for the valuable discussions on brachiopods and the evolution of the mesoderm. We also thank three anonymous reviewers, whose comments improved the manuscript.
Authors' Affiliations
(1)
Kewalo Marine Laboratory, PBRC, University of Hawaii, Honolulu, USA
(2)
The Whitney Laboratory for Marine Bioscience, University of Florida, St. Augustine, USA
(3)
Sars International Centre for Marine Molecular Biology, University of Bergen, Bergen, Norway
Copyright
© Passamaneck et al.; licensee BioMed Central. 2015
This is an Open Access article distributed under the terms of the Creative Commons Attribution License (http://creativecommons.org/licenses/by/4.0), which permits unrestricted use, distribution, and reproduction in any medium, provided the original work is properly credited. The Creative Commons Public Domain Dedication waiver (http://creativecommons.org/publicdomain/zero/1.0/) applies to the data made available in this article, unless otherwise stated.