Adoption of conserved developmental genes in development and origin of the medusa body plan
Received: 20 February 2015
Accepted: 8 May 2015
Published: 29 May 2015
Abstract
Background
The metagenesis of sessile polyps into pelagic medusae in cnidarians represents one of the most ancient complex life cycles in animals. Interestingly, scyphozoans and hydrozoans generate medusae by apparently fundamentally different processes. It is therefore unclear whether medusa formation has evolved independently in different medusozoans. To this end, a thorough understanding of the correspondence of polyp and medusa is required.
Results
We monitored the expression patterns of conserved developmental genes in developing medusae of Clytia hemisphaerica (Hydrozoa) and Aurelia aurita (Scyphozoa) and found that developing medusae and polyps share similarities in their morphology and developmental gene expression. Unexpectedly, however, polyp tentacle marker genes were consistently expressed in the developing medusa bell, suggesting that the bell of medusae corresponds to modified and fused polyp tentacle anlagen.
Conclusions
Our data represent the first comparative gene expression analysis of developing medusae in two representatives of Scyphozoa and Hydrozoa. The results challenge prevailing views about polyp medusa body plan homology. We propose that the evolution of a new life stage may be facilitated by the adoption of existing developmental genes.
Keywords
Life cyclePolyp-medusa metagenesis Clytia hemisphaerica Aurelia aurita Body plan evolution
Background
Complex life cycles involve a succession of life stages with drastically divergent body forms, behaviours and ecological habitat [
1
]. The emergence of complex life cycles is driven by the exploitation of different ecological niches and seasonally available resources [
1
]. The wide distribution of complex life cycles shows that such phenomena constitute an evolutionary advantage in virtually all eukaryotic phyla. Cnidaria, the sister group of the Bilateria, represent the oldest of all animal lineages with a complex life cycle. Cubozoa, Scyphozoa and Hydrozoa generally show a triphasic life cycle with a succession of a larva, a sessile polyp form and a pelagic, sexually active medusa stage (Fig.
1a
). A polyp-like form has been suggested by many authors as the ancestral cnidarian adult body plan, and the medusa life stage a later inserted secondary derivative [
2
–
8
], although other scenarios have also been proposed (e.g. [
9
,
10
]). The generation of medusae occurs in fundamentally different ways in different medusozoan taxa. A process called strobilation, where medusae form by apical metamorphosis of the polyp body followed by horizontal fission, is found in scyphozoans. Also in cubozoans, medusae are generated by apical metamorphosis from polyps [
11
] (Fig.
1b
). While most authors interpret the cubozoan medusa formation as a complete metamorphosis from polyp to medusa [
11
,
12
], others understand it as a modified form of strobilation [
13
]. Staurozoans are unusual as they form 'stalked medusae' by apical metamorphosis of the polyp but do not subsequently undergo fission [
14
,
15
]. In contrast to the three other medusozoan taxa, medusae of hydrozoans ('hydromedusae') are generally formed in a lateral budding process from polyps. Uniquely, this process involves the generation of a third tissue layer in between endo- and ectoderm, the so-called entocodon, previously proposed as a potential homologous layer to the bilaterian mesoderm [
9
,
10
] (Fig.
1c
).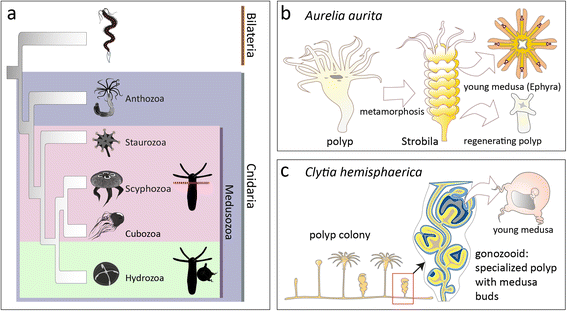 In summary, apical metamorphosis of polyps and lateral budding represent two fundamental principles of medusa formation. To uncover the evolution of the cnidarian metagenesis, it is first necessary to understand how the body plans of polyp and medusa relate to each other. This is a longstanding debate for over 150 years [2, 7, 16–21]. In particular, it was disputed which part of the polyp corresponds to the medusa bell, the most distinctive feature of jellyfish forms [16, 19–21]. In many zoology textbooks, the adult medusa body plan is depicted as a polyp turned upside-down with an enlarged peristomial region and an extremely shortened oral-aboral axis [7, 22]. However, this comparison is primarily based on morphological similarities of adult forms. Divergent from this view, Allman and Hadzi, based on their studies of hydrozoan medusa formation, suggested that the medusa bell is derived from polyp tentacle anlagen fused to each other by an enlarged hypostome [19, 21]. A largely neglected hypothesis was put forward by Huxley, who interpreted the elongated mouth tube of hydromedusae together with oral tentacles, present in some species, as representing the entire body plan of the polyp [16]. He named this the "polypite" and interpreted the medusa bell as a later added organ for swimming without a clear homolog to the polyp body plan [16]. Similar to this, Metchnikoff also saw the polyp body represented in the mouth tube of hydromedusae; however, he interpreted the medusa bell as a modified web of stolons of previously colonial forms [20].
Here, by comparing gene expression patterns during different developmental stages, we suggest that the medusa bell is formed from modified polyp tentacle anlagen, while the polyp hypostome corresponds to the medusa manubrium. This challenges the prevailing view of medusa and polyp body plan correspondence and suggests a scenario for the emergence of another adult life stage.
Methods
Clytia hemisphaerica and Aurelia aurita were cultured as previously described [23].
Library preparation and cloning of genes
Transcriptome libraries were created with high quality total RNA (RQI values ranging between 8 and 10) of a single juvenile jellyfish (Aurelia) and several adult medusae (Clytia). Following mRNA purification by poly-A selection, cDNA library preparation was done using reagents provided by the TruSeq® RNA Sample Preparation Kit v2 (Illumina®) according to the manufacturer's protocol with two changes: (a) fragmentation of the mRNA at 80 °C for 3 min and (b) using half volumes of PE Adapter Oligo Mix in the adapter ligation step. The libraries were paired-end sequenced on the Illumina HiSeq 2000 platform, with a 100-bp read length to a total depth of 216–220 million reads. Reads of low quality, low complexity, containing adapter sequence or matching ribosomal or mitochondrial sequence were discarded. The library insert size used for assembly was estimated by mapping a subsample of reads to reference transcripts. Transcriptomes were assembled using Oases [24] with multiple k-mers in the range 53–81 and Trinity [25] with default settings. The resulting transcripts were merged into unigenes using TGICL [26], and transcripts with good matches to food sources (Artemia salina) or bacteria were removed. The resulting Clytia transcriptome covered 67.6 Mb in 39,979 transcripts, with a median length of 1.3 kb, mean of 1.7 kb and N50 of 3.9 kb. The resulting Aurelia transcriptome covered 89 Mb in 81,158 transcripts, with a median length of 0.8 kb, mean of 1.1 kb and N50 of 2.5 kb. The sequence data and transcriptome assemblies are deposited in the NCBI TSA archive.
In situ hybridization
Aa-gata, otx and bmp5/8 on strobilae and polyps were performed as previously described [27]. All other Aurelia and Clytia in situ hybridization experiments were done according to [28], with some modifications. A bleaching step in 0.5 % H2O2/5 % formamide/0.5× saline sodium citrate (SSC) in H2O for 5 min at room temperature (RT) was added after rehydration. Proteinase K digest was done for 20 min in 1 μg/ml Proteinase K (Ambion) in 1× PBS with 0.2 % Tween 20 (Sigma-Aldrich) at RT. Three percent Blocking reagent (Roche) and 5 % dextran sulphate (Sigma) were added to the hybridization mix. The samples were incubated in the hybridization mix over night without probe at hybridization temperature (58 °C) and subsequently hybridized for 36 h with 0.25 ng/μl digoxigenin (DIG)-labelled RNA probe. After hybridization, the samples were gradually transferred to 2× SSC at 58 °C. Subsequently, they were incubated for 40 min in 1 U/μl RNAse T1/2× SSC at 37 °C, followed by 3 × 20 min washes in 0.2× SSC at 58 °C to reduce unspecific staining. Next, the samples were transferred to maleic acid buffer (MAB) at room temperature and blocked for 1–2 h in 1 % Blocking reagent (Roche) in MAB. The samples were then incubated in 1:2000 anti-DIG antibody (Roche) in a blocking solution overnight at 4 °C. Subsequently, the samples were transferred to 1× PBS with 0.1 % Triton X-100 (PTx) and after extensive washes, stained according to [28].
F-actin and nuclear staining of C. hemisphaerica
Young medusae, gastrozooid polyps and gonozooids were fixed overnight in 4 % paraformaldehyde at 4 °C. Thecae of gonozooids were removed mechanically before fixation. Animals were subsequently washed in PTx and incubated in 3 μl/100 μl Phalloidin Alexa 488/1:1000 DAPI/5 % sheep serum/PTx overnight at 4 °C in the dark. After extensive washes in PTx at 4 °C, the samples were mounted in Vectashield mounting medium for fluorescence (Vector).
Phylogenetic gene trees
Sequence alignments and neighbour-joining trees were calculated using the built-in algorithm of Clustal X [29] (Additional files 1, 2, 3, 4, 5, 6 and 7). Sequences were trimmed using Gblocks [30]. Best models for maximum-likelihood trees were found with ProtTest3 [31]. Maximum-likelihood trees were calculated with PhyML [32]. Any newly investigated medusozoan gene was considered to be an ortholog of a given bilaterian gene family if supported in both maximum-likelihood and neighbour-joining phylogenetic trees.
Discussion
While a recent study shed some light on the molecular control of the induction of strobilation [27], virtually nothing is known about the developmental and genetic basis that characterizes the transition between polyp and medusa. It is also not clear whether the same rules apply to scyphozoans and hydrozoans with their drastically different modes of medusa formation.
In this study, we compared conserved marker gene expression patterns in a series of developmental stages in the hydrozoan
Clytia
and the scyphozoan
Aurelia
, representing two major modes of medusa formation. We found both species polyp tentacle marker genes to be specifically expressed in the developing medusa bell. We propose that the bell is the evolutionary result of fusion processes of ancestral polyp tentacle anlagen, as suggested by Allman and Hadzi [
19
,
21
], with the only difference that we find no evidence that the modification of the tentacle anlagen was accompanied by an enlargement of the polyp hypostome (Fig.
8b
).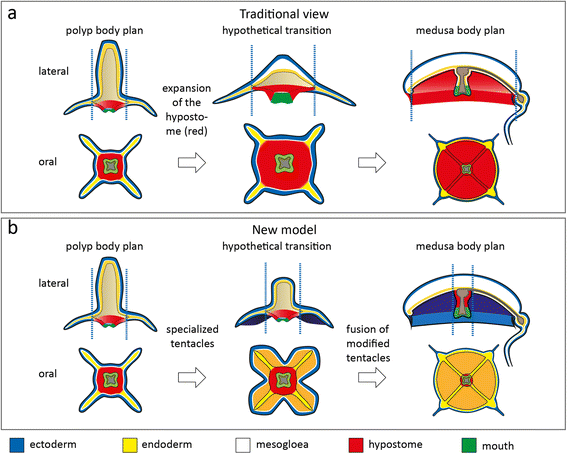 In line with this, the ectodermally derived entocodon, which transiently arises during medusa formation in hydrozoans, expresses ectodermal manubrium marker genes and tentacle marker genes in inner and lateral regions, respectively. This contradicts an earlier interpretation that the entocodon is homologous to the bilaterian mesoderm layer [9, 10, 45, 49] and the interpretation of the medusa being basically an oral-aborally flattened polyp form with an enlarged hypostome [7, 22] (Fig. 8a). Our gene expression data also contradict the hypothesis of a representation of the whole polyp body plan in the elongated mouth tube of the medusa [16, 20].
We propose that medusa formation is initiated by a polyp-like developmental programme, reflected by a similar early morphology of polyp and medusa buds in Clytia and by the deployment of genes marking various regions in the polyp. Notably, most of the investigated genes also have a conserved expression pattern in several other hydrozoans [45, 46, 50–53] as well as in the anthozoan Nematostella [37–39, 54], suggesting deeply conserved developmental roles in the cnidarians. Later in development of the medusa, as the morphological similarity of body plans of the medusa bud to a polyp gradually blurs, expression patterns accordingly diverge in the developing medusa.
Despite the strikingly different mechanisms of medusa formation in hydrozoans and scyphozoans, all marker genes investigated in Aurelia also showed corresponding expression patterns during strobilation. We propose that the ephyral rhopalar arms of Aurelia correspond to the developing bell of Clytia. Both structures express polyp tentacle markers and lack the expression of oral marker genes. These findings are consistent with the view that medusa formation evolved only once in the common ancestor of hydrozoans and scyphozoans, possibly of all medusozoans. Hence, we expect that these patterns might be shared more broadly among other medusozoan species. However, Cnidaria is an ancient animal lineage and the extant taxa display a stunning diversity of different polyp and medusa forms. In particular, further investigations in Cubozoa and Staurozoa will be needed to assess whether the same principles apply to medusa formation processes encountered in these groups. Moreover, since only limited expression patterns of conserved marker genes are available and functional data are lacking to date, it is conceivable that in other medusozoan lineages, other regulatory genes are crucial or that the same conserved genes became recruited independently to the process of medusa formation. Therefore, albeit at this point less likely, it cannot be ruled out that the medusa stage evolved several times independently from polyp forms in different medusozoan lineages [5]. The data presented here may stimulate more research aimed at a mechanistic understanding of medusa formation in various medusozoan representatives in order to reveal the changes in the developmental processes that led to the evolution of the medusa as an additional life stage.
Conclusions
Our data represent the first comparative gene expression analysis of developing medusae in two representatives of Scyphozoa and Hydrozoa. The results challenge prevailing views about polyp medusa body plan homology. We propose that the evolution of a new life stage may be facilitated by the adoption of existing developmental genes.
Abbreviations
bmp :

bone morphogenetic protein
bp:

base pairs
DIG:

digoxigenin
Drgx :

dorsal root ganglion homeobox
EST:

expressed sequence tag
F-actin:

filamentous actin
foxA :

forkhead-box transcription factor A
otx :

orthodenticle homeobox
otp :

orthopedia homeobox
PBS:

phosphate buffered saline
PE:

paired end
RQI:

RNA quality indicator
RT:

room temperature
tbx :

t-box
six :

sine oculis
Declarations
Acknowledgments
We wish to thank Dr. Evelyn Houliston for generously providing EST clones of Ch-bra1, Ch-bra2, Ch-tbx1-10 and Ch-tbx2-3. We thank Ina Mahofsky and Magdalena Schwarz for their help in library preparation and in situ hybridization experiments. We especially thank Patrick Steinmetz, Grigory Genikhovich and Iva Kelava for reading and critically commenting on the manuscript and all present and past members of the Technau lab for fruitful discussions. We would like to acknowledge the Core Facility for Cell Imaging and Ultrastructural Research of the University of Vienna. This study was funded by grants of the Austrian Science foundation FWF to UT (P21108-B17) and (P27353-B17).
Authors' Affiliations
(1)
Department for Molecular Evolution and Development, Centre for Organismal Systems Biology, University of Vienna, Wien, Austria
(2)
Present address: Computational Biology Unit, University of Bergen, Bergen, Norway
(3)
Zoologisches Institut, Christian-Albrechts Universität zu Kiel, Kiel, Germany
(4)
Marine Genomics Unit, Okinawa Institute of Science and Technology, Kunigami-gun, Japan
Copyright
© Kraus et al. 2015
This is an Open Access article distributed under the terms of the Creative Commons Attribution License (http://creativecommons.org/licenses/by/4.0), which permits unrestricted use, distribution, and reproduction in any medium, provided the original work is properly credited. The Creative Commons Public Domain Dedication waiver (http://creativecommons.org/publicdomain/zero/1.0/) applies to the data made available in this article, unless otherwise stated.