Composition and genomic organization of arthropod Hox clusters
Received: 21 February 2016
Accepted: 20 April 2016
Published: 10 May 2016
Abstract
Background
The ancestral arthropod is believed to have had a clustered arrangement of ten Hox genes. Within arthropods, Hox gene mutations result in transformation of segment identities. Despite the fact that variation in segment number/character was common in the diversification of arthropods, few examples of Hox gene gains/losses have been correlated with morphological evolution. Furthermore, a full appreciation of the variation in the genomic arrangement of Hox genes in extant arthropods has not been recognized, as genome sequences from each major arthropod clade have not been reported until recently. Initial genomic analysis of the chelicerate Tetranychus urticae suggested that loss of Hox genes and Hox gene clustering might be more common than previously assumed. To further characterize the genomic evolution of arthropod Hox genes, we compared the genomic arrangement and general characteristics of Hox genes from representative taxa from each arthropod subphylum.
Results
In agreement with others, we find arthropods generally contain ten Hox genes arranged in a common orientation in the genome, with an increasing number of sampled species missing either Hox3 or abdominal-A orthologs. The genomic clustering of Hox genes in species we surveyed varies significantly, ranging from 0.3 to 13.6 Mb. In all species sampled, arthropod Hox genes are dispersed in the genome relative to the vertebrate Mus musculus. Differences in Hox cluster size arise from variation in the number of intervening genes, intergenic spacing, and the size of introns and UTRs. In the arthropods surveyed, Hox gene duplications are rare and four microRNAs are, in general, conserved in similar genomic positions relative to the Hox genes.
Conclusions
The tightly clustered Hox complexes found in the vertebrates are not evident within arthropods, and differential patterns of Hox gene dispersion are found throughout the arthropods. The comparative genomic data continue to support an ancestral arthropod Hox cluster of ten genes with a shared orientation, with four Hox gene-associated miRNAs, although the degree of dispersion between genes in an ancestral cluster remains uncertain. Hox3 and abdominal-A orthologs have been lost in multiple, independent lineages, and current data support a model in which inversions of the Abdominal-B locus that result in the loss of abdominal-A correlate with reduced trunk segmentation.
Keywords
HoxEvolutionDevelopmentArthropodChelicerate Tetranychus Ixodes Daphnia Segmentation
Background
The Hox genes are a highly conserved set of homeodomain transcription factors that function in fundamental developmental processes in metazoans. This conservation also extends to their genomic arrangement [1–3]. They are typically found clustered in the genome, in the same transcriptional orientation, with their anterior–posterior (A/P) domains of expression and function mirroring their genomic position, commonly referred to as spatial collinearity [4–6], although in rare occurrences Hox genes are not clustered and are spread throughout the genome [7–9]. Among metazoans, Hox genes have been intensely studied in arthropods and it is hypothesized that a genomic cluster of ten genes (labial, proboscipedia, Hox3, Deformed, Sex combs reduced, fushi tarazu, Antennapedia, Ultrabithorax, abdominal-A, and Abdominal-B) was present ancestrally within the clade [1], a hypothesis further supported by data from a member of the Onychophora, the sister clade to arthropods, that has a full complement of ten Hox genes [10].
While gene-based surveys in phylogenetically diverse arthropods support a general conservation of Hox genes in extant arthropods [
11
,
12
], comparatively little is known about the conservation of the genomic arrangement of Hox genes (i.e., genomic clustering) throughout the phylum as the majority of data comes from insects. Hox genes in insects are generally positioned relatively close to each other on the same chromosome in the same transcriptional orientation, but have different amounts of intervening genes and intergenic space [
13
–
16
] (Fig.
1
). However, there are several exceptions to this. For example, the
Drosophila melanogaster
Hox genes are split between the
Antennapedia
and
Ultrabithorax
complexes, separated by a large gap (~9.7 Mb) [
17
,
18
] (Fig.
1
). Only one other non-Drosophilid, the silk moth
Bombyx
mori
, is known to contain a split genomic arrangement of Hox genes, where a large genic gap (~12 Mb) exists between
labial
and the rest of the Hox cluster [
19
,
20
] (Fig.
1
). Additionally, inversions that disrupt the transcriptional orientation of Hox genes are found in several taxa, including
Drosophila
and
Anopheles gambiae
[
13
,
14
,
17
,
18
,
21
,
22
] (Fig.
1
). These fragmented and inverted organizations appear unusual among insects.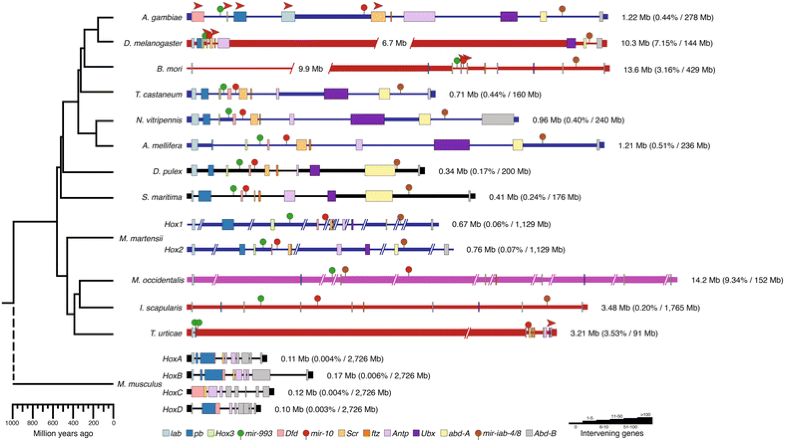 There have been few descriptions of the genomic organization of arthropod Hox genes outside of insects. Two of the better characterized sets of Hox genes from genomic assemblies in non-insects include the myriapod Strigamia maritima [23] and the chelicerate Tetranychus urticae [24]. The Strigamia genome contains nine of the ten canonical arthropod Hox genes grouped together (missing Hox3), in the same transcriptional orientation [23] (Fig. 1). In Tetranychus, there is a large gap between proboscipedia and Deformed, duplications of fushi tarazu and Antennapedia, losses of Hox3 and abdominal-A, and an inversion of Abdominal-B [24] (Fig. 1). These data from non-insect species suggest there is more variation in the genomic organization of arthropod Hox genes than previously appreciated. It is perhaps unsurprising then that an incomplete set of the canonical ten arthropod Hox genes is often found when performing degenerate PCR surveys [11, 25].
While the general paradigm is that most arthropods contain a similar set of ten Hox genes, there are examples where Hox gene loss or duplication (and divergence) has occurred [11, 25]. The best studied of the examples of gene loss are the fushi tarazu (ftz) and Hox3 genes [26–31]. In the case of the ftz gene, loss of homeotic function, without a loss of the gene itself, appears to have been relatively common and there is currently no evidence that its loss of homeotic function had any phenotypic consequence [32]. However, here we report that loss of abd-A in Tetranychus [24], the oribatid mite Archegozetes longisetosus [11], a pycnogonid [33], and three species of barnacle [34–36]—all of which have very reduced trunk segmentation—suggest some Hox gene losses correlate with discrete morphological change along the A/P body axis.
In contrast to the uncommon association of a loss of a Hox gene with morphological variation, there are numerous examples where morphological diversification along the A/P body axis is achieved through changes in the regulation of the Hox genes, leading to variation in the A/P expression boundaries of the Hox genes [
37
,
38
] (see [
12
] for review), as well as to changes in their downstream targets [
39
,
40
] (see [
41
] for review). The intergenic regions between Hox genes are thus important sites of regulation [
42
] and also include microRNAs (miRNAs), small non-coding RNAs, known to play essential roles in Hox gene regulation [
43
]. While there is no consensus on the number of conserved arthropod Hox gene-associated miRNAs, more than twenty are functionally annotated in
Drosophila melanogaster
between the Hox genes
labial
and
Abdominal
-
B
[
44
], with four of these miRNAs—
miR
-
993
,
miR
-
10
,
miR
-
iab
-
4
, and
miR
-
iab
-
8
—found in conserved positions within arthropod genomes [
45
–
51
] (Fig.
2
). The last two,
miR
-
iab
-
4
and
miR
-
iab
-
8
, reside at the same locus and produces sense (
miR
-
iab
-
4
) and antisense (
miR
-
iab
-
8
) transcripts [
52
,
53
]. However, these views of arthropod Hox gene regulation are mainly derived from insects, leaving relatively little known about the extent of miRNA conservation and divergence throughout the Arthropoda.

With representative sequenced genomes from each major arthropod clade now available, we can examine the variation in the genomic organization and evolution of arthropod Hox gene clusters within a greater phylogenetic context, including the degree to which chromosomal arrangement, transcriptional orientation, and regulatory elements such as miRNAs are conserved. Using a comparative genomic approach, we examined how the spatial organization of Hox genes has changed during arthropod evolution. To this end, we performed a comparative analysis of the genomic structure of Hox genes that have been previously characterized in six insects, the centipede Strigamia maritima (Myriapoda) [23], several chelicerates including the scorpion Mesobuthus martensii, the spider mite Tetranychus, the predatory mite Metaseiulus occidentalis, and the vertebrate Mus musculus. In addition, we included in our comparative analysis the water flea Daphnia pulex (Crustacea) [54] and the deer tick Ixodes scapularis (Chelicerata) [55], arthropods that have yet to have the genomic organization of their Hox genes well characterized.
Methods
Hox genes and genomic sequence collection
Species choice
We focused our analysis on non-insect Hox clusters for which less information on Hox cluster organization has been published. Reliable analysis of genomic organization of a Hox cluster requires sufficiently long contigs and confidence in the accuracy of the assembly. Consequently, we limited our analysis to those genomes with sufficient quality coverage and assembly (at least 7X coverage with Sanger sequencing, or 15X coverage with 454 pyrosequencing) and for which the data were publically available. At present, six of the published genomes of non-insect arthropods adhere to that standard and are included in our analysis. We note, however, that for none of these species is there a chromosome linkage map; so validating contig linkage relationships is not possible. We also included representatives of the major clades of insects for which a completed sequence was available and focused on the best-quality genome assemblies (6 species).
Databases used: Tetranychus urticae data were collected from the Online Resource for Community Annotation of Eukaryotes (OrcAE, http://bioinformatics.psb.ugent.be/orcae/) [56]. Daphnia pulex data were collected from the JGI Daphnia pulex v1.0 genome database (http://genome.jgi-psf.org) [54]. Strigamia maritima data were collected from the EnsemblGenomes database (http://metazoa.ensembl.org/) [23]. Ixodes scapularis and Anopheles gambiae data were collected from the VectorBase IscaW1.4 and AgamP4 databases, respectively (https://www.vectorbase.org) [55, 57, 58]. Bombyx mori data were collected from the Silkworm Genome Database (http://www.silkdb.org/silkdb) [59] and from the work of [19, 20]. Apis mellifera data were collected from the Hymenoptera Genome Database (http://hymenopteragenome.org/) [60]. Drosophila melanogaster, Nasonia vitripennis, Tribolium castaneum, Metaseiulus occidentalis, Mesobuthus martensii, and Mus musculus data were collected from NCBI. Gene accession identification numbers are included in Additional file 1: Table S1.
Annotation of conserved arthropod Hox gene-associated miRNAs
In identifying conserved miRNAs, we undertook a sequence homology-based approach that was consistent with previous studies [45, 61–64]. Briefly, Hox gene-associated miRNAs were first curated from miRBase [44] by searching the genomic positions of the Hox genes for Bombyx, Drosophila, Anopheles, Apis, Nasonia, Tribolium, Daphnia, and Ixodes. Drosophila Hox gene-associated miRNA stem-loop sequences were then downloaded from miRBase and used in BLAST analyses to identify conserved Hox gene-associated miRNAs in Tetranychus, Mesobuthus, Metaseiulus, and Strigamia. Identification of putative precursor miRNA sequences was based on a BLAST hit with an alignment length greater than or equal to 20 nucleotides and greater than or equal to 80 percent identity (Additional file 2: Table S4). BLAST hits were then analyzed for predicted secondary structure using minimum free energy (MFE) with RNAfold [65] and miRAlign [61]. Only sequences with a predicted stem-loop structure with a MFE less than or equal to -20 kcal/mol and that contained the mature sequence on the stem were considered putative miRNAs (Additional file 2: Tables S4, Additional file 3: Table S5). Predicted precursor miRNA sequences were aligned to other arthropod miRNA sequences using MUSCLE [66], trimmed, and subsequently used in generating a maximum likelihood phylogenetic tree [67] to support orthology as previously described [68], using the HKY85 substitution model (Additional file 4: Figure S1; Additional file 5). Accession numbers or genomic locations of miRNAs are included in Additional file 1: Table S1.
Conclusions
The current data, from both genomic studies and PCR surveys, remain consistent with the idea that an ancestral arthropod had ten Hox genes. However, the accumulating non-insect Hox data raises questions as to whether ancestrally multiple Hox clusters were present and subsequently lost, and to what degree the ancestral arthropod clusters were dispersed within the genome. Vertebrate Hox genes are tightly clustered on the same chromosome with virtually no non-Hox genes interspersed within the cluster. Arthropod Hox genes are located on the same chromosome and in the same order and transcriptional orientation as their vertebrate orthologs, but they show varying degrees of dispersion. The Hox clusters in the genomes of Daphnia and Strigamia span relatively small genomic regions, while all chelicerates surveyed to date show a significantly more dispersed Hox cluster configuration, with the extreme example of the "atomized" cluster of the predatory mite. Within the insects surveyed here, there is an evident trend toward a greater dispersion of the Hox cluster within more derived species. Taken together, these data suggest the constraints maintaining Hox genes in a genomic cluster in arthropods have been relaxed in comparison with vertebrates and may play a functional role in the reduction of posterior body plans.
Abbreviations
lab :

labial
pb :

proboscipedia
zen :

zerknüllt
Dfd :

Deformed
Scr :

Sex combs reduced
ftz :

fushi tarazu
Antp :

Antennapedia
Ubx :

Ultrabithorax
abd-A :

abdominal-A
Abd-B :

Abdominal-B
miR, miRNA:

microRNA
iab :

infra-abdominal
PCR:

polymerase chain reaction
BLAST:

basic local alignment search tool
MFE:

minimum free energy
bp:

base pairs
kb:

kilobase pairs
Mb:

megabase pairs
Gb:

gigabase pairs
CDS:

coding sequence
UTR:

untranslated region
M. musculus :

Mus musculus
D. melanogaster, Dm:

Drosophila melanogaster
A. gambiae, Ag:

Anopheles gambiae
T. castaneum, Tc:

Tribolium castaneum
N. vitripennis, Nv:

Nasonia vitripennis
A. mellifera, Ap:

Apis mellifera
B. mori, Bm:

Bombyx mori
D. pulex, Dp:

Daphnia pulex
S. maritima, Sm:

Strigamia maritima
M. martensii, Mm:

Mesobuthus martensii
I. scapularis, Is:

Ixodes scapularis
M. occidentalis, Mo:

Metaseiulus occidentalis
T. urticae, Tu:

Tetranychus urticae
Declarations
Authors' contributions
RMP participated in the conception and design of the study, performed data analysis, and wrote the manuscript. MG participated in data discussion and critical revisions of the manuscript. LMN participated in the conception and design of the study, data discussion and contributed to writing the manuscript. All authors read and approved the final manuscript.
Acknowledgements
RMP was supported through NSF-IGERT grant DGE-0654435 and NIH Training Grant T32GM008659 in the duration of this study. MG acknowledges funding by the Government of Canada through Genome Canada and the Ontario Genomics Institute (OGI-046), Ontario Research Fund–Global Leadership in Genomics and Life Sciences GL2-01-035 and NSERC Strategic Grant STPGP322206-05. LMN acknowledges funding through NSF IOS 1024446. We thank SD Hester and anonymous reviewers for their helpful comments on this manuscript.
Competing interests
The authors declare that they have no competing interests.
Open AccessThis article is distributed under the terms of the Creative Commons Attribution 4.0 International License (http://creativecommons.org/licenses/by/4.0/), which permits unrestricted use, distribution, and reproduction in any medium, provided you give appropriate credit to the original author(s) and the source, provide a link to the Creative Commons license, and indicate if changes were made. The Creative Commons Public Domain Dedication waiver (http://creativecommons.org/publicdomain/zero/1.0/) applies to the data made available in this article, unless otherwise stated.
Authors' Affiliations
(1)
Department of Molecular and Cellular Biology, University of Arizona, Tucson, USA
(2)
Department of Biology, University of Western Ontario, London, Canada
(3)
Universidad de la Rioja, Logroño, Spain
(4)
Division of Maternal-Fetal Medicine, Department of Obstetrics and Gynecology, Baylor College of Medicine, Houston, USA