The role of retinoic acid signaling in starfish metamorphosis
Received: 6 February 2018
Accepted: 12 April 2018
Published: 21 April 2018
Abstract
Background
Although retinoic acid (RA) signaling plays a crucial role in the body patterning of chordates, its function in non-chordate invertebrates, other than its mediation of environmental cues triggering metamorphosis in cnidarians, is largely unknown. We investigated the role of RA signaling in the metamorphosis of starfish (Echinodermata).
Results
We found that exogenous RA treatment induced metamorphosis in starfish larvae. In contrast, inhibitors of RA synthesis and RA receptors suppressed metamorphosis triggered by attachment to a substrate. Gene expressions of the RA signaling component were detected in competent larvae.
Conclusions
This study provides insight into the ancestral function of RA signaling, which is conserved in the metamorphosis of cnidarians and starfish.
Keywords
Retinoic acid signalingMetamorphosisEchinodermStarfish
Background
Retinoic acid (RA) plays a critical role in the body patterning of chordates, such as the anterior–posterior patterning of the central nervous system and pharyngeal arches [1–3]. RA synthesized by retinal dehydrogenase (Raldh) regulates downstream gene expression through binding to the retinoic acid receptor (RAR) and the retinoid x receptor (RXR) heterodimer nuclear receptor. Although RXR was identified in various metazoan taxa including cnidarian, arthropod, and nematode [4], Raldh and RAR, as well as cytochrome P450 26 (CYP26), which degrades RA, had been described only in chordates, and thus RA signaling was thought to be specific to chordates, and the acquisition of the gene families for RA signaling was thought to be a key step in the evolution of the chordate body plan [3]. However, Cañestro et al. reported that gene families of Raldh, RAR, and CYP26 are encoded in the genomes of non-chordate deuterostomes [5]. Following additional genomic surveys of other invertebrates, the origin of RA signaling was pushed back to the common ancestor of metazoans [6, 7].
Despite these genomic surveys, the function of RA signaling in non-chordate deuterostomes remains largely unknown, other than the observation of pseudopodial cable growth on micromere-delivered cells from Hemicentrotus pulcherrimus after RA treatment [8]. Sciarrino et al. reported that RA treatment on Paracentrotus lividus did not induce specific phenotype except for delaying development [9]. Although Marlétaz et al. suggested that the promoter region of sea urchin Hox genes had an RA response element [3], no additional evidence of the effect of RA on Hox gene expression has been reported.
Insight into the ancestral function of RA signaling can be gained from the study of cnidarians, a basal lineage of animals. Fuchs et al. showed that RA signaling is involved in the life cycle transition of cnidarians [10]. Medusozoan cnidarians have two distinct life cycle phases. Fertilized eggs first develop into planula larvae and then, through further development, become sessile polyps. When the polyps receive environmental stimuli, such as a temperature change, they metamorphose into medusae [10]. Fuchs et al. reported that RA is an internal regulator of this process and suggested that RA works through binding with RXR [10]. Because RXR is known to be involved in the metamorphosis of insects and frogs [11–16], RA signaling was suggested to also have a role in the life cycle regulation of metazoans.
Molecular mechanisms for metamorphosis have been investigated in echinoderms, primarily echinoids [17–28]. In the sea urchin Strongylocentrotus purpuratus, larvae acquired competence to metamorphose 4.5–6 weeks after fertilization [25] and commenced metamorphosis in response to substrates such as algal sheets [29]. Previous studies suggested that thyroid hormone (TH) and histamine (HA) functioned as modulators of larval growth and the competent state [19–21, 24–27]. Although several works also revealed nitric oxide (NO) signaling functioned as a negative regulator upon settlement [17, 18], any role of RA signaling in metamorphosis is not reported in any taxa of echinoderm.
Here, we investigate the role of RA signaling in asteroid metamorphosis. We used the starfish Patiria pectinifera, as it acquires competence to metamorphose earlier than sea urchin species (about 1 week after fertilization). We show that exogenous RA treatment induced larval body absorption and juvenile rudiment development in competent larvae. Conversely, the inhibition of endogenous RA synthesis or binding of RA to RAR blocked metamorphosis. In addition, genes related to RA signaling were expressed in the juvenile and larval stages. These results suggest that RA signaling acts as a regulator of metamorphosis after settlement.
Discussion
RA signaling acts as a regulator of starfish metamorphosis
The life cycle transition from larva to juvenile in echinoderms occurs via two key steps. First, larvae acquire competence to metamorphose. Second, after receiving an environmental cue, metamorphosis proceeds with the absorption of the larval body and development of the pentaradial juvenile body. We present evidence that RA signaling functions as an endogenous mediator of environmental cues received upon attachment to a substrate in starfish (Fig.
6
). Metamorphosis was suppressed by the inhibition of two distinct steps of RA signaling (Fig.
4
): RA synthesis from retinal (by DEAB) and the reception of RA by RAR (by RO). We have not directly shown that RA is present in starfish larvae. Identification of three
raldh
genes, and the overlapping expression of one of them with
rar
and
rxr
in competent larvae (Fig.
5
), however, strongly supports the idea that RA functions as an endogenous signaling molecule in starfish development.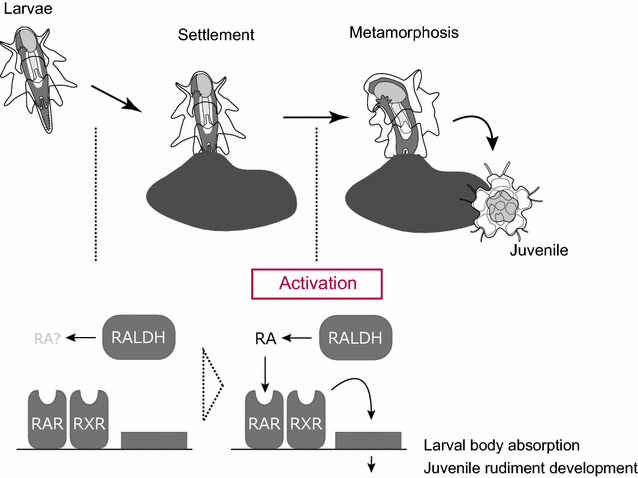 Of note, the expression of raldhs, rar, and rxr was observed well before competent larvae received environmental cues (Fig. 5a–o). These expression patterns suggest the presence of another regulatory mechanism that controls the onset of RA signaling upon attachment. Murabe et al. indicated that environmental cues were received by adhesive papillae on the brachiolar arms [31]. Thus, the onset of RA signaling may be regulated by something in the adhesive papillae, likely through the nervous system. NO and HA are candidates for this regulator, as both have inhibitory effects on the onset of metamorphosis in sea urchins [11, 17, 24, 25]. Although no evidence of NO signaling or HA signaling has been reported for starfish, further studies on the crosstalk of these signals with RA signaling will facilitate a comprehensive understanding of the molecular regulatory mechanism of echinoderm metamorphosis.
The role of the nuclear receptor/RXR heterodimer in metamorphosis regulation is evolutionarily conserved
RA signaling mediated by a RAR/RXR heterodimer receptor plays a critical role in the development of the unique body plans of chordates, such as the anterior–posterior patterning of the central nervous system [1, 2, 7]. Therefore, the ancestral role of RA signaling has attracted the interest of several zoologists [5, 6]. Our findings suggest that RA signaling plays a role in the regulation of metamorphosis in ancestral deuterostomes. During the evolution of ancestral chordates, RA signaling may have been co-opted for the patterning of the chordate body plan via the recruitment of Hox genes as regulators. Further investigation of RA signaling in non-chordate deuterostomes may shed new light on the evolution of the vertebrate body plan.
The transition of distinct body plans through metamorphosis is widely observed in metazoans [11, 41], and several recent studies have revealed that conserved molecular regulatory mechanisms underlie metamorphosis [10, 11, 42]. Molecular mechanisms for metamorphosis in amphibians and insects have been investigated in detail [12–16]. In both taxa, metamorphosis is regulated by hormones received by receptors (TH for amphibians and an ecdysone receptor for insects), which make a heterodimer with RXR. A recent study by Fuchs indicated that RXR is also involved in cnidarian metamorphosis [10]. Exogenous treatment with RA was shown to induce the metamorphic process of strobilation. Here, we present evidence that RA signaling is also involved in starfish metamorphosis, and provide additional evidence that components of RA signaling are conserved in this metamorphosis. However, amphibians and insects use different hormones for signaling, and RXR makes heterodimers with different counterparts accordingly. The suggested existence of a common ligand in cnidarians and starfish is thus intriguing and may reflect the ancestral molecular mechanism for metazoan metamorphosis. This hypothesis will be tested by further investigation of metamorphosis in various taxa, such as sea urchins, annelids and molluscs.
Conclusions
We demonstrated that RA signaling performs as the regulator of metamorphosis process in echinoderm (starfish). Considering RA is also core element of metamorphosis regulation in basal group of metazoan (cnidarian), our results suggest that ancestral function of RA signaling is involved in metamorphosis.
Declarations
Authors' contributions
SY, YM, and HW contributed to the design of the experiments. SY and YM collected the samples. SY performed the experiments. SY and MH analyzed the data. All authors wrote the manuscript. All authors read and approved the final manuscript.
Acknowledgements
We thank Ei-ichi Okumura, Ritsu Kuraishi, and Akihito Wanishi for help in collecting P. pectinifera. We also thank the Ibaraki Prefectural Oarai Aquarium for providing the seawater for culturing adult starfish.
Competing interests
The authors declare that they have no competing interests.
Availability of data and materials
The sequences of starfish gene (raldha, raldhb, raldhc, rar, and rxr) were deposited to the DNA Data Bank of Japan (DDBJ; LC379260, LC379261 LC379262, LC379258 and LC379259, respectively). The dataset for phylogenetic analysis was supplied in Additional files 10 and 11. The raw reads of transcriptome are available from the DDBJ Sequence Reads Archives (DRA006662).
Consent for publication
Not applicable.
Ethics approval and consent to participate
Not applicable.
Funding
This work was supported by JSPS KAKENHI Grant No. 15KT0074.
Publisher's Note
Springer Nature remains neutral with regard to jurisdictional claims in published maps and institutional affiliations.
Open AccessThis article is distributed under the terms of the Creative Commons Attribution 4.0 International License (http://creativecommons.org/licenses/by/4.0/), which permits unrestricted use, distribution, and reproduction in any medium, provided you give appropriate credit to the original author(s) and the source, provide a link to the Creative Commons license, and indicate if changes were made. The Creative Commons Public Domain Dedication waiver (http://creativecommons.org/publicdomain/zero/1.0/) applies to the data made available in this article, unless otherwise stated.
Authors' Affiliations
(1)
Graduate School of Life and Environmental Sciences, University of Tsukuba, Tsukuba, Japan