From dinosaurs to birds: a tail of evolution
Received: 2 May 2014
Accepted: 10 July 2014
Published: 29 July 2014
Abstract
A particularly critical event in avian evolution was the transition from long- to short-tailed birds. Primitive bird tails underwent significant alteration, most notably reduction of the number of caudal vertebrae and fusion of the distal caudal vertebrae into an ossified pygostyle. These changes, among others, occurred over a very short evolutionary interval, which brings into focus the underlying mechanisms behind those changes. Despite the wealth of studies delving into avian evolution, virtually nothing is understood about the genetic and developmental events responsible for the emergence of short, fused tails. In this review, we summarize the current understanding of the signaling pathways and morphological events that contribute to tail extension and termination and examine how mutations affecting the genes that control these pathways might influence the evolution of the avian tail. To generate a list of candidate genes that may have been modulated in the transition to short-tailed birds, we analyzed a comprehensive set of mouse mutants. Interestingly, a prevalent pleiotropic effect of mutations that cause fused caudal vertebral bodies (as in the pygostyles of birds) is tail truncation. We identified 23 mutations in this class, and these were primarily restricted to genes involved in axial extension. At least half of the mutations that cause short, fused tails lie in the Notch/Wnt pathway of somite boundary formation or differentiation, leading to changes in somite number or size. Several of the mutations also cause additional bone fusions in the trunk skeleton, reminiscent of those observed in primitive and modern birds. All of our findings were correlated to the fossil record. An open question is whether the relatively sudden appearance of short-tailed birds in the fossil record could be accounted for, at least in part, by the pleiotropic effects generated by a relatively small number of mutational events.
Keywords
Archaeopteryx AvianBird evolution Confuciusornis Dinosaur Jeholornis Sapeornis SomitogenesisTail
Review
Introduction
Tails of extant birds are an evolutionary novelty. They are critical for powered flight, ensure reproductive success by attracting mates, and safeguard relatives by communicating warning signals. Extant bird tails consist proximally of a small series of unfused caudal vertebrae with a high range of motion. These articulate to a distal rod-like pygostyle, composed of several fused caudal vertebrae, which supports the retricial bulb and associated muscles and feathers for controlling tail fan and contour shape. This specialized tail is present throughout the entire diversity of living birds, albeit with many modifications for clade-specific behaviors. A well-sampled fossil record documents the evolutionary transformation from the ancestral long 'reptilian' tail to the short, distally fused tail [1, 2]. Yet, the specific developmental mechanisms that facilitated this dramatic anatomical change are unknown. This gap in knowledge constitutes a rich vein for future research, one that would benefit from our current understanding of axial developmental mechanisms.
The phenotypic changes that arose in the transition from ancestral long-tailed to short-tailed birds were manifested from changes during embryonic development, indicating that the study of mutations in embryonic models is essential to elucidating the mechanism of tail shortening. Mutations in key developmental genes and/or their regulation can cause multiple changes in morphology. Indeed, pleiotropic effects are observed in the vertebrate axial skeleton for a number of mutations [3]. Given the multiple phenotypes that can arise with single mutations, can the perceived sudden appearance of short-tailed birds be due to a lack of intermediate specimens in the fossil record, or from a very limited number of mutations that caused significant alterations to the primitive bird skeleton in a relatively short period of time? With reference to the fossil record, we first review the evolutionary history and early skeletal development of the bird tail, and discuss the developmental mechanisms involved in axial extension and termination. We then present a comprehensive survey of mouse tail mutants with the purpose of examining conserved patterns of mutation and likely candidates within the tail gene regulatory network that may have played major roles in reducing the bird tail. These paleontological, genetic, and developmental analyses are applied to the critical juncture in bird evolution at which tails were truncated and flight was greatly enhanced, in the late Jurassic to Early Cretaceous transition of primitive long-tailed to short-tailed birds.
Background
The origin of the derived bird tail occurred over a remarkably short evolutionary interval, as evidenced by the short-lived co-occurrence of both long- and short-tailed birds in equivalent spatio-temporal fossil formations (Figure
1
). Nearly all non-avian theropod dinosaurs sported long, 'reptilian' tails. These taxa were bipedal, so the tail likely had a counterbalance function. It also had robust transverse processes on the proximal caudal vertebrae that would have served as attachment sites for the large caudofemoralis muscles that were the primary hind limb retractors [
4
]. The oldest known bird,
Archaeopteryx
, dated to 150 million years ago, defines the clade Aves [
5
–
7
] or Avialae [
8
]. Its fully formed flight feathers, elongated wings, and evidence of capable powered flight, all ally
Archaeopteryx
with birds [
9
,
10
]. Yet, the presence of teeth, clawed and unfused fingers, and an elongated, bony tail are characteristics shared with non-avian theropod dinosaurs. Paravians, including
Archaeopteryx
, are characterized by long tails [
11
,
12
], some fusion of synsacral vertebrae, and varying flight capability (Figure
1
). Most deinonychosaurians had between 20 and 30 caudal vertebrae. Oviraptorosaurs, probably the immediate outgroup to Paraves, had relatively shorter tails. These shorter tails were due not just to a modest decrease in the number of caudal vertebrae relative to other non-avian theropods, but more generally to a reduction in individual lengths of the more distal caudals [
13
]. Interestingly, several oviraptorosaurs have been documented to have the distal caudal vertebrae co-ossified into a pygostyle-like structure that braced a fan-like arrangement of retrices [
13
–
16
]. Another more prominent independent reduction of tail length occurred in
Epidexipteryx
, a Mid- or Late-Jurassic maniraptoran dinosaur [
17
]. Its tail had only 16 caudal vertebrae with the distal ten tightly articulated to form a stiffened rod supporting four unique, ribbon-like, tail feathers.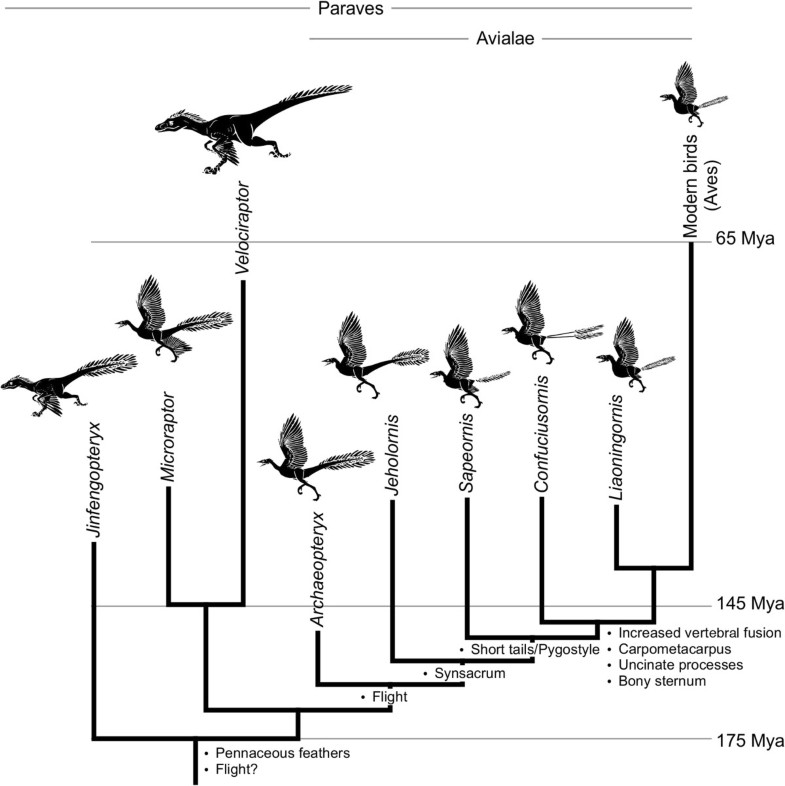 A marked decrease in the number of caudal vertebrae becomes very evident in the bird lineage from the Avialae subgroup of maniraptoran dinosaurs onward (Figure
2
).
Archaeopteryx
retained an ancestral caudal vertebral count of between 20 and 23 [
18
]. The next most basal bird,
Jeholornis
, from the Jiufotang Formation of China and dated at approximately 120 million years old [
19
], was also long-tailed, and had 22 caudal vertebrae that are nearly identical to those of
Archaeopteryx
[
12
]. The same formation preserves the next most basal bird,
Sapeornis
[
20
,
21
]. This taxon is the first bird to express a shortened tail with only six to seven free caudal vertebrae and an elongated pygostyle. All taxa derived from the last common ancestor of
Sapeornis
and extant birds retain a reduced tail ending in a pygostyle, suggesting that this evolutionary transformation is highly adaptive and necessary for bird physiology. A single specimen,
Zhongornis
, may potentially lie phylogenetically between the long-tailed and short-tailed birds.
Zhongornis
is known from a single specimen representing a juvenile that was either fledged or near fledgling [
22
]. The juvenile nature of this taxon makes any phylogenetic placement uncertain, but it does have a unique tail morphology that may be either a phylogenetic or ontogenetic signal. Its tail consisted of 13 caudal vertebrae, with the last four partially fused and forming what may be a partial pygostyle.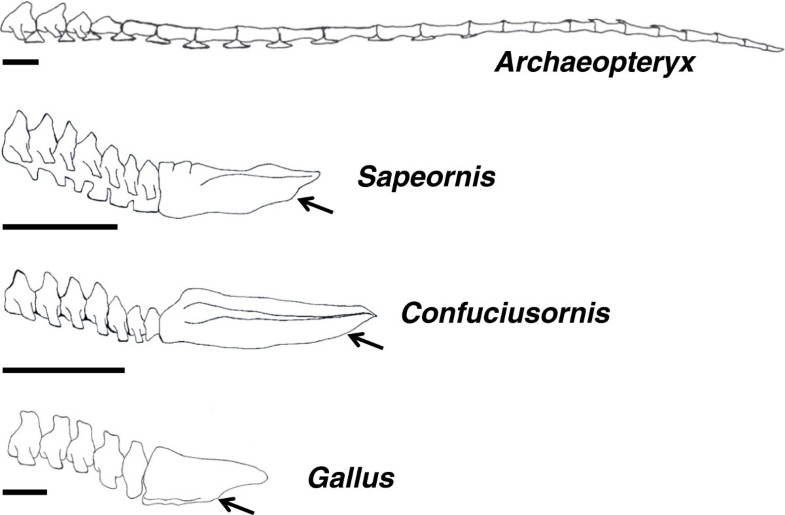 Despite these variations, there is consensus that short-tailed primitive birds appear in the fossil record relatively suddenly, with fewer caudal vertebrae terminating in a fused distal pygostyle, with abrupt rather than gradual loss of tails [
2
]. These short-tailed birds, the confuciusornithids, enantiornithines and early ornithurines, had acquired a number of other more modern bird-like traits that differed from their long-tailed primitive bird predecessors. These traits included more extensive synsacral, sternum, and digit fusion (Figure
1
), as well as uncinate processes fused to adjacent ribs [
23
,
24
]. Osteological modifications were coupled to changes in musculature and behavior. With tail truncation and multiple bone fusions came advances in flight mechanics. Some of those flight advances can be attributed to the pygostyle, partly through its contributions to tail feather control [
25
]. Because
Jeholornis
had a long tail with a proximal feather fan, there is some debate about whether the pygostyle co-evolved with mobile fan-shaped feather arrays [
26
]. Whatever their origin, the pygostyle-associated feather fans differed from the frond-type arrays of more primitive long-tailed ancestors [
25
]. Fan-shaped feather arrays play significant roles in sexual selection in modern birds, and likely played analogous functions in their more primitive short-tailed ancestors (Figure
3
) [
27
].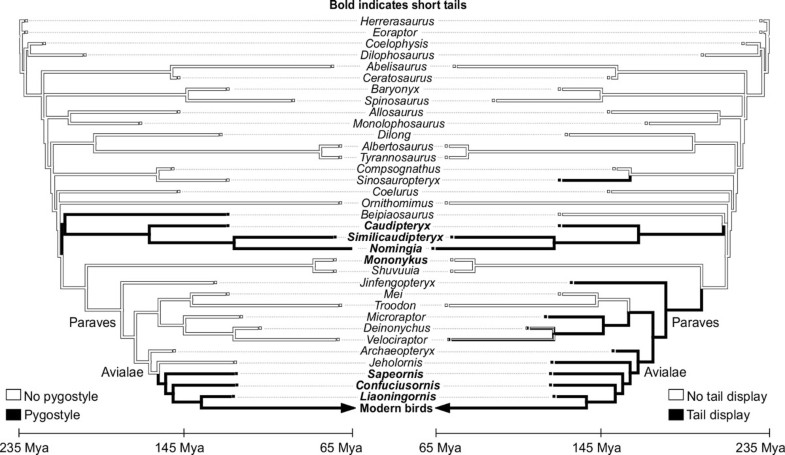 Truncation of the bird tail was also concurrent with reduction and shortening of the large caudofemoralis muscle (CML). Reduction of this muscle is not exclusive to birds and is evident among all maniraptoran subgroups, as hypothesized from the lack of a clearly distinguishable fourth trochanter, the CML insertion site. More profound CML reductions, however, are predicted in early birds with truncated tails [4]. In theropods and in modern reptiles, the CML originates on the proximal caudal vertebrae, with attachment points on the ventral transverse processes and hemal arches (chevrons). In modern birds, the CML is absent or reduced, and where present, its origination site is on the pygostyle [4]. One exception is the rumpless Araucana chicken; in this case, the CML originates on the pelvis [28]. It is interesting to note that in Sapeornis, the most basal short-tailed bird, the caudal vertebrae retained hemal arches [21], but the Confuciusornis tail was more derived, and no hemal arches are observed [29] (Figure 2). The presence of hemal arches in Sapeornis indicate its CML was more substantial than in Confuciusornis, suggesting that formation of the pygostyle alone is not sufficient to cause the degree of CML reduction seen in Confuciusornis and in modern birds.
CML modifications, and others within the tail, may have facilitated the abrupt transition to short-tailed birds due to function decoupling. Decoupling of locomotor structures from each other is a hallmark of the origin of birds and powered flight and was most focused in the forelimb and tail [30, 31]. The tail of extant birds, for example, functions to provide lift, braking, and turning surfaces for controlled flight [32–36], but is decoupled from the hind limb and has lost its ancestral contributions to terrestrial (as opposed to aerial) locomotion. Therefore, the complex functional repertoire of extant bird tails is achieved by a primary decoupling of the tail from the hind limbs followed by additional flight adaptations within the tail.
Mutations that cause tail truncation
Relating the developmental events of axial extension and termination back to the process of evolution, one needs to consider birds as organisms that sustained one or more mutations that converted long theropod tails to short avian tails terminating in a fused, distal pygostyle. Considering the many redundancies in the process of tail cessation, it follows that just one mutation could have truncated the posterior axis. Alternatively, the short, fused tails of early birds could have been the result of a suite of mutations that occurred over a longer period of time, and the fossil record is incomplete. Complicating the genetics behind the transition to short-tailed birds is the nature of the mutations that could have occurred. Mutations can occur within gene coding sequence, in cis regulatory regions (CREs) outside coding sequence that control gene expression, by DNA deletion, or by gene duplication [128–130]. The prevailing theory is that most phenotypic changes in evolution are due to changes in CREs [128]. Alterations in the regulation of gene expression would allow for fewer pleiotropic and potentially deleterious effects of critical genes, by affecting some but not all expression patterns. Despite the potentially higher chance that changes in CREs were responsible for short fused tails, any of the other above-mentioned mechanisms were possible. It remains to be asked, given the lack of dinosaur DNA, how can we parcel out those mutations that affect morphological changes in the tail and may have converted theropod tails to bird tails?
One way to study the ancestral ties between organisms is to proceed with an evolutionary developmental biology or 'evo-devo' approach. This approach is particularly appealing when studying theropod-to-bird evolution, because despite the lack of dinosaur DNA, we can still examine gene pathways that potentially generated dinosaur traits. In terms of tail morphology, the gene pathways that are involved in tail elongation and termination in different organisms can be studied side-by-side, and modulations of those pathways that generate long versus short tails can be compared. In considering the many pathways involved in tail elongation and cessation, how do we narrow down the list of candidate genes that may have been modulated by mutation? For this particular study, we looked to the mouse, the vertebrate organism with the greatest accumulated data on mutations. Most mouse mutational data has been generated by targeted gene disruption, which causes phenotypes that are likely more extreme than mutations that would occur in, say, CREs. Despite the preponderance of targeted transgenesis, substantial mutational information has also been contributed by chemical, radiological, or transposon induction of random mutations, as well as by studies of spontaneous mutations. However the mutations occurred, the mouse is a reasonable place to begin the examination of those genes whose modulation affects tail morphology.
Conclusions
We have no way of knowing at this point, of course, what or how many mutations occurred in early bird evolution, or even which was the true basal ancestor that sustained the initial mutations. Despite the many caveats with this approach, however, our analyses of genetic and fossil evidence suggest the possibility that a single mutation could have occurred in a paravian dinosaur, which both truncated its tail and fused its distal caudal vertebrae into a pygostyle. Whether there were one or multiple mutations it should be noted that of the 37 posterior vertebral body-fusion mutants we examined [see Additional file 3], all but four are known to be caused by single mutational events, and have substantial phenotypic alterations not just to the tail, but to other parts of the skeleton as well. On the other hand, it should also be noted that most of the mutants that were considered for this study have mutations within gene coding regions. Mutations in CREs would likely have resulted in fewer pleiotropic effects in both mice and early birds. The nature of potential pleiotropic effects, however, should still be considered when addressing the issue of evolutionary morphological change. In this case, the pleiotropic effects of vertebral body mutations mirror a number of alterations observed in early birds, and these additional alterations occurred in the same timeframe as the transition to truncated tails. Since these pleiotropic effects (at least in the mouse) include fused vertebrae, not just in the tail but also in more anterior regions, the more substantial synsacral fusions observed in confuciusornithids, enantiornithines, and ornithurines could have been facilitated by a vertebral body mutation (or convergently by a similar mutation). Additional rib or uncinate process fusion, or even digit fusion, could also have occurred, which together with the other bone fusion and tail truncation phenotypes, could account for the relatively sudden appearance of these short-tailed birds in the fossil record. Jeholornis and Confuciusornis were likely contemporaries [156], and Jeholornis exhibited flight structures very similar to Confuciusornis but differed considerably in the posterior half of its body [157]. If a vertebral fusion mutation occurred in a primitive bird like Jeholornis, which fused additional vertebrae in its synsacrum, truncated its tail, and fused some ribs, the resulting creature would have come a long way towards resembling Confuciusornis. Once the mutation(s) had occurred, it/they were likely fixed in the population by the advantages conferred on flight and possibly on sexual selection display.
If we were to conjecture what was a likely type of mutation that occurred in a feathered maniraptoran dinosaur on its way to becoming a bird, based on the mouse mutant data, we would hypothesize that one or more mutations modulated genes involved in axial extension. Any number of axial extension genes could have been affected, but in the mouse, most mutations causing distally fused caudal vertebrae and shortened tails lie in the Notch/Wnt pathway, in somite segmentation, differentiation or somite boundary formation. Future comparative studies of signaling cascades between birds, long-tailed reptiles and mice should help to uncover these long-lost mutations, and further our understanding of the evolution of birds from non-avian maniraptoran dinosaurs.
Authors' information
DR is a post-doctoral fellow at the Museum of the Rockies, Montana State University, Bozeman, MT. SCC is an Associate Professor in the Department of Biological Sciences, Clemson University, Clemson, SC. HCEL is an Associate Professor at the Redpath Museum, McGill University, Montreal, Canada. CO is a Visiting Professor in the Department of Earth Sciences, Montana State University. AB is a Senior Research Assistant at Vaccine and Gene Therapy Florida, Port Lucie, FL; she was a former post-doctoral fellow at the Museum of the Rockies, Montana State University. CM is an Associate Professor in the Cell Biology and Neuroscience Department at Montana State University. RB is an Associate Professor in the Cell Biology and Neuroscience Department at Montana State University. JH is a Regents' Professor of Paleontology in the Department of Earth Sciences, Montana State University and is Curator of Paleontology at the Museum of the Rockies, Montana State University.
Abbreviations
AER:

apical ectodermal ridge
BMP:

bone morphogenetic protein
CML:

caudofemoralis muscle, large
CNH:

chordoneural hinge
CREs:

cis regulatory regions
E:

embryonic day
FGF:

fibroblast growth factor
HH:

Hamburger Hamilton
M:

mesenchyme
Nc:

notochord
NT:

neural tube
PSM:

presomitic mesoderm
RA:

retinoic acid
SCD:

spondylocostal dystosis
Shh:

sonic hedgehog
TG:

tailgut
VER:

ventral ectodermal ridge.
Declarations
Acknowledgements
The authors wish to sincerely thank Michael Jones (Jones-Design.com) for the digital rendering of Figures 4 and 5. We also wish to thank Daniel Van Antwerp for his critical reading of the manuscript and Thomas Townsend for accumulating data on dinosaurs with a pygostyle. This project is entirely funded through private donations, and the authors wish to thank George Lucas, without whose contribution, this project would not have been possible.
Authors' Affiliations
(1)
Museum of the Rockies, Montana State University, Bozeman, USA
(2)
Department of Biological Sciences, Clemson University, Clemson, USA
(3)
Redpath Museum, McGill University, Montreal, Canada
(4)
Department of Earth Sciences, Montana State University, Bozeman, USA
(5)
Vaccine and Gene Therapy FL, Port Lucie, USA
(6)
Department of Cell Biology & Neuroscience, Montana State University, Bozeman, USA
Copyright
© Rashid et al.; licensee BioMed Central Ltd. 2014
This article is published under license to BioMed Central Ltd. This is an Open Access article distributed under the terms of the Creative Commons Attribution License (http://creativecommons.org/licenses/by/4.0), which permits unrestricted use, distribution, and reproduction in any medium, provided the original work is properly credited. The Creative Commons Public Domain Dedication waiver (http://creativecommons.org/publicdomain/zero/1.0/) applies to the data made available in this article, unless otherwise stated.