Roles of retinoic acid and Tbx1/10 in pharyngeal segmentation: amphioxus and the ancestral chordate condition
Received: 20 June 2014
Accepted: 27 August 2014
Published: 9 October 2014
Abstract
Background
Although chordates descend from a segmented ancestor, the evolution of head segmentation has been very controversial for over 150 years. Chordates generally possess a segmented pharynx, but even though anatomical evidence and gene expression analyses suggest homologies between the pharyngeal apparatus of invertebrate chordates, such as the cephalochordate amphioxus, and vertebrates, these homologies remain contested. We, therefore, decided to study the evolution of the chordate head by examining the molecular mechanisms underlying pharyngeal morphogenesis in amphioxus, an animal lacking definitive neural crest.
Results
Focusing on the role of retinoic acid (RA) in post-gastrulation pharyngeal morphogenesis, we found that during gastrulation, RA signaling in the endoderm is required for defining pharyngeal and non-pharyngeal domains and that this process involves active degradation of RA anteriorly in the embryo. Subsequent extension of the pharyngeal territory depends on the creation of a low RA environment and is coupled to body elongation. RA further functions in pharyngeal segmentation in a regulatory network involving the mutual inhibition of RA- and Tbx1/10-dependent signaling.
Conclusions
These results indicate that the involvement of RA signaling and its interactions with Tbx1/10 in head segmentation preceded the evolution of neural crest and were thus likely present in the ancestral chordate. Furthermore, developmental comparisons between different deuterostome models suggest that the genetic mechanisms for pharyngeal segmentation are evolutionary ancient and very likely predate the origin of chordates.
Keywords
CephalochordateCyp26 functionevolution of developmental mechanismsevolution of the vertebrate headfunctional knockdownpharmacological treatmentspharyngeal patterningretinoic acid signalingTbx1/10
Background
The evolution of head segmentation in chordates has been controversial for well over 150 years. In all chordates (vertebrates, tunicates and amphioxus), the pharynx is segmented into gill slits (aquatic chordates) or pouches (terrestrial chordates) and pharyngeal arches. The pharyngeal arches have a mesodermal core that derives from head mesoderm (or in amphioxus, the anteriormost somites) plus, in vertebrates only, a neural crest component that gives rise to pharyngeal cartilages. The mesoderm of the most anterior pharyngeal arch, the mandibular arch, gives rise to the velar muscle in the lamprey and to the jaw and other head muscles in gnathostomes. In addition to anatomical and fossil evidence [1–4], domains of gene expression have suggested homologies between the amphioxus and vertebrate pharynx as well as between the anterior somites of amphioxus and the head mesoderm of vertebrates. For example, engrailed is expressed in the posterior portion of each of the anterior somites of amphioxus and in the posterior wall of the mandibular head cavity and upper lip in the lamprey [5, 6] as well as in the mandibular mesoderm of sharks [7] and the jaw muscles of the zebrafish [8]. Similarly, in amphioxus, Tbx1/10 is expressed in the somites and in their ventral mesodermal extensions as well as in adjacent endoderm. In the lamprey, the gene is expressed in the mesenchyme of the upper lip, velar muscles and pharyngeal arches, while, in gnathostomes, Tbx1/10 is detectable both in neural crest and head mesenchyme derivatives [9, 10]. In addition, in both amphioxus and aquatic vertebrates, Pax2/5/8 is expressed where the gill slits are forming as well as in the endostyle or its vertebrate homolog, the thyroid gland, and in the central nervous system (CNS), while Pax1/9 genes are broadly expressed in the pharyngeal endoderm of all chordates [11–13].
We have previously defined an early phase of pharyngeal specification in amphioxus, which occurs during the gastrula stage and is regulated by retinoic acid (RA) signaling [14–17]. RA, a natural morphogen synthesized from vitamin A, binds to heterodimers of the retinoic acid receptor (RAR) and retinoid X receptor (RXR), allowing the complex to bind to regulatory regions of target genes and thereby activate transcription. The gene encoding the RA-degrading enzyme Cyp26-2 is expressed anterior to the anteriormost domain of Tbx1/10, indicating considerable reduction of RA signaling in the rostral head [18]. High RA signaling levels in the middle third of the endoderm of early embryos of amphioxus and vertebrates specify the midgut, while low levels of RA signaling in the pharynx specify the pharyngeal endoderm [14–16, 19–22]. Thus, in amphioxus, exogenous RA applied during the gastrula stage causes loss of the pharynx and of all pharyngeal structures by respecifying the pharyngeal endoderm as midgut [14–17]. Similarly, in vertebrates, RA signaling is required for the formation of pharyngeal pouches caudal to the second pharyngeal arch. Thus, excess RA leads to a compression of the pharynx in lampreys [23, 24] and to a fusion of the first two pharyngeal arches in gnathostomes, while the inhibition of RA signaling in gnathostomes, either genetically or by vitamin A deficiency, results in a loss of posterior pharyngeal structures [19–22, 25–27].
In amphioxus, very few direct targets of RA signaling at the gastrula have been identified to date. Of more than 40 genes tested, the only direct targets were Hox genes (Hox1, Hox3), normally expressed in the dorsal/posterior mesendoderm and ectoderm, and FoxA2-1, normally expressed in the dorsal/posterior and anterior/ventral mesendoderm. The domains of all three genes are expanded anteriorly in RA-treated embryos [17]. Furthermore, knockdown of Hox1 showed that it mediates the effect of RA in establishing the posterior limit of the pharynx [16]. Indirect targets include Otx, which is normally expressed in the anterior mesendoderm and dorsal/anterior ectoderm at the gastrula stage, and Pax1/9, which turns on in the pharyngeal endoderm at the very early neurula stage [11, 17].
In normal embryos and larvae of amphioxus, pharyngeal structures are asymmetrically arrayed (Figure
1
). By the early larval stage, from anterior to posterior, there is on the right, the endostyle, homologous to the thyroid, the club-shaped gland, a larval secretory structure that undergoes apoptosis at metamorphosis [
28
], and two gill slits. Additional gill slits form sequentially from anterior to posterior. On the left, the ciliated pit, which will form part of the homolog of the adenohypophysis, forms just anterior to the mouth, thought to be a modified gill slit [
29
]. The posterior limit of the pharynx in the early larva is at the same anterior/posterior position as the first photoreceptor and associated pigment cell that form in the nerve cord at the level of somite 5. The position of this pigment spot is unaffected by altered RA signaling even though excess RA shifts the
Hox1
domains in the CNS and endoderm anteriorly [
30
].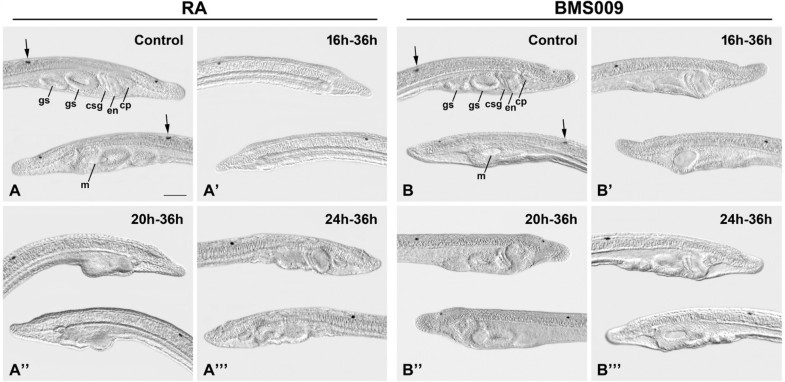 Morphological effects of excess RA added at the gastrula stage are first apparent in the early neurula. In untreated embryos, the pharyngeal endoderm marker Pax1/9 is downregulated where the first gill slit will form [11]. As neurulation proceeds, Pax1/9 is also downregulated in the primordium of the second gill slit. In embryos treated with RA from the gastrula stage, Pax1/9 is not downregulated in the gill slit primordia, and the posterior limit of its domain is shifted anteriorly. Similarly, the posterior limit of the normally broad domain of Otx in the endoderm shifts anteriorly in RA-treated larvae. Thus, in embryos treated with 10-6 M RA at the gastrula stage, much of the pharyngeal endoderm is respecified as midgut [14, 16]. Knockdown experiments showed that Hox1 acts upstream of Otx and Pax1/9 in setting the posterior limit of the pharynx [16]. However, gill slits do form in most embryos when RA addition is delayed until the early neurula stage [14]. Even so, in untreated neurulae, the competitive RA signaling inhibitor TR2/4 turns on in the gill slit primordia just before the gill slits begin to penetrate [15], suggesting that RA signaling may have to be continuously repressed during the neurula stage to ensure proper development of the gill slits.
To determine if in amphioxus (Branchiostoma floridae), an animal lacking definitive neural crest, RA affects pharyngeal morphogenesis post-gastrulation, we adopted a multi-pronged approach. We first manipulated RA signaling in amphioxus embryos from neurula through early larval stages and, as RA and Tbx1/10 mutually repress one another in vertebrates [10], compared the effects to those resulting from loss of Tbx1/10 function. In addition, we determined whether RA suffices to inhibit specification of pharyngeal endoderm or the formation of pharyngeal structures in amphioxus embryos and larvae with reduced Hox1 function. Finally, to comprehensively assess the roles of RA degradation in the developing anterior endoderm, we inhibited Cyp26 enzyme function starting at the gastrula stage. Taken together, our results show that RA signaling has both early and late effects on pharyngeal patterning in amphioxus. During the neurula stage, specification of the pharyngeal endoderm gradually becomes refractory to RA signaling. However, while Cyp26 functions in the anteriormost pharynx to keep RA levels low, partitioning of the pharynx into gill slits is regulated during the neurula stage by fine-tuning of RA levels. Knockdown of Tbx1/10 in the pharyngeal arches has a similar effect as adding RA during the neurula stage, indicating that, in the absence of neural crest, mutual inhibition of RA signaling and Tbx1/10 function is required for the partitioning of the amphioxus pharynx. These results show that the genetic mechanism involving RA and Tbx1/10 for partitioning the pharynx into pharyngeal pouches preceded the evolution of neural crest and was likely present in the ancestral chordate.
Methods
Embryo rearing, RA, RAR antagonist (BMS009) and Cyp26 inhibitor (R115866) treatments
Ripe males and females of the Florida amphioxus (Branchiostoma floridae) were collected by shovel and sieve in Tampa Bay, Florida (USA), during the summer breeding season. Spawning was induced electrically, and the embryos and larvae were cultured in the laboratory at 29°C as previously described [31]. Stock solutions of all-trans RA or the RAR antagonist BMS009, dissolved in dimethyl sulfoxide (DMSO), were added to cultures at different time points, 16 hours post fertilization (hpf), 20 hpf and 24 hpf, at final concentrations of 10-6 M and 2 × 10-6 M, respectively. Control treatments were 1:1,000 dilutions of DMSO alone [14, 15]. Dishes were incubated in the dark, because RA and BMS009 are light sensitive. Samples were collected at 36 hpf and fixed for in situ hybridization as described below. Cyp26 function was inhibited using R115866 (provided by Janssen Research & Development, a division of Janssen Pharmaceutica NV, Beerse, Belgium). A 10-3 M stock solution in DMSO was added to embryo cultures at the onset of gastrulation (3.5 hpf) to a final concentration of 5 × 10-7 M, and embryos were fixed at 36 hpf.
Microinjection-based experiments
Microinjection of amphioxus eggs was performed as previously described [31]. Unfertilized eggs were injected with either a control antisense morpholino oligonucleotide (MO) (5'-CCTCTTACCTCAGTTACAATTTATA-3') or one specific for AmphiHox1 from B. floridae (5'-ATTCTTGCCGTGTCCATTTGCTCCA-3') or AmphiTbx1/10 from B. floridae (5'-ATAGCGGACTGTTGGCTTCCATGTC-3') (Gene Tools, Philomath, OR, USA). The activity of both MOs was confirmed by in vitro translation assays of the AmphiHox1[16] and AmphiTbx1/10 (Additional file 1: Figure S1) coding regions using the TnT Quick Coupled Transcription/Translation System (Promega, Madison, WI, USA) and a detection system based on the Transcend Non-Radioactive Translation Detection Systems ( Promega, Madison, WI, USA) [16]. Approximately 2 pl of a solution containing 15% glycerol, 2 mg/ml Texas Red dextran (Molecular Probes, Eugene, OR, USA) and 500 μM (Hox1 and control) or 1,000 μM (Tbx1/10 and control) MO was injected. Following injection, the eggs were fertilized, cultured and fixed at the early larval stage (36 hpf). For control MO/10-7 M RA and Hox1 MO/10-7 M RA treatments, injected embryos were treated with RA at final concentrations of 10-7 M continuously from the onset of gastrulation (3.5 hpf). Fixed, injected embryos showing clear fluorescence of the Texas Red dextran were analyzed by in situ hybridization [32]. Injection of the control MO at both 500 μM and 1000 μM did not induce any abnormalities.
Developmental gene expression analyses using in situ hybridization
For in situ hybridization, samples were fixed according to established protocols [32]. Effects of treatments and MO injections on pharyngeal development were assayed by in situ hybridization with antisense riboprobes synthesized for the following genes: AmphiPax1/9 (U20167) [11], AmphiSix1/2 (EF195742) [13], AmphiTbx1/10 (AF262562) [33], AmphiPax2/5/8 (AF053762) [12], AmphiPitx (AJ438768) [34], AmphiTR2/4 (AF378828) [15] and AmphiCyp26-2 (EST clone bfne112a21). After in situ hybridization, the embryos were photographed as whole mounts using differential interference contrast (DIC) microscopy [32].
Conclusions
In this manuscript, we have used a combination of pharmacological treatments and morpholino-induced gene knockdown to study RA signaling functions during pharyngeal development of the cephalochordate amphioxus. The results allowed us to define distinct phases of RA activity in the amphioxus pharynx, mediating, for example, the anterior-posterior regionalization of the endoderm as well as the patterning and formation of pharyngeal structures. We were further able to show that Tbx1/10 is required for amphioxus gill slit development and that a reduction of Tbx1/10 activity in the pharyngeal arches has a similar effect as late RA treatments. These data suggest that segmentation of the amphioxus pharynx requires mutual inhibition of RA signaling and Tbx1/10 function. Given that similar molecular mechanisms control the patterning and segmentation of the vertebrate head, the genetic mechanisms involving RA and Tbx1/10 for partitioning the pharynx into pharyngeal pouches were probably already present in the ancestral chordate and hence precede the evolutionary elaboration of neural crest. Finally, comparisons of our results from amphioxus with data from other deuterostomes indicate that at least some of the molecular components controlling pharyngeal patterning are conserved in hemichordates and chordates, which strongly suggests that the genetic mechanisms for pharyngeal segmentation predate the origin of chordates.
Abbreviations
CNS:

central nervous system
CYP26:

cytochrome p450 family 26
DIC:

differential interference contrast
DMSO:

dimethylsulfoxide
hpf:

hours post fertilization
MO:

morpholino oligonucleotide
RA:

retinoic acid
RALDH:

retinaldehyde dehydrogenase
RAR:

retinoic acid receptor
RXR:

retinoid X receptor.
Declarations
Acknowledgements
The authors would like to thank John M Lawrence and Susan Bell at the University of South Florida in Tampa, USA, for providing laboratory space during the amphioxus spawning season. We are indebted to Janssen Research & Development, a division of Janssen Pharmaceutica NV, for providing the Cyp26 inhibitor and to Elisabeth Zieger for help with artwork. This work was supported by research grants from the Agence Nationale de la Recherche to MS (ANR-09-BLAN-0262-02 and ANR-11-JSV2-002-01). LZH and DK received support from NSF grant IOS 0743485. JEC is funded by a FCT doctoral fellowship (SFRH/BD/86878/2012).
Authors' Affiliations
(1)
Marine Biology Research Division, Scripps Institution of Oceanography, University of California San Diego, La Jolla, USA
(2)
Institut de Génomique Fonctionnelle de Lyon (CNRS UMR 5242, UCBL, ENS, INRA 1288), Ecole Normale Supérieure de Lyon, Lyon, France
(3)
Sorbonne Universités, UPMC Université Paris 06, CNRS, UMR 7009, Laboratoire de Biologie du Développement de Villefranche-sur-Mer, Observatoire Océanologique de Villefranche-sur-Mer, Villefranche-sur-Mer, France
(4)
CNRS, UMR 7009, Laboratoire de Biologie du Développement de Villefranche-sur-Mer, Observatoire Océanologique de Villefranche-sur-Mer, Villefranche-sur-Mer, France
(5)
Departamento de Química Orgánica, Universidade de Vigo, Vigo, Spain
Copyright
© Koop et al.; licensee BioMed Central Ltd. 2014
This article is published under license to BioMed Central Ltd. This is an Open Access article distributed under the terms of the Creative Commons Attribution License (http://creativecommons.org/licenses/by/4.0), which permits unrestricted use, distribution, and reproduction in any medium, provided the original work is properly credited. The Creative Commons Public Domain Dedication waiver (http://creativecommons.org/publicdomain/zero/1.0/) applies to the data made available in this article, unless otherwise stated.