What determines a leaf's shape?
Received: 18 September 2014
Accepted: 8 December 2014
Published: 22 December 2014
Abstract
The independent origin and evolution of leaves as small, simple microphylls or larger, more complex megaphylls in plants has shaped and influenced the natural composition of the environment. Significant contributions have come from megaphyllous leaves, characterized usually as flat, thin lamina entrenched with photosynthetic organelles and stomata, which serve as the basis of primary productivity. During the course of evolution, the megaphylls have attained complexity not only in size or venation patterns but also in shape. This has fascinated scientists worldwide, and research has progressed tremendously in understanding the concept of leaf shape determination. Here, we review these studies and discuss the various factors that contributed towards shaping the leaf; initiated as a small bulge on the periphery of the shoot apical meristem (SAM) followed by asymmetric outgrowth, expansion and maturation until final shape is achieved. We found that the underlying factors governing these processes are inherently genetic: PIN1 and KNOX1 are indicators of leaf initiation, HD-ZIPIII, KANADI, and YABBY specify leaf outgrowth while ANGUSTIFOLIA3 and GROWTH-REGULATING FACTOR5 control leaf expansion and maturation; besides, recent research has identified new players such as APUM23, known to specify leaf polarity. In addition to genetic control, environmental factors also play an important role during the final adjustment of leaf shape. This immense amount of information available will serve as the basis for studying and understanding innovative leaf morphologies viz. the pitchers of the carnivorous plant Nepenthes which have evolved to provide additional support to the plant survival in its nutrient-deficient habitat. In hindsight, formation of the pitcher tube in Nepenthes might involve the recruitment of similar genetic mechanisms that occur during sympetaly in Petunia.
Keywords
Leaf shapeAuxinPolarity specificationEnvironmental factors Nepenthes Morphological novelty
Introduction
In comparison to the vibrant colors of the flower, the 'leaf' has nothing special to offer as most are green-colored attributed to the presence of chlorophyll. But their attractiveness lies in their varying shapes and sizes; from the uncommon butterfly-shaped leaf of
Christia obcordata
to the extensively studied ovate-shaped leaf of
Arabidopsis thaliana
(Figure
1
A and B). This variation, arising due to several factors, offers great functional significance that influences plant success [
1
]. In the case of leaf size, the explanation has been straightforward; it decreases with increasing altitude, decreasing rainfall, and soil nutrient content [
2
,
3
]. Moreover, smaller-sized leaves are better adapted to hot or dry environments [
4
]. However, in case of leaf shape, environmental influences
viz.
light, temperature, and so on have been difficult to explain [
2
]. Nonetheless, these factors and most importantly light, play special roles in the final adjustment of leaf shape [
5
]. But the tremendous variations observed in leaves are mostly attributed to their genetic control - the control of gene regulatory networks (GRNs) and signaling pathways that make a leaf, from a small bulge on the SAM, into a fully developed lateral outgrowth with diverse shapes. Although poorly understood, herbivory is another factor contributing to leaf shape variation [
6
]. Due to continued interest in this area of research, a review on the factors that determine a leaf its shape is called for. And though a similar review is available in the literature, this [
5
] was published almost a decade ago. Therefore, a revisit on the topic is warranted and we intend to comprehensively cover all aspects of leaf shape development that span across vascular plants with a focus on angiosperms. Our aim is to summarize these development events and the underlying mechanisms that govern them, and highlights recent advances culminating with a discussion on directions for future research. In fact, the present review lay more emphasis on the genetic control with a brief overview on the environmental components. This remarkable information garnered may open up avenues for a probable shift from model to non-model plant species showing morphological novelties, for example, pitchers of the carnivorous plant
Nepenthes
, modified from an otherwise unexceptional leaf (leaf base) through the formation of tendrils (Figure
1
B). A note on this interesting plant genus with unusual leaf form is also presented and discussed at the concluding section.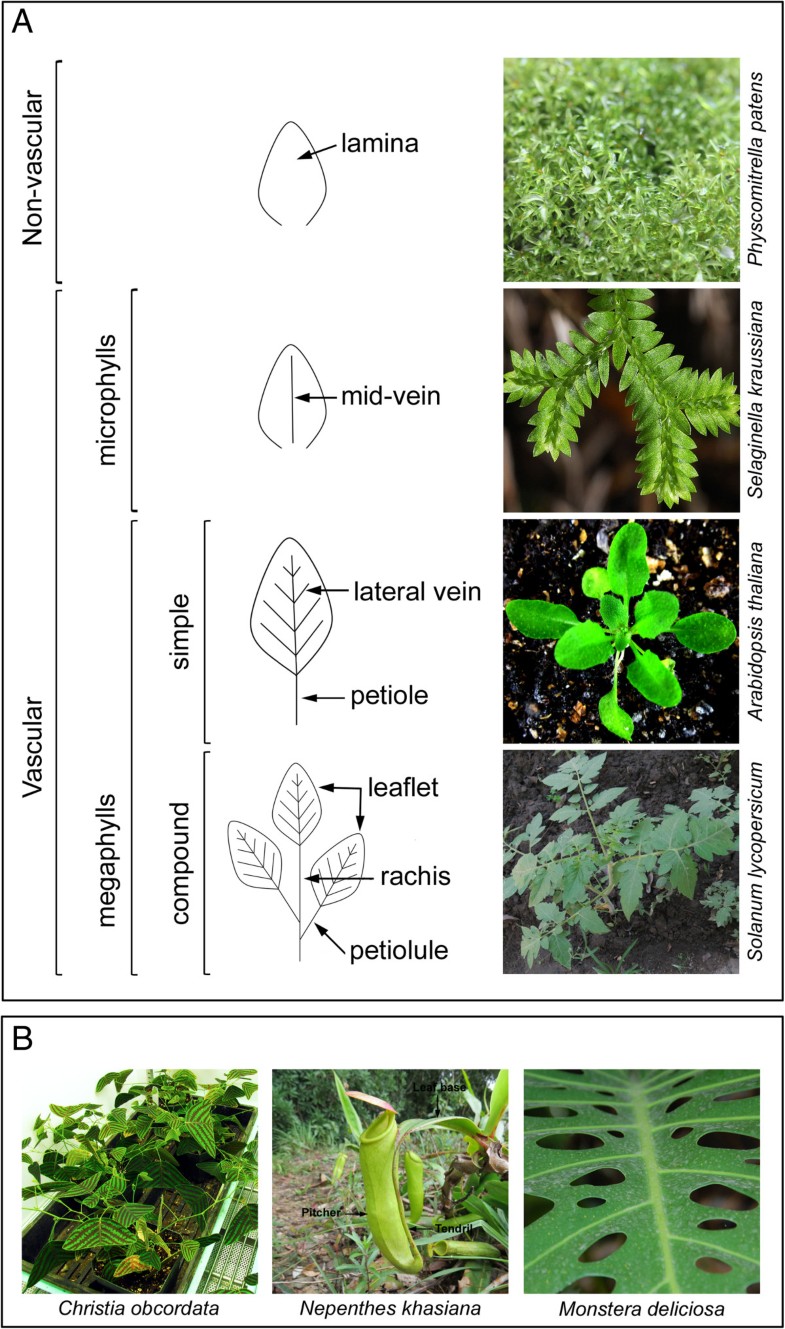 Conclusions
We conclude and recapitulate that leaf development and the diverse forms it attained is governed by complex genetic interactions, changes in gene expression patterns, participation of microRNAs, and active hormonal regulations, some of which are reprocessed during development or the specification of leaf types. Moreover, the effects of environmental factors in shaping lateral organs are also evident and probably act at a later stage of development for final adjustment. This evidence has expanded our knowledge on the mechanism of leaf development and shape determination; however, our understanding is limited to a few model plant species. In spite of tremendous progress in the field, gaps still exist. The findings that auxin does not promote leaf initiation in S. kraussiana nor does it affect leaf development in young pin1 mutants of Arabidopsis indicate the existence of an auxin-independent mechanism. In a remarkable finding and one that downplayed the role of auxin in apical dominance, Mason et al. [156] identified sugar as the crucial regulator of axillary bud outgrowth in plants. As a complement to this finding and an indication that sugar may play a role in leaf development, transcription factors that regulate genes involved in sugar signaling were highly expressed in the basal zone of maize leaf, a region where cell division and cell-fate specification occur [157]. Future research in these directions should hold promise in enhancing our knowledge of the initial events of leaf development. Following the recent discovery of APUM23 as a new regulator of leaf polarity specification, questions have arisen concerning their direct targets (among the known leaf polarity genes). But some of the old questions have remained unresolved, for example, what are the markers that specify proximodistal patterning or what is the nature of the SAM-derived signal required for normal adaxial/abaxial patterning? These and many more have eluded clarification. In addition, major breakthroughs in this field have come from research on plants with megaphyllous leaves. While certain studies have indicated conservation among genes involved in the initiation of megaphylls and microphylls (for example, KNOX, ARP) [20], some have suggested distinct functions (for example, role of class III HD-ZIPs in adaxial/abaxial polarity) [68]. To have a better understanding on the concept of leaf development across land plants, more research into microphyll development is indeed required.
Finally, taking into consideration the enormous amount of leaf shape diversity that plants exhibit, a shift into non-model plant species showing morphological novelties may be envisaged. One such example is the carnivorous plant genus Nepenthes, a remarkable botanical entity that is of significant interest in the context of plant adaptation. Nepenthes, especially N. khasiana (Figure 1B), typically grow in nutrient-deficient soil (particularly nitrogen) and in order to survive have developed specialized organs called pitchers, modified through a process of epiascidiation that involves in-rolling of the adaxial leaf surface followed by marginal fusion [158, 159]. These pitchers have the ability to attract and capture insects, digest them, and ultimately absorb the nutrients. We understand why Nepenthes develop pitchers, but how it does remains a mystery? But with the advent of new high-throughput sequencing technologies, this mystery may be unfolded. So what valuable insight could a study on leaf development in Nepenthes offer? First, it would significantly contribute towards understanding the evolution of plant development, especially those that are adaptive in nature. Second, it would provide additional insights into the evolutionary origins of leaflike structures, and third, help in understanding how evolution works so as to develop strategies that will enable engineering and improvement of crop plants. Furthermore, the notion that Nepenthes pitchers are more specialized in carnivory as compared to other carnivorous plants [160] further justify this proposal. The origin of the pitcher is analogous to that of the leaf (particularly the megaphylls); the latter evolved in correlation with a drop in atmospheric CO2 [14] and the former is presumably linked with soil N2 reduction, although the association has not been proved yet. This phenomenon of carnivory is considered an 'opportunity to uncover macroevolutionary patterns and processes that may be generalized to other structural phenomena in angiosperms' [159]. We now know that simple leaves are determinate appendages; whether pitchers represent determinate morphological structures as well or are modifications that occur at later stages of development is a notion to fathom on. It is a known fact that auxin plays an important role in leaf development; how it controls pitcher development is another interesting aspect that can be looked at? Based on the available information, it may be assumed that formation of the pitcher tube involves the recruitment of a genetic mechanism similar to the one that occur during petal fusion (sympetaly) in Petunia, a process known to involve MAW and CHSU [55]. This assumption stems out from the observation that lateral leaf outgrowth is also severely affected in maw cshu mutants displaying extremely narrow leaves [55]. In line with these investigations, similar genetic analysis can be performed and tested, which requires the availability of the genome or transcriptome sequence of Nepenthes for gene mining. In recent years, reports on the genome sequences of some carnivorous plants have been made available [161, 162]; these resources may offer additional insights on the evolution of morphological novelties.
Abbreviations
AN3:

Angustifolia3
APUM23:

Arabidopsis pumilio23
ARF:

Auxin response factor
ARF3:

Auxin response factor3
ARF4:

Auxin response factor4
ARP:

Asymmetric leaves1/roughsheath2/phantastica
ARR:

Arabidopsis response regulator
AS1:

Asymmetric leaves1
AS2:

Asymmetric leaves2
BP:

Brevipedicellus
CDKs:

Cyclin-dependent kinases
CIN:

Cincinnata
CK:

Cytokinin
CLV:

Clavata
CRC:

Crabs claw
CSHU:

Choripetala suzanne
CUC2:

Cup shaped cotyledon2
CUC3:

Cup shaped cotyledon3
CYC1:

Cyclin1
DCL4:

Dicer-like4
DPA4:

Development-related PcG target in the apex4
ETT:

Ettin
FIL:

Filamentous flower
GA:

Gibberellin
ga2ox1:

GA2-oxidase1
ga2ox2:

GA2-oxidase2
GA20ox:

GA20-oxidase
GARP:

Glutamic acid-rich protein
GRF5:

Growth-regulating factor5
GRN:

Gene regulatory network
HD-ZIPIII:

Class III homeodomain-leucine zipper
HIRA:

Histone regulator A
IAA:

Indole-3-acetic acid
ig:

Indeterminate gametophyte
INO:

Inner no outer
IPT7:

Isopentenyl transferase 7
KNOX1:

Class-1 knotted-like homeobox
KN1:

Knotted1
KNAT1:

Knotted-like from arabidopsis thaliana1
KAN:

Kanadi
KAN1:

Kanadi1
KAN2:

Kanadi2
KAN3:

Kanadi 3
KRP:

Kip related proteins
L1:

Layer 1 of shoot apical meristem
Le PHAN Lycopersicum esculentum:

PHANTASTICA
Lgn-R:

Liguleless narrow-reference
LOB:

Lateral organ boundaries
MAT:

Mean annual temperature
MAW:

Maewest
mir164A:

microRNA164A
miR165:

microRNA165
miR166:

microRNA166
NAC:

NAM No apical meristem
ATAF:

Arabidopsis transcription activation factor
CUC:

Cup-shaped cotyledon
NPH3:

Non-phototropic hypocotyl 3
ns1:

Narrow sheath1
ns2:

Narrow sheath2
OSHB:

Oryza sativa homeobox
OSHB1:

Oryza sativa homeobox1
OSHB3:

Oryza sativa homeobox3
OSHB4:

Oryza sativa homeobox4
PALM1:

Palmate-like pentafoliata1
PHAN:

Phantastica
PHB:

Phabulosa
PHV:

Phavoluta
PIN:

Pin-formed
PIN1:

Pin-formed1
PIN2:

Pin-formed2
PIN3:

Pin-formed3
PIN4:

Pin-formed4
PIN7:

Pin-formed7
PRC2:

Polycomb repressive complex2
PRS:

Pressed flower
PUF:

Pumilio/fem-3 mRNA binding factor
RDR6:

RNA-dependent RNA polymerase6
REV:

Revoluta
RS2:

Roughsheath2
SAM:

Shoot apical meristem
siRNA:

Small interfering RNA
STM:

Shoot meristemless
TAA1:

Tryptophan aminotransferase of arabidopsis 1
TAS3:

Trans-acting small interfering RNA precursor RNA
tasi-RNA:

Trans-acting small interfering RNA
TCP:

Teosinte-like1: cycloidea and proliferating cell factor1
WOX:

Wuschel-related homeobox
WOX1:

Wuschel-related homeobox 1
WUS:

Wuschel
YAB:

Yabby
YAB2:

Yabby2
YAB3:

Yabby3
YAB5:

Yabby5
YUC:

Yucca
YUC124:

Yucca1/yucca2/yucca4
YUC1246:

Yucca1/yucca2/yucca4/yucca6
ZmPIN1:

Zea mays pin-formed1.
Declarations
Acknowledgement
The authors acknowledge two anonymous reviewers for critical reading and suggestions to improve the manuscript. Financial assistance to JD from the Department of Science & Technology, Government of India under the DST INSPIRE Faculty Scheme (IFA12-LSPA-07) is acknowledged. Authors are grateful to Mr. Christopher Muir, Indiana University; Dr. Hamidou Sakhanokho, USDA; Dr. Pedro Cardoso, University of Helsinki; and Mr. Thomas Tam of Prof. Liam Dolan Lab, University of Oxford for providing the photographs of Monstera deliciosa, Christia obcordata, Selaginella kraussiana, and Physcometrilla patens, respectively. Authors would like to thank Prof. SK Sopory, Vice-Chancellor, Jawaharlal Nehru University, New Delhi for the valuable comments made on the earlier version of the manuscript. Authors would also like to extend their gratitude towards the Department of Biotechnology, Government of India for their continuous financial support to the SPMB Laboratory.
Authors' Affiliations
(1)
Stress Physiology and Molecular Biology Laboratory, School of Life Sciences, Jawaharlal Nehru University, New Delhi, India
Copyright
© Dkhar and Pareek; licensee BioMed Central. 2014
This article is published under license to BioMed Central Ltd. This is an Open Access article distributed under the terms of the Creative Commons Attribution License (http://creativecommons.org/licenses/by/4.0), which permits unrestricted use, distribution, and reproduction in any medium, provided the original work is properly credited. The Creative Commons Public Domain Dedication waiver (http://creativecommons.org/publicdomain/zero/1.0/) applies to the data made available in this article, unless otherwise stated.