Evolution of the notochord
Received: 21 August 2015
Accepted: 21 September 2015
Published: 5 October 2015
Abstract
A notochord is characteristic of developing chordates (which comprise amphioxus, tunicates and vertebrates), and, more arguably, is also found in some other animals. Although notochords have been well reviewed from a developmental genetic point of view, there has heretofore been no adequate survey of the dozen or so scenarios accounting for their evolutionary origin. Advances in molecular phylogenetics and developmental genetics have, on the one hand, failed to support many of these ideas (although, it is not impossible that some of these rejects may yet, at least in part, return to favor). On the other hand, current molecular approaches have actually stimulated the revival of two of the old proposals: first that the notochord is a novelty that arose in the chordates, and second that it is derived from a homologous structure, the axochord, that was present in annelid-like ancestors. In the long term, choosing whether the notochord is a chordate novelty or a legacy from an ancient annelid (or perhaps an evolutionary derivative from precursors yet to be proposed) will probably require descriptions of gene regulatory networks involved in the development of notochords and notochord-like structures in a wide spectrum of animals. For now, one-way forward will be studies of all aspects of the biology of enteropneust hemichordates, a group widely thought to be the key to understanding the evolutionary origin of the chordates.
Keywords
NotochordStomochordPygochordAxochordAnnelid scenarioEnteropneust scenario
Background
Animals swimming by undulation include some vertebrates (especially elongate fishes [
1
]) and diverse invertebrates [
2
–
13
] (Table
1
). These movements are generated when longitudinal muscles contract against a hydrostatic skeleton. The most typical hydrostatic skeleton among invertebrates results from the constraint of internal fluids and soft tissues by a rigid or elastic body wall. A second kind of hydrostatic skeleton is an internal rod, the notochord, which functions as a flexible compression strut [
14
]. A notochord is present in the phylum Chordata (comprising three subphyla: amphioxus, tunicates, and vertebrates) and, more arguably, in some other animals. Among invertebrate chordates (Fig.
1
a–l), amphioxus and appendicularian tunicates retain the notochord through the adult stage, while ascidian tunicates typically possess it only in the larval period. In the vertebrates (Fig.
1
m–u), the structure is always present during early developmental stages, but, with a few exceptions (e.g., hagfishes, lampreys, and sturgeons), it is largely replaced in adults by an externally added spinal column of cartilage or bone [
15
]. The mature spinal column sometimes continues to function for undulatory locomotion.
Table 1
Invertebrates that swim by undulating the entire body or its posterior region
Phylum

References

Ctenophora (escape response of adult Venus' girdle)

[2]

Platyhelminthes (cercaria larvae of trematodes)

[3]

Chaetognatha (adults of planktonic species)

[4]

Nematoda (adults of some species)

[5]

Nematomorpha (only in Nectonema spp.)

[6]

Arthropods (mayfly larvae)

[7]

Annelida (adults)

Polychaetes (in a few species)

[8]

Oligochaetes (in a few species)

[9]

Leeches (in numerous species)

[10]

Hemichordata (known only for adults of one species)

[11]

Chordata

Cephalochordata (larval and adult amphioxus)

[12]

Tunicata (ascidian larvae, appendicularian adults)

[13]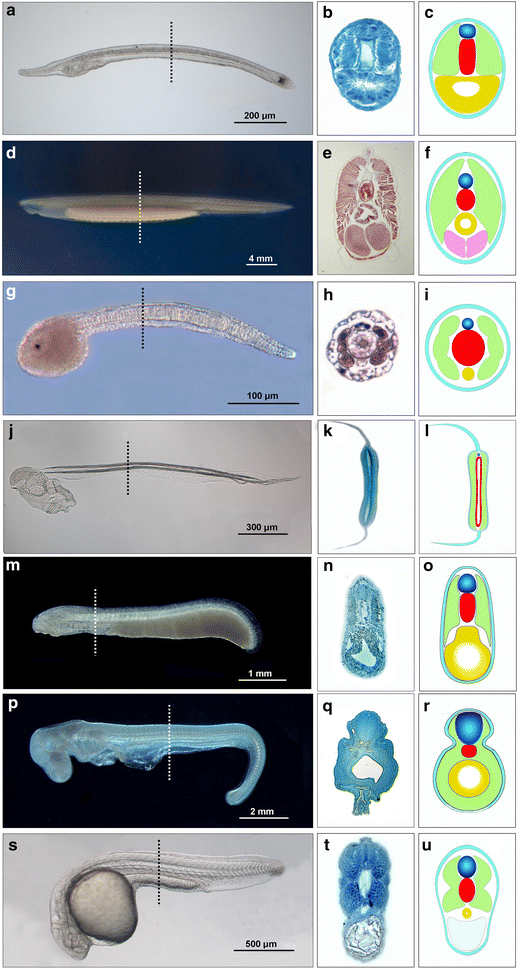 The chordate notochord runs along almost the entire rostrocaudal body axis of amphioxus, but terminates anteriorly in the region of the hindbrain of tunicates and vertebrates. Developmental genetic aspects of chordate notochords have recently been thoroughly reviewed [
16
,
17
], and only the most salient features will be summarized in the present text and in Table
2
, which also compares the morphology of notochords for amphioxus, tunicates, and vertebrates [
18
–
24
]. Because there are some cytological differences in the notochord among the three major chordate groups, its homology has sometimes been questioned [
25
]. In addition, the germ layer source of notochords has also been controversial, first because they often originate in embryonic regions where the germ layers are not clearly delineated [
26
] and second because of confusion over the distribution of the nascent mesoderm in amphioxus gastrulae [
27
]. From currently available data [
28
], we will assume here that all chordate notochords are homologous in spite of differences in cytological detail and that all arise from mesendoderm.
Table 2
Salient features of notochords compared among amphioxus, tunicates, and vertebrates
Amphioxus larvae and adults

Tunicate larvae

Vertebrate embryosa

Cell types

I. Discoidal cells (stacked like coinsb; each cell containing transverse myofilaments) II. Müller cells: sparsely distributed; no known function

Early larva: discoidal cells (stacked like coinsb; no myofilaments)

Late larva: above cells change to squamous epithelium around fluid-filled lumenc

I. Inner core cellsd: each with a large vacuole; no myofilaments

II. Surrounding epithelial cell layer

Extracellular sheath

Inside to out: external laminae, circular collagen layer, and longitudinal collagen layerf

External laminae

Inside to out: external laminae, circular collagen layer, and longitudinal collagen layerf

Organizer genes involved in notochord formationg

Comparable to those of vertebrates

Highly divergenth

Comparable to those of amphioxus

Hedgehog from notochord involved in patterning central nervous system

Yesi

Noj

Yes
There have previously been few reviews covering ideas about notochord evolution. The most extensive of these [29] covered less than half of the scenarios published before 1940 and ended by firmly dismissing (in the event, prematurely) any possibility that chordate notochords might be a legacy from arthropods or annelids. Therefore, our first purpose here is to summarize the scattered literature on this subject, which spans a century and a half. Notochord evolution has often been discussed within the context of scenarios for the invertebrate-to-vertebrate transition [30] (which are traditionally named after a key invertebrate group perceived as ancestral to vertebrates). At present, many of these old ideas have lost their appeal due to progress in molecular phylogeny and developmental genetics. As a caveat, however, science is not invariably a story of constant progress that renders past work of little consequence [31]. There is always the chance that some features of the currently ignored scenarios will be revived in the light of modern discoveries. At present, however, only two of the old theories look attractive in the light of molecular genetics and have become the subject of active research programs—the first proposes that the vertebrate notochord is a legacy from non-chordate invertebrates, and the second considers that the structure was invented de novo within the chordates. Our second purpose is to examine the modern evidence that has been invoked to support these two contending points of view.
Abbreviations
Fox:

forkhead box
sox:

sex determining region Y related box
Declarations
Authors' contributions
GA, NDH, and SD executed this study and all contributed to revising the final manuscript. All authors read and approved the final manuscript.
Acknowledgements
We thank the library staff at the Stazione Zoologica for helping with literature searches and to Linda Z. Holland, Zbynek Kosmik, Ricard Albalat and Cristian Cañestro for useful discussions; the latter two also supplied the Oikopleura photographs in Fig. 1. Salvatore D'Aniello is supported by a Marie Curie Career Integration Grant FP7-PEOPLE (PCIG09-GA-2011-293871).
Compliance with ethical guidelines
Competing interests The authors have no competing interests.
Open AccessThis article is distributed under the terms of the Creative Commons Attribution 4.0 International License (http://creativecommons.org/licenses/by/4.0/), which permits unrestricted use, distribution, and reproduction in any medium, provided you give appropriate credit to the original author(s) and the source, provide a link to the Creative Commons license, and indicate if changes were made. The Creative Commons Public Domain Dedication waiver (http://creativecommons.org/publicdomain/zero/1.0/) applies to the data made available in this article, unless otherwise stated.
Authors' Affiliations
(1)
Department of Biology and Evolution of Marine Organisms, Stazione Zoologica Anton Dohrn, Naples, Italy
(2)
Marine Biology Research Division, Scripps Institution of Oceanography, University of California at San Diego, La Jolla, USA