Conserved expression of vertebrate microvillar gene homologs in choanocytes of freshwater sponges
Received: 2 April 2016
Accepted: 28 June 2016
Published: 12 July 2016
Abstract
Background
The microvillus is a versatile organelle that serves important functions in disparate animal cell types. However, from a molecular perspective, the microvillus has been well studied in only a few, predominantly vertebrate, contexts. Little is known about how differences in microvillar structure contribute to differences in function, and how these differences evolved. We sequenced the transcriptome of the freshwater sponge, Ephydatia muelleri, and examined the expression of vertebrate microvillar gene homologs in choanocytes—the only microvilli-bearing cell type present in sponges. Sponges offer a distant phylogenetic comparison with vertebrates, and choanocytes are central to discussions about early animal evolution due to their similarity with choanoflagellates, the single-celled sister lineage of modern animals.
Results
We found that, from a genomic perspective, sponges have conserved homologs of most vertebrate microvillar genes, most of which are expressed in choanocytes, and many of which exhibit choanocyte-specific or choanocyte-enriched expression. Possible exceptions include the cadherins that form intermicrovillar links in the enterocyte brush border and hair cell stereocilia of vertebrates and cnidarians. No obvious orthologs of these proteins were detected in sponges, but at least four candidate cadherins were identified as choanocyte-enriched and might serve this function. In contrast to the evidence for conserved microvillar structure in sponges and vertebrates, we found that choanoflagellates and ctenophores lack homologs of many fundamental microvillar genes, suggesting that microvillar structure may diverge significantly in these lineages, warranting further study.
Conclusions
The available evidence suggests that microvilli evolved early in the prehistory of modern animals and have been repurposed to serve myriad functions in different cellular contexts. Detailed understanding of the sequence by which different microvilli-bearing cell/tissue types diversified will require further study of microvillar composition and development in disparate cell types and lineages. Of particular interest are the microvilli of choanoflagellates, ctenophores, and sponges, which collectively bracket the earliest events in animal evolution.
Keywords
ChoanocyteEphydatiaMicrovilliPoriferaSpongeStereociliaTranscriptome
Background
Specialized feeding cells of sponges, called choanocytes (Fig.
1
), are central to discussions about animal cell type evolution due to their similarities with choanoflagellates, the unicellular/colonial sister group of animals [
1
–
5
]. Both cell types (generally described as "collar cells") have an apical ring of actin-cored microvilli that surround a microtubule-cored flagellum—features that both lineages use for feeding on bacteria.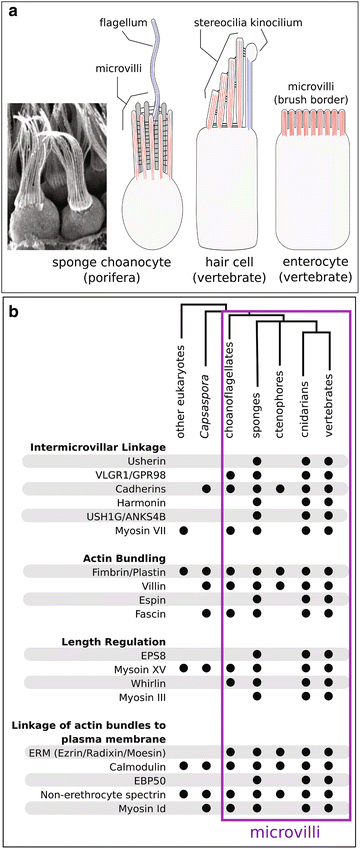 Whereas flagella/cilia are present in diverse eukaryotes and are very ancient [6], microvilli are unique to choanoflagellates and animals [7] and seem to represent an important innovation that has been co-opted for disparate functions in myriad animal cell/tissue types. In addition to bacterivory in choanocytes and choanoflagellates, microvillar functions include sperm recognition on oocytes, photoreception, chemosensation, bacterial defense and nutrient absorption in the intestine, and mechanosensation [8, 9]. In general, microvilli exhibit remarkable evolutionary versatility, yet little is known about their development, structure or function in any but a few cell types. Open questions remain about how differences in their molecular composition contribute to differences in their function, about how variations in their structure and organization (i.e., length, number) are regulated and, from an evolutionary perspective, how different cell types with microvilli are related—did they evolve through a vertical sequence of descent with modification, or can the microvillus be deployed de novo through activation of a conserved regulatory switch in otherwise unrelated cell types?
Perhaps the two best-studied examples of microvillar structure and function are enterocytes of the intestinal epithelium [10] and mechanosensory hair cells [11, 12] (Fig. 1). Enterocytes are adorned with hundreds of short, densely packed microvilli that comprise an organelle called the brush border. The brush border functions in nutrient absorption and defense against pathogens and toxins in the intestinal lumen [9]. In contrast vertebrate hair cells are found in both the ear and along the lateral line in fishes, and in both contexts function as sensory cells that use modified microvilli called stereocilia to transform mechanical stimuli (such as movement, sound vibrations or flow) into an electrical signal [12]. Stereocilia develop from shorter, more typical microvilli, but mature to have stair-stepped length gradations and a tapered base [9, 11].
Studies of the enterocyte brush border, hair cells, and—to a lesser extent—other vertebrate microvilli, such as in the retinal pigment epithelium [13], have identified a core set of proteins that (1) link neighboring microvilli to each other, (2) bundle and regulate actin dynamics in the microvillar core, (3) link the actin core to the microvillar membrane, and (4) regulate microvillar length [9]. Figure 1b illustrates the extensive conservation of these proteins between sponges and vertebrates, raising the possibility that these proteins also contribute the microvillar-collar structure of sponge choanocytes. Fewer of these proteins are conserved in choanoflagellates, and many are absent in ctenophores, which have microvilli on both oocytes [14] and putative sensory cells in the adult [15].
In general, there are too few data from non-vertebrate animals (and particularly non-bilaterian animals) to formulate clear hypotheses about the evolutionary sequence of origination and diversification of microvilli-bearing cell types. In this study, we examine microvillar gene expression in the choanocyte cells of two species of the freshwater sponge, Ephydatia muelleri and Ephydatia fluviatilis. Our results show that vertebrate microvillar genes are conserved and expressed in sponge choanocytes. These data suggest the deep evolutionary conservation of microvillar structure in animals and provide a foundation for comparative study of disparate microvilli-bearing cell types in animals and choanoflagellates.
Discussion
The ubiquity and functional diversity of microvilli [8] in animals and choanoflagellates raises challenging questions: How does the molecular composition of microvilli in different cell types vary, and how does this variation contribute to structural and functional differences? Through what sequence did microvilli-bearing cell types diversify? Which microvillar functions are ancient/derived?
The answers to these questions depend upon detailed study of the molecular composition of microvilli in diverse animal cell and tissue types. To date, these kinds of data are available for only a handful of, predominantly vertebrate, cell types. In this study, we examined the expression of vertebrate microvillar gene homologs in choanocytes—the only microvilli-bearing cell type of sponges. In addition to sponges being an evolutionary outlier for distant phylogenetic comparison with vertebrates, choanocytes are of special interest because of their long-hypothesized similarity to choanoflagellates. Either choanocytes or choanoflagellates utilize their microvillar collar for bacteriverous feeding because this is the ancestral condition, from which microvilli in all animals are derived, or they have independently co-opted the microvillus for this function. Either way, our understanding of the earliest events in microvillar evolution depends upon the comparative study of choanoflagellates, sponge choanocytes, and the various other microvillar-bearing cell types present in non-bilaterian animal lineages.
As a first step toward understanding the molecular composition of choanocyte microvilli, we sequenced and assembled the transcriptome of the freshwater demosponge Ephydatia muelleri. This transcriptome was used as a reference to detect changes in global transcript abundance in response to drug treatments that blocked choanocyte differentiation during development from gemmules. Genes with lower expression in HU-treated sponges (i.e., sponges without choanocytes) were interpreted as normally having choanocyte-specific or choanocyte-enriched expression. The efficacy of this approach is strongly supported by nearly perfect corroboration of E. muelleri results by those independently obtained from isolated choanocytes in the related species, E. fluviatilis [49].
The main finding of this study is that many of the core microvillar proteins known from well-studied systems—principally vertebrate enterocytes and hair cells—are evolutionarily conserved in sponges and most exhibit elevated expression levels in choanocytes. We examined four categories of proteins: (1) intermicrovillar linker proteins, (2) actin-binding proteins of the microvillar core, (3) proteins that regulate microvillar length, (4) proteins that tether the actin core to the microvillar membrane. To the extent that the expression of microvillar gene homologs in choanocytes is a proxy for their involvement in the microvillus, our data present a portrait of extensive conservation between sponge and vertebrate microvilli.
From these data we would hypothesize that the identified microvillar links of the sponge collar are composed of one or more of the four identified choanocyte-expressed cadherins, which presumably interact with harmonin, ANKS4B, and Myosin VII [29, 30]. These genes are all choanocyte-enriched, and this microvillar linker complex is conserved in enterocytes and hair cells. Choanocytes also express Usherin and VLGR1 which form links between hair cell stereocilia but not between microvilli of the enterocyte brush border. This highlights that despite the conservation of microvillar proteins overall, specific microvillar components and their abundance may vary significantly between cell types. Other examples include the actin-bundling proteins Fimbrin and Villin—both are highly abundant in the brush border and highly expressed in choanocytes, but Villin is entirely absent in hair cell stereocilia. Likewise, ERM family proteins show tissue-specific involvement in microvilli, with Ezrin as the predominant component of the brush border, and Radixin as the predominant component of stereocilia (reviewed in [9]). In choanocytes of E. fluviatilis, Radixin showed 50-fold higher expression than Ezrin, although neither was choanocyte-enriched.
Overall, our study suggests that the molecular composition of microvilli in sponge choanocytes falls within the range of divergence exhibited between microvilli in different vertebrate cell types. However, the evolutionary implications of this finding are less clear, principally because choanoflagellates and ctenophores also have microvilli but both lineages seem to lack homologs of fundamental microvillar genes (Fig. 1). This suggests that, at the molecular level, microvilli in these lineages are considerably different from microvilli in sponges and vertebrates. This may reflect the ancestral condition, a derived condition, or perhaps more likely—a combination of both, and warrants further investigation.
A limitation of this study is the reliance on gene expression data. In the future it would be preferable to conduct proteomic analyses on directly isolated choanocyte microvilli. A possible strategy to achieve this may be the use of lectin-decorated agarose beads that interact with microvillar-associated glycoproteins; this technique has proven effective to isolate microvilli from the retinal pigment epithelium in mice [13]. Not only would this approach provide more direct evidence for microvillar localization of candidate microvillar proteins, but would enable the comprehensive discovery of sponge microvillar components rather than using a candidate gene approach based upon prior knowledge from vertebrates.
Conclusions
We have shown that the core molecular components of the enterocyte brush border and hair cell stereocilia of vertebrates are conserved in sponges and that the majority exhibit choanocyte-specific/enriched expression. These data are consistent with the view that the microvillus is a versatile organelle that, once evolved, was repurposed for myriad functions in disparate animal cell types.
Declarations
Authors' contributions
JFP and SAN designed the project, performed experiments and expression analysis of E. muelleri. LW consulted in differential expression analysis of the E. muelleri. DJR assembled the E. muelleri reference transcriptome. AA and NF designed the project, performed experiments and analysis of E. fluviatilis. All authors were involved in writing and/or editing the final manuscript. All authors read and approved the final manuscript.
Acknowledgements
We acknowledge Jennyfer Mora Mitchell for isolation RNA used in E. muelleri reference transcriptome sequencing, Dr. Klaske Schippers for help with field collection of E. muelleri, and Maggie Roth for help with initial hydroxyurea trials. We thank Arnau Sebe-Pedros and Inaki Ruiz-Trillo for help with the annotation of Ephydatia myosins. Differential expression analyses were conducted with the support of the University of Denver High Performance Computing Facility. Reference transcriptomes were assembled via a grant of computer time (to D.J.R.) from the United States Department of Defense High Performance Computing Modernization Program at the United States Army Engineer Research and Development Center in Vicksburg, Mississippi.
Competing interests
The authors declare that they have no competing interests.
Funding
This research was supported by a grant from the University of Denver Faculty Research Fund (89504-143221 to S.A.N.), a National Defense Science and Engineering Graduate Fellowship from the United States Department of Defense (D.J.R.), a National Science Foundation Central Europe Summer Research Institute Fellowship (D.J.R.), a Chang-Lin Tien Fellowship in Environmental Sciences and Biodiversity (D.J.R.), a Postdoctoral fellowship from the Conseil Regional de Bretagne (D.J.R.), a grant from the French Government "Investissements d'Avenir" program OCEANOMICS (ANR-11-BTBR-0008, D.J.R.), and a grant from United States National Science Foundation (IOS1257967, L.W.—a grant to Athula H. Wikramanayake).
Availability of data and material
RNAseq data deposited in the NCBI sequence read archive (SRX386258, SRP070093).
Open AccessThis article is distributed under the terms of the Creative Commons Attribution 4.0 International License (http://creativecommons.org/licenses/by/4.0/), which permits unrestricted use, distribution, and reproduction in any medium, provided you give appropriate credit to the original author(s) and the source, provide a link to the Creative Commons license, and indicate if changes were made. The Creative Commons Public Domain Dedication waiver (http://creativecommons.org/publicdomain/zero/1.0/) applies to the data made available in this article, unless otherwise stated.
Authors' Affiliations
(1)
Department of Biological Sciences, University of Denver, Denver, USA
(2)
Laboratoire de Biologie du Développement de Villefranche-sur-mer, CNRS, Sorbonne Universités, UPMC Univ Paris 06, Villefranche-sur-mer, France
(3)
Department of Molecular and Cell Biology, University of California, Berkeley, USA
(4)
Department of Biology, University of Miami, Coral Gables, USA
(5)
Department of Biophysics, Graduate School of Science, Kyoto University, Kyoto, Japan
(6)
UMR 7144, CNRS and Sorbonne Universités Université Pierre et Marie Curie (UPMC) Paris 06, Roscoff, France