A cleavage clock regulates features of lineage-specific differentiation in the development of a basal branching metazoan, the ctenophore Mnemiopsis leidyi
Received: 20 August 2013
Accepted: 20 November 2013
Published: 31 January 2014
Abstract
Background
An important question in experimental embryology is to understand how the developmental potential responsible for the generation of distinct cell types is spatially segregated over developmental time. Classical embryological work showed that ctenophores, a group of gelatinous marine invertebrates that arose early in animal evolution, display a highly stereotyped pattern of early development and a precocious specification of blastomere fates. Here we investigate the role of autonomous cell specification and the developmental timing of two distinct ctenophore cell types (motile compound comb-plate-like cilia and light-emitting photocytes) in embryos of the lobate ctenophore, Mnemiopsis leidyi.
Results
In Mnemiopsis, 9 h after fertilization, comb plate cilia differentiate into derivatives of the E lineage, while the bioluminescent capability begins in derivatives of the M lineage. Arresting cleavage with cytochalasin B at the 1-, 2- or 4-cell stage does not result in blastomere death; however, no visible differentiation of the comb-plate-like cilia or bioluminescence was observed. Cleavage arrest at the 8- or 16-cell stage, in contrast, results in the expression of both differentiation products. Fate-mapping experiments indicate that only the lineages of cells that normally express these markers in an autonomous fashion during normal development express these traits in cleavage-arrested 8- and 16-cell stage embryos. Lineages that form comb plates in a non-autonomous fashion (derivatives of the M lineage) do not. Timed actinomycin D and puromycin treatments show that transcription and translation are required for comb formation and suggest that the segregated material might be necessary for activation of the appropriate genes. Interestingly, even in the absence of cytokinesis, differentiation markers appear to be activated at the correct times. Treatments with a DNA synthesis inhibitor, aphidicolin, show that the number of nuclear divisions, and perhaps the DNA to cytoplasmic ratio, are critical for the appearance of lineage-specific differentiation.
Conclusion
Our work corroborates previous studies demonstrating that the cleavage program is causally involved in the spatial segregation and/or activation of factors that give rise to distinct cell types in ctenophore development. These factors are segregated independently to the appropriate lineage at the 8- and the 16-cell stages and have features of a clock, such that comb-plate-like cilia and light-emitting photoproteins appear at roughly the same developmental time in cleavage-arrested embryos as they do in untreated embryos. Nuclear division, which possibly affects DNA-cytoplasmic ratios, appears to be important in the timing of differentiation markers. Evidence suggests that the 60-cell stage, just prior to gastrulation, is the time of zygotic gene activation. Such cleavage-clock-regulated phenomena appear to be widespread amongst the Metazoa and these cellular and molecular developmental mechanisms probably evolved early in metazoan evolution.
Keywords
CtenophoreComb jellyPhotocyteComb cellCytochalasin BPuromycinActinomycinCell cycle arrestCell lineage
Background
Ctenophores are a monophyletic group of seemingly simple marine animals with distinct features, such as unique comb rows, body symmetry and stereotypic cleavage program[
1
–
11
]. The name Ctenophore means 'comb-bearing' and refers to eight rows of comb or ctene plates, each possessing thousands of motile cilia arranged in linear arrays to form small paddles[
12
]. Each comb plate in a ctene row beats in a highly synchronized manner and they are used to move the animal through the water column[
12
]. The oral-aboral axis is the major body axis of ctenophores and it is characterized by the mouth at one pole and the statocyst-containing apical organ at the opposite (aboral) pole[
3
,
4
,
12
] (Figure
1
A, B). The view from the aboral pole shows that ctenophores comprise four highly similar quadrants, which are separated by two orthogonal planes – the tentacular plane and the esophageal or sagittal plane (Figure
1
A)[
4
,
13
–
15
]. These planes are defined by axes of rotational symmetry around the oral-aboral axis because diagonally opposed quadrants are more identical to one another than adjacent quadrants[
3
–
6
][
10
,
13
,
15
].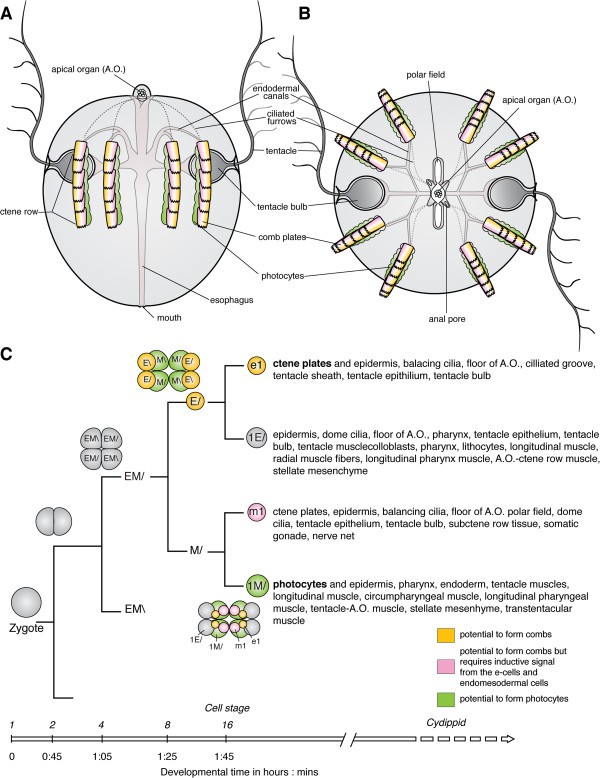 Many ctenophores, including the lobate ctenophore Mnemiopsis leidyi, generate distinct light-producing photocytes during development, which migrate to locations subjacent to each of the eight comb rows. Genome sequencing of Mnemiopsis has revealed two genomic clusters containing ten distinct copies of photoproteins closely resembling the luciferase-type photoproteins found at the base of the Metazoa. In situ hybridization studies have shown that at least subsets of these mRNAs are expressed in photocytes prior to when these embryos are bioluminescent[16]. Thus, the presence or absence of bioluminescence is a strong indicator of the developmental fate of a differentiated photocyte.
Ctenophore development is highly stereotypic and unique within the animal kingdom[
1
,
4
,
5
]. In the lobate ctenophore
Mnemiopsis leidyi
, embryos are generally fertilized at the time of spawning and cleavages are unipolar and holoblastic (Figure
1
, and
2
Additional file
1
)[
4
–
6
,
10
,
17
]. Subsequent rounds of division occur every 15 to 20 min at room temperature and the juvenile cydippid stage hatches from the egg membrane within 24 h after the first cleavage. The second cleavage, which is perpendicular to the first cleavage, gives rise to four similar-sized EM blastomeres[
1
,
4
,
10
,
18
]. The third cleavage is oblique and results in the formation of four E cells (end cells) and four M cells (middle cells)[
1
,
4
,
10
,
14
,
18
] (Figure
2
and Additional file
1
). Each M blastomere undergoes two rounds of asymmetric division, giving rise to two small m micromeres (m
1
and m
2
) towards the aboral pole and one M macromere towards the oral pole[
1
,
4
,
14
]. E blastomeres undergo three asymmetric cell divisions each, producing three small e micromeres (e
1
, e
2
and e
3
) at the aboral pole and an E macromere at the oral pole[
1
,
4
,
14
]. The micromeres proliferate further and begin to envelop the macromeres during gastrulation via epiboly at approximately 3 to 4 hours post fertilization (hpf)[
4
,
6
] (Figure
2
and Additional file
1
). Later during development, the macromeres, which are located at the oral pole, generate another set of oral micromeres[
4
]. Gastrulation is complete around 5 to 6 hpf. Ciliated comb cells appear by 9 hpf at the same time bioluminescence is detected. Cydippid stage juveniles hatch after 18 to 24 hpf[
1
,
4
,
6
,
18
].
Additional file 1: Normal embryonic development of Mnemiopsis leidyi. DIC microscopy time-lapse movie of developing Mnemiopsis embryos beginning with a zygote until 12 hpf. The aboral side is up. The animal shown is the same as in Figure 2A-P. (MOV 6 MB)
The stereotyped cleavage program in ctenophores allows each blastomere to be identified and its fate followed by the injection of intracellular lineage tracers[1, 4, 7] (summarized in Figure1C). For example, the mesoderm, including muscle, mesenchymal cells and photocytes, is generated by the micromeres born from endodermal precursors at the future oral pole[4] (summarized in Figure1C). Early labeling experiments identified that the e1 micromeres give rise to the comb plate cilia[18, 19]; however, later fate-mapping experiments were able to detect the m1 micromere's contributions to the formation of comb plates (summarized in Figure1C). Interestingly, when e1 micromeres are deleted, no comb plate cilia form, indicating that e1 micromeres are autonomously specified to give rise to comb plates while m1 micromeres require inductive signals[18, 20].
Here, we investigate the role of the cleavage program in the segregation and expression of the developmental potential of two distinct cell types (motile comb-plate-like cilia and light-emitting photocytes) during the development of the ctenophore Mnemiopsis. Using an inhibitor of filamentous actin polymerization (cytochalasin B) to block cytokinesis (but not nuclear division), we show that the formation of differentiation markers associated with each of these cell types appears only after they have segregated into their own distinct lineages and they are never co-expressed in the same cells. Furthermore, using inhibitors of protein synthesis, transcription and DNA synthesis, we provide evidence for the existence of a cleavage clock that is based on the number of rounds of DNA synthesis (and possibly controlled by the nuclear-to-cytoplasmic ratio), which determines the temporal appearance of differentiation products in cleavage-arrested embryos.
Methods
Mnemiopsis collection and embryos
Mnemiopsis leidyi adults were collected from the National Oceanic and Atmospheric Administration jetty and Eel Pond in Woods Hole, MA, during June and July and from 13660 Deering Bay Dr, Coral Gables, FL 33158, during December. Adults were brought into the lab and induced to spawn as described previously[21]. Eggs were washed multiple times with 0.2 μm filtered seawater to remove any jelly or debris. Only batches in which a high percentage of embryos developed normally were used in the study. Fertilization in these animals occurs at spawning, so for developmental timing purposes this was designated as 0 hpf.
Pharmaceutical inhibitors
After the embryos were collected, they were transferred by pipet to 24-well culture dishes for drug treatments. The following drugs were used: cytochalasin B (Sigma, St. Louis, MO, USA, C6762), actinomycin D (Sigma, St. Louis, MO, USA, A1410), puromycin (Sigma, St. Louis, MO, USA, P7255) and aphidicolin (Sigma, St. Louis, MO, USA, A0781). Stock solutions of cytochalasin (1 mg/ml), actinomycin (1 mg/ml) and aphidicolin (1 mg/ml) were made up in dimethyl sulfoxide, with aliquots stored at -20°C. A puromycin stock solution (12.5 mg/ml) was made up in distilled water and stored at -20°C. Freshly thawed aliquots were used in each experiment. Working solutions were made by diluting stock solutions with filtered seawater. Approximately 1 ml of solution was added to each well containing embryos.
Hoechst staining and immunohistochemistry
The embryos were fixed for antibody staining in 4% paraformaldehyde and 0.02% glutaraldehyde, as previously described by Pang and Martindale[21]. Following fixation, the embryos were removed from their membranes by gentle pipetting, washed with PBS plus 0.2% Triton (PBT), blocked in 5% goat serum for 1 h and then incubated in anti-tyrosine tubulin (Sigma, T9028) overnight at 4°C. The embryos were washed six times for 30 min in PBT and incubated with the secondary antibody, goat anti-mouse conjugated to Alexa-594 (Invitrogen, Molecular Probes, Carlsbad, CA, USA), Alexa-488 phalloidin (Invitrogen, Molecular Probes, Carlsbad, CA, USA) and Hoechst 33342 (Invitrogen, Molecular Probes, Carlsbad, CA, USA) overnight at 4°C. Afterwards the embryos were washed twice for 5 min in PBS and mounted for imaging.
Lineage tracing
After the embryos were collected, the vitelline membranes were mechanically removed using sharpened forceps. The de-membranated embryos were allowed to develop to the correct cleavage stage prior to injection with DiI, (Catalog No. D-282; Molecular Probes, Inc., Eugene, OR) a lipophilic membrane stain that diffuses laterally to stain the entire cell, as described in[4]. Following DiI injection, the embryos were carefully transferred into individual wells of a Terasaki plate (Nunc, Roskilde, Denmark) so that each embryo remained separate. Each well of the plate contained 10 μl of filtered seawater (controls) or cytochalasin B solution (1 μg/ml). The Terasaki plate was then stored in a humidified chamber to minimize evaporation.
Imaging
The embryos were scored for the presence or absence of comb cells using a Stereo Discovery (Zeiss, Inc) or Axio Scope (Zeiss, Inc) under transmitted light. Live comb plate cells were imaged using time-lapse microscopy with time intervals of five to ten images per second. Normal Mnemiopsis development was recorded at three images per minute using DIC (Differential interference contrast). Visualization of bioluminescence was performed on an Axio Scope, using the GFP filter (38 HE Green Fluorescent Prot. filter, excitation BP 470/40 nm, emission BP 525/50 nm) to stimulate photoprotein emission and with 0.5 to 1 sec exposure times with an AxioCam Mr to capture faint signals. Prior to visualization, an embryo was kept undisturbed in darkness for 10 to 20 min to prevent activation and depletion of the photoprotein.
Confocal imaging after immunohistochemical staining was performed using a Zeiss 710 confocal microscope. Images were processed using Zen software (Zeiss, Inc) and Volocity (Improvision, Inc) to create 3D image reconstructions of confocal sections.
Results
Cytochalasin B inhibits the polymerization of actin and thus prevents cytokinesis. During embryonic development, individual cleavages and specific developmental stages can be arrested by cytochalasin B, and thus the developmental potential of cells that were present at the time of arrest can be analyzed. We used cytochalasin B on zygotes, the 2-, 4-, 8- and 16-cell stages and at later time points up to the 60-cell stage (at 3, 3.5, 4, 5, 6, 7, 8 and 9 hpf). An overview of
Mnemiopsis
development is shown in Figure
2
and Additional file
1
.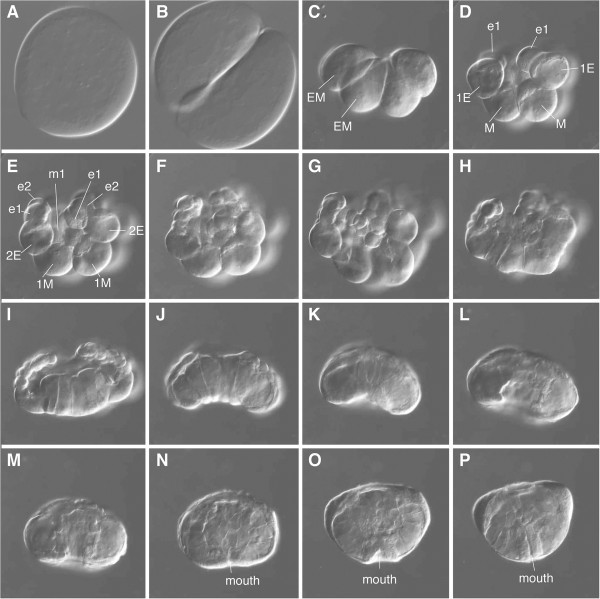 Cytochalasin B treatment of
Mnemiopsis
embryos led to the immediate arrest of cytokinesis. If the embryo was undergoing cell division at the time of treatment, the cleavage furrow immediately began to regress and the blastomeres rounded up (Figure
3
, Additional file
2
). Throughout the cytochalasin B treatment, the blastomeres did not die and cell nuclei continued to divide as karyokinesis does not require actin polymerization[
22
]. For the first 4 to 5 h of treatment, the nuclei divided at the normal rate and remained in the periphery of the cell (Figure
4
A), but after approximately 5 hpf, individual nuclei fused together into one or several large nuclei (Figure
4
B, C, D). Cleavage-arrested blastomeres adhered tightly to each other until 7 to 8 hpf, after which individual cells tended to lose contact with one another. Although the normal configuration of the blastomeres was lost, they were still contained within the vitelline membrane, allowing for the identification of all descendants from an individually arrested embryo.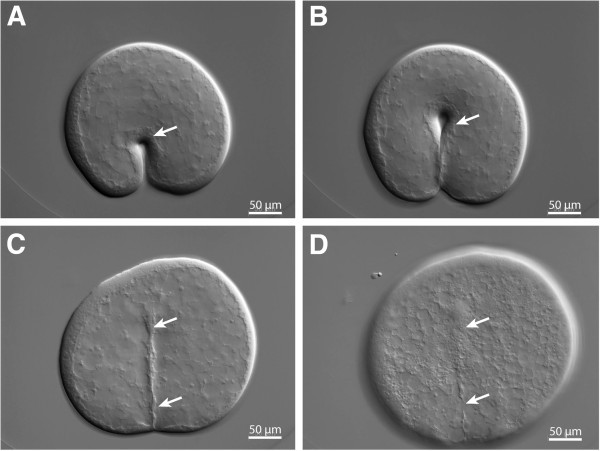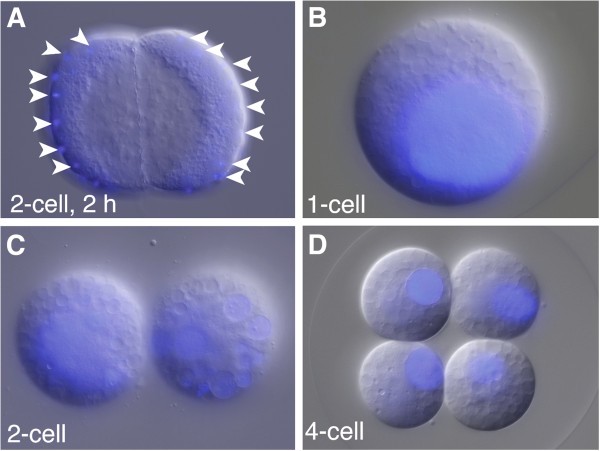 Additional file 2: Regression of the cleavage furrow in a Mnemiopsis embryo after cytochalasin B treatment. Cytochalasin B was added during the first cleavage of a Mnemiopsis zygote. DIC microscopy time-lapse showing the ingression of the cleavage furrow. Once cytochalasin B has been added, cleavage stops and the cleavage furrow regresses. The animal shown is the same as in Figure 3A-D. (MOV 73 MB)
While cytochalasin-treated zygotes and 2- and 4-cell stages did not show any visible sign of cell differentiation even after 24 hpf (Figure
4
), surprisingly, 70% (31/44) of arrested embryos treated at the 16-cell stage (Figure
5
F) and 83% (19/23) of embryos treated at the 32-cell stage had ctene-like cilia around 9 hpf. When treated at the 60-cell stage and onwards, nearly 100% of all arrested embryos formed ctene-like cilia. And when treated with cytochalasin B at the 8-cell stage, 26% (9/35) of the arrested embryos had two or more cells that formed motile comb-plate-like compound cilia (Figure
5
, Additional file
3
, Additional file
4
, Additional file
5
). These cilia were approximately the same size and formed at the same time as for untreated control embryos (Figure
5
G, Additional file
6
). A closer look at the ctene cells in treated embryos revealed that individual comb-plate-like cilia appeared morphologically normal with rows of cilia beating back and forth (Figure
5
A, B, C, H, H', I, I', Additional file
3
, Additional file
4
, Additional file
5
). Ctenophores make other kinds of ciliated structures (for example, dome cilia, sensory pegs, ciliated grooves and balancing cilia) but most of these are not motile, and none of them comprise compound cilia such as those made by the cleavage-arrested cells. Many individual cleavage-arrested cells formed multiple motile comb-plate-like cilia; these combs were not arranged in discrete rows as is the case during normal development[
23
] and their beating was not coordinated and appeared random with respect to one another and to neighboring cells. The cilia of the comb-plate-like generating cells were seen beating for up to 18 hpf and these cells quickly separated from the other cells in the embryos.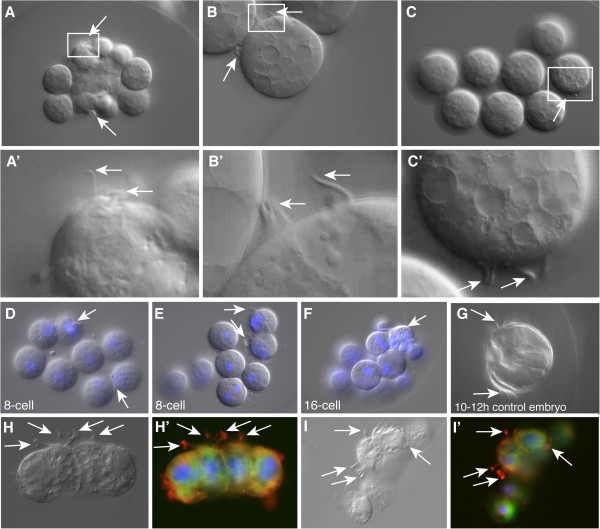 Additional file 3: Cleavage-arrested embryo with beating cilia at 2 comb cells. DIC microscopy movie showing the beating cilia on comb-cells in a cleavage-arrested embryo. The embryo shown is the same one as in figure 5A and 5A'. (MOV 6 MB)
Additional file 4: Close-up on one a comb cell with beating cilia in a cleavage-arrested embryo. DIC microscopy movie showing the beating cilia on comb-cells in a cleavage-arrested embryo. The embryo shown is the same one as in figure 5B and 5B'. (MOV 3 MB)
Additional file 5: Cleavage-arrested embryo with beating cilia at a comb cells. DIC microscopy movie showing the beating cilia on comb-cells in a cleavage-arrested embryo. The embryo shown is the same one as in figure 5C and 5C'. (MOV 2 MB)
Discussion
We used cytochalasin B to inhibit cytokinesis in early ctenophore embryos to examine how developmental potential is partitioned into two distinct cell lineages: those giving rise to comb plates and those forming the photocytes. When cytokinesis is arrested in early Mnemiopsis leidyi embryos, treated embryos do not undergo apoptosis, but rather nuclear divisions continue and give rise to multinucleated cells. Cytochalasin B was used to study the segregation of developmental potential in Mnemiopsis by Freeman[18]. Freeman[18] inhibited certain divisions including the first, second or third cleavage or the second and third cleavage by short treatments with cytochalasin B. When only the first cleavage was inhibited by a brief exposure, most embryos developed like the control embryos but were delayed by one cleavage cycle[18]. However, when the second, third or second and third cleavages were reversibly blocked, the inhibited cleavages were skipped and the embryos continued the cleavage program with a reduced number of cells[18].
Surprisingly, as we demonstrate here, if cytokinesis is arrested at the 8-cell stage or later and is permitted to remain arrested for the following hours of development, comb-plate-like cilia and the photoprotein-mediated bioluminescence characteristic of photocytes form at the correct time in development compared with control embryos. Lineage-tracing experiments reveal that comb-plate-like cells are derived from E cells at the 8-cell stage and from the e1 micromeres at the 16-cell state. These are the same cell lineages that autonomously generate comb-plate-like cilia when isolated from the rest of the embryo[1]. Previous intracellular fate-mapping experiments showed that m1 micromere descendants also have the capacity to make comb-plate-like cilia[4] but M lineage descendants were not found to give rise to comb-plate-like cilia in cleavage-arrested embryos. Likewise, the bioluminescence characteristic of M-lineage-derived photocytes was only seen in M-lineage-derived cells in cleavage-arrested embryos. Earlier experiments showed that the m1 micromeres require inductive signals first from the e11 or e12 micromeres and later from endomesodermal cells derived from E and M macromeres before they form combs[14, 20]. Our results support the finding that m1 micromeres require additional inductive signals from endomesodermal cells for comb formation, since no combs were formed by m1 micromeres in cleavage-arrested embryos. This supports the finding that the presence of e1 micromeres is not sufficient to induce comb formation in m1 micromeres[14, 20].
Interestingly, neither comb-plate-like cilia nor bioluminescence was detected in cleavage-arrested zygotes or 2- or 4-cell stage embryos, suggesting that the segregation of distinct E and M lineages is crucial for the expression of the lineage-specific differentiation products. These results suggest that factors that are required for comb-plate and photocyte determination are already present and localized at the 8- and 16-cell stages and may have mutually exclusive activity.
Conclusions
As in other animals with a mosaic development, embryos of the comb jelly
Mnemiopsis leidyi
show differentiation of selected cell fates even when cytokinesis is arrested using cytochalasin B during the course of early embryogenesis[
48
,
77
,
78
,
103
,
104
]. An overview is given in Figure
8
. We demonstrated that embryos arrested prior to the 8-cell stage do not show visible signs of cell fate differentiation from either the E or M lineages. However, if cytokinesis is blocked at the 8-cell stage or later, comb-plate-like cilia, which are derived autonomously from the E lineage, and the bioluminescence characteristic of photocytes form at the correct time compared with control embryos. Treatment with the DNA synthesis inhibitor aphidicolin reveals that the number of nuclear divisions is essential for the proper timing of the differentiation of the comb-plate-like cilia. Lineage tracing experiments show that cells producing comb-plate-like cilia are formed autonomously from the E lineage, particularly the e
1
micromeres, and not any of the M or m
1
lineages. Likewise, bioluminescence is only observed in the M lineage and specifically in M macromeres. In addition, we showed that developmental determinants that are required to generate motile comb-plate-like cilia and photoprotein expression are already present and localized at the 8-cell stage and further localize to the appropriate cells in the subsequent cell divisions. Further studies are required to unravel the nature of the developmental determinants and which mechanisms are used to segregate them. The timed inhibition of transcription and translation with actinomycin D and puromycin, respectively, shows that both transcription and translation are required for comb cells to form, suggesting that not all the necessary factors are maternally deposited. While these inhibitor studies are not definitive gene-specific approaches, they do provide insight into the potential nature of materials that are differentially segregated into different embryonic lineages. Finally, we presented evidence that suggests that zygotic transcription in
Mnemiopsis
begins around the 60-cell stage, just before the onset of gastrulation.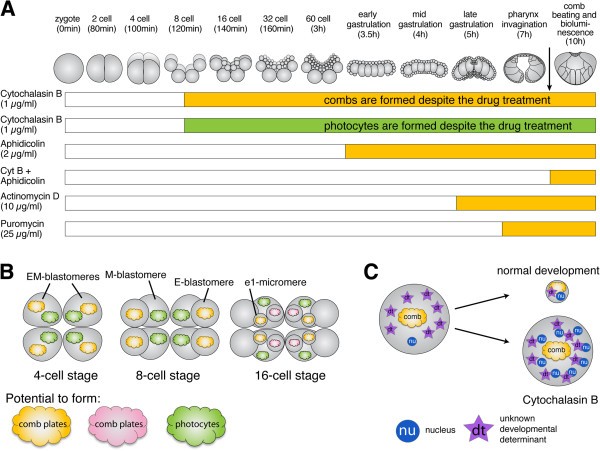 Abbreviations
hpf:

hours post fertilization
MZT:

Maternal-to-zygotic transition
PBS:

Phosphate-buffered saline
PBT:

PBS plus 0.2% Triton
DIC:

Differential interference contrast
AO:

Apical organ.
Declarations
Acknowledgements
We are exceptionally thankful to Prof William Browne (University of Miami, FA) for allowing us to perform some of the experiments in his laboratory and providing animals. We also want to thank the community of the Marine Biological Laboratory for facilitating these studies, in particular the 2009 Embryology class, the faculty and the course directors, Lee Niswander and Nipam Patel, where this project was initiated.
This work is supported by a Boehringer Ingelheim Travel grant and an MBL Financial Aid Award to AHLF to attend the Embryology course 2009. It is further supported by National Science Foundation grants awarded to JQH (No. 1121268) and KP (No. 1158629). MQM was supported by the National Science Foundation and NASA.
Authors' Affiliations
(1)
Developmental Biology Unit, European Molecular Biology Laboratory Heidelberg, Heidelberg, Germany
(2)
Molecular and Cell Biology Department, Harvard University, Cambridge, USA
(3)
Kewalo Marine Laboratory, Pacific Biosciences Research Center, University of Hawaii at Manoa, Honolulu, USA
(4)
Sars International Centre for Marine Molecular Biology, Bergen, Norway
(5)
Department of Cell and Structural Biology, University of Illinois, Urbana, USA
(6)
Whitney Lab for Marine Bioscience, Univ. Florida, St. Augustine, USA
Copyright
© Fischer et al.; licensee BioMed Central Ltd. 2013
This article is published under license to BioMed Central Ltd. This is an open access article distributed under the terms of the Creative Commons Attribution License (http://creativecommons.org/licenses/by/2.0), which permits unrestricted use, distribution, and reproduction in any medium, provided the original work is properly cited.