Wnt affects symmetry and morphogenesis during post-embryonic development in colonial chordates
Received: 10 February 2015
Accepted: 9 April 2015
Published: 1 May 2015
Abstract
Background
Wnt signaling is one of the earliest and most highly conserved regulatory pathways for the establishment of the body axes during regeneration and early development. In regeneration, body axes determination occurs independently of tissue rearrangement and early developmental cues. Modulation of the Wnt signaling in either process has shown to result in unusual body axis phenotypes. Botryllus schlosseri is a colonial ascidian that can regenerate its entire body through asexual budding. This processes leads to an adult body via a stereotypical developmental pathway (called blastogenesis), without proceeding through any embryonic developmental stages.
Results
In this study, we describe the role of the canonical Wnt pathway during the early stages of asexual development. We characterized expression of three Wnt ligands (Wnt2B, Wnt5A, and Wnt9A) by in situ hybridization and qRT-PCR. Chemical manipulation of the pathway resulted in atypical budding due to the duplication of the A/P axes, supernumerary budding, and loss of the overall cell apical-basal polarity.
Conclusions
Our results suggest that Wnt signaling is used for equivalent developmental processes both during embryogenesis and asexual development in an adult organism, suggesting that patterning mechanisms driving morphogenesis are conserved, independent of embryonic, or regenerative development.
Keywords
WntPolaritySymmetryAsexual developmentChordates
Background
A major question in developmental biology is how symmetry in the early embryo is broken and body axes established to guide further development. These essential patterning mechanisms mainly occur during post-embryonic developmental process, such as metamorphosis or the regeneration of lost or damaged structures. However, the timing and developmental pathways driving these early patterning processes during post-embryonic development are not well understood. Embryogenesis, as well as organs or body regeneration, is a process where a tight control of cell-cell regulation is fundamental to establish Cartesian axes and eventually to lead to body patterning or re-patterning [1]. One of the key mediators of cell-cell signaling during embryogenesis is the highly conserved Wnt signaling pathway [2-7]. The Wnt family encompasses a set of secreted glycoproteins involved in variety of developmental processes in both bilaterian and pre-bilaterian metazoans. Members of the Wnt family regulate cell-cell interactions and affect multiple cell and tissue behaviors including proliferation, differentiation, migration, and polarity [8-9]. Wnt proteins are key players in at least three signaling pathways: the planar cell polarity (PCP); the Wnt/calcium pathway (the non-canonical pathways), which do not involve β-catenin [10-13]; and the canonical Wnt pathway, which involves the nuclearization of β-catenin [6,14-16]. The canonical signaling pathway is the most studied to date and plays a primary role on early axes determination, patterning, and specification in embryos of most metazoans [2,6,7,17]. Particularly, the establishment of the axial polarity in multicellular organisms has been associated with a localized occurrence of maternal β-catenin protein and wnt gene expression domains, specific for the dorsal and caudal pole of a wide variety of metazoan [7].
The same spatial cues regulated by the Wnt ligands during embryogenesis also be used in post-embryonic developmental pathways, and Wnt has been shown to play a role during metamorphosis [18], during regeneration following injury [4,19], and in organisms that propagate asexually, including cnidarians [2,20,21], annelids [22], and ascidians [23].
Ascidians (subphylum Tunicata) are the closest relatives to vertebrates that can regenerate their entire bodies [24,25] and provide a chordate model organism to dissect the molecular mechanisms of the regenerative process. Ascidians are chordates, and embryogenesis results in a tadpole larva which, following a relatively short free-swimming phase, settles and metamorphoses into a sessile, filter-feeding juvenile form during which most of the chordate features are lost (benthic-phase). Whereas individuals of solitary ascidians grow in size and eventually reach sexual maturity, colonial forms grow via repeated rounds of asexual reproduction: following metamorphosis, a single founder individual (called oozooid) propagates asexually, eventually creating a colony of several to hundreds of individuals (called zooids), which are indistinguishable and genetically identical from the founder oozooid [26].
The species B. schlosseri is a reference model for the study of chordate asexual development and regeneration as it undergoes a cyclical, rapid (7 day), and coordinated budding process that can be easily visualized [27,28]. Asexual development in Botryllus is called blastogenesis [27] and is a complex process that couples regeneration and turnover of zooids. In a colony of B. schlosseri, three asexual (blastogenic) generations coexist in a spatially organized structure of 2 to 20 individuals called a system. The center of the system contains the zooids, which are filter-feeding and sexually reproducing adult individuals, and they are joined laterally by primary buds, which are completing development. Lastly, the primary buds are connected in turn to the secondary buds (budlets), which are in the early stages of asexual development. The adults have a defined, 1-week lifespan after which they die in a process called take-over, whereby all zooids in the colony synchronously undergo apoptosis and the corpses are cleared by phagocytic cells in the blood. The primary buds migrate to the newly open space, open their siphons, and begin their 1-week lifespan as a zooid. Simultaneously, the budlets migrate and become primary buds and initiate the next round of secondary buds. Thus, for a colony to maintain its size, at least one bud (primary or secondary) must complete development each week. A zooid can have up to four primary buds; thus, a colony can asexually expand over the substrate rapidly. Development and apoptosis are synchronized throughout the colony, which can consist of thousands of adult individuals.
Early studies established a method to define the developmental stage of the colony, consisting of a formula of three numbers (for example, 9/8/4) that define well-characterized visual developmental landmarks of each generation (zooid/primary bud/secondary bud) [27]. Under standard laboratory conditions, each stage represents 1 day. A new individual begins as a secondary bud (budlet), which first appears as a thickened disk on the primary bud epidermis (stage 9/7/1) that evaginates and then closes into a blastula-like structure (stages 9/8/2 and 9/8/3, respectively). This epithelial vesicle then undergoes morphogenesis (9/8/4 to 9/8/6), giving rise to the main organs, such as the branchial and peribranchial chambers, gut, and nervous system, and provides a visual anterior-posterior (A/P) and dorsal-ventral (D/V) axes in the developing body. However, stereotypical morphological changes in the budlet (that is, rotations and skewing) prior to organogenesis, demonstrate that there is a specific A/P axis that coincides with that of the parental bud from the initiation of development [29]. The first visual change is the appearance of a morphological polarity in the secondary bud followed by a rotation and elongation of the budlet along the presumptive A/P axis [28,29]. In wild and lab reared colonies, the bilateral asymmetry can be observed by the presence of the gut on the left side, the heart on the right side of the zooid, the development of large testes on the left side, and the production of a larger number of budlets on the right side [30,31].
The aim of this study is to investigate the role of the Wnt signaling pathway during the early stages of the blastogenesis, prior to the initiation of morphogenesis and organogenesis. Among the large Wnt family protein, Wnt2 has been shown to be crucial for organ specification and patterning [32-37] as well as in angiogenesis and endothelial differentiation [38]. Within many species, Wnt5 and Wnt7 are involved in the control of morphogenetic movements and tissue growth and differentiation [7,15,37,39,40]. In this study, we report the expression of these three different Wnt ligands and their potential function in budlet initiation, breaking of symmetry, and axis specification.
Methods
Animals
B. schlosseri colonies were collected from the harbor in Santa Barbara, CA, spawned and cultured in laboratory conditions at 18°C to 20°C [41]. Colonies were developmentally staged-matched based on blastogenic stage cycles [27].
Isolation of B. schlosseri Wnts and phylogenetic analyses
B. schlosseri Wnts were identified by performing a Basic Local Alignment Search Tool (BLAST) search of our in-house reference transcriptome database (http://octopus.obs-vlfr.fr/public/botryllus/blast_botryllus.php). The whole open reading frame (ORFs) of the B. schlosseri othologues of Wnt2B, Wnt9A, and Wnt5A were amplified and cloned into a pGEM-T-EZ vector (Promega), sequenced and used to produce RNA probes for whole-mount fluorescent in situ hybridization (FISH).
Multiple sequence alignments were built using MUSCLE [
42
], and conserved blocks have been selected using GBLOCK and trimmed manually. Bayesian trees were built via the Markov chain Monte Carlo method by using MRBAYES [
43
], adopting a Jones-Taylor-Thorton (JTT) mathematical method substitution matrix. Two Markov chains were run each containing 20,000,000 Monte Carlo steps. One out of every 100 trees was saved. The trees obtained on each run were meshed, and the first 25% were discarded as burn-in. Marginal probabilities for internal branches were taken as measures of statistical support. Only the consensus tree is shown in Figure
1
. All the trees are available upon request.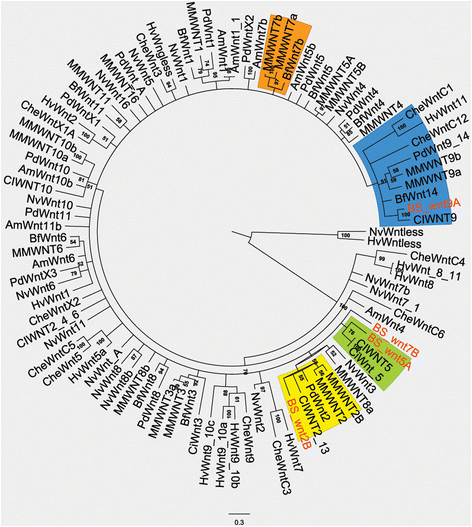 In situ hybridization
Whole-mount FISH was performed with digoxigenin (DIG)-labeled probes as previously described [44]. Specific sense and antisense probes for wnt2B, wnt5A, and wnt9A were synthesized from PCR products using the relative clones coding for 844 bp, 722 bp, and 887 bp regions of the respective genes. Primers used to synthesize probes were 5′-gttgtgtgcgtcacctgttc-3′ and 5′-tttgggtccgttttgggtga-3′ for wnt2B; 5′-tcgctagcatcgcctcgtgc-3′ and 5′-aaagtgcgcaggccctcgag-3′ for wnt5A; 5′-cgagagatggaactgcacga-3′ and 5′-aagggagactgtgcgacaag-3′ for wnt9A. TSA-plus detection (NEL753001KT PerkinElmer, Waltham, MA, USA) with cyanine 3 and fluorescein substrates was used in our analysis.
Imaging
High-resolution confocal images of fixed tissue for in situ hybridization were acquired using an Olympus1000 Spectral Confocal Microscope (Tokyo, Japan). Z stacks were obtained at a 1.5-μm step size. Olympus Fluoview acquisition software (Tokyo, Japan), Fiji (NIH, Baltimore, MD, USA) and Imaris (Bitplane, Zurich, Switzerland) software were used to acquire and reconstruct z-series images into standard deviation projections at the NRI Microscopy Facility. Live imaging of control and drug-treated colonies were carried out using a Leica MZ16FA epifluorescent stereomicroscope. Images from live animals were also used for morphometrical analysis by using ImageJ (NIH, Baltimore, MD, USA) plug-ins. Figure panels were mounted using FigureJ (Image J) and Photoshop (Adobe, San Jose, CA, USA).
Quantitative RT-PCR
Quantitative RT-PCR (qRT-PCR) was carried out using a LightCycler 480 II (Roche, Basel, Switzerland) using LightCycler DNA Master SYBR Green I detection (Roche, 12015099001). The thermocycling profile was as follows: 5 min at 95°C, 45 cycles of 95°C for 10 s, 55°C for 10 s, and 72°C for 10 s. Single systems of B. schlosseri at stages 9/7/1, 9/8/2, and 9/8/3 were quickly flash frozen in liquid nitrogen, and cDNA pools were generated from messenger RNA (mRNA) extracted from them. Primers for wnt2B 5′-gaaggtcggaacagcggtat-3′ and 5′-agcttgtttcagccctgtgt-3′ which amplified a 215 bp fragment, wnt5A primers 5′-caccagttcagtgaccatcg-3′ and 5′-gctgtcacaaaagcctgtca-3′ which amplified a 149 bp fragment, and wnt9A primers 5′-caaatgccatggtgtgtcgg-3′ and 5′-gcgacgactttcccaacaac-3′ which amplified a 132 bp fragment were used in our analysis. All gene expression data was normalized to elongation factor 1-α (EF1-α) as a reference gene and reported as relative expression using the 2-∆∆Ct method [45]. Each experiment was analyzed in triplicate from different genotypes (n = 3) and multiple systems (n = 8).
Chemical treatments
To determine the effects of blocking GSK-3β on A/P axis formation, adult and juvenile colonies of B. schlosseri were treated with two known Wnt agonists (GSK-3β inhibitors): alsterpaullone (APL) (Sigma, MO) and lithium chloride (LiCl). Colonies of two to three systems each were soaked for 14 to 18 h in jars of 400 mL and then returned to normal filtered sea water (FSW) in our mariculture facility. Incubations were carried on for 10 to 14 days in order to ensure that two full blastogenetic cycles were included in the treatments. APL was dissolved in dimethyl sulfoxide (DMSO) and diluted in FSW up to a final concentration of 0.5 μM. Low doses (0.01 μM and 0.1 μM) of APL did not give any specific phenotype whereas higher concentrations (1 μM and 5 μM) were lethal after 1 day of incubation. Lithium chloride was dissolved in dd-water and diluted in FSW up to a final concentration of 28 mM. Control colonies were selected among genetic clones of the treated samples and incubated with a comparable DMSO concentration for the same length of time. At the onset of the experiment, the blastogenic stages of the treated and the control colonies were synchronized.
Transmission electron microscopy and histology
After anesthetization with MS-222 (Tricaine; ethyl 3-animobenzoate methanesulfonate salt) for about 5 to 7 min in FSW, animals were fixed with 1.5% glutaraldehyde buffered with 1.6% NaCl and 0.2 M sodium cacodylate (pH = 7.2) on ice. Following fixation, they were soaked overnight in 0.1 M sodium cacodylate buffer and the day after rinsed with fresh buffer and post-fixed in cold with 2% OsO4, buffered with 0.2 M sodium cacodylate. After washing with H2O, samples were enbloc stained in uranyl acetate, dehydrated and embedded in Epon. In order to keep a correct orientation of the animal, samples were first flat embedded on aluminum dishes and then cut with a jeweler saw and re-embedded in molds with an orthogonal orientation. Thin sections (90 nm) were stained in uranyl acetate and lead citrate and examined in a JEOL 1234 Electron microscope (Tokyo, Japan). Out of the same EM samples, thick sections (150 nm) were stained with a solution containing toluidine blue and methylene blue and then observed on a compound microscope to verify the correct orientation.
Discussion
The role of the Wnt signaling pathway has been widely studied in many different Metazoans, mainly during embryogenesis and during early morphogenesis [5,12,14,46]. In Xenopus and zebrafish, the wnt/β-catenin pathway is involved in organizer formation, which subsequently sets up the dorsoventral axis [47,48] while in sea urchins, β-catenin regulates the patterning of the antero-ventral axis so that the vegetal end forms endoderm [15]. Similarly, in the ascidian Ciona intestinalis, the localization of β-catenin via canonical Wnt pathway controls endoderm formation and represents the first molecular marker of embryo polarization [16]. The canonical Wnt pathway has also been shown to be involved in gastrulation and germ layer specification during cnidarian embryogenesis [49,50]. The involvement of the Wnt pathway during post-embryonic development (for example, metamorphosis) has also been demonstrated in experiments blocking the activity of GSK-3β, which induces the formation of ectopic axial structures during development [51-53]. We show here that a similar phenomenon occurs in B. schlosseri where the alteration of the wnt signaling pathway via GSK-3β inhibition results in drastic changes on body patterning during secondary bud formation.
Conclusions
Our results provide evidence that altering the Wnt signaling pathway by blocking the GSK-3β complex induces a disruption of the main A/P polarity and a consequent asymmetric development during the asexual cycle of B. schlosseri. Unfortunately, we made multiple attempts to verify β-catenin translocation to the nucleus following agonist treatment, but there is no Botryllus specific antibody, and our results with other commercially available probes were inconclusive. We therefore cannot exclude the hypothesis that the observed phenotypes were due to activation of the non-canonical Wnt pathway.
Previous reports describe the ligands Wnt11, Wnt4, and Wnt6 being non-canonical [6,8,11,17,71-75]. With few exceptions [76], Wnt5A is also considered a non-canonical Wnt ligand [9,11,77] and its role in lower metazoans has been shown to be crucial for embryonic development [11,16,78,79]. Interestingly, in B. schlosseri, wnt5A mRNA was exclusively detected in the germline precursors, thus cannot be considered to be involved in body patterning mechanisms. In contrast, among the canonical ligands [2,7,55,77,80], wnt9A and wnt2B do show expression in the developing budlet of B. schlosseri leading us to the hypothesis that the canonical Wnt pathway may have a key role in body patterning and axial polarity during non-embryonic development. This is further confirmed by the high expression pattern of wnt2B in budlets of drug-treated colonies.
Many studies have suggested that Wnt pathway may have been instrumental in the evolutionary origin of multicellular animals. Given the fundamental importance of the cellular information mediated by the wnt signaling, it is not surprising that the role of wnt is conserved across phyla during embryogenesis and also during post-embryonic developmental processes, including metamorphosis, regeneration, and asexual reproduction.
Abbreviations
BLAST:

Basic Local Alignment Search Tool
DMSO:

dimethyl sulfoxide
FSW:

filtered sea water
GSK-3β:

glycogen synthase kinase 3 beta
JTT:

Jones-Taylor-Thorton mathematical method.
PCR:

polymerase chain reaction
Declarations
Acknowledgements
We would like to thank Dr. Delany Rodriguez, Dr. Adam Langenbacher, and Mr. Daryl Taketa for their suggestions and discussions, and to Mr. Daniel Lewis and Miss. Rebecca Shin for their help on PCRs and in situ hybridization experiments. We are grateful to Mr. Mike Caun for his help within the animal mariculture facility and to the NRI microscopy facility (Dr. Mary Raven) for the use of confocal and electron microscopes. We thank two anonymous reviewers for helping to improve the manuscript. Financial support was provided by the AFMTelethon grant (#16611), IRG Marie Curie grant (#276974) and Nikon Fellowship (2009) to ST, and the NIH (R01-AG037966) to AWD.
Authors' Affiliations
(1)
School of Bioscience, University of Birmingham, Birmingham, UK
(2)
Molecular Cellular and Developmental Biology, University of California Santa Barbara, Santa Barbara, USA
(3)
CNRS, Sorbonne Universités, UPMC Univ Paris 06, Laboratoire de Biologie du Développement de Villefranche-sur-mer, Observatoire Océanographique, Villefranche-sur-mer, France
Copyright
© Di Maio et al. 2015
This is an Open Access article distributed under the terms of the Creative Commons Attribution License (http://creativecommons.org/licenses/by/4.0), which permits unrestricted use, distribution, and reproduction in any medium, provided the original work is properly credited. The Creative Commons Public Domain Dedication waiver (http://creativecommons.org/publicdomain/zero/1.0/) applies to the data made available in this article, unless otherwise stated.