Developmental changes and novelties in ceratophryid frogs
Received: 4 January 2016
Accepted: 11 February 2016
Published: 27 February 2016
Abstract
The Neotropical frog genera Ceratophrys, Chacophrys and Lepidobatrachus form the monophyletic family Ceratophryidae. Although in- and out-group relationships are not fully resolved, the monophyly of the three genera is well supported by both morphological and molecular data. Much is known about the morphology of the ceratophryids, but there is little comparative information on how modification of a common ancestral developmental pathway played a role in shaping their particular body plans. Herein, we review morphological variation during ceratophryid ontogeny in order to explore the role of development in their evolution. The ceratophryids are collectively characterized by rapid larval development with respect to other anurans, yet the three genera differ in their postmetamorphic growth rates to sexual maturity. Derived traits in the group can be divided into many homoplastic features that evolved in parallel with those of anurans with fossorial/burrowing behaviors in semiarid environments, and apomorphies. Morphological novelties have evolved in their feeding mechanism, which makes them capable of feeding on exceptional large prey. Lepidobatrachus is unusual in having reduced the ecomorphological differences between its larvae and adults. As a result, both the larvae and the frog are similarly able to capture large prey underwater. Some unique features in Lepidobatrachus are differentiated in the tadpole and then exaggerated in the adult (e.g., the posterior displaced jaw articulation) in a manner unobserved in any other anurans.
Keywords
GrowthDevelopmentMorphological noveltyMetamorphosisAnurans
Background
Based on morphological and molecular data, the South American anuran genera Chacophrys Reig and Limeses 1963 (one species), Ceratophrys Wied-Neuwied 1824 (eight species) and Lepidobatrachus Budgett 1899 (three species) constitute a monophyletic clade, the Ceratophryidae. Ceratophrys species are distributed in tropical areas with Ceratophrys cranwelli living with Lepidobatrachus spp. and Chacophrys pierottii in the semiarid lowlands of the Chaco region.
The monophyly of the group, often referred to as horned frogs, was proposed by early researchers [1–5] and ratified by more recent cladistic analyses [6–10]. However, two controversies remain regarding the relationships of the group: (1) the relationships between the three genera and (2) the group's relationship with other anurans.
Studies of the Ceratophryidae have alternatively proposed the basal taxon to be
Ceratophrys
[
5
,
7
,
9
–
11
],
Chacophrys
[
11
] or
Lepidobatrachus
[
1
,
4
,
8
]. More recently, molecular data of the 12 extant species were reanalyzed within a large taxon sample, and the monophyly of
Ceratophrys
and
Lepidobatrachus
(Fig.
1
) was corroborated [
10
]. In this phylogeny, the monotypic
Chacophrys
sits as the sister taxon of
Lepidobatrachus
, but with Jackknife frequency <50 % (Fig.
1
a).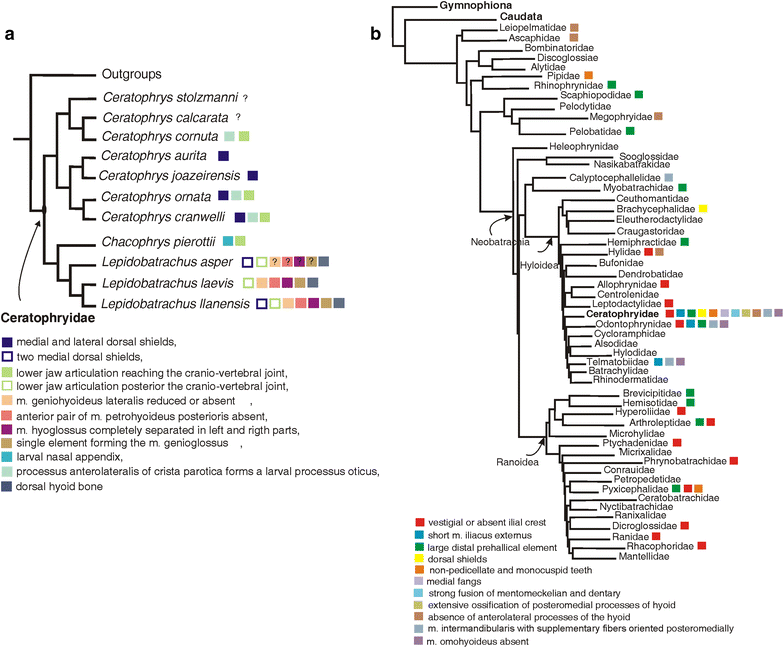 When the relationship of the Ceratophryidae to other anurans has been examined, the South American horned frogs have been variously proposed as: a basal taxon within Bufonidae [1]; related to Leptodactylidae [2, 4, 5] or to certain hylids, but with only weak support [6]; a basal group of Neobatrachia [7]; the sister group of Odontophrynus [4]; the sister group of Batrachyilinae [8]; the sister group of Telmatobiinae [12]; a sister lineage of a large clade within Hyloides [9] (Fig. 1b); and even a basal group of Hyloides [10].
Two Cretaceous fossils have been attributed to the Ceratophryidae and are the oldest fossils associated with the family. These are Beelzebufo ampinga from the Upper Cretaceous (Maastrichtian) Maevarano Formation of Madagascar [13, 14] and Baurubatrachus pricei from the Upper Cretaceous of Brazil [15]. Other more recent fossils have been placed within the Ceratophryidae. Specimen assigned to Wawelia geroldhi, from Miocene sediments of northern Patagonia in Argentina [16], seems to represent a juvenile anuran with some features like extant ceratophryids. Other late Miocene specimens have been attributed to Ceratophrys [17–20] and Lepidobatrachus [21, 22]. Those specimens, plus independent molecular data [5, 23], indicated that both genera were well differentiated by the Miocene.
The adults of extant ceratophryids are characterized by medium to large body size (Fig.
2
). The three genera share as well several derived morphological features associated with a terrestrial and fossorial life, plus adaptations for feeding on large prey [
7
,
10
,
24
,
25
] (Fig.
1
). The tadpoles of these genera are, however, remarkably distinct (Fig.
2
).
Ceratophrys
spp. have macrophagous and specialized carnivorous larvae with robust keratinized mouthparts [
32
,
33
].
Chacophrys
has a more typical, generalized, suspension feeding tadpole [
27
,
34
], and
Lepidobatrachus
larvae are obligatorily megalophagous [
33
], feeding upon living nekton, including other tadpoles.
Lepidobatrachus
tadpoles display many morphological features for capturing very large prey that are exceptional among anurans [
30
,
32
,
35
,
36
]. The uniqueness of
Lepidobatrachus
tadpoles resulted from evolutionary changes in several specific developmental pathways that occurred simultaneously or sequentially from a generalized larval type [
36
,
37
].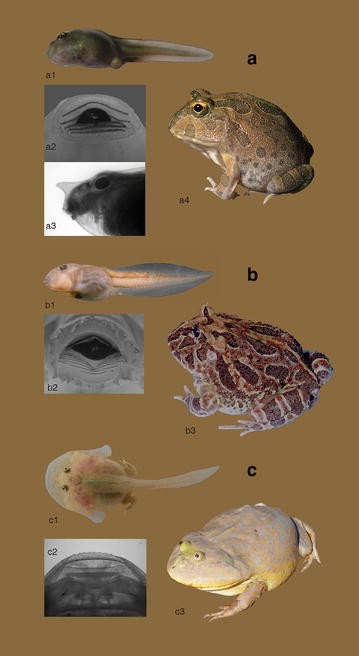 Despite much data supporting ceratophryid monophyly, the evolution of these anurans remains enigmatic. Although much is known about their morphology, there is little comparative information on how development played a role in shaping the divergent ceratophryid body plans. What in particular has not been explored is the interplay between pre- and postmetamorphic development. Uninvestigated is how these developmental pathways have influenced each other to arrive at their variously shared and unique features of adult and larval ceratophryids.
Here, we review information on variation among ceratophryid ontogenies to address two interrelated questions: (1) How did modification of development pathways play a role in the differentiation of ceratophryid genera? and (2) How did those developmental pathways contribute to the evolutionary history that distinguishes the ceratophryid from the other hyloid lineages? We provide data to (1) illustrate how development can evolve and (2) present a case study of how the detailed knowledge of morphological variation during development strengthens evolutionary studies.
Variation both between organisms and within organisms as they develop has provided enough information to yield a conceptual framework for understand how developmental pathways for ceratophyrids have evolved through time. General terminology used to describe the interplay between evolution and development in general is presented in Fig.
3
. It should be noted that several of these terms have been used in slightly different ways by different authors. As such, we follow the definitions of these terms presented and referenced in "
Appendix
."

Developmental and growth rates
From an ontogenetic approach, heterochrony has become a focal concept that integrates many areas of evolutionary biology [45]. Different definitions, however, have been used to explain heterochrony (cf. "Appendix"), and controversies have emerged since heterochronic patterns cannot be unequivocally classified without information of the timing (age) of developmental events in the ancestral and descendant ontogenies [45].
As heterochrony produces morphological changes in shape and size of a trait relative to the ancestral ontogeny, there are some useful concepts to describe heterochrony even when developmental timing is unknown [
42
–
44
]. Sequence heterochrony and growth heterochrony facilitate the distinction between variation in shape (as development) and variation in size (as growth), and both, as noted below, appear to have occurred in the evolution of the Ceratophryidae, following the terminology (Fig.
3
; "
Appendix
"), and they are consistent with the evolutionary processes of peramorphosis and hypermorphosis [
7
,
11
,
50
] (Fig.
4
).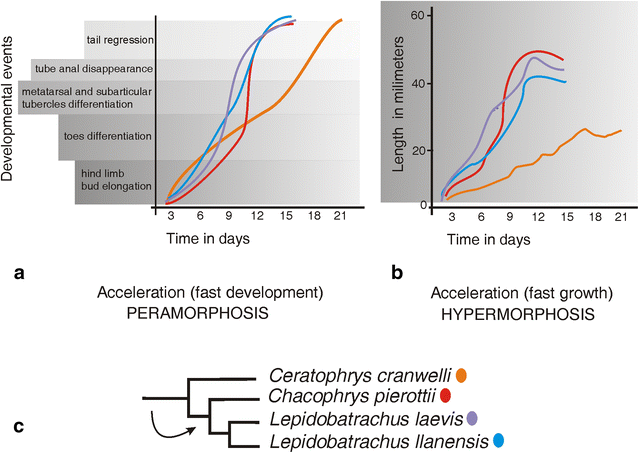 The importance of growth heterochrony for distinguishing ceratophryids from other anurans was demonstrated in a comparison of the larvae from 20 species (five anuran families) that co-occurred with ceratophryids in the Chaco in South America. Data on size at metamorphosis and duration of the larval period for most non-ceratophryid species in this sample suggested similar growth rates [50], i.e., with development to metamorphosis taking between 20 and 75 days for 15 of those 20 species and larval body sizes varying between 9 and 25 mm. By comparison tadpoles of Chacophrys pierotii and Lepidobatrachus spp. reach metamorphosis between 15–18 days and Ceratophrys cranwelli in 20–24 days, with body sizes ranging from 25 to 45 mm [50] (Fig. 4).
Precise data on age at sexual maturity and postmetamorphic growth rates are not available for any ceratophryids in the wild. However, it is possible to infer the age of reproductive adults from wild-caught specimens from lines of arrested growth. Such data suggest that developmental and growth rates after metamorphosis differ greatly among ceratophryids. In Lepidobatrachus spp., sexually mature individuals of 5–6 years are considerably larger than sexually mature C. pierottii of the same age [11]. The ages for mature males of Ce. cranwelli vary between 11 and 14 years old with sizes slightly larger than those of Lepidobatrachus laevis at 6 years [11].
In ceratophryids, accelerated differentiation and growth has also been described for many organ systems [
11
,
51
]. An example is the early acquisition of mature skin features—i.e., three or more epidermal layers, a well-differentiated dermis, and a thick stratum compactum—in larvae of
Ce. cranwelli
and
Lepidobatrachus
spp. [
11
,
36
] (Fig.
5
). Furthermore, the size of the neuromasts appears to be related to these integumentary features, with larger organs present early in
Lepidobatrachus
spp. Conversely, small neuromasts are observed in species with typical larval skin, such as
C. pierottii
[
36
]. In
L. laevis
, sequence heterochrony has led to the retention of the lateral line system through metamorphosis, with the size of the neuromasts similar to that of the larval stages [
36
].

Morphological evolution related to the postaxial skeleton indicative of homoplasy
In anurans, with the exception of axial musculature that changes with metamorphosis, the appendicular musculoskeletal system develops and grows independently of the larval body plan [54]. This can be understood within the context of modular organization of development [41, 55]. For developing anurans, the postaxial musculoskeletal system is divided into two separate units: (1) the trunk and tail that collectively serve for swimming and (2) the appendicular system that develops to serve adult tetrapod locomotion.
In ceratophryids, there are a few derived features in the postaxial skeleton (Fig. 1b). These include the absence of a crest on the ilium, the presence of a very short muscle iliacus externus [54, 56], a strong prehallical element for digging and the presence of dorsal shields in some species of Ceratophrys and Lepidobatrachus [10, 24, 57].
A shortened muscle iliacus externus has evidently evolved many times within the hyloids (Fig.
6
). The muscle is progressively diminished within
Lepidobatrachus
in the sequence
L. llanensis
,
L. asper
and
L. laevis
[
58
].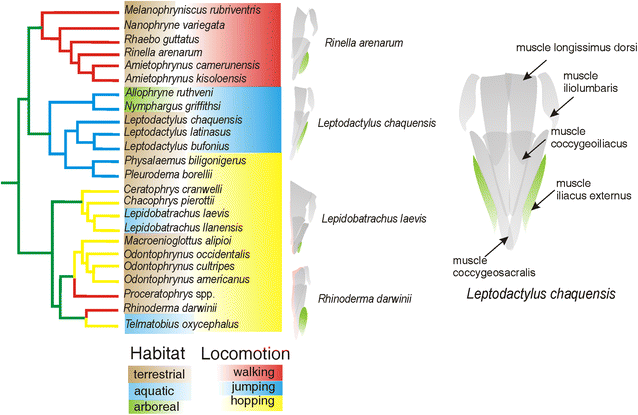 The prehallux is formed by two elements: The proximal one is spherical and the distal one is axehead-shaped. The distal prehallux provides support for a keratinous "spade" used for burrowing by fossorial anurans. The distal prehallux has a pronounced dorsal process that develops early and is well defined before metamorphosis (Fig.
7
). In addition to the ceratophryids, a prehallux with these features occurs in species within the genera
Spea
,
Scaphiopus
,
Odontophrynus
,
Astylosternus
,
Arthroleptis
,
Hemisus
,
Scaphiophryne
,
Breviceps
,
Pyxicephalus
,
Rhinophrynus dorsalis
and
Neobatrachus pictus
[
59
–
64
]. Notably, these taxa largely occupy semiarid regions, where burrowing by the frogs into the ground is protective against desiccation during the drier times of the year.

Mineralized structures in the integument, such as a calcified layer, cranial co-ossification and dorsal shields on presacral vertebrae, have similarly been associated with reducing evaporative water loss in anurans [
65
–
71
]. Dorsal shields are rare among extant anurans, but have been found in some ceratophryids (Fig.
8
), some brachycephalids and few dendrobatids [
7
,
14
,
57
,
72
,
73
]. Dorsal shields also occur in temnospondyl amphibians of the Paleozoic [
65
,
74
]. In ceratophryids, dorsal shields develop via intramembranous ossification and differ from the dorsal shields in
Brachycephalus ephippium
[
57
,
73
]. In
Lepidobatrachus
spp., two or three medial shields arise during the larval stages in an antero-posterior direction from osteoblasts that in turn arise from mesenchymal cells within the hypodermis. In
Ceratophrys cranwelli
, there is a sequential addition of bony shield elements, beginning with the medial plates and progressing to the lateral and caudal ones that appear in advanced postmetamorphic stages [
57
]. Among Ceratophryidae, only
Ce. aurita
,
Ce. cranwelli
,
Ce. joazeirensis
,
Ce. ornata
,
L. asper
and
L. llanensis
bear dorsal shields. It has been proposed that they evolved two or more times in the history of the family [
10
].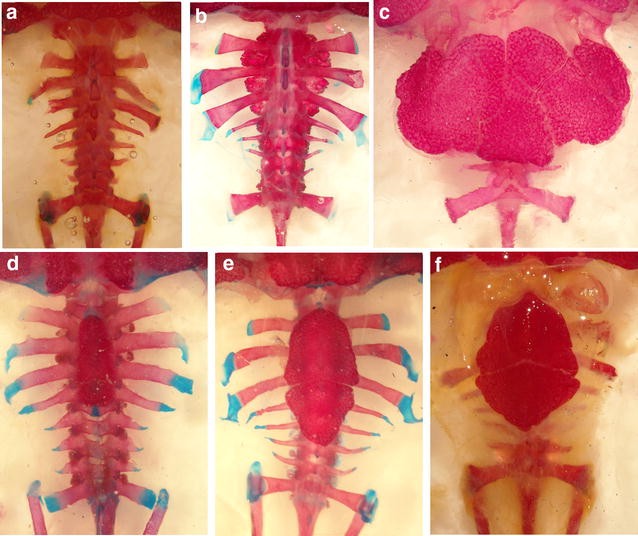 These postcranial morphological traits of ceratophryids are homoplastic and, as already noted, are commonly associated with terrestrial/fossorial habits and resistance to desiccation in anurans (Fig. 1b). Consistent with that is the fact that Chacophrys and Lepidobatrachus are the only anuran genera solely endemic to the semiarid South American Chaco region [50]. Furthermore, the presence of a cocoon as a mechanism to prevent water loss during estivation, even in Ceratophrys spp. from humid environments, supports the idea that the Ceratophryidae originated and diversified in a semiarid environment comparable to what occurs in the contemporary Chaco [10].
Morphological evolution related to the visceral arches and feeding indicative of synapomorphies
The analysis of the derived characters in the horned frogs (Fig. 1), both in larvae and adults, and particularly those distinct to Lepidobatrachus, reveals many developmental changes. In Lepidobatrachus, new ontogenetic trajectories are associated with a wealth of anatomical structures associated with the organisms' pre- and postmetamorphic feeding mechanism. These changes result variously from developmental variation that is recognized as heterochrony, heterometry, heterotopy, and heterotypy or some combination of these developmental processes (Fig. 3; "Appendix"). The occurrence of heterochrony, heterotopy and heterometry may be detected by comparisons between ontogenies and/or adult traits where these processes have consequences in the final shape. For example, heterotopy and heterometry are identified in adult Leptidobatrachus characters in which spatial relationships (e.g., nerves in relation to muscles) are distinct, or morphometric differences appear (e.g., allometry in lower jaw length, ossification of hyoid plate). Heterochrony may occur without morphological consequence in adult traits and requires developmental sequences for interpretations (e.g., sexual maturity). In contrast, heterotypy is observed in unique traits that have their own developmental sequence. Heterotypy, as a developmental phenomenon, is a new ontogenetic trajectory and represents an autapomorphy in a monophyletic lineage.
One of the most remarkable features in horned frogs is the caudal placement of the articulation of the lower jaw up to or beyond the craniovertebral joint (i.e., heterotopy and heterometry). In Lepidobatrachus, the jaw articulation is far behind the craniovertebral joint [7, 50]. This provides them with an enormous gape. Indeed, ceratophryids, and in particular Ceratophrys and Lepidobatrachus, have about the widest mouth openings known in extant anurans.
Skeletal deviations in the ceratophryid hyoid are concomitant with changes in the hyoid musculature implying reduction in the geniohyoideus, omohyoideus and petrohyoidei posteriores muscles [81] (Fig. 12). All of these features appear to be related to a global reduction in the ceratophryids of the tongue protrusion and retraction mechanism (see additional discussion below) compared with that of more generalized frogs, which feed on smaller and faster moving prey.
Additional developmental changes indicative of autapomorphies, heterotypy and morphological novelties
The concept of morphological novelty (i.e., heterotypy and autapomorphy) refers to new anatomical features that may acquire new functions [47, 48], and two alternative pathways for the origin of such evolutionary novelties have been proposed [82]. One pathway is the emergence of a new adaptive peak that could initially coexist with a preexisting one, which implies a change in role or function for a preexisting structure. The other involves the breaking of a developmental constraint that facilitates structural and functional integration. This would lead to a distinctive, viable and potentially unique morphology. Both processes evidently have occurred in the evolution of the Ceratophyridae and can account for much of their morphological diversity.
Figure
13
depicts our interpretation of the evolutionary shift in the ceratophryid feeding mechanism away from the primacy of the tongue in prey capture, as seen in more generalized anurans. This involved the origin of morphological novelties and developmental modifications in ceratophryids for the capture of large prey. The fangs on the lower jaw, for example, appear to have evolved specifically to capture and subdue exceptionally large and active prey [
25
,
83
]. They are integrated with other morphological traits to perform this new function. This includes the absence of pars palatina in the premaxillary, which allows the fangs to be contained within the inner face of the premaxillaries when the mouth is closed. It also includes the development of an immobile mandibular symphysis and reduction in the number of fibers in muscles associated with the floor of the mouth and tongue protrusion mechanism (e.g., muscle submentalis, muscle intermandibularis, and muscle interhyoideus)—this reduction following the sequence
Chacophrys
,
Ceratophrys
and
Lepidobatrachus
[
81
]. The upper jaw bears numerous spur-like and firmly anchored teeth for constraining resistant prey [
75
]. Lastly, the caudal displacement of the jaw suspension has led to the most distinctive feature of the Ceratophyridae namely their enormous gape [
7
]. Collectively, all these features in the horned frogs increase their ability, compared with that of non-ceratophryid hyloid frogs, to capture extremely large and active prey (i.e., megalophagy).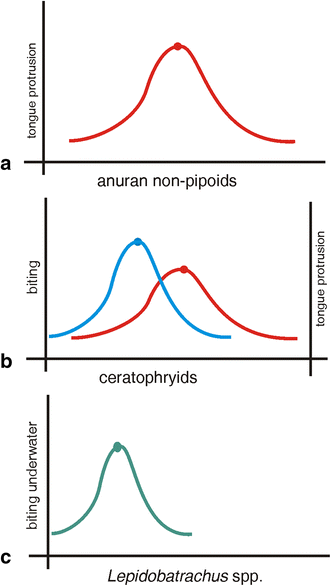 The evolutionary shift in the Ceratophryidae toward feeding on such large prey may, in part, account for their high growth rates. The most extreme shift in form and function is seen in Lepidobatrachus. The genus has a number of unique features in the hyoid skeleton, such as discontinuous ceratohyalia and a dermal bone attached to the dorsal face of the cartilaginous corpus of the hyoid that has not been described in other anurans (Fig. 12). There is as well a reduced number of fibers in the buccal floor muscles, and muscles that attach to the hyoid are similarly reduced in L. llanensis and lost in L. laevis (Fig. 12).
Reduction in the tongue increases room on the oral cavity to contain large prey. It is also true that, given the density and viscosity of water, prey capture with a projectile tongue is relatively inefficient. It appears that Lepidobatrachus has evolved a small tongue with simplified musculature as part of distinctive functional complex for aquatic suction feeding [81]. This represents a new adaptive peak (Fig. 13). Notably the unique features related to feeding in Lepidobatrachus are similar in both the larvae and adults; both life stages are exceptional compared with other tadpoles and adults in their ability to subdue and ingest very large, active aquatic prey.
Among ceratophryids, the increased developmental and growth rates affect all major organ systems of their larvae. Arguably, the most remarkable morphological novelties are seen in the visceral arches (e.g., the lower jaw, hyoid and brachial arches), which are essential for feeding in anuran larvae. Many of the derived features of ceratophryid larvae carryover past metamorphosis to the adults and are thus central to the overall morphological evolution of Ceratophryidae.
Anuran metamorphosis is a constrained ontogenetic period regulated mainly by thyroid hormones (THs). Each tissue responds in a selective manner to TH, with varying degrees of sensitivity to the hormones, but in general metamorphic changes are coordinated and fast [87, 88]. Several studies have shown that TH have multiple effects on organisms and evolutionary changes may occur through physiological changes in tissue sensitivity to TH, which are manifest as heterochronic changes during development [89, 90]. Thyroid glands may themselves evolve. The thyroid glands of ceratophryid larvae show signs of low glandular activity without a manifest peak at metamorphic climax as is characteristic of anurans in general [91]. In addition, different sources of TH or TH precursors from the tadpoles' diet may influence their developmental and growth rates [91]. Many of the heterochronic changes seen in ceratophyrids appear to be due to shifts in both the concentration of TH and TH tissue sensitivity.
Figure
14
summarizes our interpretation of the origin of evolutionary novelties in
Lepidobatrachus
's ontogeny in which shifts in metamorphosis have produced a dramatic and unique larval ecomorphology. The changes in development for the
Lepidobatrachus
tadpole have, in turn, influenced the adult body plan via a breaking of metamorphic constraints. The final result has been the origin of morphological novelties and the rise of a new adaptive peak.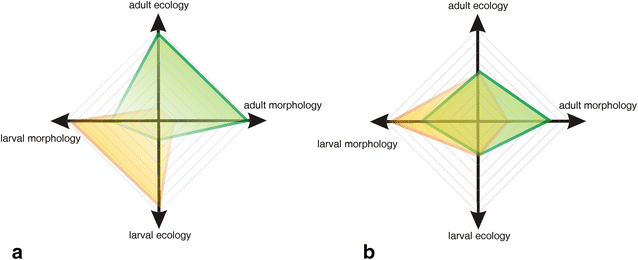 Anuran larvae have historically been classified into four morphological types reflecting intraordinal macroevolution [26, 92]. Other authors [36, 37], however, have argued that the Lepidobatrachus tadpole is unique enough to justify labeling it as a separate morphological type. Commonly in anurans, when there has been an evolutionary departure from the classic four intraordinal types, it is by the suppression of the larval stage resulting in anurans with direct development. The ceratophryids represent, in contrast, a case where developmental variation has favored a different departure from larval constraints. This has resulted in Lepidobatrachus having megalophagous tadpoles unlike the larvae of any other anuran genera. The Lepidobatrachus body plan and life style is thus built upon morphological novelties unique among the Anura.
Despite the fact that the extant ceratophryids share numerous synapomorphies, and abundant molecular data have supported their phylogeny, they remain a monophyletic taxon with controversial in- and out-group relationships. In part, this reflects the fact that there are new structures in the Ceratophryidae that have no homology in their ancestors (i.e., autapomorphies, heterotypies or morphological novelties).
Conclusion
The ceratophryid frogs represent an excellent model to elucidate phenotypic variation through ontogeny, and witness the many ways that heterochrony, and the breaking of developmental constraints, can yield ecomorphological novelties. The influence of this ontogenetic variation is most pronounced in the genus Lepidobatrachus. Indeed, because of its large size and rapid development, Lepidobatrachus laevis has recently been proposed as a model species in experimental studies undertaken to address a wealth of classic questions in amphibian embryogenesis [93]. Furthermore, because of its sympatry with several other ceratophyrid species (in the Gran Chaco of South America) and its well established phylogenetic relationship to those species [10], Lepidobatrachus stands out, not only as model species for studying developmental processes per se, but exceptional for studying the very evolution of those processes.
Abbreviations
dpha:

distal prehallical element
ep:

epidermis
ho:

hypodermis
ml:

muscle levatorae mandibulae longus
mla:

muscle levatorae mandibulae anterior
mle:

muscle levatorae mandibulae externus
mli:

muscle levatorae mandibulae internus
mll:

muscle levatorae mandibulae lateralis
mlp:

muscle levatorae mandibulae longus profundus
mls:

muscle levatorae mandibulae longus superficialis
mm:

millimeter
mx:

maxillary
mxt:

maxillary teeth
pmx:

premaxillary
pmxt:

premaxillary teeth
pph:

proximal prehallical element
sc:

stratum compactum
ss:

stratum spongiosum
TH:

thyroid hormones
V 1 :

ramus ophthalmicus of trigeminus
V 2 :

ramus maxillaris of trigeminus
V 3 :

ramus mandibularis of trigeminus
Declarations
Authors' contributions
MF conceived, designed and performed this revision and wrote the manuscript. SIQ participated in many studies about the morphological variation among ceratophryids and contributed with interpretation and discussion on patterns of heterochrony and heterometry. She also participated in the design and helped to draft the manuscript. JG contributed with interpretation and discussion on patterns on growth and development in anurans and helped to draft the manuscript. JCC is doctoral student in the laboratory of MF studying developmental variation in thyroid glands in anurans and provided data on ceratophryids. MCP is doctoral student in the laboratory of MF studying developmental variation in postaxial skeleton in anurans and participated in discussion on habitat and lifestyles. RJW contributed with discussion and interpretation of data and wrote the manuscript. All authors read and approved the manuscript.
Acknowledgements
This work was supported by FONCyT PICT 616 and 510 to MF, FONCyT PICT 2718 to SIQ, CONICET PIP 497 to MF and NSERC Grant to RJW.
Competing interests
The authors declare that they have no competing interests.
Open AccessThis article is distributed under the terms of the Creative Commons Attribution 4.0 International License (http://creativecommons.org/licenses/by/4.0/), which permits unrestricted use, distribution, and reproduction in any medium, provided you give appropriate credit to the original author(s) and the source, provide a link to the Creative Commons license, and indicate if changes were made. The Creative Commons Public Domain Dedication waiver (http://creativecommons.org/publicdomain/zero/1.0/) applies to the data made available in this article, unless otherwise stated.
Authors' Affiliations
(1)
Instituto de Bio y Geociencias (IBIGEO), Centro Científico Tecnológico CONICET-Salta, Rosario de Lerma, Republic of Argentina
(2)
Department of Medical Neuroscience, Dalhousie University, Halifax, Canada