A comprehensive fate map by intracellular injection of identified blastomeres in the marine polychaete Capitella teleta
Received: 21 May 2010
Accepted: 15 September 2010
Published: 15 September 2010
Abstract
Background
The polychaete annelid Capitella teleta (formerly Capitella sp. I) develops by spiral cleavage and has been the focus of several recent developmental studies aided by a fully sequenced genome. Fate mapping in polychaetes has lagged behind other spiralian taxa, because of technical limitations.
Results
To generate a modern fate map for C. teleta, we injected 1,1'-dioctadecyl-3,3,3'3'-tetramethylindocarbocyanine perchlorate (DiI) into individual identified blastomeres through fourth-quartet micromere formation. Confocal laser scanning microscopy at single-cell resolution was used to characterize blastomere fates during larval stages. Our results corroborate previous observations from classic studies, and show a number of similarities with other spiralian fate maps, including unique and stereotypic fates for individual blastomeres, presence of four discrete body domains arising from the A, B, C and D cell quadrants, generation of anterior ectoderm from first quartet micromeres, and contributions to trunk ectoderm and ventral nerve cord by the 2d somatoblast. Of particular interest are several instances in which the C. teleta fate map deviates from other spiralian fate maps. For example, we identified four to seven distinct origins of mesoderm, all ectomesodermal. In addition, the left and right mesodermal bands arise from 3d and 3c, respectively, whereas 4d generates a small number of trunk muscle cells, the primordial germ cells and the anus. We identified a complex set of blastomere contributions to the posterior gut in C. teleta, which establishes the most complete map of posterior gut territories to date.
Conclusions
Our detailed cellular descriptions reveal previously underappreciated complexity in the ontogenetic contributions to several spiralian larval tissues, including the mesoderm, nervous system and gut. The formation of the mesodermal bands by 3c and 3d is in stark contrast to other spiralians, in which 4d generates the mesodermal bands. The results of this study provide a framework for future phylogenetic comparisons and functional analyses of cell-fate specification.
Keywords
Ventral Nerve CordCiliary BandPolychaete AnnelidSpiral CleavageVisceral Mesoderm
Background
Many metazoan embryos develop via highly stereotyped cleavage programs that enable the identification of individual blastomeres during early development. Embryonic features that aid identification include differences in cell size or pigmentation, or in spindle orientation relative to the primary egg axis. Such embryos are amenable to cell-lineage and fate-mapping studies, which establish the developmental origins of definitive regions, tissues and organs in larval and adult animals, and provide the groundwork for functional studies. Cell-lineage and fate-mapping studies were among the first rigorous attempts at characterizing embryogenesis in the late 19th century in embryos as diverse as parasitic nematodes, ascidians, ctenophores, annelids, mollusks and various other marine invertebrates. The ability to follow descendants of identified cells has increased dramatically in recent years with the advent of improved fluorescent reagents for intracellular labeling and advanced imaging techniques.
Early cell-lineage and fate-mapping studies revealed that animals with dissimilar adult body plans probably shared a common evolutionary ancestor, based on similar developmental features. A spectacular example is a group of animals that displays a pattern of early development called spiral cleavage. This pattern of development is recognizable by the timing, orientation and/or size of individual cell divisions, and is found in a large number of diverse animal groups including mollusks, annelids, sipunculans, echiurans, nemerteans, myzostomids, ectoprocts, polyclad flatworms and potentially gnathostomulids. Molecular phylogenomic analyses [1–4] have indicated that the spiral cleavage program was probably an ancestral characteristic of all non-ecdysozoan protostomes (lophotrochozoans) that was subsequently lost in select taxa including lophophorates (brachiopods, phoronids), gastrotrichs, rotifers, parasitic (non-polyclad) platyhelminthes and cephalopod mollusks. However, a better understanding of the exact relationships among lophotrochozoans, particularly between members of the Platyzoa (for example, gnathostomulids, gastrotrichs, rotifers and platyhelminthes), is needed to determine whether spiral cleavage was an ancestral character for all lophotrochozoans (Spiralia) or just a subset (Trochozoa).
During spiral cleavage, the cleavage spindles of the first two divisions are oriented perpendicular to the animal-vegetal axis, and divide the zygote into four quadrants. The cells born from these first divisions are denoted the A, B, C and D blastomeres (Figure
1A
). In animals with unequal spiral cleavage, the first two divisions are unequal in size, allowing for unambiguous identification of each blastomere. Starting with the third cleavage, the four macromeres generate tiers of often smaller, animal daughters (micromeres) in alternating orientation (Figure
1A
). In the majority of spiralians, the first tier of micromeres is cleaved in a clockwise (dexiotropic) direction when viewed from the animal pole. This is followed by a counterclockwise cleavage (laeotropic) of the second tier of micromeres. These divisions result from the alternating 90 degree orientation of the mitotic spindles, and produce a 'spiral' pattern of micromeres, the hallmark of the spiral cleavage program. Blastomere nomenclature follows that of Conklin [
5
]. Macromeres are denoted by an upper case letter and micromeres by a lower case letter, corresponding to their quadrant of origin (Figure
1A
). Each blastomere has a number corresponding to its birth order. For example, after the first spiral cleavage (eight-cell stage), the macromeres are named 1A, 1B, 1C and 1D, and the micromeres are named 1a, 1b, 1c and 1d; after the second spiral cleavage (16-cell stage), the macromeres are 2A, 2B, 2C and 2D and the micromeres are 2a, 2b, 2c and 2d (Figure
1A
). Subsequent micromere divisions are denoted by numerical superscripts, a '1' for the animal-most daughter and a '2' for the vegetal daughter. For example, first quartet micromeres divide to give rise to four animal micromere cells (1a
1
, 1b
1
, 1c
1
and 1d
1
) and four vegetal micromere cells (1a
2
, 1b
2
, 1c
2
and 1d
2
).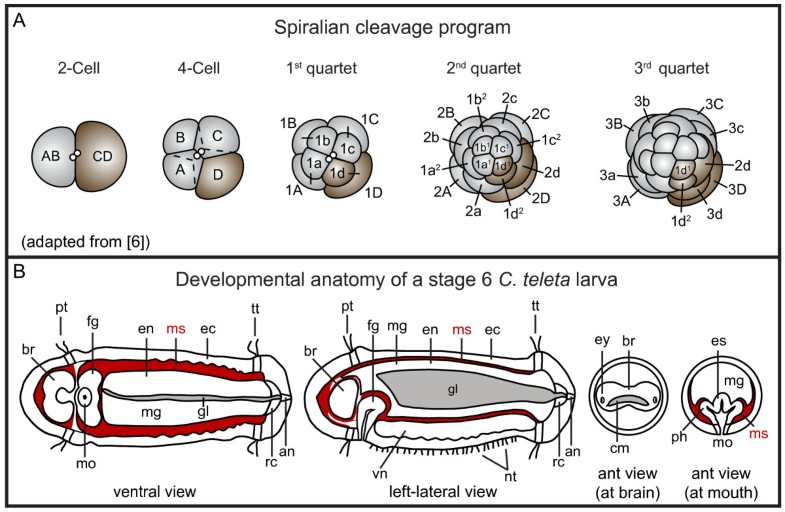 In addition to the conserved pattern of spiral cleavage, blastomere fates are also largely conserved. Generally, animal micromeres give rise to ectoderm, whereas vegetal macromeres give rise to endoderm. Another frequently conserved fate is that of the left and right larval eyes, which are generated by micromeres 1a and 1c, respectively. Of particular importance in spiralian development are two cells derived from the D quadrant. In annelids, the 2d micromere, called the primary somatoblast, gives rise to the majority of trunk ectoderm posterior to the mouth. The 4d cell, called the mesentoblast, is the only micromere in any spiralian embryo that generates both mesoderm and endoderm [6, 7].
Although early descriptive work on spiralian embryos emphasized similarities in the fates of identified cells, modern intracellular studies have identified a number of species-specific differences. For example, the larval eyes of chitons (polyplacophoran mollusks) are generated from the second quartet micromeres 2a and 2c, rather than from 1a and 1c as observed in all other species examined [8]. Likewise, the origin of ectomesoderm, which is mesoderm derived from the first three quartets of ectodermal micromeres, varies across species and contrasts with the highly conserved origin of endomesoderm derived from 4d [7, 9–11]. Differences in blastomere fate among species probably reflect meaningful phylogenetic variation in the development of homologous cells over evolutionary time, and provide a foundation for molecular investigations of the causal basis of cell-fate determination.
Polychaete annelids are a widely diverse group of primarily marine segmented worms. Although there are classic cell-lineage descriptions from the late 19th century, generation of fate maps for polychaetes using intracellular lineage tracers has lagged behind those of other taxa. The only published intracellular fate-mapping study of a polychaete annelid is for the ragworm Platynereis dumerilii, in which the first quartet micromeres (1a to 1d) and macromeres (1A to 1D), 2d112, 4d and 4d1 were directly filled [12]. Although there are substantial detailed lineage data for clitellid annelids (leeches and oligochetes), these animals have a modified spiral cleavage program that gives rise to a specialized set of ectodermal and mesodermal teloblast cells not described in polychaetes. To generate a modern fate map for the polychaete annelid Capitella teleta[13], previously known as Capitella sp. I, we injected the fluorescent dye 1,1'-dioctadecyl-3,3,3'3'-tetramethylindocarbocyanine perchlorate (DiI) intracellularly into identified blastomeres, and examined their fate at larval stages using confocal laser scanning microscopy. We determined the fates of each blastomere through formation of the fourth quartet of micromeres. The results of this study are compared with fate maps of other spiralian embryos, with particular emphasis on those fate maps generated using intracellular injections.
Conclusions
Intracellular injection of the lineage tracer DiI into individual blastomeres (1q, 1q1, 1q2, 2q, 3q, 4d, 2Q, 3Q and 4D) in C. teleta has provided the most complete fate map for any polychaete annelid to date. Many features of the C. teleta fate map are similar to those found in other annelids, including the generation of the anterior ectoderm and prototroch by first quartet micromeres and the majority of post-trochal ectoderm by the primary somatoblast 2d. Increased resolution through the use of confocal laser scanning microscopy enabled us to generate a detailed fate map for regions such as the prototroch, mesoderm, nervous system and gut. Our analyses reveal complex contributions to these structures from several blastomere lineages. For example, more cells contribute to the posterior gut than previously documented for any other spiralian and four to seven distinct blastomeres generate mesoderm in C. teleta, all from ectomesodermal sources. We also identified modifications of the typical spiralian fate map in C. teleta; the most dramatic difference is the formation of the mesodermal bands by 3c and 3d rather than by 4d, which generates the mesodermal bands in all other spiralians examined. The fate map of C. teleta will provide a framework for future comparisons with other spiralian fate maps and the foundation for functional experiments of cell-fate determination in this species.
Methods
Animal care
A laboratory colony of C. teleta was maintained and embryos were collected as described previously [15], with the exception that adult animals were kept in filtered seawater (FSW) (passed through 20 μm filter) at 19°C. After injection, embryos were raised at 19°C in FSW (through 0.2 μm filter) with 60 μg/ml penicillin (Sigma-Aldrich Co., St Louis, MO, USA) and 50 μg/ml streptomycin (Sigma-Aldrich Co.) added.
DiI labeling
For injections, the egg shell was permeabilized by a 30-second incubation in a 1:1 mixture of fresh 1 mol/L sucrose and 0.25 mol/L sodium citrate followed by two to three rinses with FSW. Individual blastomeres were pressure-injected with 1 part DiIC18(3) (1,1'-dioctadecyl-3,3,3',3'-tetramethylindocarbocyanine perchlorate; Invitrogen, Carlsbad, CA, USA) saturated in ethanol to 19 parts soybean oil (Wesson; ConAgra Foods Inc., Omaha, NE, USA) using aluminosilicate needles (Sutter Instrument Co., Novata, CA, USA). After labeling, uninjected and injected animals from the same brood (same stage of development) were raised for the same amount of time, and rates of development and morphological features were compared. An experiment was not scored unless 90% of the injected and 90% of the uninjected animals were healthy (morphologically normal and similar timing of development).
Animals at various developmental stages were imaged either live or fixed (DiI fixation) [78]. For compound fluorescence microscopy, fixed animals were incubated overnight at 4°C in a fluorescently conjugated toxin that recognizes F-actin (BODIPY FL-phallacidin; Invitrogen) diluted 1:100 in phosphate-buffered saline (PBS), then rinsed three to four times in PBS, incubated in 80% glycerol in PBS plus 0.125 μg/mL bisbenzimide Hoechst 33342 (Sigma-Aldrich Co.) for 3 to 12 h at 4°C and then analyzed. For confocal laser scanning microscopy, animals were incubated overnight at 4°C in a 1:1000 dilution of a nucleic acid stain (TO-PRO-3 iodide; Invitrogen) and 1:100 dilution of a phallotoxin (either BODIPY FL-phallacidin or Alexa Fluor 488-phalloidin; Invitrogen) in PBS, rinsed three to four times in PBS, then incubated in mounting media with an antifade reagent (SlowFade Gold; Invitrogen) for at least 3 h at 4°C, and analyzed.
Microscopy
For compound fluorescence imaging, live and fixed DiI-labeled animals were imaged (Axioskop 2 Plus with an AxioCam HRm camera; both Carl Zeiss Inc., Munich, Germany) and analyzed (Openlab software, version 4.0.1; PerkinElmer Inc., Waltham, MA, USA). Confocal imaging was performed using a confocal microscope (LSM 510; Carl Zeiss). Z-stack projections were then generated (ImageJ; National Institutes of Health, Bethesda, MD, USA). Figures were constructed using illustration software (Photoshop CS4 and Illustrator CS4; Adobe Systems Inc., San Jose, CA, USA).
Declarations
Acknowledgements
This work was supported by the National Science Foundation (IOB05-44869 to ECS).
Authors' Affiliations
(1)
Kewalo Marine Laboratory, Pacific Biosciences Research Center, University of Hawaii, Honolulu, USA
(2)
Smithsonian Marine Station at Fort Pierce, Fort Pierce, USA
Copyright
© Meyer et al; licensee BioMed Central Ltd. 2010
This article is published under license to BioMed Central Ltd. This is an Open Access article distributed under the terms of the Creative Commons Attribution License (http://creativecommons.org/licenses/by/2.0), which permits unrestricted use, distribution, and reproduction in any medium, provided the original work is properly cited.