Cleavage pattern and fate map of the mesentoblast, 4d, in the gastropod Crepidula: a hallmark of spiralian development
Received: 22 May 2012
Accepted: 24 July 2012
Published: 19 September 2012
Abstract
Background
Animals with a spiral cleavage program, such as mollusks and annelids, make up the majority of the superphylum Lophotrochozoa. The great diversity of larval and adult body plans in this group emerges from this highly conserved developmental program. The 4d micromere is one of the most conserved aspects of spiralian development. Unlike the preceding pattern of spiral divisions, cleavages within the 4d teloblastic sublineages are bilateral, representing a critical transition towards constructing the bilaterian body plan. These cells give rise to the visceral mesoderm in virtually all spiralians examined and in many species they also contribute to the endodermal intestine. Hence, the 4d lineage is an ideal one for studying the evolution and diversification of the bipotential endomesodermal germ layer in protostomes at the level of individual cells. Little is known of how division patterns are controlled or how mesodermal and endodermal sublineages diverge in spiralians. Detailed modern fate maps for 4d exist in only a few species of clitellate annelids, specifically in glossiphoniid leeches and the sludge worm Tubifex. We investigated the 4d lineage in the gastropod Crepidula fornicata, an established model system for spiralian biology, and in a closely related direct-developing species, C. convexa.
Results
High-resolution cell lineage tracing techniques were used to study the 4d lineage of C. fornicata and C. convexa. We present a new nomenclature to name the progeny of 4d, and report the fate map for the sublineages up through the birth of the first five pairs of teloblast daughter cells (when 28 cells are present in the 4d sublineage), and describe each clone's behavior during gastrulation and later stages as these undergo differentiation. We identify the precise origin of the intestine, two cells of the larval kidney complex, the larval retractor muscles and the presumptive germ cells, among others. Other tissues that arise later in the 4d lineage include the adult heart, internal foot tissues, and additional muscle and mesenchymal cells derived from later-born progeny of the left and right teloblasts. To test whether other cells can compensate for the loss of these tissues (that is, undergo regulation), specific cells were ablated in C. fornicata.
Conclusions
Our results present the first fate map of the 4d micromere sublineages in a mollusk. The fate map reveals that endodermal and mesodermal fates segregate much later than previously thought. We observed little evidence of regulation between sublineages, consistent with a lineage-driven cell specification process. Our results provide a framework for comparisons with other spiralians and lay the groundwork for investigation of the molecular mechanisms of endomesoderm formation, germ line segregation and bilateral differentiation in Crepidula.
Keywords
Primordial Germ CellApical OrganRetractor MusclePolar LobePhallacidin
Background
Endomesoderm is an ancient cell type that gives rise to a wide array of tissues in bilaterians and its origin and diversification are the subjects of great interest and debate [1–3]. One of the largest assemblages of bilaterians is the Spiralia, which includes mollusks, annelids, sipunculans, echiurans, myzostomids, nemerteans, platyhelminths, entoprocts and gnathostomulids [4]. Despite the profound disparity in their adult body plans, most spiralians share a conserved early cleavage program that allows one to draw direct homology at a single cell level between taxa that have been diverging for hundreds of millions of years. Yet within this conserved framework, variation exists between species, which is documented in the literature going back to the late 19th century [5–10]. This provides unparalleled opportunities for asking how cells, tissue layers and organ systems have evolved within a stereotyped cleavage program [11]. These attributes make spiralians a powerful system for studying the evolution of different tissues, including endomesoderm.
In many spiralians, mesoderm arises from two distinct regions of the embryo [
12
]. One source is from the second and third quartet micromeres, and is referred to as ectomesoderm because these quartets also give rise to ectoderm. The other source of mesoderm is a single cell, the 4d micromere, which is referred to as the mesentoblast because it typically contributes to both mesodermal and endodermal fates [
10
]. The particular micromeres that give rise to ectomesoderm vary among species
,
but 4d gives rise to mesoderm in all embryos that have been studied [
10
]. In most instances 4d divides bilaterally and these teloblasts generate paired endodermal precursors and mesodermal bands from which definitive visceral mesoderm arises (Figure 
1
; see [
13
] as an exception). This behavior represents a critical and profound transition between early spiral cleavage divisions and subsequent bilateral cleavage divisions that help construct the bilaterian body plan in this clade. These characteristics make 4d one of the most conserved features of spiralian development [
4
]. In some species it is clear that 4d has an additional role as the embryonic organizer that establishes dorsal-ventral polarity [
10
,
14
,
15
]. Although 4d plays an important role in development, there is very little understanding of how this sublineage gives rise to distinct mesodermal and endodermal fates in spiralians. To date, the sublineages of 4d have been investigated using modern lineage tracing in just a few species of glossiphoniid leeches and the sludge worm
Tubifex
[
16
–
19
]. Within the mollusks, the early cleavage pattern of the 4d lineage has been reported in the mud snail
Ilyanassa obsoleta
[
20
,
21
], but a fate map has yet to be generated.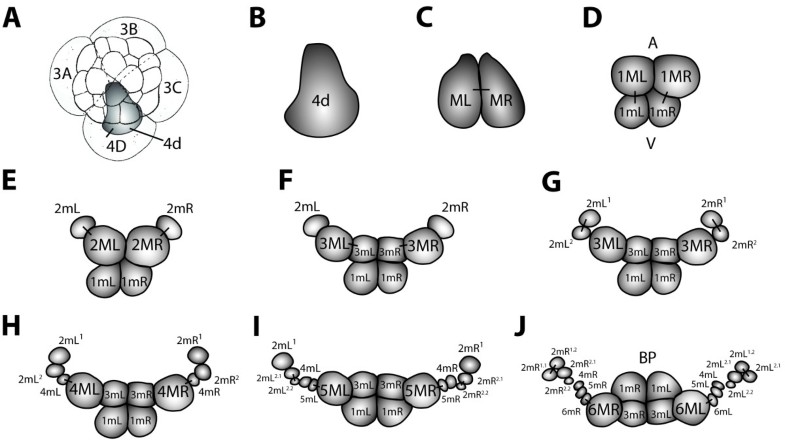 Here we report a comprehensive fate map of 4d in the slipper snail Crepidula fornicata and a closely related species, C. convexa. Crepidula is a model system for studying the spiralian cleavage program and subsequent development [22, 23]. It was in Crepidula, in fact, that the term mesentoblast was first applied to the 4d micromere [5, 23]. A detailed fate map has already been described for the larval contributions of the first through fourth quartet micromeres and the four fourth quartet macromeres [24]. In that study, 4d was found to give rise to many cell types including the bilateral mesodermal bands, the intestinal hindgut, the left and right velar retractor muscles, and the adult kidney and larval kidney complexes [24]. Henry et al. [22] presented preliminary descriptions related to the cleavage pattern of the 4d cell in C. fornicata up through the formation of the first four pairs of teloblast daughters (when 12 cells are present in the 4d sublineage). Here we extend and refine that analysis up through the formation of the 6mL/R cells and describe the specific fates of 1mL/R through 5mL/R. We followed the behavior of these 4d sub-clones through gastrulation and early organogenesis stages, and report the ultimate contributions of specific sublineages to preveliger and veliger tissues. We have found that the hindgut comes from the 1m, 3m, 4m and 5m cells, more than were previously thought [23, 24]. The 2m cells give rise to many different cell types including cells located beneath the apical organ, muscles surrounding the esophagus, retractor muscles, the absorptive and crystal cells of the larval kidney complex and the presumptive germ cells. Additional tissues, including heart and muscle cells, come from the 6M teloblasts (that is, their later-born daughter cells). We have found that the cleavage pattern and contributions of 4d through the birth of the 4m/4M cells are identical in the direct-developing congeneric species C. convexa. We carried out ablations of specific 4d daughter cells in C. fornicata and found little evidence of regulation for missing sublineages. These data provide the framework for understanding the mechanistic underpinnings of endomesoderm differentiation, and provide a point of comparison for similar studies in other spiralians.
Methods
Collection of adults and embryonic material
Adult C. fornicata were collected by the Marine Resources Department of the Marine Biological Laboratory (Woods Hole, MA, USA). Adult C. convexa were obtained at low tide from Waquoit Bay near the Waquoit Bay National Estuarine Research Reserve Headquarters (Falmouth, MA, USA). Adults were maintained in sea tables under running natural seawater. Embryos were obtained as previously described [15, 22, 25, 26]. Briefly, embryos were removed from their egg sacs and reared in 0.2-μm-filtered seawater (FSW) at room temperature (approximately 20°C) in gelatin-coated dishes. Penicillin (100 U/mL) and streptomycin sulfate (200 μg/mL) were added to prevent bacterial growth.
Lineage tracing
Lineage tracing was carried out as previously described ([
22
,
24
]; see also [
26
]). 4d blastomeres were microinjected at the 25-cell stage with 10,000 molecular weight (MW) rhodamine green dextran (Molecular Probes, Eugene, OR, USA) dissolved in 40% glycerol at a final concentration of 0.2 μg/mL (Figure 
2
). Cells were injected by pressure injection (Xenoworks digital microinjector, Sutter Instrument, Navato, CA, USA) using glass micropipettes and a fluorescence dissecting microscope. At subsequent stages of development, individual progeny of 4d were then pressure-injected with DiI dissolved in fresh soybean oil (Figure 
3
; see [
22
,
26
–
29
]). In some cases, 4d was injected with either DiI dissolved in fresh soybean oil or 10,000 MW rhodamine dextran (Molecular Probes, Eugene, OR, USA) dissolved in 40% glycerol at a final concentration of 0.2 μg/mL. Progeny of 4d were subsequently injected with 10,000 MW rhodamine green dextran dissolved in 40% glycerol at a final concentration of 0.2 μg/mL. Cases were examined and photographed live via fluorescence microscopy (see below). Live specimens were mounted as previously described [
15
]. Image acquisition was done using a Lumenera camera (Lumenera Corp., Ottawa, ON Canada), a Zeiss Axiocam (Carl Zeiss Inc., Munich, Germany), or a Spot Flex camera (SPOT Imaging Solutions, Sterling Heights, Michigan, USA) .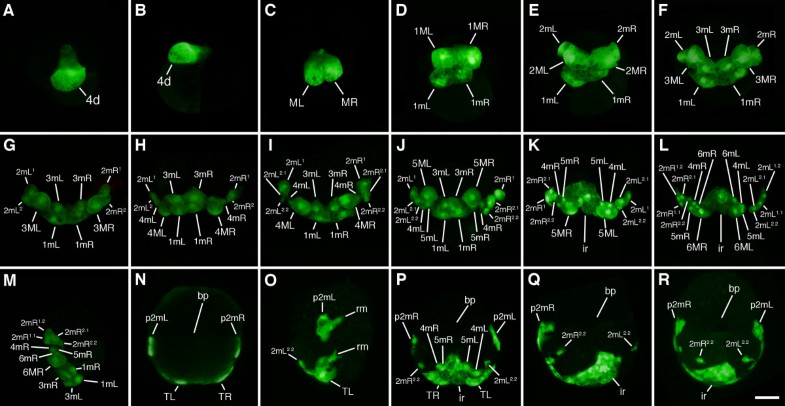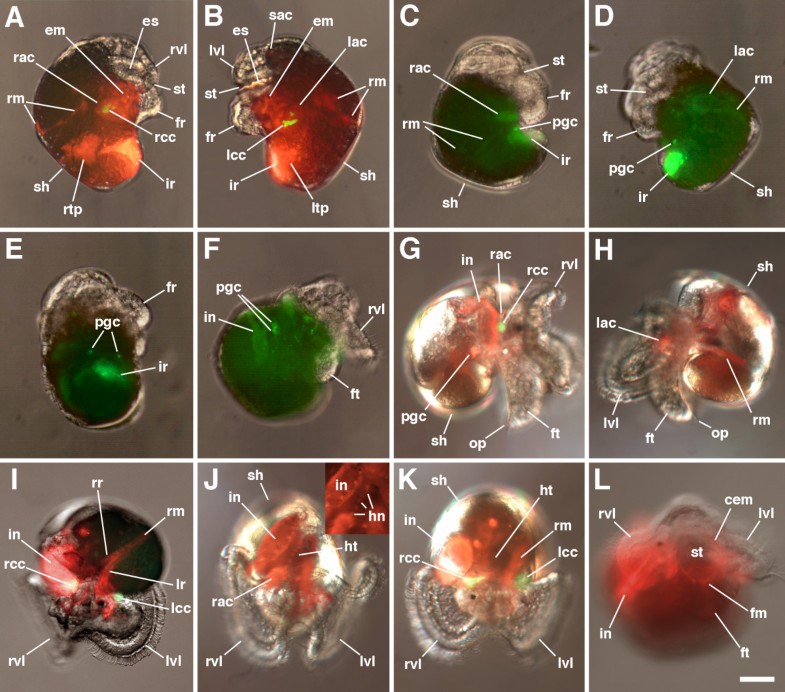 Fixation and staining
Some embryos and larvae were fixed in 3.7% formaldehyde in FSW for 30 minutes to one hour at room temperature and rinsed in 1X PBS (1.86 mM NaH2PO4, 8.41 mM Na2HPO4, 175 mN NaCl, pH 7.4) twice before storage at 4°C. To prevent bacterial growth, 0.01% NaN3 was added. Cases were stained with BODIPY FL phallacidin (Molecular Probes, Eugene, OR, USA), which selectively binds the filamentous actin present in differentiated muscle cells. Care was taken to not expose embryos to methanol or ethanol, which is not conducive to phallacidin staining. Specimens were washed three times in 1X PBS and 0.2% Triton X-100 in glass depression dishes. Phallacidin was diluted 1:500 in 1X PBS and 0.2% Triton X-100 by placing the required volume of phallacidin in the empty well of a depression dish, and allowing the methanol diluent to evaporate. The phallacidin was re-eluted in PBS and 0.2% Triton X-100 and specimens were added to this mixture to incubate in the dark at 4°C for 72 to 96 hours. The longer incubation time ensures complete staining of muscles, including those attached deep within the shell of older larvae. Specimens were rinsed three times in 1X PBS and 0.2% Triton X-100 and mounted in 80% glycerin diluted in 1X PBS. Hoechst (1:10,000 dilution) was added to the 80% glycerol in 1X PBS to visualize nuclei.
Confocal microscopy
Live DiI- and dextran-labeled embryos were mounted in filtered seawater between Rain-X-coated (ITW Global Brands, Houston, TX, USA) glass slides and coverslips supported by clay feet. Embryos were imaged with an inverted LSM 700 confocal microscope (Carl Zeiss Inc., Munich, Germany). Confocal Z-stacks were processed to make maximum projections with ImageJ software (National Institutes of Health, Bethesda, MD, USA).
Laser ablation
To examine the developmental capacity of selected cells and to look for the necessity of inductive interactions or possible regulation by neighboring cells, specific progeny of 4d were removed using a Zeiss Axioscope equipped with a 20× XYClone laser objective (Hamilton-Thorne, Beverly, MA
,
Figure 
4A,B
). This objective contains an infrared (IR) laser diode (wavelength approximately 1,450 nm) for precise thermal lysing that destroys individual blastomeres. The embryos are mounted under glass coverslips on Rain-X-coated glass slides. Short, focused pulses of IR energy are delivered to individual cells within the embryos. The IR laser focal waist diameter (to the e
-2
level) is approximately 4.5 μm, which is collimated to match the visible focal point of the objective. Optimal settings for blastomere ablation need to be determined empirically, and depend on the age and size of the cells. Here each cell (10 to 50 μm in diameter) was ablated using a series of pulses. A train of two to three pulses (set to 100% laser power of approximately 300 mW), each with duration of 200 to 240 μsec delivered over one second, was found to work well without damaging neighboring cells. This was verified by examining the behavior of adjacent labeled cells to see if they continued to divide normally and by examining the resulting cell fates at later stages of development. Laser-ablated cells rupture or swell and are expelled from the embryo in a matter of a few minutes. The loss of the cell and its contents was verified under epifluorescence illumination. The XYClone software calculates and displays the distances for different isotherms of maximum temperature levels, which is useful for helping one to limit collateral damage to adjacent cells. The use of a number of shorter pulses eliminates the potential for such damage due to conductive heating when compared with the use of a single longer pulse. Because the laser beam converges and diverges above and below the focal waist with a conical angle of 26.8°, the beam's energy becomes spread out above and below the focal point (waist). Combined with the fact that the IR light is highly absorbed by the water (see below), cells above and below the focal point are less likely to be damaged by the beam, and heat energy is rapidly dissipated (conducted) by the surrounding media (that is, sea water). Further discussion of the physics behind the use of IR lasers for the manipulation of eggs and embryonic cells may be found elsewhere [
30
,
31
].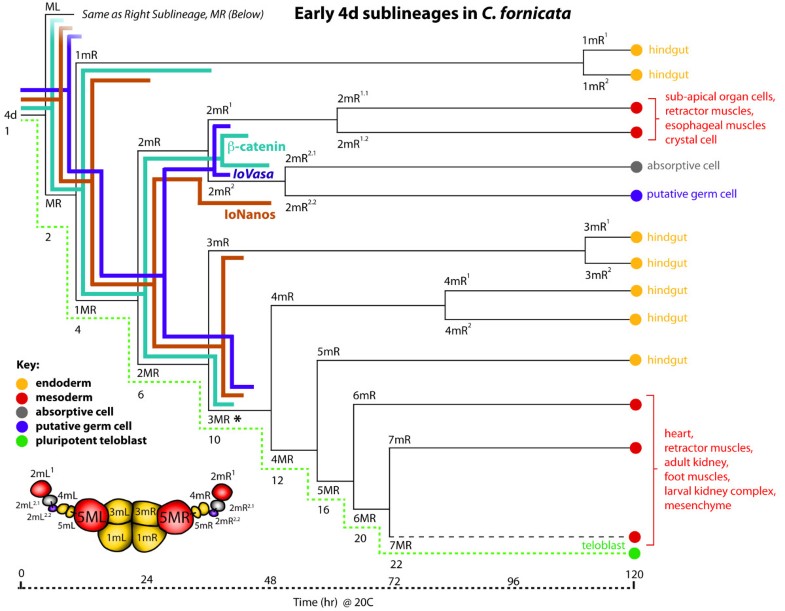 The wavelength of 1,450 nm represents the local IR absorption peak for water. Water's highly efficient absorption of IR light is a property that must be taken into consideration when conducting these experiments. The beam is strongly absorbed by water (absorption coefficient of approximately 28 cm
-1
). The following formula describes the attenuation of IR light as it passes through water:
For example, with a distance of 250 μm, IR laser power is reduced to 49.7%, meaning that roughly half of the energy is lost when the light travels through this much water. Therefore, to obtain effective and consistent results, the height of the coverslip must be uniform and the depth of the media kept as shallow as possible. To achieve these conditions and to prevent the embryos from being crushed, the glass coverslips were supported by glass feet of uniform thickness (made from slivers of coverslips of the required thickness, see Figure 4A). These coverslips may be stacked in any configuration to obtain the desired height. The coverslip feet were cut using a diamond scribe and fixed to opposite edges of an intact coverslip using paraffin wax melted on a hot plate. Care must be taken to not use too much wax, which can increase the height of the feet. Any excess wax was removed using a razor blade and the coverslip was then polished clean using tissue paper. In this study we used number 1.5 glass coverslips for both the supporting feet and the top coverslip, which ensured a minimal water path for the laser light to reach the target.
As the XYClone objectives were originally intended for use on inverted microscopes, they are optically corrected for the thickness of plastic culture dishes (approximately 1 mm). To obtain an optimal high-resolution image using an upright microscope, one needs to add a secondary coverslip made from a glass slide (approximately 1m thick, which can also be cut using a diamond scribe). This coverslip can be placed on top of the coverslips described above or used in lieu of a thinner coverslip when affixing the glass feet (see above). The requirement for this secondary coverslip is much less critical when using the 20× XYClone objective, but is essential if one instead uses the 40× XYClone objective, which has a higher numerical aperture.
To visualize the progeny of 4d for laser ablation, the mesentoblast was initially injected with either DiI or rhodamine dextran, which is inherited by all of its progeny. Embryos were viewed via the fluorescence microscope equipped with the laser. Laser target acquisition was done using the computer's camera display and XYClone software, or the laser system's virtual 'heads-up' 'RED-I' spot visible directly through the microscope eyepieces. Live image acquisition for documentation was done using the Luminera camera controlled by the XYClone software (Hamilton-Thorne, Beverly, MA). Other images were captured using a Zeiss Axiocam (Carl Zeiss Inc., Munich, Germany).
Conclusions
The insights mentioned above emphasize the importance of undertaking careful lineage analyses using long-lived lineage tracers and methods like live imaging using confocal microscopy [13, 18, 63, 115]. A further demonstration is the fact that recent high-resolution lineage studies have revealed that 4d might also produce ectodermal cells. Meyer et al. [13] argue that Capitella's 4d cell represents a 'mesectoblast' because it gives rise to ectodermal cells that make up the anus (Table 1). In Helobdella, 4d appears to contribute to the formation of all three germ layers, because it gives rise to cells in the provisional integument and elements of the nervous system [16, 18, 71]. Our analysis of Crepidula revealed that 4d forms specialized cells exposed on the surface of the larva (the external absorptive cells derived from 2mL2.1/R2.1[54, 55]). If these cells are ectodermal, then the 4d blastomere should be considered an 'ectomesentoblast' in Crepidula as well (Table 1).
Together, these studies uncover significant diversity in terms of the contributions of 4d in these different spiralian embryos. In reviewing the information summarized in Table 1, which includes a more basal representatives (a polyclad turbellarian in the Platyhelminthes), one might argue that the ancestral condition is one in which 4d gave rise to both endoderm and mesoderm, in addition to the primordial germ cells. Therefore, contributions to ectodermal fates may represent traits more recently derived within certain organisms.
Declarations
Acknowledgements
The authors thank the community of the Marine Biological Laboratory and especially Drs. Nipam Patel and Lee Niswander for their support. The authors also acknowledge generous assistance and advice from Hamilton-Thorne. DCL thanks DR McClay for his support. Professional Development for MPL was partially supported by EDENRCN, NSF Grant #105-0955517. This material is based upon work supported by the National Science Foundation under Grant No. 1121268 to JQH (JJH). Any opinions, findings, and conclusions or recommendations expressed in this material are those of the authors and do not necessarily reflect the views of the National Science Foundation.
Authors' Affiliations
(1)
Biology Department, 4115 French Family Science Center, Duke University, Durham, USA
(2)
Department of Cell and Developmental Biology, University of Illinois, Urbana, USA
(3)
Department of Biology, McGill University, Montreal, Canada
(4)
Smithsonian Tropical Research Institute, Balboa, Republic of Panama
Copyright
© Lyons et al.; licensee BioMed Central Ltd. 2012
This article is published under license to BioMed Central Ltd. This is an Open Access article distributed under the terms of the Creative Commons Attribution License (http://creativecommons.org/licenses/by/2.0), which permits unrestricted use, distribution, and reproduction in any medium, provided the original work is properly cited.