A quantitative reference transcriptome for Nematostella vectensis earlyembryonic development: a pipeline for de novo assembly in emergingmodel systems
Received: 4 January 2013
Accepted: 14 March 2013
Published: 3 June 2013
Abstract
Background
The de novo assembly of transcriptomes from short shotgun sequencesraises challenges due to random and non-random sequencing biases andinherent transcript complexity. We sought to define a pipeline for denovo transcriptome assembly to aid researchers working withemerging model systems where well annotated genome assemblies are notavailable as a reference. To detail this experimental and computationalmethod, we used early embryos of the sea anemone, Nematostellavectensis, an emerging model system for studies of animal body planevolution. We performed RNA-seq on embryos up to 24 h of developmentusing Illumina HiSeq technology and evaluated independent de novoassembly methods. The resulting reads were assembled using either theTrinity assembler on all quality controlled reads or both the Velvet andOases assemblers on reads passing a stringent digital normalization filter.A control set of mRNA standards from the National Institute of Standards andTechnology (NIST) was included in our experimental pipeline to invest ourtranscriptome with quantitative information on absolute transcript levelsand to provide additional quality control.
Results
We generated >200 million paired-end reads from directional cDNA librariesrepresenting well over 20 Gb of sequence. The Trinity assembler pipeline,including preliminary quality control steps, resulted in more than 86% ofreads aligning with the reference transcriptome thus generated.Nevertheless, digital normalization combined with assembly by Velvet andOases required far less computing power and decreased processing time whilestill mapping 82% of reads. We have made the raw sequencing reads andassembled transcriptome publically available.
Conclusions
Nematostella vectensis was chosen for its strategic position in thetree of life for studies into the origins of the animal body plan, however,the challenge of reference-free transcriptome assembly is relevant to allsystems for which well annotated gene models and independently verifiedgenome assembly may not be available. To navigate this new territory, wehave constructed a pipeline for library preparation and computationalanalysis for de novo transcriptome assembly. The gene modelsdefined by this reference transcriptome define the set of genes transcribedin early Nematostella development and will provide a valuabledataset for further gene regulatory network investigations.
Keywords
TranscriptomeGene regulatory networkNematostella embryonic developmentBody plan evolutionNext-generation sequencingIllumina HiSeqTrinityOasesRNA-seq
Background
Nematostella vectensis, the starlet sea anemone, offers many advantages asa model system for the evolution of animal developmental programs. As an anthozoancnidarian, it is strategically positioned as an outgroup to Bilateria [1–3] and is well situated to reveal the early steps in the evolution of thebilaterian body plan. Two of these evolutionary steps are likely to include theformation of a secondary body axis and a mesodermal germ layer which are bothessential, defining characteristics of a bilaterian animal. Embryonic dorsal-ventralpatterning and mesodermal development have been studied in many bilaterian modelsyet the origins of these significant body plan innovations are not well understood.Initial studies of gene expression in Nematostella and non-anthozoancnidarians have revealed that genes important to bilaterian mesoderm specificationare expressed in the endoderm of the sea anemone, and suggests that the bilaterianmesoderm may have originated from the endoderm of diploblastic ancestors [4–6]. Genes encoding factors involved in dorsal-ventral axis specification inBilaterians are likewise asymmetrically expressed in Nematostella,indicating the possibility that a secondary axis was present in theCnidarian-Bilaterian ancestor [7, 8]. Defining the mechanisms controlling Nematostella developmentwill help address these questions about the early evolutionary steps that led tobilaterian body plans with three germ layers and bilateral symmetry.
Gene regulatory networks (GRN) provide predictive models of gene regulation, as inthe several examples that now exist for normal animal development (for example,Drosophila[9], sea urchin [10, 11], ascidians [12], chick [13], and zebrafish [14]). To gain a comprehensive view of the control system, it is necessary toidentify all genes whose products make up the regulatory network. This applies toour current research efforts but is also generally applicable to studies ofvirtually any regulatory system. Advanced sequencing platforms now allow us to dothis through RNA-seq techniques. Yet, deep RNA-seq brings challenges in analysisreflecting the scale and complexity of transcriptomes, the primary problem beingadequate assembly of RNA-seq reads in order to define a reference set of gene models [15–17]. Transcriptome assembly can be achieved using a reference-based strategy,a de novo strategy or a combination of the two. The main drawback to usinga genome reference for assembly is that it relies on the quality of the referencegenome being used [18]. This is a particular problem for emerging model systems with recentlycompleted genomes because misassemblies, poor annotation and large gaps in coverageplague the genome assemblies of all but a few of the major model systems [19]. There is also a challenge in assigning reads that align equally well tomultiple places in the genome. The aligner must decide to either exclude these readswhich can result in gaps or to choose which alignments to retain which could lead towrong assignments or predictions of a transcript in a region that has notranscription.
A comprehensive GRN for early embryonic development in Nematostella willenable researchers to investigate the extent to which the bilaterian regulatorytoolkit is present in this representative cnidarian, down to the level of precisesignaling systems and transcription factor cis-regulatory interactions. Byharnessing the power of high-throughput sequencing and perturbation techniques, weaim to build the sea anemone GRN in an unbiased and efficient manner that will serveas a GRN construction pipeline for other model systems to follow.
The current Nematostella genome assemblies [20, 21] fall into the category of young genome models that are still incompleteand contain gaps thus making the reference-based method alone insufficient for ourneeds. Taking these and all of the above complications into account and consideringour goal to define an experimental and computational pipeline for emerging modelsystems, we elected to use the de novo assembly approach. This approachwill be especially useful for evo-devo researchers aiming to harness the power ofnext-generation sequencing to bring their research into the genomics era; a trendalready underway, for example Parhyale[22], Oncopeltus[23], sponge [24], and sea urchin [15].
The scale of reads, random and non-random sequencing errors, and inherent transcriptcomplexity due to alternate transcription start sites or splice junctions all posechallenges for de novo transcriptome assembly. Indeed, the scale of theproblem is only set to increase with the expanding capacity for transcriptomesequencing from advances in next-generation sequencing (NGS) platforms. In the lastfew years several assembly algorithms have been released to meet these challenges:Trans-ABySS [25], SOAPdenovo [26], Velvet/Oases [27, 28], and Trinity [29]. The millions of short reads produced from NGS platforms result inmillions of overlapping sequences. Short-read de novo assemblers exploitthese overlaps to reconstruct the original transcripts by using the de Bruijn graphdata structure, which encodes overlapping k-mers as adjacent vertices.Assembly algorithms then compute paths through the de Bruijn graph that correspondto valid assemblies of the sequence reads.
The Trinity assembler breaks the sequence data into many de Bruijn graphs in order tocapture transcript complexity resulting from alternative splicing, gene duplicationsor allelic variation [29]. Trinity consists of three modules called Inchworm, Chrysalis, andButterfly. Inchworm assembles the RNA-seq reads into transcripts and reports onlythe unique portions of alternate transcripts. Chrysalis clusters the Inchwormcontigs so that each cluster represents all known transcripts variants for each geneor related genes and then constructs De Bruijn graphs for each cluster. All readsare segregated to one of these separate graphs. Butterfly then processes theseseparate graphs in parallel by tracing a path through each one and reports fulllength transcripts separately for alternate splice forms and paralogs. The Oasesassembler uploads a preliminary assembly created by Velvet, which was originallydesigned for genome assembly. Oases corrects this assembly using a range ofk- mers to create separate assemblies, which are then combined into one.The longer k-mers perform better on high expression transcripts and theshorter k- mers have an advantage on low expression transcripts [28]. While the multiple k-mer approach has been found to result inan increase of longer transcripts, it can also lead to an accumulation of incorrectassemblies or artificially fused transcripts [30].
In this study we designed a next-generation sequencing and analysis pipeline toproduce a minimally biased and quantitative reference transcriptome. The resultingtranscriptome represents the first 24 h of Nematostella developmentand will be the basis for further gene regulatory network studies. The experimentaland computational pipeline will be used by us and others to produce transcriptomesfor other model systems, particularly those evo-devo models that do not yet have anannotated genome but would benefit from an in depth molecular analysis.
Methods
Library prep
Nematostella vectensis adults following normal culture at 18°Cwere spawned with a 9-h cycle of light at 25°C in an incubator. Maleand female spawning adults were in separate bowls and egg sacs were removed to afresh bowl and fertilized with sperm from male bowls for 10 minutes. Theegg sacs were then dejellied with a 4% cysteine solution (pH 7.4) in 50%filtered sea water (FSW) for 8 minutes and rinsed five times with 50% FSW.All embryo processing was performed in an 18°C room and the embryos werecultured from the time of fertilization for 0, 6, 12, 18 or 24 h (fivetimepoints). An additional 24-h sample was prepared in the same way from aseparate spawning event. Cultured embryos were transferred to an eppendorf tube,allowed to settle, gently spun to a pellet and the supernatant removed,approximately 600 embryos per sample. The embryo pellet was immediately immersedin 100 μl of lysis buffer from the Invitrogen mRNA DIRECT kit(Invitrogen, Life Technologies, Grand Island, NY, USA) and homogenized with aKontes Pellet Pestle (distributed by Thermo Fisher Scientific, Pittsburgh, PA,USA) attached to a 12 V/700 rpm drill. Another 100 μl oflysis buffer was used to rinse the Kontes Pellet Pestle tip and collected in thesame tube. Samples were then stored at −80°C until all timepoints hadbeen collected.
To thawed lysates, a third aliquot of 100 μl of lysis buffer was addedand then the normal protocol for the Invitrogen mRNA DIRECT kit was followedusing 50 μl Dynabeads per sample and low adhesion microcentrifugetubes, following the manufacturer's recommendations. The mRNA yields werebetween 108 ng and 344 ng total per sample. The mRNA was used asstarting material for the ScriptSeq V.1 kit from Epicentre (EpicentreBiotechnologies, Madison, WI, USA). A total of 9.0 μl of mRNAcorresponding to between 74 ng to 233 ng per sample was combined with1.0 μl of a 1:10 dilution of External RNA Controls Consortium (ERCC)spike-in control RNA for the first reaction (available from Invitrogen/LifeTechnologies). The protocol was followed exactly, using 12 cycles total ofPCR in the amplification step with Phusion High Fidelity polymerase (availablefrom Therm Scientific) and barcoded Illumina-compatible primers 1 to 6 fromEpicentre.
The libraries were size selected with a 2% Pippin prep gel (from Sage Science,Beverly, MA, USA) for 450 bp and checked on a Agilent 2100 Bioanalyzer witha high sensitivity DNA chip (from Agilent Technologies, Santa Clara, CA, USA)and then by qPCR. The samples were combined and run on a single lane of theIllumina High Seq 1000 with version III chemistry with 200 cycles of pairedend sequencing plus indexing reads. All raw read files are available on theWoods Hole Data Archive at http://hdl.handle.net/1912/5613, DOI[DOI:http://10.1575/1912/5613].
Discussion
The goals of the project discussed in this paper were (1) to identify all theprotein-coding genes expressed during the first 24 h of Nematostellavectensis development and in so doing (2) to detail a modern,cost-effective, efficient and quantitative series of experimental and computationalmethods that together make up a transcriptome pipeline for non-model organisms. Akey component of our pipeline is the inclusion of NIST RNA spike-in standards forquantification. This allows us to get around the problem of normalizing data toestimate gene expression levels [43], and provides an absolute measure of transcript abundance per embryo.
Many evolutionary developmental biology 'evo-devo' research projects haverevealed candidate genes in non-model organisms leading to intriguing hypothesesregarding the conservation, or conversely, invention of pathways controllingdevelopment [5, 44, 45]. However, to answer the questions these hypotheses have generated, it isnot only the gene homology, presence, absence or spatial localization that needs tobe known. To say that a developmental program or subcircuit has been conserved orevolved in a specific way, the cis-regulatory network connections betweenall the regulatory genes involved must be at a minimum known and validated.Candidate genes identified from BLAST analysis will typically only make up a smallfraction of the regulatory genes in any pathway. With the advent of next-generationsequencing platforms, identifying all the protein coding genes expressed at anygiven time during embryonic development is now within the reach of any model systemwhere embryos can be acquired. The lack of a sequenced, annotated genome is nolonger a major setback to GRN analysis.
The use of polyadenylated spike-in RNAs provides quantitative information on theabsolute abundance of transcripts per embryo. It is important to note the differencebetween this method of standardization and normalization approaches. The ERCCspike-ins allow us to build a standard curve, in our case a 92-point standard curve.As the quantities of the spike-ins are known, this allows us to infer from thestandard curve absolute quantities. Note that since spike-ins are added at thebeginning of the library preparation procedures, any variation in preparationefficiencies (that is, technical noise) is in theory accounted for by the spike-ins.Thus, even without absolute quantitation, the use of spike-ins allows directcomparison between samples without the distorting effects of normalization tominimize the effects of technical variation. Further, quantitation by spike-ins alsoallows us to know the limits of our ability to detect and quantify lowly expressedtranscripts. Since low expressed transcripts account for many of the problems inbioinfomatics analysis, our 100 molecules per embryo cut-off allows us to focus ouranalysis on those transcripts expressed at biologically relevant levels which arealso within the linear range of our standard curve. Increasing the sequencing depthand being less conservative with mapping stringency could improve our ability toquantify these lowly expressed transcripts.
This transcriptome pipeline is part of a larger GRN construction pipeline that we arein the process of defining empirically. A visualization of the proposed workflow forconstructing a GRN starting from a sequenced and assembled transcriptome is shown inFigure
7
. The transcriptome is the starting point andfoundation of the GRN because it represents all the transcripts present in the scopeof the network. The next datasets to be produced are: a high-density, quantitativeRNA-seq timecourse which will be mapped to the full transcriptome, for the purposeof high resolution covariance analysis; a 'Perturbation-seq' datasetwhere RNA-seq is used on embryos treated with drugs against components of majorsignaling pathways; and a genome-wide sequencing-based search for
cis-
regulatory elements using either FAIRE-seq [
46
] or DNase I hypersensitivity. A custom computational comparison of thesedatasets will produce an interactome with clusters representing transcripts thatchange together from timepoint to timepoint or after a perturbation. More sensitiveinvestigation of spatial expression, coexpression and perturbation expression (aftermorpholino treatment) will take the interactome to the level of a preliminary GRN.Finally,
cis-
regulatory analysis using bacterial artificial chromosome(BAC) recombination to evaluate subcircuit function will produce a verified GRN withpredictive power.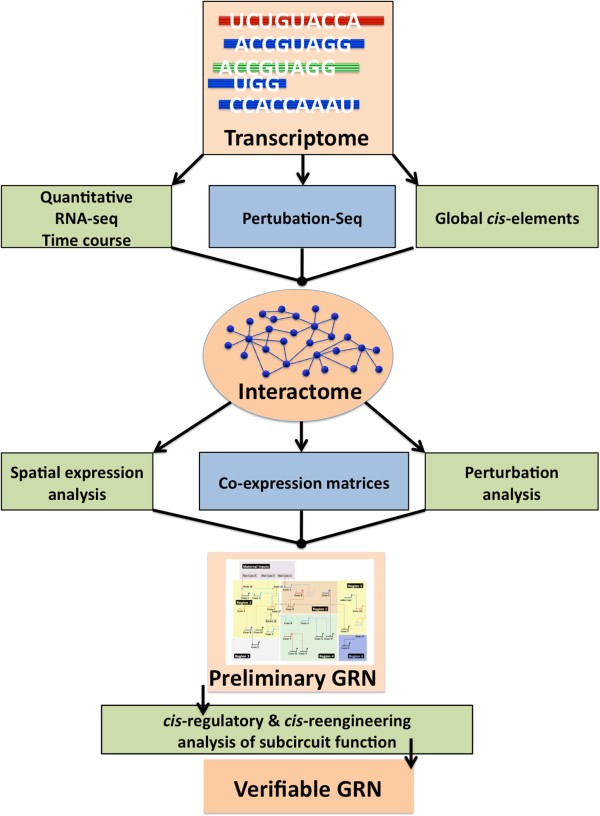 Conclusions
The embryo of the sea anemone Nematostella vectensis provides an importantevo-devo model for understanding early animal development, particularly in relationto the question of how initial patterns of differential gene expression emerge alongorthogonal body axes. Given Nematostella's position among cnidariansand the molecular evidence thus far, it is possible that a bilaterally-symmetricpattern formation network stretches back to before the Cambrian to a time precedingthe Cnidaria-Bilateria bifurcation. However, to make this argument we need amechanistic understanding of early development in both cnidarian and canonicalbilaterian models systems. Moreover, in light of the compare-and-contrast nature ofthese studies, we need to move away from a candidate gene approach as such methodsclearly bias towards the 'discovery' of similarities as opposed todifferences between regulatory networks. With the advent of genomics, we can nowattempt exhaustive de novo approaches to define regulatory networks, thoughchallenges in handling RNA-seq data sets still exist. In this report, we haveundertaken preliminary steps in defining the Nematostella gene regulatorynetwork for early pattern formation by building a comprehensive model of geneexpression through 24 h of development. This quantitative referencetranscriptome will help us identify, in a minimally biased manner, the most relevantgenes to the pattern formation control system. The regulatory network for patternformation in Nematostella will in turn provide a powerful basis forcomparison with early development networks from canonical bilaterians.
In summary, we have presented our quantitative reference transcriptome forNematostella vectensis early embryogenesis, which is available on theWoods Hole Data Archive at http://hdl.handle.net/1912/5613[DOI:10.1575/1912/5613]. Additionally, our de novotranscriptome pipeline, based on the Trinity assembler, has been designed to meetthe needs of the evo-devo community.
Abbreviations
ERCC:

External RNA Controls Consortium
FPKM:

fragments per kilobase of exon permillion fragments mapped
FSW:

filtered sea water
GRN:

gene regulatory network
N50GO:

gene ontology
NGS:

next generation sequencing
NIST:

National Institute ofStandards and Technology
nr:

non-redundant BLAST database
(q)PCR:

(quantitative)polymerase chain reaction.
Declarations
Acknowledgements
We give special thanks to Liliana Florea for her valuable contributions to thedesign of the Trinity de novo assembly pipeline used in this paper. Wethank Kasia Hammar for animal care and technical assistance; Likit Preeyan and CTitus Brown for help with digital normalization and for credit on the Amazon EC2system; Antje Fischer, Rebecca Helm, Freya Goetz, and Casey Dunn for discussionson experimental protocols; and C Titus Brown also for comments on themanuscript.
Authors' Affiliations
(1)
Eugene Bell Center for Regenerative Biology and Tissue Engineering, Marine Biological Laboratory, Woods Hole, USA
(2)
Department of Computer Science and Center for Computational MolecularBiology, Brown University, Providence, USA
Copyright
© Tulin et al.; licensee BioMed Central Ltd. 2013
This article is published under license to BioMed Central Ltd. This is an Open Access article distributed under the terms of the Creative CommonsAttribution License (http://creativecommons.org/licenses/by/2.0), whichpermits unrestricted use, distribution, and reproduction in any medium, provided theoriginal work is properly cited.