Structure, phylogeny, and expression of the frizzled-related gene family in the lophotrochozoan annelid Platynereis dumerilii
Received: 11 September 2015
Accepted: 13 November 2015
Published: 4 December 2015
Abstract
Background
Wnt signaling pathways are highly conserved signal transduction pathways important for axis formation, cell fate specification, and organogenesis throughout metazoan development. Within the various Wnt pathways, the frizzled transmembrane receptors (Fzs) and secreted frizzled-related proteins (sFRPs) play central roles in receiving and antagonizing Wnt signals, respectively. Despite their importance, very little is known about the frizzled-related gene family (fzs & sfrps) in lophotrochozoans, especially during early stages of spiralian development. Here we ascertain the frizzled-related gene complement in six lophotrochozoan species, and determine their spatial and temporal expression pattern during early embryogenesis and larval stages of the marine annelid Platynereis dumerilii.
Results
Phylogenetic analyses confirm conserved homologs for four frizzled receptors (Fz1/2/7, Fz4, Fz5/8, Fz9/10) and sFRP1/2/5 in five of six lophotrochozoan species. The sfrp3/4 gene is conserved in one, divergent in two, and evidently lost in three lophotrochozoan species. Three novel fz-related genes (fzCRD1-3) are unique to Platynereis. Transcriptional profiling and in situ hybridization identified high maternal expression of fz1/2/7, expression of fz9/10 and fz1/2/7 within animal and dorsal cell lineages after the 32-cell stage, localization of fz5/8, sfrp1/2/5, and fzCRD-1 to animal-pole cell lineages after the 80-cell stage, and no expression for fz4, sfrp3/4, and fzCRD-2, and -3 in early Platynereis embryos. In later larval stages, all frizzled-related genes are expressed in distinct patterns preferentially in the anterior hemisphere and less in the developing trunk.
Conclusions
Lophotrochozoans have retained a generally conserved ancestral bilaterian frizzled-related gene complement (four Fzs and two sFRPs). Maternal expression of fz1/2/7, and animal lineage-specific expression of fz5/8 and sfrp1/2/5 in early embryos of Platynereis suggest evolutionary conserved roles of these genes to perform Wnt pathway functions during early cleavage stages, and the early establishment of a Wnt inhibitory center at the animal pole, respectively. Numerous frizzled receptor-expressing cells and embryonic territories were identified that might indicate competence to receive Wnt signals during annelid development. An anterior bias for frizzled-related gene expression in embryos and larvae might point to a polarity of Wnt patterning systems along the anterior–posterior axis of this annelid.
Keywords
FrizzledsFRPwntBeta-cateninSpiral cleavingSignaling centerCell lineageLophotrochozoanAnnelidPolychaeteAsymmetric cell divisionEvolutionPhylogeny
Background
Wnt signaling pathways are highly conserved signal transduction pathways that have widespread functions during development in all metazoans including essential roles in cell fate specification, cell proliferation, and embryonic axis formation [1–3]. Three main Wnt pathways have been identified. The Wnt/Ca2+ pathway regulates intracellular Ca2+ levels [4, 5], the Planar Cell Polarity (PCP) pathway polarizes cells within an epithelial sheet [6], and the canonical Wnt or Wnt/beta-catenin pathway elicits the transcription of target genes. Canonical Wnt/beta-catenin signaling is the most studied of the three Wnt pathways. Central to this pathway is the regulation of beta-catenin stability. Upon pathway activation, degradation of beta-catenin is inhibited and cytoplasmic and nuclear levels of beta-catenin protein rise. High levels of nuclear beta-catenin promote the formation of transcriptional activators, elicit new gene expression, and lead to subsequent specification of cell fates [1, 7–9].
Central to each of the three Wnt pathways are members of the frizzled family of transmembrane receptors and secreted proteins [10–12]. Frizzled receptors, first identified in Drosophila melanogaster as factors involved in planar cell polarity [13], are 7-pass transmembrane receptors with an extracellular cysteine-rich domain (CRD) that binds secreted Wnt ligands. This Wnt ligand-frizzled receptor interaction activates the Wnt pathway by transmitting the signal via structural changes to the receptor's cytoplasmic domain. In the canonical Wnt pathway, this structural change facilitates the association with and inhibition of a beta-catenin destruction complex, and subsequently leads to nuclear accumulation of beta-catenin [1]. In addition to frizzled receptors, a second class of frizzled family genes, the secreted frizzled-related proteins (sFRP), have been identified as modifiers of Wnt signaling. These sFRPs consist of an N-terminal CRD that is evolutionarily related to the CRD of frizzled receptors, and a C-terminal Netrin domain [14, 15]. sFRPs are thought to inhibit Wnt signaling by competitively binding Wnt ligands [16].
Previous phylogenomic analyses have suggested that the last common ancestor of eumetazoans, a clade that includes cnidarians and bilaterians, had a frizzled-related gene complement consisting of four frizzled receptors and two sFRPs [2, 17, 18]. This ancestral frizzled-related gene set of six expanded and retracted during vertebrate evolution due to two rounds of whole genome duplication followed by gene loss early in the vertebrate lineage [10, 19, 20]. Today, most vertebrates outside the teleost fish possess ten frizzled receptors and four sFRPs (five in mammals) [10, 21, 22]. These receptors have been numbered Fz1–Fz10, and the sFRPs have been numbered sFRP1–sFRP5. The origin of each can be traced back to one of the ancestral frizzled genes, which have been named fz1/2/7, fz4, fz5/8, fz9/10, sfrp1/2/5, and sfrp3/4. The two closely related fz3 and fz6 genes are restricted to vertebrates and are of uncertain evolutionary origin, although some phylogenetic analyses position them close to or within the fz1/2/7 gene family [17, 18]. Previous studies have determined that sfrp1/2/5 and sfrp3/4 are not closely related, and did not originate from one ancestral sfrp 1/2/3/4/5 gene. Despite having a similar domain structure, a CRD domain linked to a Netrin (NTR) domain, there is strong evidence that both genes likely originated by two independent but similar gene duplication events that generated a fusion of a frizzled-related CRD domain with a NTR domain [17].
While frizzled-related genes are well studied in vertebrates including mammals, several investigations over the last decade began to examine frizzled-related genes in a wider range of invertebrate species during early development [23–28]. These studies have mainly focused on fz1/2/7, fz5/8, and sfrp1/2/5, and revealed similar embryonic expression domains for orthologous genes suggesting evolutionary conserved roles [29–34]. Although functional evidence in invertebrate embryos is scarce, the observation of anterior expression domains of the Wnt antagonist sfrp1/2/5 in many invertebrate embryos supports an evolutionary conserved role of sfrp1/2/5 in the establishment of an anterior Wnt inhibitory center in metazoan embryos [3, 35].
To further investigate the presence and expression of the frizzled-related gene complement in invertebrate species, we focused on lophotrochozoan species, especially the annelid Platynereis dumerilii. Lophotrochozoans constitute one of the three major branches of bilaterians and include invertebrate groups like annelids, mollusks, nemerteans, flatworms, and numerous enigmatic smaller invertebrate phyla like brachiopods and bryozoans [36–40]. Several of these phyla exhibit a common mode of early embryogenesis called spiral cleavage, a series of invariant and stereotypic asymmetric cell divisions that generate a spiral arrangement of embryonic cells of distinct size and position along the animal-vegetal axis of the embryo. These phyla have also been traditionally grouped as 'Spiralia.' Intriguingly, some recent metazoan phylogenetic studies imply that 'spiral cleavage' might even be an ancestral condition making the clade 'Spiralia' synonymous with 'Lophotrochozoa' [41], while a more recent analysis by Laumer and colleagues suggests that the lophotrochozoans are a subgroup of the spiralians [38].
Our lophotrochozoan of choice, the annelid
Platynereis dumerilii
, exhibits a typical mode of unequal spiral cleavage during early embryogenesis (Fig.
1
) [
42
–
44
]. The first two cell divisions are highly unequal giving rise to four large embryonic cells of different sizes, the two smaller A and B cells, one larger C cell, and the largest D cell (Fig.
1
B, 4-cell stage). These founder cells or quadrants are ordered alphabetically in a clockwise direction when viewed from the animal pole marked by a pair of polar bodies. The next cell division of each founder cell is oriented along the animal-vegetal axis giving rise to smaller animal-pole daughter cells, the first micromeres 1a, 1b, 1c, and 1d and the larger vegetal-pole daughter cells, the macromeres 1A, 1B, 1C, and 1D forming the 8-cell stage. Each micromere is shifted clockwise with respect to its sister macromere. During the next cell division, the four first micromeres in each quadrant 1a, 1b, 1c, and 1d (1q) divide along the animal-vegetal axis tilted counterclockwise giving rise to a larger animal-pole daughter cell named 1q
1
and a smaller vegetal-pole daughter cell 1q
2
, with the 1q
1
cells shifted counterclockwise with respect to the more vegetally localized 1q
2
sister cells (Fig.
1
B, 16-cell stage). The four macromeres 1A, 1B, 1C, and 1D (1M) divide similarly along the animal-vegetal axis forming the animal-pole daughter cells 2a, 2b, 2c, and 2d (2q) shifted counterclockwise in relation to their vegetal-pole daughter cells 2A, 2B, 2C, and 2D (2M). This pattern of cleavage continues with alternating clockwise and counterclockwise shifts leading to a spiral arrangement of cells when viewed from the animal pole.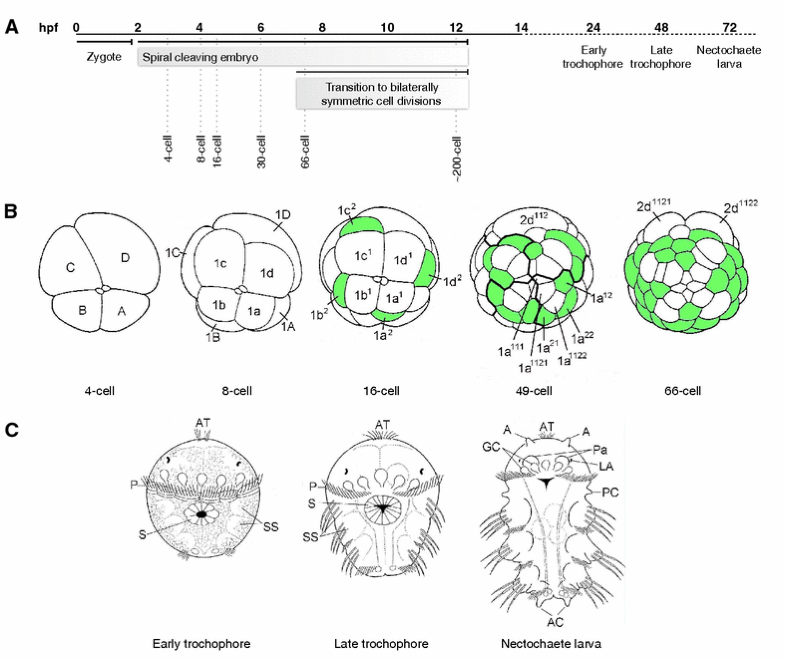 By the ~49-cell stage (Fig. 1B), the progeny of the four 1q11 cells in each of the four quadrants has generated four small characteristic animal-pole daughter cells, the rosette cells (1q111), at the animal pole, and four larger vegetal-pole sister cells (1q112), the dorsal and ventral cephaloblasts. The cephaloblasts have divided once more to generate 1q1121 and 1q1122 sister cell pairs (white cells) in each quadrant that form the 'annelid cross' surrounded by cells (green) that will form a ciliated ring, the prototroch. The rosette cells will later contribute to the apical organ, and the cephaloblasts will form most of the head region including eyes and brain of the annelid trochophore larvae [42, 44].
Of special significance is the larger D quadrant in Platynereis embryos that will generate two extremely large founder cells, the 2d112, a progeny of the 2nd 'micromere' 2d, and the 4th 'micromere' 4d, the mesentoblast, that will give rise to the trunk ectoderm and mesoderm, respectively. These large founders cells are the first to switch from spiral cleavage to a mode of cleavage that generates a bilateral symmetrical arrangement of progeny [42, 44–46].
By 24-h post fertilization (hpf), Platynereis has developed into an early trochophore larvae (Fig. 1C), with the prototroch fully formed separating the anterior head or episphere from the posterior trunk region or hyposphere [43, 44, 47]. The prototroch is used for locomotion and comprises a ring of multiciliated cells circumnavigating the embryo. It persists throughout the trochophore stages but begins to disappear by the nectochaete stage (~3-day-old larvae). In the head region of the trochophore larva, the ciliated apical organ, brain, and other anterior structures have formed from the progeny of the rosette cells (1q111) and their sister cells, the 1q112 cells. The stomodeum anlage, the future mouth, becomes visible on the ventral side of the early trochophore larva adjacent to the prototroch. Posterior to the anus in the hyposphere, the pygidium has formed. By late trochophore stage (~48 hpf), the three trunk segments are visible, each containing a pair of primordia, the chaetal sacs, which will give rise to the bristle (chaetae) bearing parapodia, the appendages of the annelid. On either side of the ventral midline, bilaterally symmetric ciliated structures called paratrochs begin to form posterior to each segment. After 3 days of development, a distinctive head region begins to emerge and becomes increasingly separate from the trunk. At this nectochaete larval stage, the segmental appendages/parapodia including elongated chaetae are fully formed and take over functions in locomotion [43, 47].
Previous work indicated that canonical Wnt/beta-catenin signaling is essential in early Platynereis development [48]. During the transition from the 4-cell to the 8-cell stage, strong nuclear localization of beta-catenin protein can be observed in the four vegetal-pole macromeres (1 M), while the four animal-pole micromeres (1q) are lacking any nuclear beta-Catenin. This suggests that the Wnt/beta-catenin pathway is activated in the macromeres. During most subsequent cell divisions through the ~220-cell stage, the asymmetric localization pattern of beta-catenin is repeated, suggesting that every vegetal-pole daughter cell exhibits activated canonical Wnt signaling, whereas the animal-pole daughter cells do not. Indeed, this asymmetric beta-catenin activation acts as a binary cell fate switch. Inhibition of the beta-catenin degradation complex with the drug 1-Azakenpaullone leads to global beta-catenin nuclear localization, and to animal-pole daughter cells adopting the cell fate of their vegetal-pole daughter cells [48]. Similar beta-catenin-mediated binary switches have now been found in all three major branches of bilateral symmetrical animals, although restricted to nematode, ascidian, and annelid embryos with fixed stereotypic, invariant cell lineages [49–52]. However, the molecular mechanism causing this asymmetric pattern in early Platynereis embryos remains unknown. While the full complement of Wnt ligands has been surveyed comprehensively in both early and late Platynereis development [53, 54], it is not yet known whether and which frizzled receptors might be involved. As expression and function of the larger frizzled-related gene family are largely unexplored in any lophotrochozoan species, especially during early spiral embryogenesis, we decided to investigate the frizzled-related gene family in embryos and larvae of Platynereis.
Here we present the first comprehensive look at the frizzled-related gene family in lophotrochozoans, and determine the frizzled-related gene complement in six lophotrochozoan species. Using an RNA-seq time course spanning the first 14 h of Platynereis development, we have identified nine frizzled-related genes in this annelid species and have quantified their stage-specific expression. Analyses of structural features and phylogeny identified well-conserved orthologous genes for four Frizzled receptors, fz1/2/7, fz5/8, fz9/10, and fz4 and one conserved sFRP, sfrp1/2/5, two derived sfrp3/4-like genes, and two novel frizzled-related genes with similarities to sFRPs. Using whole-mount in situ hybridization, we have determined the spatial expression patterns of seven frizzled-related genes in early embryos and larval stages. This comprehensive study of frizzled expression in Platynereis embryos and larvae suggests numerous Wnt signaling inputs into annelid development, and indicates evolutionary conserved functions for fz1/2/7, fz5/8, and sfrp1/2/5 in patterning early embryos. Furthermore, the presented work provides the critical information necessary for a functional dissection of Wnt signaling in this species.
Conclusions
We present the first analysis of frizzled-related genes in lophotrochozoans, and the first comprehensive report of frizzled gene expression during spiral development and larval stages of a member of the lophotrochozoans, the annelid Platynereis dumerilii. We have determined that Platynereis and other lophotrochozoans retained an overall well-conserved set of frizzled and sfrp genes. High maternal expression identifies fz1/2/7 as the only frizzled gene to be in the right place at the right time for Wnt signaling functions during early cleavage stages. sfrp1/2/5 and fz5/8 are expressed in the most anterior cell lineages suggesting evolutionarily conserved roles in the formation of an anterior Wnt antagonizing center in this annelid. In general, frizzled-related genes show a bias towards anterior expression in early embryos and larval stages. This study provides new insights into the role of Frizzleds in Wnt signaling in a spiral-cleaving embryo and annelid larval stages, has identified numerous regions with competence to receive and/or modulate Wnt signals, and suggests the existence of an evolutionary conserved patterning system along the anterior–posterior axis of this annelid. Therefore, this study uncovered many potential Wnt signaling activities during Platynereis development, and sets the stage for a functional dissection of specific roles of this pathway in cell fate specification and patterning in this lophotrochozoan species.
Abbreviations
BLAST:

Basic Local Alignment Search Tool
CRD:

Cysteine-Rich Domain
DAPI:

4′,6-diamidino-2-phenylindole
FPKM:

Fragments Per Kilobase per Million mapped reads
Fz:

Frizzled
hpf:

Hours post fertilization
sFRP:

Secreted frizzled-related protein
nt:

Nucleotide
NTR:

Netrin
WMISH:

Whole-mount in situ hybridization
Declarations
Authors' contributions
BRB and SQS conceived of the study. BRB identified and cloned frizzled-related genes, and carried out in situ hybridization experiments and phylogenetic analysis. HCH assembled the gene models and performed the RNA-seq analyses. MMP carried out and established in situ hybridizations in early stages. BRB and SQS wrote the manuscript. All authors read and approved the final manuscript.
Acknowledgements
We would like to thank Edward Letcher, Roy Holmes, Ben Wu, and Kali Levsen for handling the polychaete culture. We would also like to thank the two anonymous reviewers for comments on the manuscript. Funding for this work was provided by the Roy J. Carver Charitable Trust to SQS.
Competing interests
The authors declare that they have no competing interests.
Open AccessThis article is distributed under the terms of the Creative Commons Attribution 4.0 International License (http://creativecommons.org/licenses/by/4.0/), which permits unrestricted use, distribution, and reproduction in any medium, provided you give appropriate credit to the original author(s) and the source, provide a link to the Creative Commons license, and indicate if changes were made. The Creative Commons Public Domain Dedication waiver (http://creativecommons.org/publicdomain/zero/1.0/) applies to the data made available in this article, unless otherwise stated.
Authors' Affiliations
(1)
Department of Genetics, Development and Cell Biology, Iowa State University, Ames, USA
(2)
Center for Cancer Research, NIH, Bethesda, USA
(3)
Department of Pediatrics, University of Chicago, Chicago, USA