Molecular regionalization in the compact brain of the meiofaunal annelid Dinophilus gyrociliatus (Dinophilidae)
Received: 27 July 2016
Accepted: 17 August 2016
Published: 30 August 2016
Abstract
Background
Annelida is a morphologically diverse animal group that exhibits a remarkable variety in nervous system architecture (e.g., number and location of longitudinal cords, architecture of the brain). Despite this heterogeneity of neural arrangements, the molecular profiles related to central nervous system patterning seem to be conserved even between distantly related annelids. In particular, comparative molecular studies on brain and anterior neural region patterning genes have focused so far mainly on indirect-developing macrofaunal taxa. Therefore, analyses on microscopic, direct-developing annelids are important to attain a general picture of the evolutionary events underlying the vast diversity of annelid neuroanatomy.
Results
We have analyzed the expression domains of 11 evolutionarily conserved genes involved in brain and anterior neural patterning in adult females of the direct-developing meiofaunal annelid Dinophilus gyrociliatus. The small, compact brain shows expression of dimmed, foxg, goosecoid, homeobrain, nk2.1, orthodenticle, orthopedia, pax6, six3/6 and synaptotagmin-1. Although most of the studied markers localize to specific brain areas, the genes six3/6 and synaptotagmin-1 are expressed in nearly all perikarya of the brain. All genes except for goosecoid, pax6 and nk2.2 overlap in the anterior brain region, while the respective expression domains are more separated in the posterior brain.
Conclusions
Our findings reveal that the expression patterns of the genes foxg, orthodenticle, orthopedia and six3/6 correlate with those described in Platynereis dumerilii larvae, and homeobrain, nk2.1, orthodenticle and synaptotagmin-1 resemble the pattern of late larvae of Capitella teleta. Although data on other annelids are limited, molecular similarities between adult Dinophilus and larval Platynereis and Capitella suggest an overall conservation of molecular mechanisms patterning the anterior neural regions, independent from developmental and ecological strategies, or of the size and configuration of the nervous system.
Keywords
MeiofaunaDirect developmentBrainNervous systemAnnelidaLarvaAnimal evolution
Background
Several detailed studies on the nervous systems of various groups within Annelida ("segmented worms") demonstrate that this organ system displays a remarkable variability in arrangement and structure of the brain and neuropil, number of ventral nerve cords and nerves, as well as layout of the stomatogastric nervous system and peripheral nerves (e.g., [
1
8
]). The position and configuration of the brain vary among annelids, most commonly consisting of a subepidermal dorsal neuropil with peripheral perikarya, subdivided into discrete clusters or lobes [
1
,
5
,
6
,
9
,
10
], but occasionally situated intraepidermally (e.g., [
11
,
12
]) and ventrally (e.g., [
13
–
15
]), or anteriorly [
13
], or having a uniform compact morphology without apparent compartmentalization [
11
,
12
,
16
–
26
]. Despite this morphological diversity, the underlying molecular patterns of neural-related genes that are evolutionarily conserved in Protostomia (e.g., Mollusca, Platyhelminthes, Nemertea, Nematoda, Arthropoda and Brachiopoda [
16
–
26
]) and Deuterostomia (e.g., Hemichordata and Chordata, e.g., [
9
,
27
–
30
]) have been analyzed only in a handful of annelid taxa [
23
,
31
–
35
]. For instance, the transcription factor
six3
/
6
and the gene
synaptotagmin
-
1
(coding for the eponymous membrane-trafficking protein) pattern the presumptive neuroectoderm and the larval brain in
Platynereis dumerilii
and
Capitella teleta
[
23
,
33
,
34
], while domains of the genes
foxg
and
orthodenticle
appear in close proximity to the locomotory cilia of the prototroch (see Table
1
for comparison [
21
–
23
,
36
]). However, most of the annelid species investigated with regard to molecular patterning of the anterior neural region so far (e.g.,
C. teleta
and
P. dumerilii
) are characterized by exhibiting an indirect development comprising a planktonic microscopic larva and a macroscopic adult [
16
,
22
,
23
,
37
–
40
]. Information about these patterning mechanisms in Oligochaeta and Hirudinea is still limited (e.g., [
35
,
41
–
44
], Table
1
and literature therein) and completely absent in direct-developing, microscopic interstitial groups such as Dinophilidae [
45
–
48
]. Neuroanatomical studies of developing and adult brains in these microscopic species are also very limited (e.g., [
13
,
45
,
46
,
49
–
51
]). Therefore, investigations in members of annelid lineages with alternative life cycles, ecological strategies and neuroanatomies are essential to attain a better understanding of the diversification of the nervous system in Annelida (and Spiralia) and its underlying molecular patterning [
52
,
53
].
| Gene | Species | Expression pattern | Proposed function | References |
| --- | --- | --- | --- | --- |
| Goosecoid (gsc) | Platynereis dumerilii (trochophore larva) | Around the stomodeum, in the anterior foregut, parts of the stomodeal nervous system | Patterns roof of the foregut, marker for the anterior foregut and oral ectoderm | [75] |
| | Capitella teleta or sp. 1 (late larval stages) | Multiple cells at circumesophageal connectives (extend from each side of the brain in ventral–posterior direction laterally toward ventral nerve cord), bilateral pair in anterior ectoderm (several cells with distinctive elongate morphology) | Marks subset of anterior neurons associated with stomodeum and foregut, maybe involved in development and differentiation of circumesophageal connectives and neuronal subtype identity | [74] |
| Homeobrain (hbn) | Capitella teleta or sp. 1 (late larval stages) | Cells associated with epithelio–optic nerves and more medial cell clusters in the brain, in lateral epithelium clearly connected to eyes, between stages 6 and 8 medial brain cells expressing hbnl move closer together toward midline, later, two small clusters appear in anterior-most segment lateral to mouth. Expression levels appear to lower/in fewer cells/clusters in late stages and not present in juvenile stages | Differentiates larval eye and brain, confers identity of neuronal subsets, more restricted to brain in Capitella than in Drosophila (there also in the VNC) | [16] |
| Orthopedia (otp) | Platynereis dumerilii (trochophore larva) | Limited number of cells in the developing medial forebrain region comprising vasotocinergic neurons adjacent to large photoreceptor cilia and the RFamidergic neurons; peripherally, expression demarcates prototroch; also expressed in nerve cells in the apical organ | Demarcates the neuropeptidergic sensory-neurosecretory cells in apical organ | |
| Orthodenticle (otx) | Platynereis dumerilii (trochophore larva) | Most prominent in the oral region (stomodeum), along pre- and postoral ciliary bands, but also in cells of apical organ and few cells in the apical hemisphere, defining head region | Patterning pre- and postoral ciliary bands/loops | [75] |
| | Capitella teleta or sp. 1 (late larval stages) | Expressed in bilateral lobes of the brain, developing foregut, within the posterior growth zone of the segmented trunk (lateral–posterior ectoderm), within a few cells of the ventral nerve cord along midline; later (stage 9) expressed in the brain, foregut, ventral nerve cord and posterior growth zone | Involved in patterning/specifying oral ectoderm, endoderm, foregut and central nervous system in larval stages | [74] |
| | Helobdella sp. | At least three paralogs identified, limited to unsegmented head domain, expressed in central nervous system and foregut/surrounding the mouth opening at larval stage 8/9 and scattered cells in the epidermis, but not in the posterior trunk region | | |
| | Pristina leidyi (regeneration) | Two paralogs (similar expression region, stronger and/or broader in otx2), otx2 in single medial cell of the ventral ganglia of fully formed midbody segments, extensively expressed during anterior regeneration, in late stages of regeneration adjacent to cerebral ganglia and foregut/pharynx, during fission also detected in the VNC | Definition of anterior structures during embryogenesis, involved in head development during regeneration and fission, involved in early processes of postembryonic head specification, possibly related to light-sensing organs | [42] |
| | Hydroides elegans | Early expression in the animal hemisphere, associated with ciliary bands in pre-metamorphic larvae (not in primary trochoblasts, but adjacent cells), also along midline (maybe as posterior sensory organ precursors) | Specification of neuronal populations | [36] |
| Paired box homeobox gene 6 (pax6) | Platynereis dumerilii (trochophore larva) | Bilateral patches of cells laterally around the prototroch in developing hemisphere and in ventral episphere; latter domains extend more dorsal than larval eyes—cells of the optic commissure, later also at the base of the differentiating eye; along the developing central nervous system of the body segments; neuroectoderm in trochophore larva | Patterns ectopic eyes and ventral neurogenic domain | |
| | Helobdella sp. | Two paralogs, pax6A: N teloblast lineage and few cells of O teloblast lineage generating majority of segmentally arranged, ganglionic neurons, in the head closely related to developing supraesophageal ganglion and surrounding tissues; eyes at dorsal lip of rostral sucker; head signal maintained throughout development, segmental expression fades at later stages; dorsally three longitudinal rows of segmentally repeated cells symmetrical lateral to dorsal midline | Widely conserved role in eye development, implication in CNS development | [44] |
| Forkhead box gene G (foxg)—brain factor 1 (bf1) | Platynereis dumerilii (trochophore larva) | Horseshoe-shaped domain in the brain, more lateral part represents the eye anlage during early development, in the brain expression retained during larval development | Coordinates activity of two opposing signaling centers patterning the telencephalon anlage: downstream of the ventral signal, Hh, to induce ventral (subpallial) identities and inhibits dorsal Wnt/b-catenin signaling through direct transcriptional repression of Wnt8 which induces dorsal (pallial) identities in vertebrates | [9] |
| Six class gene 3/6 (six3/6) | Platynereis dumerilii (trochophore larva) | Almost the entire episphere, includes anlagen of antennae and palpae, surrounded by ring-like peristomial expression of Pdu-otx (covering equatorial/peristomial larval regions and overlapping with six3 in the periphery of the episphere) | Covers the medial brain anlagen, includes a large part of the early differentiating neurosecretory cells | [34] |
| NK homeobox gene 2.1 (nk2.1) | Platynereis dumerilii (trochophore larva) | Medioanterior expression of Pdu-nk2.1 laterally demarcated by Pdu-pax6 | Subdividing the anterior body regions mediolaterally | |
| | Capitella teleta or sp. 1 (late larval stages) | Two paralogs in stage 6/7: nk2.1a—subset of brain cells, dorsal–anterior foregut tissue, within the midgut and in rectum at posterior terminus of midgut; nk2.1b—two brain lobes, in subsurface cells of presumptive foregut, broad ventrolateral domain in trunk ectoderm and mesoderm, extending from posterior of the mouth to the telotroch | Involved in endoderm patterning and differentiation; patterns anterior ectoderm | [74] |
| NK homeobox gene 2.2 (nk2.2) | Platynereis dumerilii (trochophore larva) | Y-shaped pattern comprising slender domain of midline cells, demarcating medial edges of fusing neuroectoderm, strictly complementary to pax6 | Patterns endoderm, together with other genes differentiating central nervous system | [35] |
| Neurosecretory differentiation factor dimmed (dim) | Platynereis dumerilii (trochophore larva) | Colocalized broadly with otp in apical organ neurons | Neuroendocrine transcription factor; differentiates neuroendocrine neurons; coexpressed with MIP in the median brain | [70] |
| Membrane-trafficking protein synaptotagmin-1 (syt) | Platynereis dumerilii (trochophore larva) | Demarcating specific differentiating neurons; restricted to basal cells; neuroectoderm comprises a progenitor zone containing postmitotic, nondifferentiated neuronal precursors and differentiation zone | Neuronal differentiation | [35] |
| | Capitella teleta or sp. 1 (late larval stages) | Most terminally differentiated neurons; expression pattern progresses from anterior to posterior and begins in the central nervous system; few cells on either side of the mouth; most, but not all of the forming ganglia in the ventral nerve cord; small number of cells along the dorsal midline; stomatogastric ganglia; single and small clusters of cells in the epidermis | Exocytosis of synaptic vesicles, neuronal differentiation | [33] |
| | Lamellibrachia satsuma | Brain and in the ventral nerve cord, laterally and dorsally encapsulated neuropils of the brain, neural cell bodies located lateral to giant axon, distinct tubular structure in vestimentiferan nervous system | Patterns nervous system | [15] |
Dinophilidae is a species-poor meiofaunal group, whose members occupy interstitial habitats and lives in the crevices of sandy sediment or in biofilms on macroalgae in tidal marine regions [
54
–
56
]. It comprises two clades,
Dinophilus
and
Trilobodrilus
, whose representatives share their diminutive body size and being only few segments long pseudocoelomates with protonephridia, lacking chaetae, parapodia and appendages, but having a dense ventral ciliary field and direct development [
45
,
57
–
59
]. Within
Dinophilus
, two morphotypes can be distinguished: one strongly pigmented, monomorphic group with prolonged life cycle and encystment period [
55
,
60
] and a smaller, transparent, strongly dimorphic group with rapid life cycle [
58
,
61
,
62
]. The latter is represented by
D. gyrociliatus
, whose females (Fig.
1
a) resemble the adults of the other morphotype to a certain degree, while the males are extremely miniaturized and short lived [
61
,
63
,
64
]. The brain of
Dinophilus gyrociliatus
consists of a compact neuropil formed by a dense meshwork of nerve fibers (Fig.
1
b, c, e–g) with condensed fiber bundles probably representing commissures surrounded by a dense layer of perikarya (Fig.
1
d, [
45
,
46
]). The circumesophageal connective, which links the dorsal brain to the ventral nerve cords, bifurcates anteriorly at approximately the middle of the mouth opening into a ventral and a dorsal component (Fig.
1
e). The ventral branch is connected to the stomatogastric nerve ring (a nervous loop dorsally lining the esophagus) and also gives rise to several nerve fibers innervating anterior compound cilia and at least the ventral pair of compound cilia at the anterior tip of the prostomium [
2
,
45
,
46
]. The dorsal branch gives rise to the paired dorsal, dorsolateral and lateral peripheral longitudinal nerves and the nerves innervating the nuchal organs [
45
,
46
]. Approximately 750 densely packed, uniform perikarya surround the neuropil on the anterior, lateral, dorsal and posterior sides and very weak on the ventral side (Fig.
1
d). The entire brain is located closely adjacent to the dorsal epidermis [
45
]. The eyes are sunken into the layer of brain perikarya (Fig.
1
d) and seemingly directly connected to the neuropil without the formation of optic tracts [
45
,
58
]. Since its nervous system and development are morphologically mapped in high detail [
45
,
46
,
50
,
58
,
63
,
64
],
D. gyrociliatus
emerges as a suitable meiofaunal candidate next to the already established annelid models
P. dumerilii
and
C. teleta
.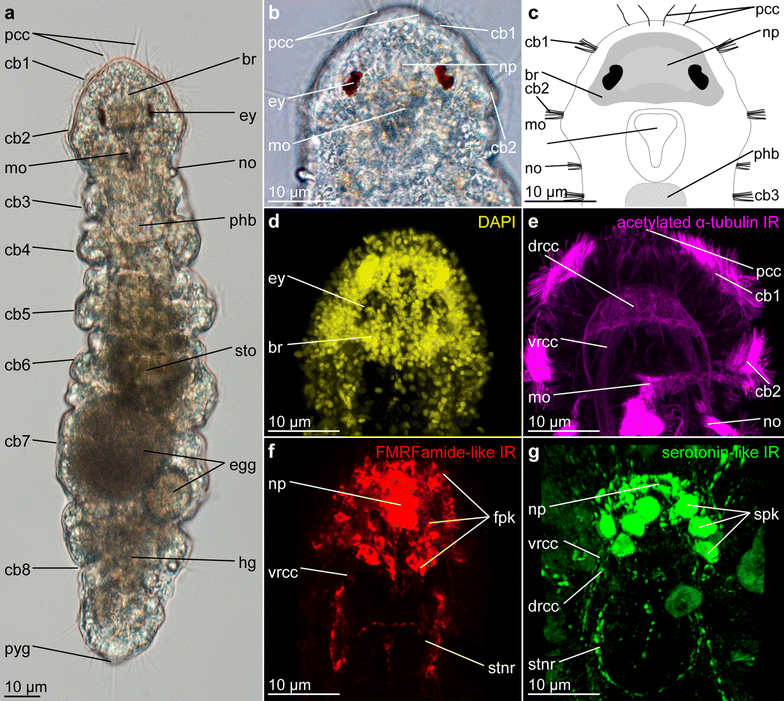 In this study, we characterize the expression pattern of 11 genes with a putatively evolutionarily conserved role in patterning anterior neural regions in the brain of adult females of the microscopic D. gyrociliatus. These genes are generally associated with the anterior neurogenic domain (e.g., six3/6, orthopedia, synaptotagmin-1), ciliary bands (foxg) and sensory organs (pax6), or play a putative role in neurosecretory cell differentiation (dimmed) in previously investigated annelid and other invertebrate species (Table 1 and literature therein). We thus aim to investigate the possibility of a common molecular regionalization of the annelid brain, despite interspecific differences in the number of cells and morphological complexity, and provide a protocol for in situ hybridization approaches for adults in this microscopic annelid species.
Discussion
Molecular patterning of the brain in adult females of D. gyrociliatus
Nine out of the eleven evolutionarily conserved neural genes analyzed in this study show domains mainly within or closely adjacent to the brain (Dg-dim, Dg-foxg, Dg-gsc, Dg-hbn, Dg-otp, Dg-otx, Dg-pax6, Dg-six3/6 and Dg-syt, Figs. 1, 2, 3, 4, 5, 6, 7, 8; Additional file 9). Exceptions are transcription factors Dg-nk2.1, expressed in the fore- and hindgut in addition to the domains in the brain (Figs. 3j–l, 8a–c; Additional file 9), and Dg-nk2.2, not detected in the brain, but in the mid- and hindgut (Fig. 3m–o; Additional file 9).
Dg-gsc is not exclusively expressed in the brain, but also in two condensed domains close to the second prostomial ciliary band (Figs. 2a–c, 6d, e, 8c), which are associated with neither the brain nor the digestive tract. Clearly demarcated domains resembling this pattern cannot be found in either C. teleta or P. dumerilii [74, 75]. Although goosecoid domains in the stomodeum and foregut region are present in the trochophore larva of P. dumerilii (Fig. 8e, [75]) as well as the early larva of C. teleta (Fig. 8d, [74]), they are limited to the anterior portion of the pharyngeal epithelium in adult female D. gyrociliatus (Figs. 2a–c, 6d, e, 8b, c; Additional file 9). The gsc-positive domains within the brain vary between the investigated annelids. They are restricted to the foregut in trochophore larvae of P. dumerilii (Fig. 8e, [75]), but localized in the posterior part of the brain, lateral to the brain and in the region of the circumesophageal connectives in late larvae of C. teleta (larval stage 7–8, Fig. 8d, [74]) and adult D. gyrociliatus (Figs. 2a–c, 8b, c; Additional file 9). Our findings thereby suggest that goosecoid can vary in its expression in the brain and stomatogastric system in Annelida.
Dg-hbn is expressed in distinctive parts of the brain in adult females of D. gyrociliatus (Figs. 2d–f, 6f, g, 8a–d), as also observed in C. teleta [16], with several patches in the posterior part of the brain extending to the anterior (mainly in the latter). Additionally, segmentally arranged domains of CapI-hbnl in C. teleta were detected in association with chaetal sacs lateral along the body length [16], which were not found in D. gyrociliatus females. Homeobrain is therefore probably involved in neuronal differentiation in the cerebral ganglia and brain in annelids.
Dg-otp is expressed both in a median, demarcated domain on the ventroanterior side and one pair of lateral patches in the ventroposterior region of the brain in D. gyrociliatus (Figs. 2g–i, 7h, i, 8a–c; Additional File 9). The anterior domain seems to occur within a Dg-six3/6-positive region of the brain, which resembles the situation found in invertebrate apical organs and especially in the apical organ of P. dumerilii, where orthopedia is present in presumptive serotonergic cells [22, 23]. In adult females of D. gyrociliatus, however, Dg-otp is not related to any serotonergic component, since these are restricted to the dorsoposterior region of the brain (pers. obs., Fig. 1g, [45]). More posteriorly, otp is expressed in cells that might be involved in forming the multiciliated cells of the prototroch in the trochophore larvae of P. dumerilii [23]. Although information about its expression in C. teleta is missing, the expression of otp in cells related to several cells of the second prostomial ciliary band in D. gyrociliatus (Figs. 2g–i, 8a–c) is thus probably an indication for the remnants of the prototroch in the later.
Dg-otx is expressed broadly as continuous band in the ventroanterior region of the brain as well as in one pair of lateral domains in the posterior region of the brain. It is therefore overlapping with Dg-six3/6 in female D. gyrociliatus in both the anterior and the posterior part of the brain (Figs. 2g–i, 8a–c). This is in contrast to the expression detected in P. dumerilii trochophore larvae (Fig. 8e), where otx demarcates the ventral expression range of six3/6 posterior to the cells expressing the PRD class gene otp, tracing the prototroch [21, 23, 34]. It is only partly in concordance with the pattern of the transcription factor otx in C. teleta, which develops domains anterolateral and posteromedian in the brain, but also in the foregut, posterior region of the midgut, hindgut and the medioventral ectoderm [74]. The expression domains of the PRD class gene otx are thus little conserved among the anterior neural regions in the annelid species analyzed so far. Further studies have to ascertain whether the exclusiveness of six3/6 and otx as observed in the apical organ and the posterior region of the brain in P. dumerilii trochophore larvae [21, 34] or the broad expression in the brain and digestive system as detected in C. teleta [74] are also present in the meiofaunal annelid during earlier developmental stages. The differences among the three annelids thereby might be the result of temporal variability of this gene's activation rather than an expression in different domains.
Dg-pax6 is expressed in extended patches in the regions of the eyes dorsal to the neuropil in the brain of D. gyrociliatus (Figs. 2m–o, 8a–c). This matches the transcription factor's proposed role in eye development across Bilateria [40, 76], based on its bilateral brain domains, being the most common location of photoreceptors [9, 35]. The lateral patterns found in the median coronal plane of the brain of D. gyrociliatus might also indicate that it is involved in specifying the mediolateral axis of the central nervous system as it has been suggested for the bilaterian ancestor [35].
Dg-foxg is expressed in domains in the anterior and the posterior region of the brain, which resembles the pattern detected with Dg-otp and Dg-otx (Figs. 2g–l, 3a–c, 8a–c). The anterior domain is constituted by an interconnected series of spots, while there is a pair of dorsolateral demarcated domains in the posterior part of the brain (Figs. 3a–c, 8a–c). This seems to be contradicting the finding in the trochophore larvae of P. dumerilii, where this gene is related to the developing cerebral ganglia and especially the mushroom bodies [9], and thereby labels more central neural structures (Fig. 8e). The different patterns in the annelids studied so far might either be related to the developmental stage the animals are in (trochophore larvae in P. dumerilii vs. adults in D. gyrociliatus) or to the different organization of the nervous system (compartmentalized in P. dumerilii vs. compact and seemingly unstructured in D. gyrociliatus). Further information in C. teleta (adult and developmental stages), which has an unstructured brain, but indirect development, will aid the reconstruction of a general annelid pattern.
All perikarya of the brain with the exception of the ventrolateral sides also express Dg-six3/6 (Figs. 3d–f, 5f, g, 8a–c; Additional file 9), which therefore shows broad overlap with the other genes used in this study (Fig. 8a–c). This supports previous findings about six3/6 playing a major role in demarcating the anterior or anteromedian region of the brain in several invertebrate groups [22, 34, 77], and especially in patterning the larval apical organ and cerebral ganglia in the annelids C. teleta and P. dumerilii (Fig. 8d, e, [23]).
The most elaborate dorsal pattern is formed by Dg-dim, which is strongest along the dorsal midline while expanding antero- and posteromedially in the brain (Figs. 3g–i, 5d, e, 8a–c; Additional file 9). The transcription factor dimmed, which is suggested to be involved in patterning neurosecretory cells during early and larval development, is detected in several cells of both the brain and the ventral nerve cord in the ecdysozoan D. melanogaster [71, 72] and in few cells in the apical organ of the trochophore larva of the annelid P. dumerilii [70]. In Drosophila, the protein DIMMED directly activates the neuropeptide-amidating enzyme PHM [72]. Since amidated neuropeptides are generally conserved between related animal lineages, e.g., spiralian groups [78], further work in more annelid species is essential to better understand the evolution of dimmed-positive neurons.
Dg-nk2.1 and Dg-nk2.2 do not exclusively pattern the brain, since Dg-nk2.1 is also expressed in the roof of the foregut and the entire hindgut (Figs. 3j–l, 7f, g, 8a–c; Additional file 9), and Dg-nk2.2 labels the midgut and is completely absent from the adult brain of the female D. gyrociliatus (Fig. 3m–o; Additional file 9). Capitella teleta shows similar anterolateral (and posteromedian) expression domains of nk2.1 in the brain, which are supplemented by strongly labeled regions in the fore- and hindgut, as well as spot-like expression in the remaining digestive tract (Fig. 8d (domain in the foregut shadowed by broader region of otx), [74]). In P. dumerilii, nk2.1 was found associated with the mouth opening and the ventral side of the trochophore larva, where it extends from approximately the apical organ (where it has a broad expression domain) toward the mouth opening, overlapping with six3/6 (Fig. 8e, [18, 22, 23]). This latter somewhat discrepant pattern emphasizes the need for developmental studies of D. gyrociliatus for proper comparison, but the overall resemblance among all hitherto studied annelids supports a probable function of the transcription factor nk2.1 in differentiating the ventral region of the brain as well as the digestive system in annelids.
The transcription factor nk2.2 strictly complements the pattern of pax6 in the developing nervous system in the trochophore larva of P. dumerilii (Fig. 8e, [35]). It does not have domains anterior to the prototroch, but is expressed in a slender region of midline cells, thereby labeling the medial edges of the fusing neuroectoderm and possibly lining the prototroch lateral to the stomodeum (Fig. 8e, [35]). In later stages, the domain is limited to the midventral region between the prominent nerve cords [35]. Although we did not observe expression of Dg-nk2.2 in the brain in adult D. gyrociliatus, further expression analyses in juveniles and embryonic stages will help uncover possible neural-related expression of nk2.2 in this annelid species.
Adult female D. gyrociliatus show expression of Dg-syt in the brain, but also in the ganglionic accumulations along the ventral nerve cord (associated with the commissural sets, Figs. 4c, d, 8a–c), which is similar to previous findings in other annelids such as C. teleta and P. dumerilii [33, 35]. Synaptotagmin-1 is expressed in individual cells of the apical organ or early adult brain and along the ventral nerve cords, seemingly involved in the formation of the ganglionic cord of C. teleta and P. dumerilii [33, 35]. We therefore suggest that Dg-syt plays a similar role in neural specification in D. gyrociliatus. [29, 31].
Altogether, our findings indicate that the overall patterning of the brain in adult females of D. gyrociliatus resembles the molecular regionalization observed in larval stages of previously examined annelids (e.g., [16, 23, 37, 40, 79, 80]). We furthermore identified that (1) Dg-dim, Dg-six3/6 and Dg-syt pattern a mediodorsal, probably neurosecretory region, which also extends ventrally anterior and posterior to the neuropil (Fig. 5), (2) Dg-foxg, Dg-gsc and Dg-otx demarcate a population of cells underneath the second ciliary band of the prostomium (Fig. 6), and (3) Dg-foxg, Dg-hbn, Dg-otp, Dg-otx, Dg-nk2.1 and Dg-pax6 specify sensory regions in the brain such as the anterior neural region (probably related to the prostomial compound cilia), the eyes and the base of the nerves extending from the nuchal organs to the neuropil (Fig. 7). However, more detailed investigations of the embryonic and juvenile stages in D. gyrociliatus will provide a better insight into the role of these genes during neural development.
Miniaturization and the molecular patterning of the brain in Annelida
Meiofaunal species and their organ systems have not been included in previous studies of annelid and spiralian diversity although their inclusion will likely provide additional insight into how conserved molecular networks are modified to give rise to differently organized tissues. In this context, it is still unclear whether neural genes, which are broadly conserved in macroscopic representatives of Protostomia and Deuterostomia [52, 53, 81, 82, 83], maintain their relative expression domains in brains of microscopic size and limited cell number, as those found in interstitial animals. Our findings demonstrate that the relative position of genes such as foxg, orthopedia, homeobrain, six3/6 and synaptotagmin-1 seems to be similar between D. gyrociliatus and other annelids and—to some extent—Spiralia (Figs. 1, 2, 3, 4, [16, 23, 33, 35]), although the approximate number of cells in the respective domains is lower. Importantly, these observations uncover underlying substructures in the small, compact brain of D. gyrociliatus. The fact that we observed similar molecular domains in D. gyrociliatus and other annelid taxa suggests that the relative extent of the expression areas is maintained regardless of the life stage of the animal. This furthermore suggests that the cells in the brain of D. gyrociliatus do not show a higher degree of multifunctionality, but that in these microscopic brains probably fewer cells are assigned to certain functions. Further studies unraveling the earlier developmental stages of D. gyrociliatus as well as the dwarf male with an even smaller brain consisting of only 42 cells [63, 64] are therefore highly warranted. They will not only help to generate a broader base for comparisons between annelid and/or spiralian taxa, but also deepen our understanding of the conservation of genetic patterning of the brain in species with different neuroanatomies adapted to particular ecological niches and possibly varying requirements in different life stages (encapsulated embryos, free-swimming larvae, adults).
Conclusions
Adult females of D. gyrociliatus express dim, foxg, gsc, hbn, otp, otx, nk2.1, pax6, six3/6 and syt almost exclusively in the brain, and their pattern is consistent with the domains described in larval stages in the macrobenthic annelid species P. dumerilii and C. teleta (e.g., [16, 21, 23]). Although the brain does not show elaborate morphological substructures (e.g., mushroom bodies, optic lobes/tracts), PRD box and FOX genes and nk2.1 and the transcription factor dimmed are expressed in specific areas in the brain, with moderate overlap between their patterns. We therefore suggest that the adult brain in this meiofaunal annelid is also regionalized and possibly shows more similarities with late larval stages in C. teleta [16, 33] than suggested by gross morphology alone [45, 46]. The overall expression pattern in the anterior nervous system as described previously in several annelid species [22, 23] is also observed in the adult brain of D. gyrociliatus, despite the interspecific differences in the organ size and developmental mode. Therefore, we propose that the underlying patterning mechanism of the brain is independent of whether the animals show direct or indirect development and of the final complexity of this anterior neural region. To what extend the molecular regionalization of the brain can be correlated with different functions of the respective areas has to be tested in future studies, also including earlier developmental stages.
Abbreviations
acom:

anterior commissure
an:

anus
br:

brain
cb:

ciliary band
cbg:

ciliary band gland
cmvn:

circumesophageal connective joining the medioventral nerve posteriorly
com:

segmental commissure/commissural set
cvln:

circumesophageal connective joining the ventrolateral nerve cords
drcc:

dorsal root of the circumesophageal commissure
eso:

esophagus
ey:

eye
fog:

foregut
fg:

frontal gland
fpk:

perikaryon with FMRFamide-like immunoreactivity(LIR)
lpmn:

lateral paramedian nerve
mcom:

median commissure
mo:

mouth opening
mpmn:

median paramedian nerve
mv:

medioventral nerve
m1:

segmental midbody ganglion
nc:

nerve linking ciliary structure to the neuropil
no:

nuchal organ
np:

neuropil
pcb:

prostomial ciliary band
pcc:

prostomial compound cilia
pcom:

posterior commissure
pg:

prostomial ganglion
phb:

pharyngeal bulb
ptr:

prototroch
vnc:

ventral nerve cord
pyg:

pygidium
r1-r4:

segmental rostral ganglion
se:

surface ectoderm
scom:

subrectal commissure
spk:

perikaryon with serotonin-like immunoreactivity (LIR)
stnr:

stomatogastric nerve ring
sto:

stomach
tcom:

terminal commissure
vcf:

ventral ciliary field
vlnc:

ventrolateral nerve cord
vrcc:

ventral root of the circumesophageal connective
Declarations
Authors' contributions
All authors designed the study, AK and JMMD cloned genes and produced riboprobes, AK maintained the animal cultures, performed the in situ hybridization experiments, conducted phylogenetic analyses and drafted the manuscript. All authors read and approved the final manuscript.
Acknowledgements
We want to thank Yvonne Müller, Aina Børve and Anlaug Boddington for their help in rearing the animals and support during the laboratory work. We are very grateful to Nicolas Bekkouche, who provided riboprobes for Dg-pax6. Additionally, we want to thank Niels Daubjerg (Marine Biology Section, University of Copenhagen, Denmark) to permit the use of the Zeiss Axio Imager 2 Microscope with corresponding cameras and computer. The mining of the transcriptome of Dinophilus gyrociliatus was enormously facilitated due to assemblage and continuous support by Bruno C. Vellutini. Furthermore, we would like to thank Brett Gonzalez for helpful advice in analyzing the orthology of the genes used in this study. Finally, we want to thank three anonymous reviewers for their comments to improve the manuscript.
Competing interests
The authors declare that they have no competing interests.
Availability of data and material
All data generated or analyzed during this study are included in this published article and its supplementary information files. Sequences for the genes used in this study are registered with GenBank (GenBank Accession Numbers KX555473–KX555483), the raw reads of the transcriptome have been deposited at SRA: SRA Experiment: SRX2030658, and the in situ hybridization protocol for Dinophilus gyrociliatus is detailed in the Materials and Methods section of this article.
Funding
This study was funded by Grant No. 1025442 ("How small animals provide clues to large scale questions") assigned to Katrine Worsaae by the Villum Foundation and the University of Copenhagen and the core budget of the Sars Centre.
Open AccessThis article is distributed under the terms of the Creative Commons Attribution 4.0 International License (http://creativecommons.org/licenses/by/4.0/), which permits unrestricted use, distribution, and reproduction in any medium, provided you give appropriate credit to the original author(s) and the source, provide a link to the Creative Commons license, and indicate if changes were made. The Creative Commons Public Domain Dedication waiver (http://creativecommons.org/publicdomain/zero/1.0/) applies to the data made available in this article, unless otherwise stated.
Authors' Affiliations
(1)
Marine Biology Section, Department of Biology, Faculty of Science, University of Copenhagen, 2100 Copenhagen, Denmark
(2)
Sars International Centre for Marine Molecular Biology, University of Bergen, Bergen, Norway